Inside the Lines: Spending the Day with the Market-Setters for College Football Bowl Season
Credit:
Credit: Darren Rovell
Las Vegas — Behind a closed door marked "EMPLOYEES ONLY," in an unsuspecting old relic of a hotel in old downtown Las Vegas, two oddsmakers are working at a frantic pace.
In one chair is Matt Metcalf, whose college football model is more geared towards how a bettor thinks. In the other chair is Matt Lindeman, a model more focused how a sportsbook would rank teams.
The two men have tag-teamed this operation all year at the behest of auto parts titan Derek Stevens, a Vegas-loving, betting-obsessed entrepreneur who is trying to build out the Circa Sports brand. Metcalf and Lindeman are working out of a makeshift, small sportsbook inside the Golden Gate Hotel. Their humble brick-and-mortar will soon be replaced by what promises to be, when it opens a year from now, the largest sportsbook in the world across the street.
As a strategic move to call some attention to the brand before the big opening, Stevens saddled Lindeman and Metcalf with the task of being the market-setter for college football. In other words, Circa is the first legal sportsbook to open up odds, usually on Sunday afternoon, for the following week's slate.
It makes the whole betting world look at them. Other operators are keen to know what Circa's numbers are before opening their own lines and early bettors, including plenty of sharp groups, are eager to hit the market before the dust settles.
"We publicly get credit for opening the lines first, but I think the more important thing is we know how to move the games better," Metcalf said. "It's why it's OK if our initial number is not great. We at least manage that business."
On this day, which normally would be reserved for NFL, the biggest chatter in the dark room filled with television screens, and flashing pages of red and green signaling odds moving up and down, is the soon-to-be-scheduled college bowl games.
If the regular season seemed daunting to Metcalf and Lindeman, this was next level. In the regular season, they know who is coming. In the bowl season, outside the College Football Playoff teams, it's a crapshoot. Crossing over conferences presents a further stress test on just how good the teams further down their power ratings truly are.
With the promise of putting the games out by 4 p.m. local time, Metcalf and Lindeman get to work shortly after noon. After the New Year's Six bowls are released, they monitor Twitter and fill the other matchups into their spreadsheets.
When teams go in, their season long power rating, which is adjusted after each game, goes in. Lindeman has a second chart filled with offensive and defensive stat rankings and speed of play.
Lindeman also looks at Bill Connolly's S&P formula, which takes into account a team's conversation rate on a given down and the equivalent points per play.
When all the games are filled, Metcalf takes his laptop and swivels his chair to face Lindeman's desk. It's time to get to work.
These are the 10 games that created the liveliest discussion.
Boca Raton Bowl: SMU vs. FAU
Extenuating factors: FAU coach Lane Kiffin is headed to Ole Miss; game is being played at FAU's home field.
Metcalf Model: SMU -4.5 (not giving home field)
Lindeman Model: SMU -4.5
Discussion: Should they ignore home field? Is it really an advantage to stay home? Will people show up?
Lindeman: "I don't like giving home field. I remember last year when we have it to USF. I gave 3 to them, seven fans showed up and Marshall crushed them. The line could close at -7. We don't want to need FAU."
Opening Line: SMU -4.5
Monday afternoon: SMU -3.5
Quick Lane Bowl: Pittsburgh vs. Eastern Michigan
Metcalf: Pittsburgh -19
Lindeman: Pittsburgh -14.5
Extenuating Circumstances: Lindeman further adjusts down MAC teams in bowl games.
Discussion: The numbers seem high — are they too high? Lindeman brings up that Pitt coach Pat Narduzzi hasn't won a bowl game and Eastern Michigan did beat Illinois.
Opening Line: Pittsburgh -14
Monday afternoon: Pittsburgh -10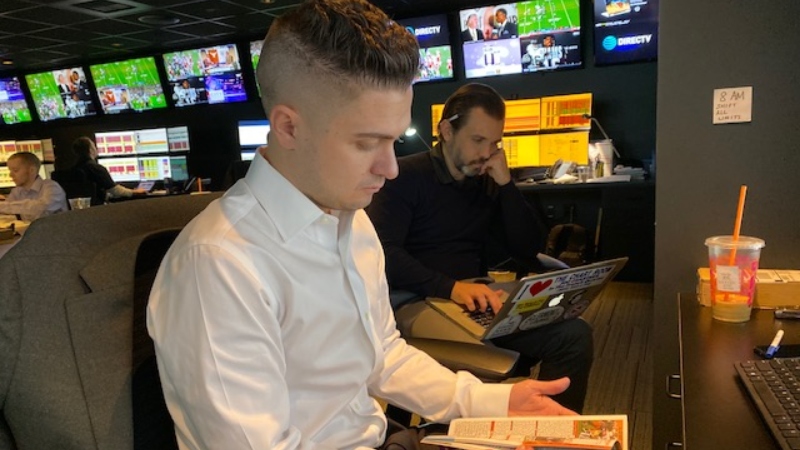 Texas Bowl: Oklahoma State vs. Texas A&M
Metcalf: Texas A&M -1.5
Lindeman: Texas A&M -7
Extenuating Circumstances: Game played in Texas.
Discussion: Lindeman doesn't think A&M earns any points in its home state. Metcalf loves the Big 12. He knows his model reflects that.
Metcalf: "Let's make it 3."
Lindeman: "I was going to say 6."
Metcalf: "That's crazy to me."
Opening Line: Texas A&M -4.5
Monday afternoon: Texas A&M -5.5
Bahamas Bowl: Buffalo-Charlotte
Metcalf: Buffalo -5
Lindeman: Buffalo -6
Extenuating Circumstances: Charlotte has covered final three games of the season, something that Lindeman brings up. Metcalf says traveling to the Bahamas does a number on teams. Lindeman's "Mason-Dixon Line" rule also comes into play here.
Lindeman: "They have all this momentum and then they have a month to play the next game and they lose their momentum."
Metcalf: "I'm not really a trend guy. But the Bahamas is not a normal trip. There's a weird element to it that leads me to beliefs is have to shave this down."
Lindeman: "And we have the "Mason-Dixon Line" rule, which means that, in general, teams from below the Mason-Dixon Line are from the south and are more talented than northern teams. At last year's bowl game, Troy made Buffalo look bad, and Buffalo had it's best team ever last season."
Opening Line: Buffalo -4
Monday afternoon: Buffalo -4.5
---
New Orleans Bowl: Appalachian State vs. UAB
Metcalf: App State -18
Lindeman: App State -15
Extenuating Circumstances: Metcalf likes UAB Coach Bill Clark. "They're well coached he says."
Discussion: Metcalf says he could be convinced to make App State -14, but Lindeman wants to split the difference
Opening Line: App State -16
Monday afternoon: App State -16.5
---
VRBO Citrus Bowl: Alabama vs. Michigan
Metcalf: Alabama -8
Lindeman: Alabama -4
Extenuating Circumstances: Obviously no Tua Tagovailoa for Alabama, but other players may sit out voluntarily to save themselves for the NFL Draft.
Lindeman: "We have to take into account players sitting. Last year, we didn't take into account that NC State wide receiver Kelvin Harmon was going to sit during the Gator Bowl. Texas A&M rolled them. But how do we know how many players will sit in this game between the two teams?
Opening Line: Alabama -6.5
Monday afternoon: Alabama -7
---
Alamo Bowl: Texas vs. Utah
Metcalf: Utah -8.5
Lindeman: Utah -11.5
Extenuating circumstances: Going by stats alone, Lindeman has Utah as his No. 1 team in the country, when combining offense, defense and tempo.
Lindeman: "If I just looked at the stats, Utah would be 27.5 here."
Lindeman: Do you give Texas any home field advantage for playing in San Antonio — maybe 2 points?
Metcalf: I think, given their season, they are sad.
Opening line: Utah -9.5
Monday afternoon: Utah -7
---
Rose Bowl: Wisconsin vs. Oregon
Metcalf: Wisconsin -5
Lindeman: Wisconsin -1.5
Extenuating circumstances: Metcalf thinks Lindeman's model underrates Wisconsin.
Metcalf: Yours is too low. I know it's at least three points. I think it should be -6.5.
In the end, they agree to split the difference.
Opening Line: Wisconsin -3.5
Monday afternoon: Wisconsin -3
---
Taxslayer Gator Bowl: Indiana vs. Tennessee
Metcalf: Pick
Lindeman: Indiana -1.5
Discussion: Both agree it could go either way. "It's a coin flip," Lindeman says.
Opening Line: Pick
Monday afternoon: Pick
---
Pinstripe Bowl: Michigan State vs. Wake Forest
Metcalf: Michigan State -7
Lindeman: Michigan State -3.5
Discussion: Although his number is higher, Metcalf says he can't see this game higher than 3. Lindeman quickly agree. They settle.
Opening Line: Michigan State -3
Line Moves
After spending a little more than an hour going through the games, there's a 30 minute break before Circa has promised they would post lines to its clientele in person at the book or on the app (first day limits are $2,000 on the app and $3,000 at the counter). When the lines go up on the board, there's one game that gets pounded.
In the first four minutes, nine bets come in on Eastern Michigan. The line goes down from +16.5 to 10. More come in minutes later. In 20 minutes, the line to that game drops by seven points.
In that time span, the other significant move, Texas gets bet down from +9.5 to +7.5.
And, as sometimes happens in the sheer volume that these men have dealt with, a very quick bet came in on Michigan State for the Pinstripe Bowl. After the bet came in, the ticket writer on Circa's staff realized that the game was posted wrong. It made Wake the 3-point favorite, so a keen better took the Spartans and now has a six-point cushion that the rest of the market doesn't have.
I always thought about how cool it would be to be the bookmaker who set odds every week, but seeing the data input and all that has to be taken into account, I'm gonna leave it to these guys.
How would you rate this article?