College Football Odds & Picks: Stuckey's 9 Favorite Situational Betting Spots for Week 8
Credit:
George Walker/Icon Sportswire via Getty Images. Pictured: SMU's Ar'mani Johnson.
Over the first six weeks of the season, I highlighted 10 situational spots I had circled on each Saturday. With conference play now in full swing, there may not be as many on a weekly basis.
Last week, I identified seven spots that fortunately went 6-1. For this week, I have nine circled, which I will detail below.
Ultimately, the actual spread value still reigns supreme. No matter how great a situational spot appears on paper, you still have to factor in how much value the number holds. A good or bad spot may sway me one way or the other on a bet I'm on the fence for, but it's certainly more art than science.
Hopefully, I can help you make one or two of those same tough wagering decisions while sharing some key angles, matchups and injury situations for each particular game.
Let's kick things off with a trio of noon kicks before going through the rest of the day in chronological order.
---

SMU +3 vs. Cincinnati
Noon ET ⋅ ESPN
---
The Bearcats will benefit a bit from coming off of a bye week, especially since they have a few injury issues, namely to starting quarterback Ben Bryant and leading receiver Tyler Scott.
However, I still think Cincinnati is ripe for an upset here.
Luke Fickell admitted Ivan Pace Jr. is still "dinged up from last week."

With injuries to Pace, QB Ben Bryant, WR Tyler Scott and RB Corey Kiner, the bye is coming at the right time for Cincinnati. Fickell expects Kiner to be ready after the bye. No word yet on Bryant and Scott. https://t.co/8NZfQnSx6m

— Keith Jenkins (@MrKeithJenkins) October 8, 2022
After starting out an expected 1-1 with a loss at Arkansas and a victory over FCS Kennesaw State, the Bearcats have won four straight but haven't looked great in doing so, especially if you dig a little deeper into each result.
 Despite snagging an early pick-six, they were in a battle at Tulsa but got a stop on fourth-and-goal from the 1-yard line late in the game.
A bad Indiana team got back in the game before turning it over on downs late, which Cincy turned into a meaningless touchdown.
They benefited from facing Miami Ohio's backup quarterback and eventually pulled away after a shaky first half.
South Florida actually led in the fourth quarter at Cincy but eventually got stopped when trailing by four on a fourth-down attempt inside the Bearcat 30 before Cincy ran out the clock.
Cincinnati may also have some imminent regression coming its way after getting fairly fortunate in a number of high-variance stats so far. It has recovered eight of its 12 fumbles and converted 5-of-7 fourth-down attempts while holding opponents to just 1-of-11 on fourth-down tries for an FBS-low 9.1% conversion rate.
In contrast, opponents have converted 11-of-18 (61.1%) against SMU.
SMU has also played the much tougher schedule with losses against a trio of top-40 teams in Maryland, UCF and TCU with two of the three coming on the road. Meanwhile, Cincinnati has faced only one team that I have currently power rated as above average nationally.
Overall, I have SMU with a top-50 strength of schedule so far this season, while Cincy's sits outside the top 100.
Facing the best aerial attack they will have seen in 2022, the Bearcats may finally feel the impact of losing three defensive backs to the NFL. Plus, SMU's quick passing attack can neutralize a very strong Bearcat pass rush. On the season, Cincy's defense ranks third nationally in Sack Rate, but SMU's offense ranks 13th in that same category.
In fact, the aggressive SMU defense (32nd Sack Rate) actually might have more opportunities to create negative plays against a Cincy front that ranks 98th in Sack Rate.
Plus, the Bearcats have struggled to consistently run the ball (outside the top 90 in Rush Success Rate), which might provide a break for a porous SMU run defense.
Notable Nugget

Cincinnati head coach Luke Fickell is just 3-10 against the spread as a conference road favorite, failing to cover by six points per game.
---
Rutgers -3 vs. Indiana
Noon ET ⋅ Big Ten Network
---
This will mark the last realistic chance for Rutgers to win a Big Ten game this season. Not only does it get a beatable opponent at home, but it's also a very favorable situational spot.
The Scarlet Knights had 15 days to prepare for Indiana while getting healthier after dealing with a plethora of injuries leading up to the off week.
Meanwhile, Indiana comes off of a tough loss against Maryland with games against Penn State and Ohio State looming on deck. This is a potentially sleepy spot in a noon start in Piscataway.
I assume Greg Schiano will have a few trick plays up his sleeve for this matchup. For what it's worth, he's 10-3 ATS (76.9%) with more than 10 days between games against FBS opponents, covering by 11 points per game on average. That includes a road victory as a short favorite at Illinois last season.
Plus, Rutgers has an element of surprise working in its favor. While it could study film of Indiana's tendencies over the past two-plus weeks, the Scarlet Knights may break out some new looks on offense after firing offensive coordinator Sean Gleeson nine days ago.
Tight ends coach Nunzio Campanile will take over as the new offensive coordinator. He should also have all three quarterbacks available with the return of Gavin Wimsatt, who missed the past month with an injury.  Wimsatt is the most talented of the platoon and brings an added dimension with his legs to the struggling offense.
Admittedly, it looks odd to see Rutgers as a home favorite in Big Ten play. Since 2015, it has happened only one other time in an outright loss as a 5.5-point favorite against Illinois in 2020
It's Rutgers or nothing for me at a field goal or less.
Notable Nugget

Indiana is just 27-42-3 ATS (39.1%) in road conference games since 2005. Only UConn, UNLV and Colorado have been less profitable.
---
UT Martin at Tennessee
Noon ET ⋅ SEC Network
---
I have to bring up this potential flat spot after Tennessee's thrilling upset over Alabama.
The Vols could certainly come out flat to start. Plus, I doubt Josh Heupel will care about running this score up too much with Kentucky and Georgia on deck. Therefore, you could see the backups get a lot of work.
The Skyhawks obviously have significantly less talent, but they are at least a respectable FCS team ranked in the top 20. For reference, they lost (but covered), 30-7, as 25-point underdogs at Boise State earlier this season.
UTM could cover an inflated number in this spot — especially if Tennessee doesn't get goalposts in time.
In all seriousness, the better look may be a second-half play if the Vols hold a big lead at halftime as expected.
Notable Nugget

Since 2010, Tennessee Martin has gone 3-7 ATS against the SEC, losing by an average score of 53.9-12.2.
---

LSU -2 vs. Ole Miss
3:30 p.m. ET ⋅ CBS
---
Speaking of strength of schedule disparities, LSU hosts an undefeated Ole Miss squad on Saturday afternoon in Death Valley.
Through six games, the Tigers have faced three teams currently ranked in the top 20 of my latest power ratings. Meanwhile, the Rebels have faced none with their best win coming at home by three over Kentucky thanks to a pair of late Wildcat fumbles.
Given the lackluster competition, I just haven't been overly impressed with Ole Miss outside of its electric rushing attack. LSU's talented defensive line can cause enough negative plays to contain the high-flying Rebels.
Additionally, the LSU offense will serve as a major step up in class compared to what Lane Kiffin's bunch has faced so far.
The Tigers should control the line of scrimmage to get their ground game going. More importantly, it can build on the passing game results we saw last weekend at Florida.
Jayden Daniels had his best game of the season by far. He consistently attacked down the field, which head coach Brian Kelly had been clamoring for. In the first half alone, he completed eight passes of 15-plus yards after attempting just 18 over the first five games.
Also, star wide receiver Kayshon Boutte finally broke out last week for the first time in 2022. He finished with 115 receiving yards after compiling just 130 combined over the first five games.
Believe it or not, LSU can move into a share of first place in the SEC West with a victory.
Notable Nugget

Since 2005, Brian Kelly owns a gaudy 36-14-2 (72%) ATS record as an underdog or favorite of less than a field goal. That makes him the most profitable coach out of 452 with these parameters in our Action Labs database.
---

Tulane -7 vs. Memphis
3:30 p.m. ET ⋅ ESPN2
---
I only bring this up since I'm not sure where Memphis is at mentally. The Tigers will head to Tulane after two of the most excruciating losses you will ever see a team suffer in back-to-back weeks.
Two weeks ago, they blew a late three-score lead to Houston, which made a miraculous comeback after recovering an onside kick in the final minute. Then, last week at ECU, Memphis once again blew a three-possession lead before ultimately falling by two points in quadruple overtime.
I wouldn't be shocked if the Tigers came out a bit flat in their second straight road game after a pair of consecutive heartbreaking defeats.
Notable Nugget

Since arriving at Tulane in 2016, head coach Willie Fritz has gone 27-11-1 ATS (71%) at home. No other coach has been more profitable at home over that span.
---
Hawaii +5 at Colorado State
4 p.m. ET ⋅ Spectrum Sports
---
I'm not sure the market has caught up to how much better Hawaii has played in recent weeks. Following a last-second loss on the road at San Diego State, it dominated Nevada on the island last week.
It's not too surprising to see the Warriors improve as the season has progressed, considering new head coach Timmy Chang essentially inherited a complete rebuild. After not being able to stop a nosebleed earlier this season, the defense has held two straight conference opponents to under 17 points.
More importantly, the offense has looked significantly better since they stopped playing Joey Yellen at quarterback with Brayden Schager taking all of the reps over the past three games.
Just take a look at the stark discrepancy in their season-long statistics:
Yellen: 40-of-87 (46%) for 324 yards (3.7 YPA) with 0 TD and 2 INT (72.7 Rating)
Schager: 96-of-167 (57.5%) for 1,028 yards (6.2 YPA) with 3 TD and 5 INT (109.1 Rating)
Meanwhile, Colorado State's offense remains broken. Yes, it finally won a game over Nevada but needed two defensive touchdowns and a last-second do-over field goal to pull out a three-point win.
The Rams were also competitive last week against Utah State in a 17-13 loss but once again got thoroughly outplayed despite facing an emergency fourth-string quarterback thrown into action for the Aggies.
Colorado State starting quarterback Clay Millen could return from injury, but I'm not sure how much he can even help. Opposing defenses have basically figured out that all they need to do is double wide receiver Tory Horton in order to completely stifle the Rams' offense.
Notable Nugget

Since 2011, Hawaii has gone just 47-80-5 (37%) ATS. Only UConn has cost bettors more money over that period.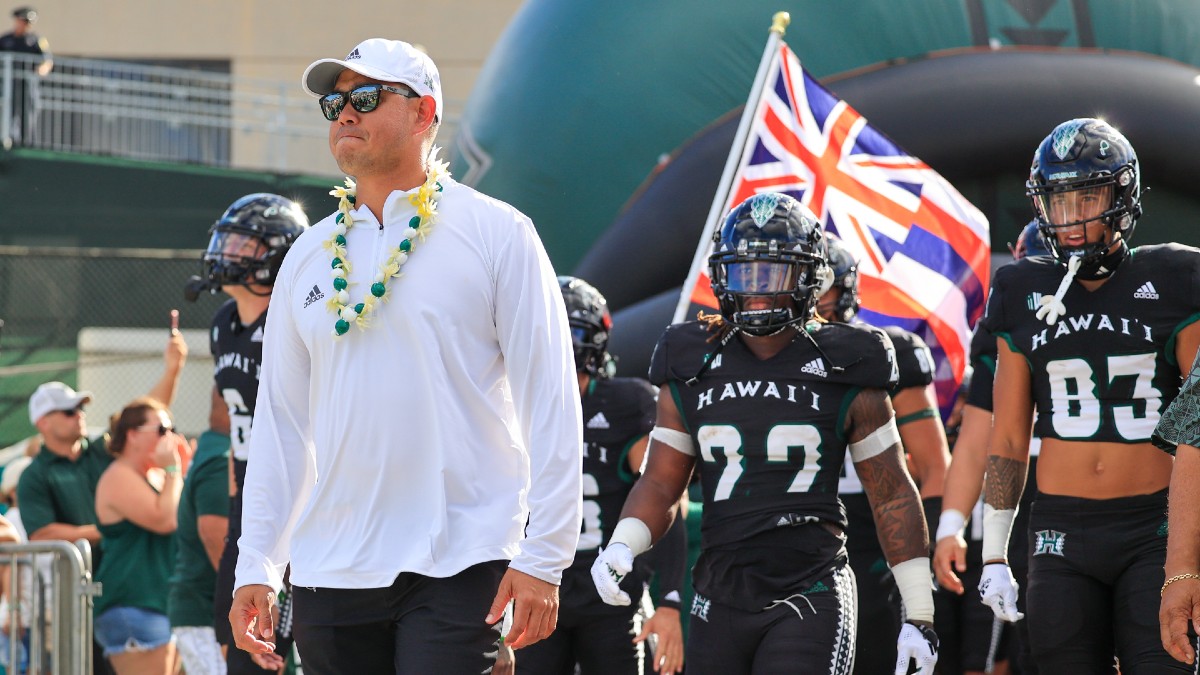 ---
South Carolina +3.5 vs. Texas A&M
7:30 p.m. ET ⋅ SEC Network
---
I listed South Carolina as one of the best situational spots two weeks ago at Kentucky. Despite pulling off that upset, I still believe the Gamecocks remain undervalued in the market.
Their season-long defensive metrics are negatively skewed after dealing with injuries to as many as eight defensive starters at once earlier this season.
However, a two-week break against Charlotte and South Carolina State provided them an opportunity to get much healthier (on offense too) which directly led to a much better output in Lexington.
Meanwhile, I haven't been impressed by Texas A&M at any point this season. It got statistically outplayed in its only two FBS victories over Miami and Arkansas with the former win looking much worse than it did at the time.
The Aggies did hang around against Alabama, but the Tide started a backup quarterback and tried to give that game away with multiple turnovers that led to short fields for Jimbo Fisher's bunch. The offense, now without its best weapon in Ainias Smith, remains extremely limited.
We'll see who ends up starting at quarterback with Max Johnson injured and Haynes King dealing with some bumps and bruises. Add in King's struggles, and Jimbo might be inclined to go to the highly-touted freshman Conner Weigman.
Regardless of who lines up under center, I don't envision the Texas A&M offense lighting up the scoreboard for the first time all season, especially on the road against a now-healthy South Carolina stop unit that has promising early-down metrics that signify good results on the horizon.
On the other side of the ball, the talented but inexperienced Texas A&M defensive front just hasn't lived up to the hype.
For the season, the Aggies rank outside the top 100 in both Line Yards and Opportunity Rate. That could spell trouble against an underrated rushing attack that ranks in the top 30 in both EPA per Rush and Rush Success Rate, spearheaded by explosive running back MarShawn Lloyd.
This also sets up as a potential sleepy spot for Texas A&M even with both teams coming off of a bye. With their season-long goals already washed away, the Aggies could get caught off guard in Columbia with undefeated Ole Miss up next.
Meanwhile, this is an extremely important game for the South Carolina program. Plus, I'm sure Williams-Brice Stadium will be rocking in primetime.
Notable Nugget

South Carolina head coach Shane Beamer is a perfect 3-0 SU and ATS with extra time (8+ days) to prepare with a trio of outright upsets over Florida, North Carolina and Kentucky as 17.5, 12.5 and 4.5 point underdogs, respectively.
---

East Carolina +5 vs. UCF
7:30 p.m. ET ⋅ ESPNU
---
After scoring 70 on Temple last week, it might be time to sell high on the 5-2 Knights, who will actually be leaving the state of Florida for the first time this season.
This also popped up as a potential lookahead spot with a massive game against Cincinnati on deck in the Bounce House.
Week 8 will also mark only their second road game of the season with the first coming at Florida Atlantic. ECU represents a much tougher challenge in a significantly more difficult environment.
ECU's defense actually matches up fairly well with the explosive UCF RPO attack, led by dual-threat quarterback John Rhys Plumlee. The Knights are most dangerous on the ground, ranking inside the top 20 in yards per carry, EPA per Rush and Rush Success Rate.
Well, the ECU defense ranks in the top 20 in all three categories as well. Head coach Mike Houston finally has his desired bulk up front on the defensive line.
The Pirates have struggled in the secondary at times, but Plumlee is a very inconsistent passer. If teams can shut down his running ability, the offense goes into a shell. The Louisville game was a perfect example of that
On the other side of the ball, quarterback Holton Ahlers should have plenty of time to throw against a UCF defense that doesn't excel at generating pressure.
I'm not sure if we get the good or bad Ahlers, but I'm much more comfortable backing him as an underdog in a great spot.
Notable Nugget

Since 2005, UCF head coach Gus Malzahn has thrived against the number as a road conference favorite with a 16-7 ATS (69.6%) record. That makes him the sixth-most profitable coach (of 324) when laying points against a league foe over that span.
---
California +7.5 vs. Washington
10:30 p.m. ET ⋅ ESPN
---
This is a prime buy-low spot on California after an embarrassing loss at winless Colorado (which I had in last week's spot column).
I wasn't even that shocked by the outright loss. Cal has been inconsistent all season and seemingly always plays to the level of its competition under head coach Justin Wilcox.
In fact, last week marked the third time in the past five years that Cal lost to a team that started 0-5 or worse.
Good morning Cal fans.

Justin Wilcox drops to 0-3 against teams that started the season 0-5 or worse, averaging 7.7 points per game.

2018: 0-5 UCLA, 7-37
2021: 0-8 Arizona, 3-10
2022: 0-5 Colorado, 13-20

— Avinash Kunnath (@avinashkunnath) October 16, 2022
How did the Bears respond after both of those losses?
2018: won at Oregon State by 42
2021: won at Stanford by 30
I'm not saying they will blow out the Huskies. However, I am saying this is a good bounce-back spot for an inflated home dog.
For reference, home conference dogs that lost outright as double-digit favorites the week prior have hit at a 63% clip since 2005.
You should get Cal's best effort in this spot. It also may have revenge on its mind after suffering a devastating OT loss last year at Washington in a game that ended with Cal fumbling at the 1-yard line.
I'm also fading Washington's defense, which ranks outside the top 100 in EPA per Play and Success Rate. Its secondary has particularly struggled after losing three starters to the NFL, ranking in the bottom 10 nationally in many metrics.
Covering over a touchdown in conference play on the road is a tall task for this reeling defense. In its only two games away from Seattle, Washington lost outright to Arizona State (+13.5) and UCLA (+2.5) with each scoring at least 40 points.
Cal's West Coast offense can get stuck in the mud way too often but should move the ball here. Meanwhile, its top-40 defense can take away explosive passing plays over the top.
That's the most effective way to at least slow down quarterback Michael Penix Jr. and the high-flying Washington offense.
Notable Nugget

Cal head coach Justin Wilcox boasts an impressive 22-9-1 ATS (71%) record as an underdog, covering by an average margin of 4.4 points per game. That includes an absurd 16-3 ATS (84.2%) mark when catching seven-plus points (6-0 at home). In contrast, he's just 8-15-1 ATS (34.8%) as a favorite.
How would you rate this article?
This site contains commercial content. We may be compensated for the links provided on this page. The content on this page is for informational purposes only. Action Network makes no representation or warranty as to the accuracy of the information given or the outcome of any game or event.