College Football Odds, Prediction for West Virginia vs. Pitt: Which Side of Spread Should You Bet?
Credit:
Matt Roembke/Action Network
The West Virginia Mountaineers take on the Pitt Panthers in Saturday night college football action.
Out bettors debate which side of the Backyard Brawl to bet in Week 3's edition of the Spread Option.
Check out our spread debate for West Virginia vs. Pitt below.
West Virginia vs. Pitt Odds
West Virginia Odds
Spread
Total
Moneyline

-2.5

-118

47.5

-110o / -110u

-152
Pittsburgh Odds
Spread
Total
Moneyline

+2.5

-104

47.5

-110o / -110u

+126
I remain a non-believer in West Virginia.
Instead, I believe Neal Brown saved his job with two late-season upset wins last year (Oklahoma, Oklahoma State).
I believe this team was deservedly picked to finish last in the Big 12 preseason media poll.
I believe this team isn't going anywhere because it doesn't have a quarterback who cares to complete a forward pass.
Sure, West Virginia will rely on a solid rushing game, and the quarterback committee of Garrett Greene and Nicco Marchiol adds good rushing value.
But a solid running game can only get you so far. Eventually, you need to throw the ball.
Speaking of throwing the ball, Phil Jurkovec had the worst game of his career last week. But guess what, there's nowhere to go but up after a 10-for-32 performance.
Let's remember who Jurkovec is, a former four-star recruit who showed NFL upside at Boston College. He's not as bad as last week's performance, and there's nowhere to go but up.
Let's also remember what this Pitt team is.
Remember that Jurkovec has a strong offensive line and solid weapons to work with (three of the top four pass catchers from last year's team return).
Remember that Jurkovec is back with offensive coordinator Frank Cignetti Jr. Jurkovec had his best years with Cignetti at BC.
Remember that Pat Narduzzi is a good recruiter and that he and defensive coordinator Randy Bates have replaced NFL talent in the past.
Remember that defensive line coach Charlie Partridge is among the nation's best.
Look for David Green to make a jump on the line after recording 3.5 sacks and 4.5 tackles for loss in seven games last year.
Watch out for cornerbacks M.J. Devonshire and Marquis Williams, a duo that projects as one of the best in the ACC.
More importantly, those corners allow Narduzzi to bring the heat on passing downs and stack the box in standard downs. The latter should prove crucial in stopping WVU's rushing attack, and I don't expect Greene or Marchiol to beat them in man coverage, anyway.
And look, Pitt got a tad unlucky in last week's loss. The Panthers generated seven scoring opportunities to the Bearcats' six, mainly losing because they coughed up two turnovers while only snagging one.
Pitt only lost by six despite its quarterback going 10-for-32 passing. There are some positives to take away from that — mostly that there's nowhere to go but up.
(Also, Jurkovec recorded five Big Time Throws and only one Turnover Worthy Play, so it wasn't all bad.)
I expect better results in the future from this squad, starting with a win over a West Virginia team that just isn't it.
For what it's worth, Bill Connelly's SP+ projections make Pitt a four-point favorite. I'd agree with that analysis.
---
Why You Should Bet West Virginia
The Backyard Brawl sitting at less than a field goal is just perfect, and that's the way this rivalry always should be.
Both of these teams have extremely similar profiles. They each easily clobbered an FCS school. And they both lost to a Power 5 team.
The only difference is that West Virginia lost on the road at Penn State — a top-10 team in the country — and Pitt lost at home to Cincinnati — a team new to the P5 and near the bottom of the Big 12.
Everybody thought the Mountaineers would be a dumpster fire this season and that Brown would be unemployed by Halloween, me included. But I think West Virginia is going to be better than expected, and I've already seen signs of optimism.
West Virginia rushed for 146 yards and two touchdowns against an elite Penn State defense. CJ Donaldson Jr. was effective and Greene was able to move the ball well with his legs. That's something we've seen Greene have success with.
In the final three games of last year, Greene had four touchdowns on the ground and averaged 60 yards rushing per outing. His dual-threat ability is his greatest strength.
Unlike a certain stubborn coach on the other sideline, Brown is able to recognize the strengths of his roster and adjust the game plan and scheme to best fit his team's strengths.
Brown and new offensive coordinator Chad Scott have committed to relying on their running game and mobile QB with more zone reads and RPOs.
After averaging 37 rushing attempts per game last year, the Mountaineers have averaged 44.5 through two games this year. Donaldson continues to be the main guy, but true freshman Jaheim White made his debut last week and rushed for 110 yards and a touchdown against Duquesne.
Expect West Virginia to continue pounding the rock behind a terrific offensive line that returns 132 career starts. All five starters at the end of last season are back, and three of them are starting for their third straight season.
The Mountaineers ranked in the top 32 in both pass blocking and run blocking on PFF last year.
This is called the Backyard Brawl for a reason. This is a street fight between two hard-nosed teams. West Virginia has the better offensive line and ranks 21st in the country in Rushing Success Rate.
Rivalry games are won at the line of scrimmage, and the Mountaineers will have a big advantage in this one.
---
McGrath: 146 yards is such a big accomplishment against that nasty Penn State defense. That is, until you add some context.
The Mountaineers averaged 3.7 YPC on a whopping 40 carries. This came against a Penn State defense that's a tad vulnerable against early-down rushes (65th in Standard Downs Success Rate Allowed last year).
West Virginia still lost by 23. It's not like this new-look, deadly dual-threat rushing attack made it competitive. The Mountaineers ran a lot, and not efficiently.
And that's because they can't pass, as they finished with 162 passing yards on 27 attempts in Week 1.
You say Greene's dual-threat ability is his greatest strength. You're right, but you're also wrong.
It's Greene's only strength. The man had a 55.1% completion rate last season with a 51 PFF passing grade, recording only two Big Time Throws to five Turnover Worthy Plays.
The West Virginia offense is not dangerous; it's one-dimensional. The Mountaineers will continue to pound the rock, but opposing defenses will continue to stack the box and dare them to throw.
I expect Narduzzi to do that in this game, and he'll succeed because he has a great man-coverage cornerback duo to fall back on.
Speaking of PFF grades, Pitt ranks top-40 in PFF's Run Defense and Coverage grades through two weeks. I disagree, as I think the Panthers match up very well in this "Street Fight," especially when you take into account Pitt's rushing attack.
The offensive line has four players with at least five seasons of college football experience, and Rodney Hammond Jr. can be Pitt's next 1,000-yard rusher, given he generated 25 missed tackles on 109 attempts last year.
Hammond posted a combined 970 yards as a backup over the past two seasons, generating a PFF Rushing grade over 80.
Yes, rivalry games are won in the trenches, and Pitt is more than capable of battling at the line of scrimmage.

How to Practice Responsible Gaming Habits
---
Ianniello: Jurkovec was a four-star recruit six years ago. Notre Dame's starter his freshman year was Brandon Wimbush and his offensive coordinator Chip Long has had four different jobs since.
There's a reason Jurkovec is at his third school.
In five years, Jurkovec has had one decent year thanks to throwing to Zay Flowers on every play. He has 53 Big Time Throws with 41 Turnover Worthy Plays and just a 58.8% completion rate. He's never thrown more than 17 touchdowns in a season and never had a Turnover Worthy Play Rate below 4.0%.
Pitt ranks 111th in the country in Passing Success Rate. Jurkovec completed 31% of his passes against Cincinnati. 31%.
Tanner can write that off as a bad game; I'm writing it as a quarterback who stinks.
If Greene can't complete a forward pass, how would we categorize Jurkovec? Through two games this season, Greene has four touchdowns, no interceptions and zero Turnover Worthy Plays. He has a higher completion percentage, yards per attempt and passer grade than Jurkovec, and one of his games was against Penn State.
I'm also not as sold on the defense as Tanner is.
This defense line that Tanner seems confident in allowed 216 rushing yards and over five yards per carry against Cincinnati last week. The defense lost its top four tacklers from a unit that already took a small step back last year, allowing over 3.0 yards per carry for the first time since 2018.
If you have questions about your run defense, that's a big problem against West Virginia. If the Panthers have the same issues they did against Cincinnati, the Mountaineers will run on them all day long.
Sure, the West Virginia defense isn't great, but I'm not all that worried about that against this Pitt offense. The Panthers might have returned three of their top four pass catchers, but are they any good?
Leading man Jared Wayne is gone and there's certainly no Jordan Addison in this room.
One of those top returning receivers is Bub Means, who had 11 targets and zero receptions. Sure, thank god he's back!
You think Brown was able to save his job last season, and I agree. It's clear his seat was heating up and his team played hard for him and was able to save it.
His seat hasn't cooled much, and I think this team will continue to play hard and continue to fight to save his job.
---
McGrath: Yes. Greene has four touchdowns, no interceptions and zero Turnover Worthy Plays this season.
All of those stats came against FCS Duquesne! He recorded all four touchdowns and all four Big Time Throws against the Dukes, who rank 76th among FCS teams in Defensive SP+.
Against Penn State, Greene completed less than 60% of his passes for 6.0 YPA. Against Big 12 defenses last season, he completed less than 55% of his passes for 6.3 YPA, including (and I repeat) two Big Time Throws to five Turnover Worthy Plays.
Don't boost Greene's stats, brother. This guy has 150 career FBS attempts. At least Jurkovec is experienced.
I'm confident in Pitt's defense because with Narduzzi leading the charge, there's never an expected drop from solid ranks in Havoc, Tackling and Coverage. They're going to bring the heat, and Greene's lame-duck, dual-threat offense isn't ready for this "Street Fight."
I think you're underrating Pitt's offense. As I alluded to, Pitt will be able to run the ball, and I'm betting it'll boast a more balanced attack as the season progresses, unlike West Virignia.
Jurkovec and Pitt struggled mightily against Cincinnati, but West Virginia should be a step down in competition. Cincinnati finished top-20 in EPA per Pass Allowed last year, while West Virginia was sub-100. Even when you factor in TARP, the Mountaineers aren't going to leap-frog the Bearcats.
Again, West Virginia was picked to finish last in the Big 12, not Cincinnati.
---
Ianniello: You want to talk about bringing the heat? West Virginia ranks top-30 in the country in Havoc Rate and ranks eighth in pressure grade this season.
Sure, one game was against an FCS school, but the other was against one of the best offensive lines in the country.
Pitt, on the other hand, played an FCS school and a below-average Big 12 team this year. Yet, Jurkovec has been pressured on a ridiculous 45% of his drop backs this season!
Cincinnati sacked him five times last week.
I don't expect Pitt to be able to get pressure on this experienced West Virginia offensive line. Meanwhile, the Mountaineers will be harassing Jurkovec all game if the Panthers' line plays anywhere close to how it did last week.
We have spent a lot of time tearing apart these two quarterbacks. Tanner think Greene stinks, and I think Jurkovec stinks.
The difference is: West Virginia can run the ball, but Pitt can't. Not only is Greene dangerous with his legs while Jurkovic is a statue, but Donaldson and White are a dynamic duo.
Pittsburgh lost star running back Israel Abanikanda after he averaged more than 21 carriers per game last year. The Panthers have been using a three-man rotation through two games as they try and find somebody who can emerge.
Against the Bearcats, the Panthers managed just 83 yards on 29 carriers. They averaged 2.9 yards per attempt, and that includes a 38-yard run.
We know Narduzzi will insist on running the ball even if it doesn't work, so unless Cincy is just the '85 Bears, Pitt could be in trouble.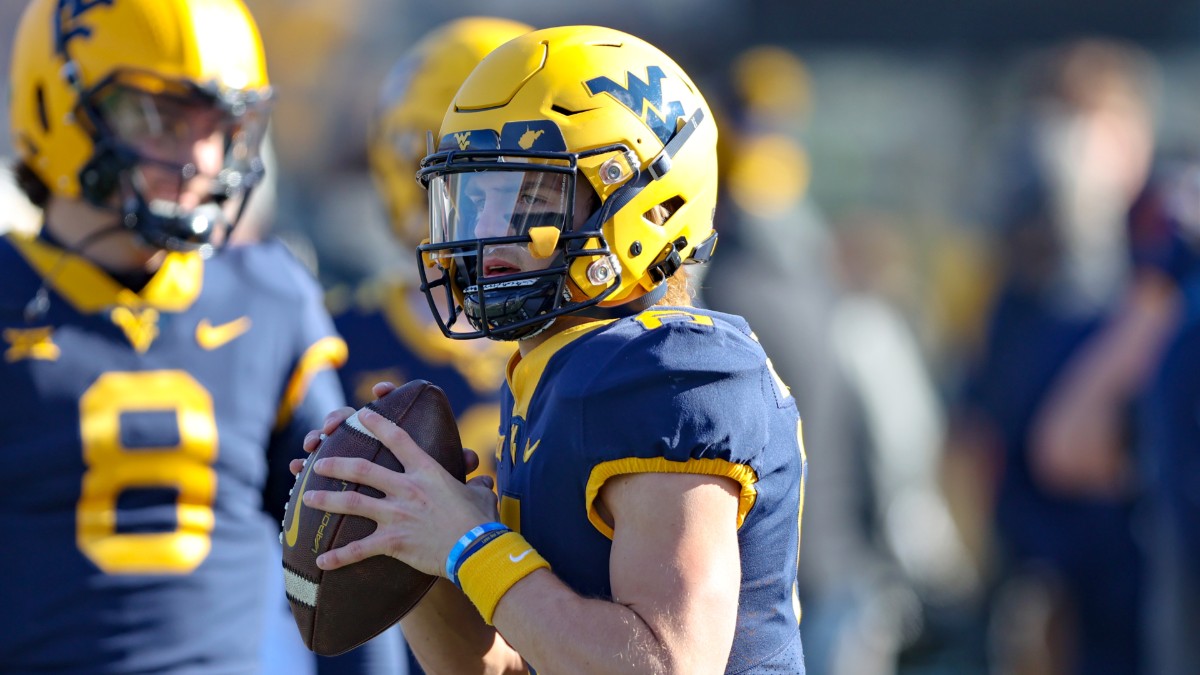 ---
I'm so very low on West Virginia. Mike thinks the Mountaineers will be better than expected, but you have to throw the ball to compete at an FBS level, and the Mountaineers will be stuck charging into stacked boxes all year.
Meanwhile, Pitt has some intriguing upside. There's talent on the defense and Jurkovec has flashed his potential across his five seasons at the FBS level. When the team starts to gel, Pitt should be among the five best teams in the ACC.
West Virginia doesn't have that upside. Coach Brown would be lucky to escape the year with bowl eligibility and his job. Last place in the Big 12 is in play.
There's a reason Pitt's preseason win total closed at 7 while West Virginia's closed at 5. I suspect the wrong team is favored in this matchup, and I'll take advantage of the market with a wager on the Panthers (and against Mike).
---
Jurkovic is the perfect example of quantity over quality. He's played a lot of football, but outside of a few big games by Flowers, he hasn't lived up to expectations. He's gone just 12-13 as a starter in his career.
West Virginia doesn't need to throw the ball; it's going to run it down the Panthers' throat, play defense, put pressure on Jurkovic and force him into mistakes.
That's how this rivalry should be played anyway.
The Backyard Brawl is sneakily one of college football's most intense and heated rivalries. These two fan bases hate each other, and the West Virginia fans will be crazy for this game under the lights.
And West Virginia has dominated this series recently. Since 1990, the 'Neers are 15-8. They'll be able to win this one too.
Now, hit the music. Alexa, Play Country Roads!
How would you rate this article?
This site contains commercial content. We may be compensated for the links provided on this page. The content on this page is for informational purposes only. Action Network makes no representation or warranty as to the accuracy of the information given or the outcome of any game or event.