Windy Weather Affecting Saturday's CFB Betting Lines, Including Missouri vs. Kentucky
Credit:
Mark Zerof-USA TODAY Sports. Pictured: Lynn Bowden Jr.
Several college football games, specifically in the Midwest, will be seeing some heavy wind on Saturday.
Below you'll find a full list of affected games, including their wind speeds, over/under movement and a tip on how to bet windy games.
The "windy under" narrative is one that's no longer novel in the college football betting world, but unless you've proactively searched for betting information as it relates to weather, it might still be eluding you — which is a problem.
Wind matters (a lot) in college football, and we've got the data to prove it.
One of our finest Action PRO Systems — all of which are included with a PRO subscription — relates solely to wind, and has produced a steady profit over the course of our entire database (back to 2005).
The theory is simple. A windy game is going to make it harder to throw — which not only limits big plays, but keeps the ball on the ground and the clock moving — as well as kick, reducing overall scoring.
Since 2005, games with average wind speeds of at least 13 mph have hit the under at a 57% rate — at the closing number. And plenty of these past matches have seen some heavy line movement from the opener.
In fact, 186 of them (over 20%) dropped by at least a field goal, and still turned a profit for under bettors.
Saturday's slate is littered with games eclipsing the 13-mph mark, and a bunch sitting right on the edge that should also be on your radar, including Wisconsin vs. Ohio State.
Below you'll find the complete list of windy games, along with the over/under movement that's come as a result.
---
Last updated Saturday at 8 a.m. ET. Check out PointsBet, where Action Network users can access an exclusive promotion to get a 200% deposit match (deposit $50, bet with $150).
---
Wisconsin @ Ohio State
12 p.m. ET | FOX
Wind speeds: 12 to 13 mph
O/U open to current: 51 to 49
Illinois @ Purdue
12 p.m. ET | Big Ten Network
Wind speeds: 15 to 17 mph
O/U open to current: 58.5 to 55.5
Iowa @ Northwestern
12 p.m. ET | ESPN2
Wind speeds: 11 to 13 mph
O/U open to current: 37.5 to 36.5
Bowling Green @ Western Michigan
12 p.m. ET | ESPN3
Wind speeds: 12 to 13 mph
O/U open to current: 63 to 65.5
Appalachian State @ South Alabama
12 p.m. ET | ESPNU
Wind speeds: 14 to 18 mph
O/U open to current: 53 to 52
Nevada @ Wyoming
2 p.m. ET | SportsNet RM
Wind speeds: 19 to 20 mph
O/U open to current: 48 to 44
Ohio @ Ball State
2 p.m. ET | ESPN+
Wind speeds: 18 mph
O/U open to current: 63.5 to 60
New Mexico State @ Georgia Southern
3 p.m. ET | ESPN3
Wind speeds: 15 mph
O/U open to current: 54 to 54.5
Eastern Michigan @ Toledo
3:30 p.m. ET | ESPN+
Wind speeds: 16 to 17 mph
O/U open to current: 57.5 to 55.5
Florida International @ Middle Tennessee
3:30 p.m. ET | NFL Network
Wind speeds: 19 to 22 mph
O/U open to current: 58 to 57.5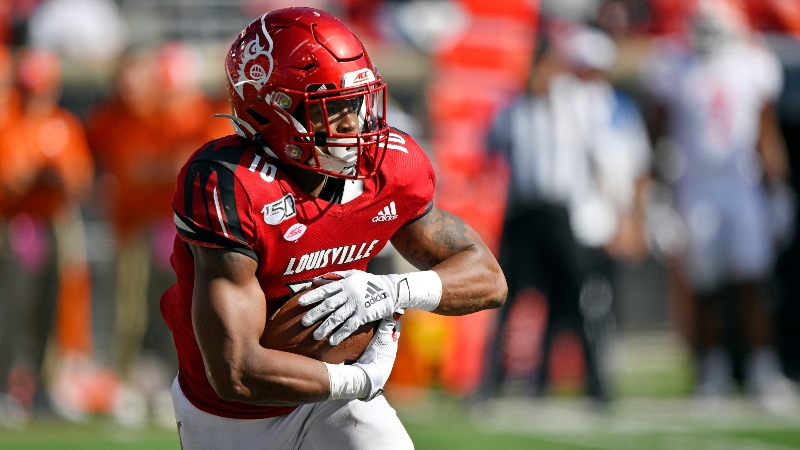 Virginia @ Louisville
3:30 p.m. ET | ACC Network
Wind speeds: 15 to 17 mph
O/U open to current: 55 to 51
Akron @ Northern Illinois
3:30 p.m. ET | ESPN3
Wind speeds: 11 to 14 mph
O/U open to current: 45 to 42.5
Miami Ohio @ Kent State
3:30 p.m. ET | ESPN+
Wind speeds: 11 to 13 mph
O/U open to current: 57.5 to 55
Missouri @ Kentucky
7:30 p.m. ET | SEC Network
Wind speeds: 16 to 17 mph
O/U open to current: 47.5 to 44
Notre Dame @ Michigan
7:30 p.m. ET | ABC
Wind speeds: 16 to 19 mph
O/U open to current: 48 to 50