2022 CFP National Championship Odds & Picks for Alabama vs. Georgia: Stuckey's Best Bets
Credit:
Jeffrey Vest/Icon Sportswire via Getty Images. Pictured: Tyler Clark (52), William Poole (31) and Netori Johnson (72), and the Georgia Bulldogs.
2022 CFP National Championship
Alabama vs. Georgia Odds
Alabama Odds
Spread
Total
Moneyline

+2.5

-105

52.5

-110o / -110u

+120
Georgia Odds
Spread
Total
Moneyline

-2.5

-115

52.5

-110o / -110u

-145

And then there were two.
The college football season will come down to an all-SEC rematch of the National Championship from four seasons ago between Alabama and Georgia. Both teams come into this showdown at 13-1 after dominant 20-plus point wins in the College Football Playoff semifinals.
Despite Alabama getting the better of Georgia in the SEC Championship, oddsmakers made the Bulldogs a slight favorite. The market has since pushed up that spread a bit to -3 with a total of 52.5.
For what it's worth, favorites have gone 11-12 against the spread in true national title games since the inception of the BCS back in 1998.
---
Lopsided History
Georgia hasn't defeated Alabama since 2007 when Matthew Stafford led the Dawgs to a road overtime victory. That came in Nick Saban's first season in Tuscaloosa.
Georgia has since gone 0-7 with three of those losses coming in SEC Championship games and another in the national title game. Some have been close — with three being decided by one possession — while others have not, including the last two meetings, which Alabama has won by the same final score of 41-24.
Alabama has not only dominated Georgia over the past decade-plus, but it's also owned the SEC East. Remarkably, the Tide have won 34 straight games against East foes. Their last loss came way back in 2010 against South Carolina.
The Bulldogs hope they can flip the script and win their first national title since 1980. Meanwhile, the Crimson Tide are seeking their sixth national title since 2009 under Saban.
Rare Pup
Saban brilliantly plays the underdog angle to prepare his team, but he's rarely ever an actual underdog.
Unless things drastically change, Saban will close as a dog for only the 11th time since taking over at Alabama. He went 6-4 ATS in the 10 previous games. Amazingly, it's only happened two other times since 2010. I can't think of a better betting-related stat that speaks directly to Alabama's dominance over the past 15 years.
Both occurrences came against Georgia — one in this year's SEC Championship and the other in Athens during the 2015 regular season. The Tide won both outright by margins of 17 and 28 as 6.5- and 1.5-point underdogs, respectively.
Since Saban's arrival in Title Town, Alabama has played in eight National Championships with six titles and two runner-up finishes. Bama went 4-4 ATS in those eight games, closing as a favorite in each one.
Alabama's blowout of Ohio State last year ended a streak of four straight non-covers in the National Championship. However, this will mark the first time Saban has ever been an underdog in the title game at Alabama.
Although, Saban did win one national title as a head coach prior to taking the Alabama job. That came back in 2003 at LSU when the Tigers beat Oklahoma, 21-14, as 6.5-point underdogs.
It's taken almost 20 years with eight national title appearances in between, but it appears that Saban will close as an underdog in the championship for a second time.
Tired Angle
Leading up to the game, I'm sure everyone will hear multiple times about Saban's record against his former assistants. That record now stands at 25-1 with an average margin of just under 24 points per game.
Can we please stop with that angle? Of course Saban has a dominant record against his former assistants. They usually coach clearly inferior teams. Alabama was a favorite of at least a touchdown in 23 of those 26 games, including 21 times as a double-digit favorite and 18 as a favorite of 14-plus.
Also, that one loss came earlier this season in College Station when Jimbo Fisher and Texas A&M stunned Alabama as 19-point underdogs. Plus, it's not like Kirby Smart (0-3 vs. Saban) didn't have his team in prime position to beat Saban in the 2017 national title game when Georgia fell in overtime.
Saban does boast an impressive 16-10 ATS (61.5%) mark in those 26 head-to-head matchups, covering by an average margin of 5.15 points. However, I don't think this angle has any relevance to who ends up winning this particular game.
Breaking news: Saban is one of the greatest coaches in college football history and has covered over 55% of his games against all opponents at Alabama by an average margin of just under a field goal.
The First Dance
After dominating opponents throughout the regular season, Georgia laid an egg in the SEC Championship as near touchdown favorites.
Heisman Trophy winner Bryce Young had a monster day, averaging 16.2 yards per completion and 9.6 per attempt while setting the SEC title game record for most passing yards in a half. In fact, Alabama had more passing yards in the first half than 12 of Georgia's other 13 opponents had for the entire game. He also had three effective scrambles for 40 yards.
Star wide receiver Jameson Williams went off as Young's favorite target. He finished with seven catches for 184 yards and two touchdowns. Fellow wideout John Metchie III added six catches for 97 yards and a touchdown.
Most importantly, Alabama's much-maligned offensive line exceeded expectations against Georgia's dominant front. While the Dawgs still generated pressure at a respectable 36% clip, it didn't lead to Havoc or enough negative plays.
On the other side, Stetson Bennett didn't have his most efficient day passing, playing with a serious deficit for the time all season. He threw for an impressive 340 passing yards and three touchdowns, but he also had two costly interceptions — one in the red zone and another that Alabama returned for a touchdown to essentially seal the victory.
Ultimately, Young had a sparkling performance against a Georgia secondary that had its worst day of the season, while Bennett made too many critical mistakes trying to dig his team out of a hole.
It's the Rematch
We have a rare same-season rematch in a National Championship. That's only happened two prior times, with the loser of the first matchup getting their revenge in both instances:
2011: Alabama beat LSU, 21-0, after losing at home, 9-6, in overtime in the regular season.
1996: Florida beat Florida State, 52-20, after losing on the road, 24-21, in the regular-season finale.
It's a sample size of two, but it reiterates to not overreact to the result of one game. It's just one data point in a high-variance sport. Look no further than the 2017 Georgia Bulldogs, who lost to Auburn, 40-17, in the regular season and then won the rematch, 28-7, in the SEC Championship.
In regards to rematches in bowls overall, teams that lost the first meeting have gone 15-7 in the second meeting, including nine straight wins. Those teams have also improved the margin from the first game in 20 of those 22.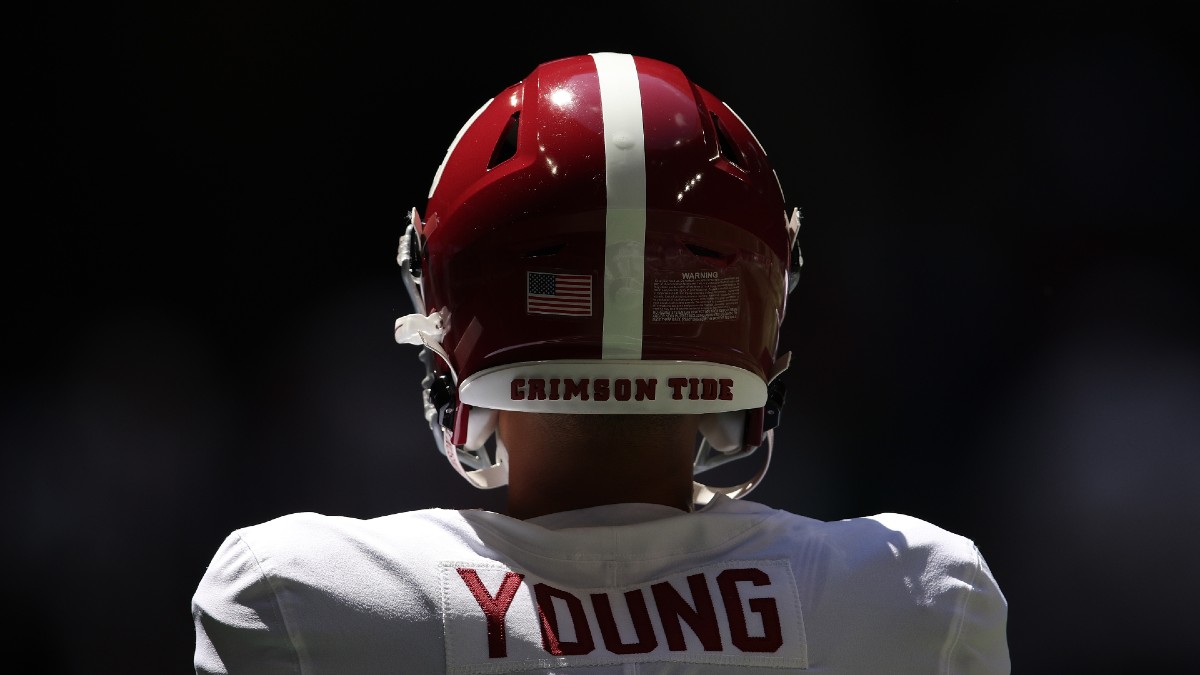 Zoom Out
Along those lines, I think some will put too much emphasis on Alabama's beatdown of Georgia in the SEC Championship. Again, it was just one game.
If you take a look at both teams' bodies of work over the course of the season, Georgia was clearly the more dominant team and best in the nation by any measure.
After beating Clemson by a touchdown in the season-opener, the Bulldogs were never really threatened the remainder of the regular season. They won each of their final 11 games by at least 17 points — and that margin would've been 24 had Kentucky not called a timeout and scored on the final play of the game.
Including their semifinal win over Michigan, Georgia's 13 wins came by an average of 32.9 points per game.
Meanwhile, Alabama almost stumbled numerous times throughout the regular season. pulling out victories in four of the five one-possession games it played as large favorites. That included a major upset loss at Texas A&M as just under three-touchdown favorites.
Alabama's overall average margin of victory was over a touchdown less than Georgia with a very similar schedule.
For another lens, take a look at their four common opponents:
Florida: Georgia won 34-7, Alabama won 31-29
Tennessee: Georgia won 41-17, Alabama won 52-24
Arkansas: Georgia won 37-0, Alabama won 42-35
Auburn: Georgia won 34-10, Alabama won 24-22
Against those common SEC foes, Alabama scored 149 and allowed 110, while Georgia scored a similar 146 points but only allowed 34. From a net perspective, Alabama was only +39 compared to Georgia's +112.
And even if you focus on the season-long metrics, Georgia really had no weaknesses on either side of the ball. Conversely, Alabama had major inconsistencies in coverage and along the offensive line.
Bottom line: Georgia was the much better team this season and deserves to be the betting favorite ahead of this highly-anticipated showdown.
Betting Value
My power ratings show value on Georgia, which I project as a 4.5-point favorite. I also truly believe things will play out much differently this time around for a number of reasons.
In the first matchup, Georgia played many different coverage looks on defense in the first half.  I'm not sure if it was trying out new looks or if it overthought things based on what it believed Alabama's game plan might've been.
Additionally, Chris Smith wasn't fully healthy playing free safety, and it had a new slot cornerback.
I expect Smith, who should be at 100% health, to man the STAR position for this one, and for Georgia to use a much higher frequency of press man coverage with more blitz packages. That's essentially what LSU and Auburn did to slow down this Alabama offense. That's the blueprint, and Georgia has even better personnel to execute that game plan.
This is still an Alabama offensive line that allowed a 35% pressure rate during the regular season. Seven of its 11 FBS opponents had a higher pressure rate than their season average. Expect Smart to use more blitzes and for Georgia's pressure to lead to more Havoc.
Alabama also won't have the services of star wide receiver Metchie for this meeting. He's so important on underneath routes, particularly on third downs. He's also an elite blocker.
Metchie's absence will also make it much easier for Georgia to focus on containing Williams.
That's basically the key when Alabama has the ball, as I don't think the Tide will get anything on the ground against the best run defense in college football. If you remove Young's scrambles in that SEC Championship, the Tide had only a 27% Rushing Success Rate.
On the other side of the ball, I expect Stetson Bennett to play much more efficiently — mainly because I don't think Alabama will race out to a big lead again.
It all starts with the Georgia defense. That allows Bennett to utilize play-action on early downs, when he's most effective. That also keeps the ferocious Alabama pass rush, led by the unbelievable Will Anderson, from pinning its ears back and coming after the quarterback.
It all starts with the defense for Georgia, which I expect to perform at a much higher level this time around — similar to the group we saw in every other game. Yes, Alabama will still hit some explosive plays. After all, the Tide have a Heisman quarterback and one of the best receivers in the country with five-star talent all over.
But this is also a historically dominant defense that had one hiccup all year.
Meanwhile, this Alabama offense had quite a few hiccups and now will have to make do without Metchie and a few potential concerning injuries on the right side of the offensive line. The same can be said for the Alabama defense that now has injuries at cornerback.
I think Georgia is the side here and have some pending moneyline and futures positions myself. I like the Dawgs at anything under a field goal but prefer the moneyline at -140 or better.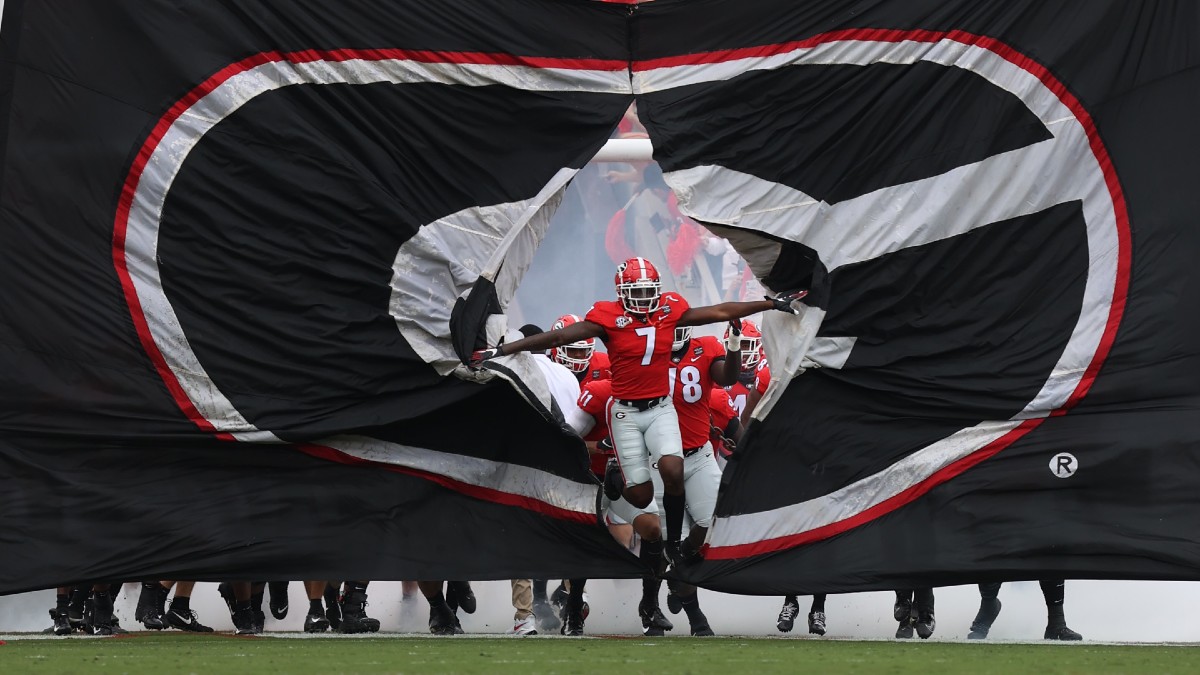 Totally Right
In the 23 National Championships since 1998, the over has gone 14-9 thanks to a recent run of six straight.
Over that stretch, games have averaged a combined total points scored of 55.8 and an even higher 66.4 since the start of the College Football Playoff. For what it's worth 15 of the 23 have hit at least 55 points.
On the surface, my first thought was to go over in this one. I bet the over in the SEC Championship, which I thought was too low for these two teams on a fast track. We have that same scenario, and I don't expect much running from either team against two elite run defenses.
Don't be surprised if Alabama uses even more pace than usual as well. It had success doing so in the first meeting to neutralize some of Georgia's defensive line rotations.
However, this number has opened higher than the first meeting. It currently sits at 52.5, which matches my projection on the dot. Plus, I have a position on Georgia, which I think has more correlation to the under than over since I believe the reason the Bulldogs will win this one is due to the effectiveness of their defense.
As a result, I'm passing on the total pregame but may see something worth betting in the live market.
Market Report
I reached out to a few contacts I have at various sportsbooks. They all indicated the same thing: most of their sharp accounts bet Georgia on the open, driving this to -3.
Now, the question becomes where does this line go from here? It's a National Championship, which means there will be a flood of public money as we get closer to kickoff. In a game with this much volume, public money can matter.
I assume most casual bettors will side with Alabama as an underdog. Therefore, I'd guess this line has a better chance of coming back down to 2.5 before it goes to 3.5 unless there's just persistent, overwhelming sharp support for the Bulldogs.
Prop Thoughts
I want to point out how much Alabama has struggled to cover tight ends this season. Here's what 11 FBS tight ends did against the Tide this season compared to their averages against other opponents..
Eight of the 11 surpassed their season averages against other teams. Six had their best game of the season against the Tide.
That includes Georgia's Brock Bowers, who set SEC Championship game records for catches and yards by a tight end. He finished with 10 receptions on 16 targets for 139 yards and a touchdown.
What has caused these struggles? Alabama coverage busts, especially at linebacker with Christian Harris and Henry To'oTo'o. That pair had the second- and third-most snap counts among Alabama defenders.
Out of 188 linebackers with at least 250 snaps, To'oTo'o and Harris rank 176th and 160th in coverage, per PFF, respectively. They also both have allowed an opposing QB rating of 120 or worse and rank in the bottom 50 in missed tackle rate.
That said, Alabama is one of the most analytically sound and well-coached programs in the country. After Bowers torched the Tide, I'm sure they will have a game plan in place to make sure he doesn't burn them again.
The Georgia tight end still might still get his given some of Alabama's coverage deficiencies, but running back James Cook might benefit from the extra attention Bowers may get.
Some other props thoughts I have:
I'd like to target George Pickens, who I think will have favorable matchups.
Jameson Williams will garner plenty of attention and likely have inflated prop numbers.
I'll be looking for Stetson Bennett over props — both passing and rushing.
Jahleel Billingsley has my interest for some over props for Alabama.
Make sure you follow along on the Action Network app to see which ones I ultimately add prior to kick. As always, shop around for the best prices if you do want to bet into the prop market.
How would you rate this article?
This site contains commercial content. We may be compensated for the links provided on this page. The content on this page is for informational purposes only. Action Network makes no representation or warranty as to the accuracy of the information given or the outcome of any game or event.