North Texas vs. Appalachian State Myrtle Beach Bowl College Football Betting Odds & Pick: Expect a Blowout
Credit:
Bobby McDuffie/Icon Sportswire via Getty Images. Pictured: Zac Thomas.
Bowl season in officially underway as Appalachian State takes on North Texas in the Myrtle Beach Bowl on Monday afternoon.
Both teams will be motivated to end their 2020 campaigns on a high note, but the Mountaineer defense might be too much for the Mean Green.
Collin Wilson breaks down the first bowl game of the season and shares a betting pick below.
North Texas vs. Appalachian State Odds
The Surf Turf at Brooks Stadium will serve as the host for the first-ever Myrtle Bowl between Appalachian State and North Texas.
The Mountaineers will make their second trip of the season to Conway after a losing effort earlier this season against Coastal Carolina.
Head coach Shawn Clark has elected to take the visitor locker room for familiarity purposes. Appalachian State dealt with COVID-19 most of the season, finishing with a 2-9 mark against the spread and never covering away from home.
North Texas will play its fourth bowl in the past five years. The Mean Green had a five-week break during the season due to COVID-19.
Head coach Seth Littrell's team returned to action in late November, splitting four games for an overall record of 4-5. There is not a huge discrepancy in strength of schedule, per Sagarin, with Appalachian State at 116th and North Texas at 132nd.
North Texas Mean Green
Like most teams in 2020, North Texas had a stoppage in play due to COVID-19. The Mean Green put up more than 50 points on Middle Tennessee on Oct. 17 but would not return to the field until Nov. 21 in a 27-point effort against Rice.
North Texas found its rhythm in December, scoring 76 combined points against Louisiana Tech and UTEP. The Mean Green are one of the fastest offenses of all FBS with a rank of second in tempo. Littrell likes his offense playing with an uptempo pace, averaging 19.76 seconds per play on the season.
The high-powered offense comes at the expense of a defense that ranks outside the top 100 in tackling, Line Yards and Finishing Drives.
North Texas faced UTEP in the last regular season of the game. The Miners are outside the top 100 in Offensive Success Rate along with plenty of other advanced statistics, but they still managed to gain 6.3 yards per play with a 56% Success Rate in standard downs. North Texas escaped with a victory, but the Miners averaged 10.9 yards per play in the fourth quarter.
---
Appalachian State Mountaineers
A solid victory over Georgia Southern might have been a result of a healthy Appalachian State roster. Clark said that game was the healthiest his team has been all season.
No matter the health or cancelations, the Mountaineers are one of the best-coached teams in the nation with a defensive rank of second in tackling and eighth in Havoc. A top-10 rank in Special Teams SP+ was a large assist in the victory over the Eagles.
Senior quarterback Zac Thomas leads an offense that is top-25 in standard downs Success Rate. While the explosiveness that previous teams had has not been there, the offensive line has produced a top-30 ranking in Line Yards and Power Success Rate.
Betting Analysis & Pick
Dating back to 2015, Appalachian State has won five straight bowl games. That is in stark contrast to North Texas, which has lost all three bowl games under Littrell.
This game should be no different, as Appalachian State will need three scores to cover the market spread. North Texas should find no luck against a Mountaineers defense that is second in opposing pass explosiveness.
North Texas vs. Appalachian State Matchup Matrix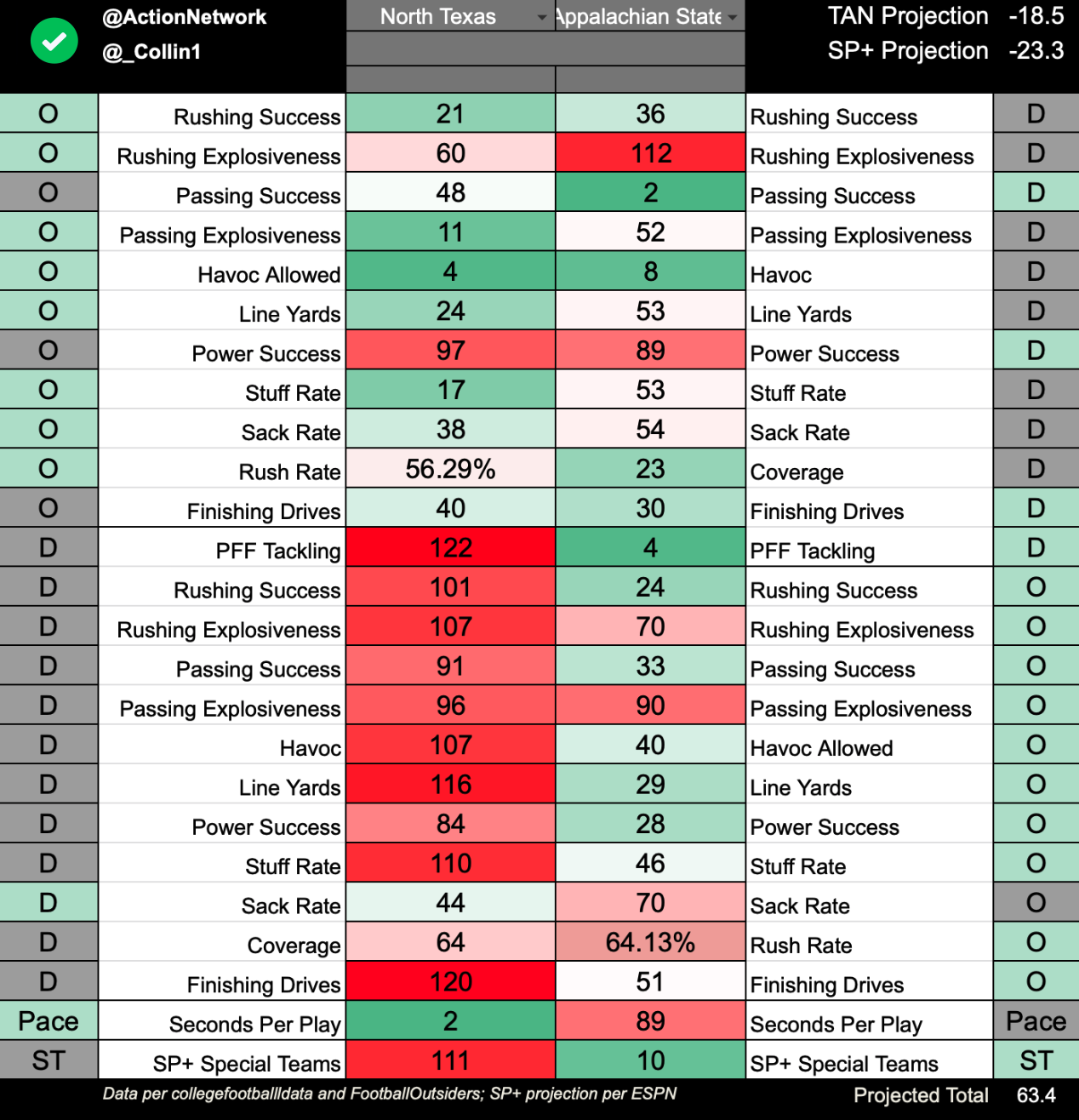 Both North Texas and Appalachian State are highly motivated to finish their 2020 campaign on a high note. For Littrell, there's a rebuilding project after flirtations with the Kansas State job.
The Mountaineers' defense may be too much for the Mean Green to overcome.
App State is stingy in opponent Passing Success Rate, which is the biggest weapon of the North Texas offense. The Appalachian State defense is no stranger to defending uptempo offenses in Sun Belt play. The Mountaineers beat Arkansas State and Georgia State through conference play, and both teams rank top-15 in tempo.
The Mountaineers may have no issues extending drives and exhausting the clock. Thomas leads an offense that is top-seven in third-down conversions against a defense that has lacked competency in extending drives. North Texas currently resides outside the top 100 in opponent third-down conversions.
Pick: Appalachian State -19 or better.
How would you rate this article?