North Carolina's Mack Brown Talks Conference Realignment, NIL, Drake Maye & Why He's Still Coaching
Credit:
Eakin Howard/Getty Images. Pictured: North Carolina head coach Mack Brown.
North Carolina's Mack Brown celebrated his 72nd birthday on Sunday. He's college football's eldest — and wisest — coach. He's one of only five current coaches who has won a national title. He also is the answer to an unlikely trivia question: the only coach in the College Football Hall of Fame who has three different seasons with only one win.
Somehow Brown survived a 1-10 mark in his first year at Tulane in 1985 and going 1-10 his first two years at North Carolina in 1988 and 1989 without getting fired.
"I would not have made it modern-day," Brown said.
But Brown made it. Did he ever. He begins his 46th season in coaching — 35th as a head coach — Saturday when the 21st-ranked Tar Heels play South Carolina in Charlotte (7:30 p.m. ET, ABC).
With a victory Saturday, Brown — the same guy with three 1-10 seasons — could become the first head coach in college football history to win 100 games at two FBS schools. Brown won 158 games at Texas and has 99 wins at North Carolina.
Earlier this summer, I talked with Brown about several subjects: UNC star quarterback Drake Maye's ping-pong talents, conference realignment, how a super-sized SEC and Big Ten would impact college football, paying players, how much he hates the targeting rules, the hypocrisy behind the new clock rule, his view on NIL and the transfer portal, the current state of college football — "college football has become the mini-NFL without guidelines" — and why he's still coaching.
Spoiler alert: he loves it.
---
Q: How much are you concerned regarding possible conference realignment and North Carolina?
A: "When I was at Texas, I was asked about whether we should go to the Pac-12 or not. We looked at recruiting areas, travel and scheduling. We looked at everything, and then one day after a year-and-a-half, it popped up and they said we're staying.
I wasted so much time and energy worrying on something that never happened, so I'm letting our chancellor and athletics director deal with all that stuff (now). If they ask my opinion, I'm gonna give it to them, but I'm really not concerned about it because North Carolina is going to be one of those schools that if something happened, we would be very valuable to other people.
I'll give this opinion because I think this is important: you've got to make a decision on what's best for college football or what's best for your school. That's kind of where everybody is right now when you look at it."
Q: How would a super-sized Big Ten and SEC impact college football?
A: "When I was president of the American Football Coaches Association, I always said, 'Are we voting to do what's best for your school, or are we voting to do what's best for college football?'
I've always gone in what's best for college football because that's the masses, and it's the game that we love. I don't think it's best for college football to have two mega-conferences with 50 teams (total) because there's so many great programs that will not be able to compete at the same level they are now. When that happens, their fans are going to be really disappointed, and they're going to lose revenue. It will hurt football all the way down to FCS and Division II and III.
To me, that's not what's best for college football. I've heard Coach (Nick) Saban say, 'There's gonna be the haves and have-nots.'
If we do that, I'd like to have as many 'haves' as we can because I think it's healthy for college football to have an emphasis on college football in each part of the country instead of just having two."
Q: Does UNC QB Drake Maye compare to any player you've coached?
A: "He's unique in a number of ways, but it's probably Colt McCoy because he can run and deceptively so. He makes a lot of plays with his feet. He's very accurate. He's very competitive. He's from a sports family.
His dad (Mark) held the passing record at one time in the ACC, his brother (Luke) wins the national championship in basketball at North Carolina, his other brother (Cole) wins the national championship at baseball in Florida, his mother (Aimee) was an athlete, and now his younger brother (Beau) plays on the Carolina basketball team.
He just grew up competing with his older brothers every minute of every day. I watch him in the player's lounge playing ping pong. I mean, he fights. He just does not want to lose at anything. That's what captured the hearts of our team two years ago."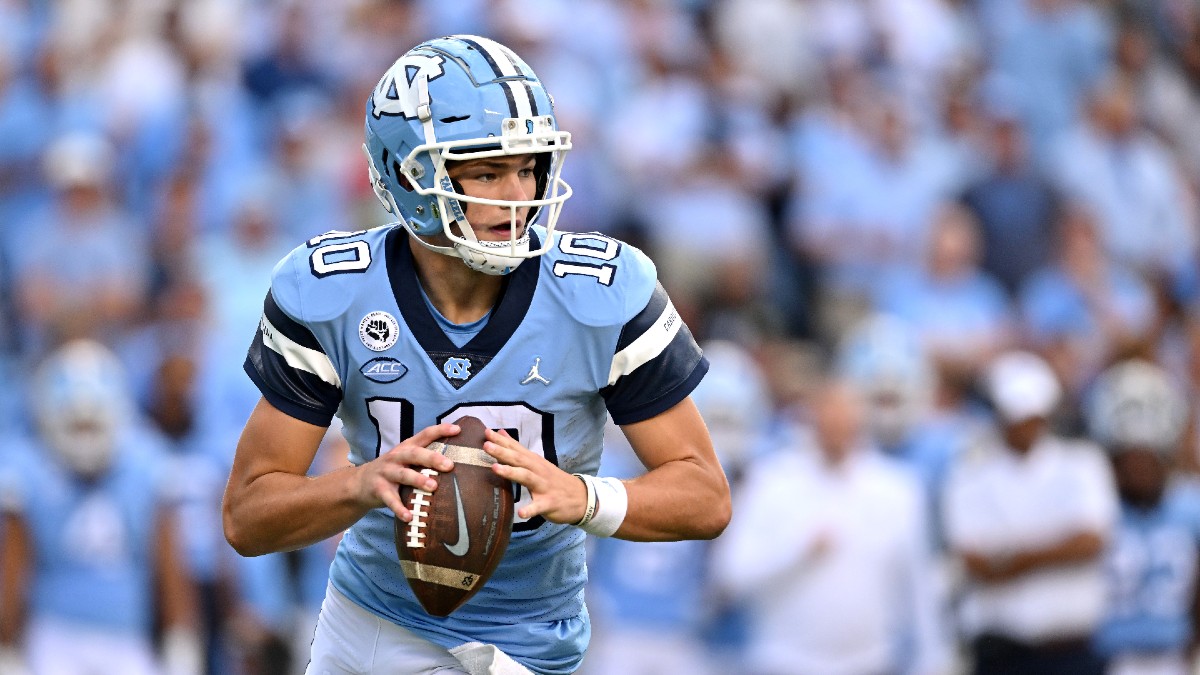 Q: Two years ago, you told me UNC was "criminally overrated" and last year hoped you were "criminally underrated." What are your expectations for this year?
A: "We've got a chance to be good with probably the toughest schedule that I've ever had (UNC plays eight bowl teams from last season).
You've got to have a quarterback to have a chance, and we've got one that's as good as anybody. We've got just about everybody back, and I like where we are as a staff right now.
Our staff camaraderie is better than at any time since I've been at Carolina, so I'm really excited about that. Our schedule is not set up well, but I've told the guys good teams go do what they have to do. So, it's a great schedule for us, if we're good enough."
Q: How much has college football changed since you returned to Carolina in 2019?
A: "This is my 46th year coaching, 35th year as a head coach, and I've seen more changes in the last two years — and drastic changes — than in any of my other 40-something years.
The last two years, it's absolutely been the combination of the transfer portal and NIL because they've collided and, in many cases, that's where the tampering gets involved. The combination of both together … so you have to recruit a guy that wants to come to your place, and then you've got to recruit that guy after he gets to your place, and he gets good because he's going to want to stay at your place, and he's going to have to turn down a lot of money to do that.
It's much different than at any time before. Also, when you take away amateurism, that was a huge difference. We had always sold amateurism, always sold the purity, always sold education and now we're hearing so much more about the NIL and transfer portal than we are anything about education.
Some kids — not all kids — are choosing their school because the money they can get up front, and that money's not going to last."
Q: Should players be compensated?
A: "I sure don't mind football players and athletes making money. My wife, Sally, told me that artists can sell their art in college and make money. Musicians can play at a bar or a concert and make money. So, why shouldn't athletes be able to use their name to make money?
It's a little foolish for us to say that it's not pay-for-play because it is. We've added cost of attendance. In the old days — and it sounds like an old guy talking — players used to get $15 a month. Now, you've got cost of attendance, an academic stipend above your scholarship to start with and then you've got the opportunity to make more money through name, image and likeness.
(UNC AD) Bubba Cunningham made a great suggestion a few years ago: He said put it (the money) in an annuity so when they graduate, to encourage graduation, they would have $50,000 or $100,000 to start their life with."
Q: What are your thoughts about NIL?
A: "At some point, NIL will be taken back into the universities. I think the fundraising arm right now — we're asking too much of our boosters. We're asking them to buy tickets, support salaries, support facilities, and now all of a sudden we want NIL money for 28 sports.
They've got caller ID; they don't want you calling anymore. 'Back off.'
I do think when we get a salary cap as such when we get to a point where there is a system like the NFL, that is a good sound smart system, and there is a clear-cut means that for what you make, then I think it's all going to be helpful and good.
I think it will settle down at some point. We've just got some growing pains here until it does."
Q: Are you in favor of the new clock rules?
A: "No, and I thought there were some other things that we could have cut out other than plays for kids. You've got 85 scholarship players, and most of us have 110 to 120 players on our team, and you can only play 11 at a time.
So, there's always mental health issues. There's always the depression or anger or morale issues because kids don't get to play.
Taking away numbers of plays from fans and student-athletes, I didn't think was the right thing to do. It's hard to sell safety to (remove) seven to 10 plays when you're adding a 12-team playoff. Come on, man."
Q: Are you in favor of the targeting rules?
A: "I would like for something to be done (differently). If it's the intent to hurt somebody for an unprotected player as compared to a guy that makes a tackle and his helmet (dips) down — those (are) gray (areas).
I don't want to see a guy lose the rest of his game and part of the next one because it's a poor decision. You take a part of a kid's football life away when you take him out of a half. I wish we could look at that more carefully.
If you get two (targeting penalties in a game), then you're out. We should be more lenient and not just take a guy out because we've got human error sometimes by officials as well."
Q: In a five-year span from 1985-89, you went 1-10 in three seasons. How in the world did you survive and ultimately reach the College Football Hall of Fame?
A: "I think I was so lucky that I was clueless at a young age. I was trying to keep my head above water because I took over two programs (Tulane and North Carolina) that were really in trouble and you don't even think about that (making the Hall of Fame).
I just wanted to be a head coach. I should have been a head coach at someplace that was a good place that I could win. I was really very lucky that I had (then-UNC AD) John Swofford, who knew that we were in trouble when I got here. In fact, at that time, I signed a five-year guaranteed contract because I knew we were bad, or I probably would have been fired after the third year when we were 6-4-1.
I would not have made it (that long) modern-day."
Q: A lot of college coaches are getting out of the business for various reasons. Why are you still here?
A: "I love kids and how many people have a chance to influence somebody's life every day. Somebody said a coach touches more lives in a year than most people do in a lifetime. The fact is it makes me want to keep working when I see all the problems that we're throwing on these kids.
People are very critical of the kids with NIL and the transfer portal. They didn't ask for this. We, as adults, put this on them. All of us. I feel like one of my purposes in life right now is to try to help them through this.
Other than my faith and my family, football and the kids that play it and the coaches that coach it have been by far the most important things in my life.
If I can have a minor piece of helping work some of this out, a minor piece of helping these kids get through this — because this is probably the most traumatic time that football has ever had and football players — then that's my purpose."
---
More From Action Network's Brett McMurphy
How would you rate this article?
This site contains commercial content. We may be compensated for the links provided on this page. The content on this page is for informational purposes only. Action Network makes no representation or warranty as to the accuracy of the information given or the outcome of any game or event.