Oklahoma-West Virginia Betting Guide: Sooners Defense Won't Hold Up
Credit:
USA TODAY Sports. Pictured: Will Grier and Kyler Murray
Oklahoma at West Virginia Betting Odds, Pick
Odds: Oklahoma -3
Over/Under: 85
Time: 8 p.m. ET
TV: ESPN
The best kind of post-Thanksgiving treats are college football games with point totals in the 80s. That's what we're expecting to get with Oklahoma-West Virginia on Friday night.
The over/under sits at 85 at most offshore books as of Thursday evening, just the 12th game with a total that high in college football history. There should be no shortage of fireworks in a game that will send the winner to the Big 12 Championship game.
Odds Moves for Oklahoma-West Virginia
By Danny Donahue
While Oklahoma has generated a significant majority of this game's tickets (61%), the Sooners have only accounted for 55% of the actual dollars wagered. Still, following an early move to WVU -1, this line has come back to the public side, as Oklahoma is now a 3-point favorite.
The more interesting story is how the market has reacted to this over/under. Opening at 81.5, it was already tied for the highest mark of the season. But with 86% of bets and 99% of dollars hitting this over, it has moved all the way to 85, tied for the highest total since September of last year (Oklahoma vs. Texas Tech, 85).
Let's Talk About Oklahoma's Defense
By Stuckey
Oklahoma keeps getting a pass in the market because of its offense, but can we talk about how the Sooners' defense just allowed 8.8 yards per play and 40 points to Kansas? Kansas! They actually allowed more yards per play than they averaged on offense against the Jayhawks.
I'm not sold on this Sooners team, whose best win came against Iowa State when Zeb Noland (who is no longer at the school) was under center. This team lost to Texas on a neutral field, barely pulled out a one-point win at home against Oklahoma State and barely pulled out a home win over Army in overtime.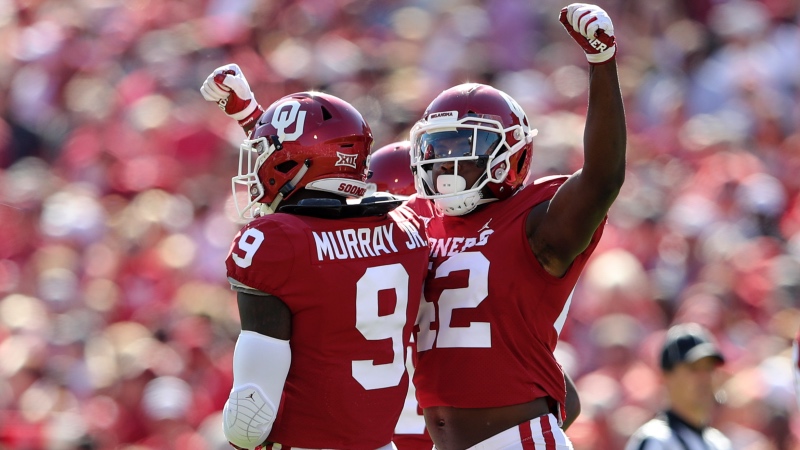 I get that the offense is historically great, but the defense can't stop a nose bleed. They don't tackle, cover, get to the quarterback, force turnovers or do anything particuarly well.
Will Grier and company should move the ball through the air all night long with ease. And while Oklahoma should score plenty, I think West Virginia has a better chance of causing a key turnover and forcing field goals in the red zone, which is all it will take to decide this likely shootout.
I'm waiting for this line to hit three before I take the home dog in what should be a zoo-like atmosphere in Morgantown.
Stuckey's Pick: West Virginia +3 or better
OK, Let's Talk About Oklahoma's Schedule
By Ken Barkley
A total of 85! Now that will make you sit up and take notice.
Let's start there. This total is absolutely astronomical when you look at the teams on paper. West Virginia's profile is pretty similarly to some teams Oklahoma has played already this season.
The Mountaineers have a top-10 offense in S&P+ and a defense in the 60-80 range. I basically just described half the Big 12, only West Virginia's offense is just slightly better.
The other teams that fit the profile — Oklahoma State, Texas Tech — which Oklahoma has played recently (with its revamped defense) scored as many points as they desired on the Sooners. It is unlikely West Virginia will have any difficulty either. The porous nature of Oklahoma's defense is really not up for dispute anymore.
On the other side, teams with West Virginia's defensive profile (again, there are a lot in the Big 12, like Iowa State, Oklahoma State, and Baylor) could do nothing to stop Kyler Murray, at all. It is doubtful West Virginia will be able to muster much resistance either. And that, my friends, is how you get 85.
The one wrinkle? It may be absolutely frigid in Morgantown Friday night, with temperatures at kickoff right around 32 degrees. It will obviously be the coldest game Kyler Murray has played this season (his only one starting for OU) and about six-to-eight degrees colder than it was for most of the Kansas game last week.
What effect will that have, if any? It certainly should give a little pause to betting a total that seemingly does not account for any change in scoring conditions on the field.
As for the spread, both teams come into this game with a sort-of deflated perception in the market. Oklahoma has failed to cover its last three games (the past two by wide margins) and West Virginia was upset last week in Stillwater as favorite.
An Extremely Fortunate Road Schedule
By Ken Barkley
The compelling factor for me here is not only that this is OU's toughest opponent all season (along with Texas), but also how lucky the Sooners have been in their road scheduling so far.
They played Iowa State before Brock Purdy wrestled the starting job away and the team had really started rolling. They played TCU when the team was absolutely falling apart. They barely survived Texas Tech.
And, of course, there's the neutral-site, close loss to Texas. That's the team's entire profile away from home this year, and Oklahoma is now favored in its toughest road game of the year.
It seems like there is an assumption that the team can play well here, but I'm not entirely sure that's true. The Sooners' road schedule really can't survive any scrutiny whatsoever. I think as long as West Virginia is a dog, even a small one, that number merits a bet.
Barkley's Pick: West Virginia +2 or better
A Case for the Over
By Collin Wilson
Early money indicates West Virginia is going to win this ball game, and if so, it will be required to score non-stop. WVU has scored at least 41 points in four games since its bye week. The Sooners have scored at least 48 in all five games since their bye week.
Oklahoma is first in offensive S&P+, led by Heisman Trophy candidate Kyler Murray. This may be Murray's last chance to make a statement for the voters. Oklahoma has a knack for avoiding third downs, ranking first in the nation in achieving first down on first or second down, which always leads to more points.
Oklahoma' pass defense should help get this total over, ranking 125th in pass efficiency and 102nd against completion rate. Will Grier should move the ball at will against the Sooners.
Kick your feet up for this shootout and take the over, as the loser will most likely be left out of the Big 12 Championship Game.
Trends to Know
By John Ewing
West Virginia lost last Saturday to Oklahoma State. Since 2005, ranked teams after a loss have gone 243-296-16 (45%) against the spread in their next game per our Bet Labs data.
---
By Evan Abrams
Oklahoma is 10-1 and No. 6 in the College Football Playoff rankings heading into their showdown on the road against West Virginia. In the Sooners' past three games, they have been favored by at least points and have won them all, but failed to cover the spread in all three.
Since 2005, teams with a win percentage of 90% or higher and lose at least three consecutive games against the spread are 18-9 ATS, covering the spread by 4.1 points per game. Eleven of the 27 teams played their game on the road in this spot and they are 10-1 ATS, covering the spread by six points per game.
---
Oklahoma is leading the nation in scoring at 49.5 PPG, while West Virginia is ninth at 40.9 PPG. This season, the Sooners and Mountaineers are a combined 16-5 to the over this year and are both individually above .500 to the over.
Since 2005, when two teams play a conference game and both are above .500 to the over that season, the over is 495-584-12 (45.9%) — but when it is a Big 12 game, the over is 73-58-1 (55.7%).
Recently, the over has been even worse. Since 2015, the over is 103-136-2 (43.1%) in this spot.