Thrilla Over NIL'a: Nick Saban & Jimbo Fisher Meet Face-to-Face At SEC Spring Meetings
Credit:
Wesley Hitt/Getty Images. Pictured: Jimbo Fisher (left) and Nick Saban (right).
MIRAMAR BEACH, Fla. — At about 11:30 a.m. Tuesday, the two adversaries entered.
Jimbo Fisher, in black slacks and a white Texas A&M long sleeve quarter zip, strode into the room. Nick Saban, dressed in blue slacks and a purple and blue striped golf shirt, walked in shortly afterward.
For the first time since they verbally jousted two weeks ago, Saban and Fisher were face-to-face. Well, maybe not literally face-to-face, but they were in the same room — the Sandestin Beach Hilton's Emerald B ballroom — for Day 1 of the SEC's Spring Meetings.
The Emerald B ballroom, 40 feet by 36 feet on Tuesday, featured a video screen, an Aquaverve Pacifik touchless water cooler, all 14 SEC football coaches and a few SEC administrators. The nine tables were configured in a U-formation. The SEC determines the seating assignments. Fisher, the chair of the SEC's football coaches, sat at the head of the room with Saban about 10 feet to Fisher's right.
The SEC football coaches were scheduled to meet for 5-½ hours, with league athletic directors joining the coaches for an hour. Not surprisingly, Name, Image and Likeness (NIL) was expected to dominate the discussion.
There were no fisticuffs between Saban and Fisher. No scuffles, no one attempted a dropkick off the top rope. Not even a single rope-a-dope. No "Brouhaha by the Beach."
The coaches just talked and talked. And talked. Cue ring announcer Michael Buffer: "Let's get ready to … mumble?"
After Saban and Fisher's "Thrilla over NIL'a," SEC commissioner Greg Sankey publicly reprimanded the two coaches for violating SEC bylaws related to "Ethical Conduct for derogatory comments and public criticism" of another institution's athletics program and staff.
In other words, the SEC's "It Just Means More" mantra has been updated to "It Just Means No More Bashing Other Coaches."
Before the coaches' Tuesday meeting, Saban met briefly with the media (Fisher is expected to talk with the media after Wednesday's meetings). Saban was immediately asked what evidence he has that Texas A&M bought its recruiting class as Saban stated on May 18.
"I didn't really say that anybody did anything wrong," Saban said. "I've said everything I'm going to say about this. I should have never mentioned any individual institutions as I've said before."
Saban appeared uncharacteristically uneasy discussing Fisher.
"I have no problem with Jimbo," Saban said. "I have no problem at all."
At 11:18 a.m. Tuesday outside the hotel's ballrooms, Saban walked past Fisher, who was in the middle of a conversation. In Exhibit 1A of why the SEC has the most passionate fans, an SEC fan recorded an actual 16-second video showing Saban walking past Fisher.
"BREAKING NEWS: Saban walks past Fisher!"
Saban-Fisher — or Fisher-Saban, if you prefer — was the story on Tuesday. And it likely will be until the teams meet on Oct. 8.
Missouri's Eli Drinkwitz, South Carolina's Shane Beamer, Florida's Billy Napier and Georgia's Kirby Smart were all asked Tuesday for their take on the league's two highest-paid coaches.
"I'm not foolish enough to get caught commenting about that," Napier said.
On May 19, Fisher said he's done talking to Saban. Smart, who worked one year with both Saban and Fisher at LSU, said it's not uncommon for coaches not to talk to each other.
"We don't speak to each other, any of us," Smart said. "It's not commonplace for guys to be reaching out and be friendly when competing on the field and we're constantly competing for prospects day in and day out."
In February, Ole Miss coach Lane Kiffin said the Rebels "didn't have the funding resources" as some schools with the NIL deals.
"It's like dealing with salary caps," Kiffin said. "I joked I didn't know if Texas A&M incurred a luxury tax with how much they paid for their signing class."
Fisher immediately fired back at Kiffin, calling him a "clown act."
"And then to have coaches in our league say it?" Fisher said in response to Kiffin. "Clown acts. Irresponsible as hell. Multiple coaches in our league, the guys griping about NIL and transfer portal, are using it the most. That's the ironic part. It does piss me off."
That was nothing compared to Saban's comments on May 18. The Aggies had the nation's top recruiting class, Saban said, because "A&M bought every player on their team. Made a deal for name, image and likeness. We (Alabama) didn't buy one player."
If Fisher was "pissed off" by Kiffin's comments, Saban's comments resulted in Mount Fisher erupting on May 19 in a 9½-minute press conference. Fisher just didn't burn a bridge with Saban — he napalmed it.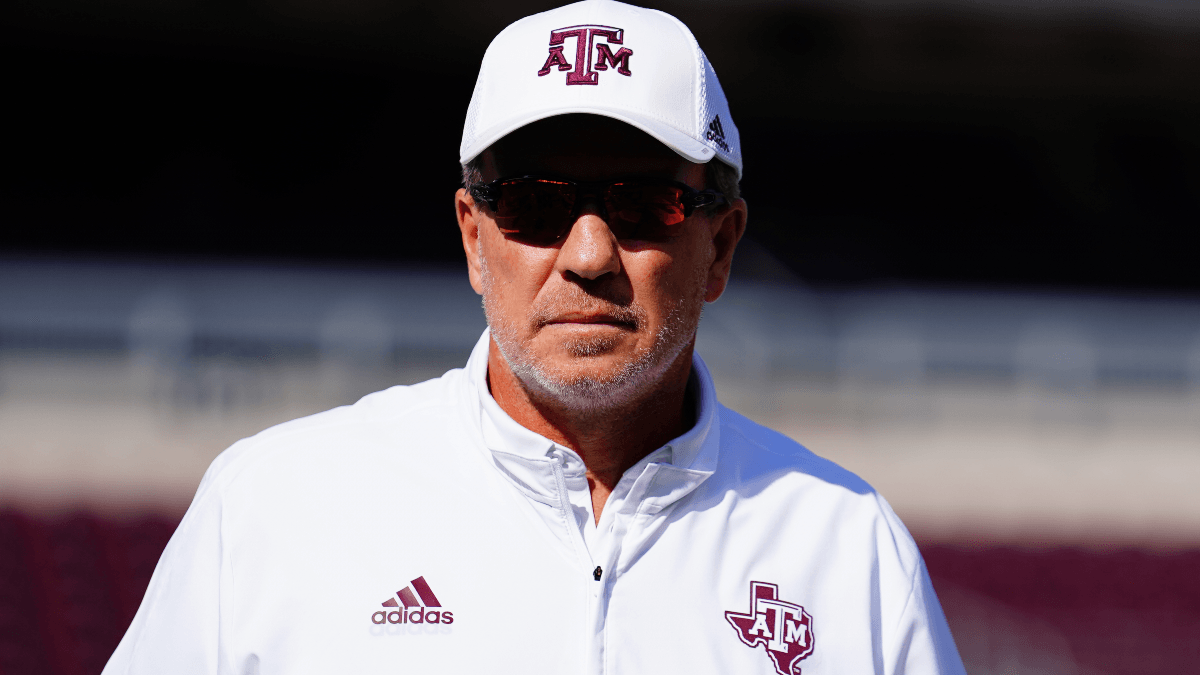 In the first two minutes, Fisher used the word "despicable" five times to describe Saban's comments. Smart said at that moment his phone immediately "started blowing up."
Fisher also called Saban "a narcissist" who didn't get his way and as someone "throwing the darts (that) have no glass in their house" who "never followed the rules anyway."
"Some people think they're God," Fisher said of Saban. "Go dig into how God did his deal, and you may find out about a guy a lot of things you don't want to know. We build him up to be the czar of football. Go dig into his past or anybody that's ever coached with him."
Fisher also dropped another doozy.
"I don't cheat and I don't lie," Fisher said. "I learned that as a kid, if you did, your old man slapped you on the side of the head. Maybe somebody should've slapped him."
One source, who has been working at various SEC schools for the past 20 years, told Action Network nothing Fisher said about Saban hasn't been said multiple times privately in coaching circles.
Also, the source said, take Fisher's "never lie, never cheat" line with a grain of salt. In 2020, Fisher received a six-month show cause order from the NCAA for "failing to promote an atmosphere of compliance because of his personal involvement in a recruiting violation."
Before Fisher's outburst, Saban and Fisher appeared on good terms. They worked together in 2000 when Saban left Michigan State to become LSU's coach. Fisher, after a year as Cincinnati's offensive coordinator in 1999, was hired by Saban at LSU.
For five seasons from 2000-04, Fisher worked under Saban as the Tigers' offensive coordinator, highlighted by the Tigers capturing the 2003 BCS national title.
It was the best of times, it was the …
"There was (friction) all the time," a former LSU staffer told The Athletic. "Will (Muschamp) and Kirby (Smart) and all the defensive guys all bowed down to Nick, but Nick depended on Jimbo a lot. But Nick is so hard on his (offensive coordinators). They were always at each other's throats."
Following the 2004 season, Saban left to become coach of the Miami Dolphins. Fisher remained at LSU two more years, before leaving to become Bobby Bowden's offensive coordinator at Florida State.
After two years, Saban left the Dolphins to become Alabama's coach in 2007. Saban offered Fisher a position at Alabama, but Fisher remained at FSU.
"You coach with people, like Bobby Bowden, and learn how to do things," Fisher said two weeks ago. "You coach with other people and learn how not to do things.
"There's a reason I haven't gone back to work for (Saban) with an opportunity. I don't want to be associated with it."
Ironically from now on, Fisher will always be associated with Saban because of their comments.
Last summer, Fisher and Saban had a lighthearted verbal battle. Speaking in Houston, Fisher was asked the key to beating Alabama, other than Saban retiring.
"We're going to beat his ass even when he's there," Fisher vowed.
When told about Fisher's prediction, Saban responded: "In golf? Is that what he was talking about football?"
Fisher did what he said. In 2021, Texas A&M upset Alabama, 41-38. Fisher became the first Saban assistant to beat Saban, ending an 0-24 record for Saban's assistants against Saban.
The rematch in Tuscaloosa on Oct. 8 is only 130 days away, but the NextRound.store has already started printing T-shirts for this year's grudge match: Hick vs. Nick.
The SEC's broadcast executives had another description for college football's most anticipated game of 2022: "A freakin' gold mine," a source said.
---
More from Brett McMurphy
How would you rate this article?
This site contains commercial content. We may be compensated for the links provided on this page. The content on this page is for informational purposes only. Action Network makes no representation or warranty as to the accuracy of the information given or the outcome of any game or event.