Tuesday Bowl Game Betting Odds, Picks, Predictions: College Football Best Bets for 5 Games (December 31, 2019)
Credit:
Scott Wachter-USA TODAY Sports. Pictured: Kansas State celebration
College football bowl games continue on Tuesday with five New Year's Eve games, including Navy vs. Kansas State in the Liberty Bowl and Texas vs. Utah in the Alamo Bowl.
See how our experts are betting all five Tuesday bowl games.
Looking for Wednesday bowl games? Click here.
These could be your last bets of 2019. Make them count.
Bowl games roll on Tuesday with five contests starting at 12 p.m. ET (Kentucky-Virginia Tech). The last one, Utah-Texas, kicks off at 7:30 p.m. ET.
Here's how we're betting each game.
Tuesday Bowl Game Odds & Picks
---
Odds as of Tuesday morning and via PointsBet, where Action Network users can access an exclusive promotion to get a 200% deposit match (deposit $50, bet with $150). No strings attached. No rollover required.
---
Kentucky vs. Virginia Tech Odds
Odds: Virginia Tech -2.5
Over/Under: 46
Time: 12 p.m. ET
TV: ESPN
Location: Charlotte, N.C.
The Belk Bowl is a goodbye game for everyone.
Kentucky quarterback and do-it-all offensive weapon Lynn Bowden has declared for the NFL Draft.
Longtime Virginia Tech defensive coordinator Bud Foster will retire after Tuesday's game.
And Belk will no longer sponsor this game after this year.
Who has the edge in the 2019 edition? Let's dive in.
Can Anyone Stop Lynn Bowden?
The biggest question is if the Virginia Tech defense can stop Bowden's one-man show. He converted from wide receiver and UK began running an option-offense of sorts.
Kentucky thrives off getting the ball in Bowden's hands, and the Wildcats rank No. 8 in the nation in run rate. They had just two passing attempts in a season finale against Louisville and just seven in a previous loss to Tennessee.
But the Hokies may be up to the task of limiting Bowden.
Virginia Tech has a top 20 rushing success rate on defense, aided by a top 20 rank in opportunity and stuff rate.
Georgia limited Bowden Jr to under 100 rushing yards and less than six yards per carry. The Bulldogs carried a top 10 ranking in all advanced defensive rush statistics, much like Virginia Tech on the front seven.
It is imperative that Virginia Tech get Kentucky in passing downs where the Wildcats success rate falls to 101st.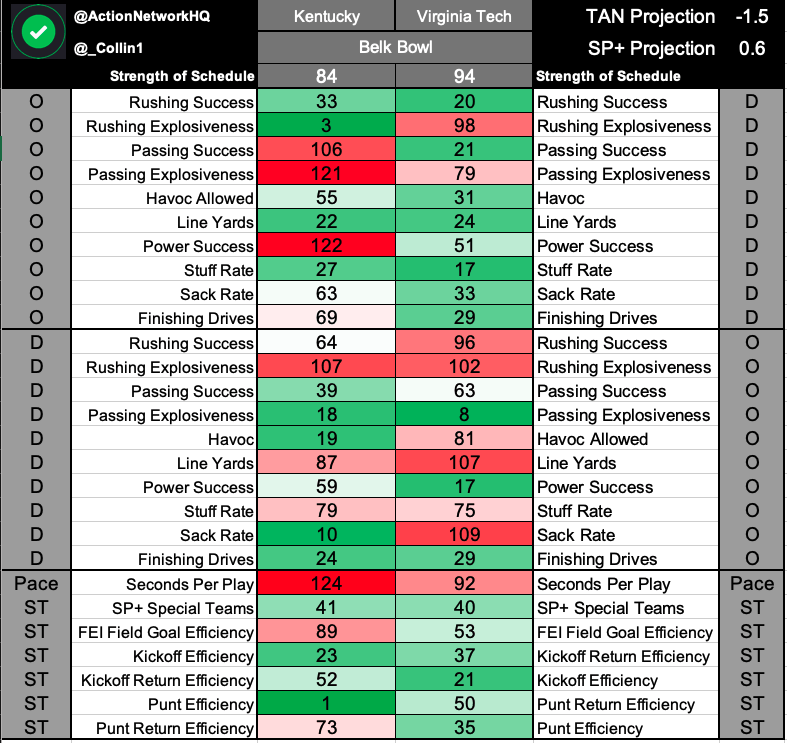 On the other side, Hendon Hooker has been an offensive savior for Virginia Tech, throwing 11 touchdowns to two interceptions since taking over as starting quarterback.
The sophomore leads one of the youngest rosters in the nation with a pass explosiveness rank in the top 10. Virginia Tech is top 40 in passing play over 30 yards, an impressive mark considering the Hokies are 115th in passing attempts.
Since taking over at quarterback on Oct. 5 against Miami, Hooker has thrown a 50-plus yard pass in five of seven games. Look for this long yardage situations, as Kentucky ranks 97th in opponent passing downs explosiveness. — Collin Wilson
Collin's Pick: Virginia Tech -3, Over 46
Stuckey: Why I Like the Under
First off, we have two teams that play relatively slow. Kentucky, which now features a one dimensional rushing attack since Bowden moved from wide receiver to quarterback, ranks 124th in seconds per play as you'd expect for their new offensive profile.
Bowden, the starting quarterback, is actually the team's leading rusher and receiver but not the leading passer on the year. Virginia Tech also ranks outside the top 90 in that same category, so the clock should be moving.
In regards to the matchup, this is defensive coordinator Bud Foster's last hurrah after a legendary run in Blacksburg. I expect his defense to come out with their hair on fire for his last dance.
They should be a very prepared group ready to stop a completely one dimensional Kentucky offensive attack. The Cats can run it as well as anybody (6.4 yards per carry is tied for tops in nation) with Bowden leading the charge.
Foster's blitz and man heavy defenses do historically give up a ton of explosive plays through the air and on the ground, but he should have a more tailored game plan solely focused on slowing down Bowden. There really isn't much worry about Kentucky airing it out. And the Hokies defense did rank in the top 20 in rushing success rate while only allowing 3.7 yards per carry (31st nationally).
On the other side of the ball, Virginia Tech's offense has been much better since Hooker took over at quarterback. However, this is still a unit that struggles to move the ball on the ground, averaging only 3.9 yards per carry (92nd). A lot of those problems start up front with a very vulnerable offensive line that ranks 107th in Line Yards.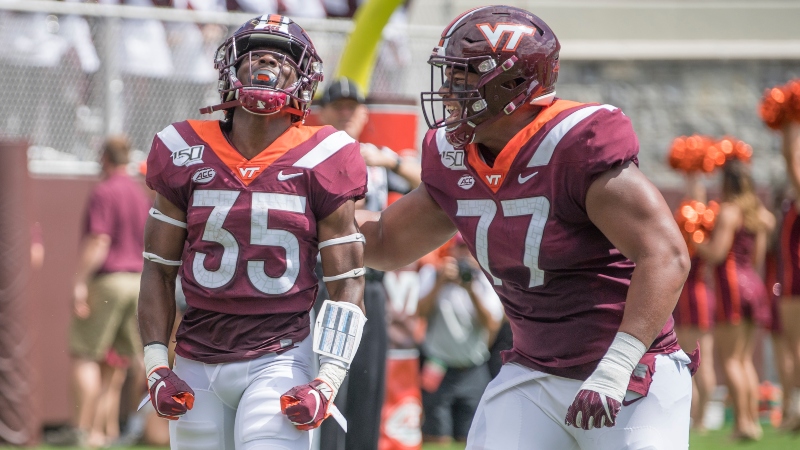 And once Virginia Tech gets in passing situations, it might not have as much success as it did against weaker ACC pass defenses at the end of the season.
The Wildcats excel at getting after the quarterback (10th in sack rate), which spells trouble against an offensive line that also doesn't pass protect very well (109th in sack rate).
The strength of the team is the Kentucky secondary, which does an excellent job at preventing explosive plays (18th) which is what the Virginia Tech offense with Hooker relies on. You can attack Kentucky's linebackers a little bit on the ground but as I mentioned before, that's not Virginia Tech's game.
VT has also started using a lot of gimmicky misdirection since Hooker took over in order to hide some of the offensive line issues. Kentucky's defensive staff will be more than prepared with plenty of tape on the offense with Hooker at the helm with plenty of time to prepare and scheme.
Bottom line, this is a good matchup for the Kentucky defense and I think Foster will have his troops ready to stop a one dimensional UK offense that really benefited from a ton of sloppy weather in seemingly every game in the second half of the season. Plus, the pace should be conducive for an under.
Additionally, both teams have excellent punters as Kentucky's Max Duffy won the Ray Guy Award and VT's Oscar Bradburn was a semifinalist. Both can boom the ball and are more than capable of flipping the field. Elite punters are an under bettor's best friend and we have two really good ones here.
I hit this under and also sprinkled some on the first half under.
Buyer beware: this is the last Belk Bowl which has haunted me for years after the , so I expect this bowl to send me out with maximum pain. That would mean this game is destined for overtime. — Stuckey
Stuckey's Pick: Full game under 46, 1H Under 23
Florida State vs. Arizona State Odds
Odds: Arizona State -4
Over/Under:

53.5

Time: 2 p.m. ET
TV: CBS
Location: El Paso, Texas
---
Odds as of Monday night and via PointsBet, where Action Network users can access an exclusive promotion to get a 200% deposit match (deposit $50, bet with $150). No strings attached. No rollover required.
---
The roster situation for each team could be described as fluid.
I bet Arizona State early on the Action App based upon the playing status of running back Eno Benjamin and wide receiver Brandon Aiyuk.
After all, freshman quarterback Jayden Daniels has been electric in games this season thanks in part to the help of his best skill position players.
Both Benjamin and Aiyuk will sit out the Sun Bowl for the NFL Draft. Benjamin represents 71% of the total rushing yards on the roster, a number that climbs to 91% among non-quarterbacks.
Aiyuk had 65 receptions for 1,192 yards to make up 39% of the Sun Devils passing game production. The combination of Aiyuk and Benjamin absence in the Sun Bowl leaves Daniels with just 52% of his targets and 51% of his total receiving yards.
Florida State will be without their offensive star Cam Akers. Leading wide receiver Tamorrion Terry is practicing and is on track to play, but has stated endlessly that his decision on the NFL may come after the Sun Bowl.
Quarterback Alex Hornibrook and linebacker Dontavious Jackson have moved on from the team. Offensive lineman Jauan Williams has missed practices for to personal reasons. The Seminoles may have a few others declare for the draft and sit the bowl game, keeping both teams roster's in question.
With so much production missing from each offensive unit, I'm looking at the under.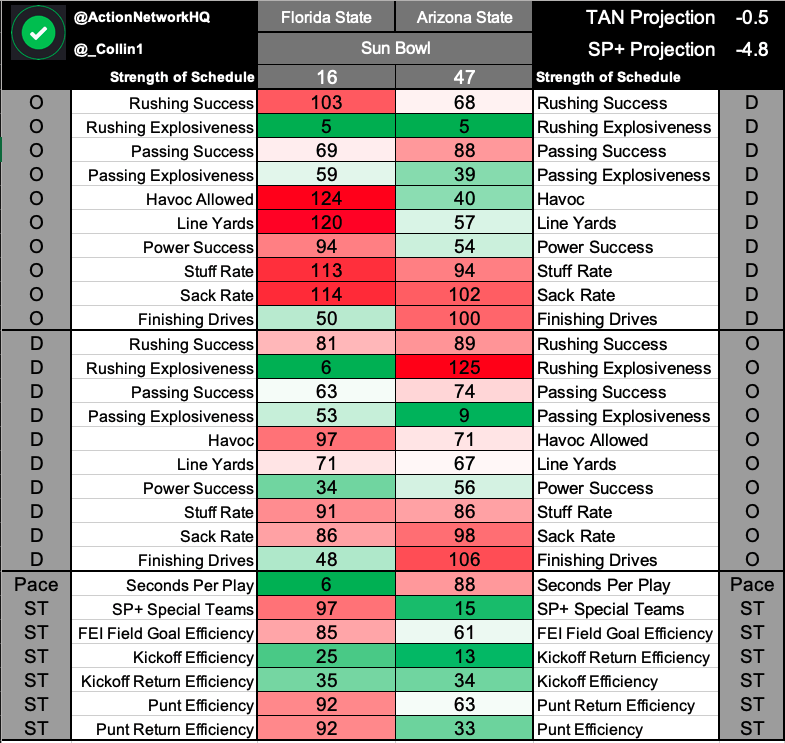 Our Action Network projection of 49.5 has some value against the current market. Florida State does run one of the quickest tempo offenses in the nation under Kendal Briles, who jets to Fayetteville for the Arkansas Razorbacks after this game.
In Tempe, Herm Edwards fired most of the offensive staff including coordinator Rob Likens.
The overall success rate and explosiveness for each offense rank 80th or below. Florida State has a rushing success rate of 103rd, and those numbers were with a healthy offensive line and Cam Akers in the backfield.
With a dip expected offensively for Arizona State after its skill position losses, take the under with two rosters and coaching staffs that are in flux.
As for the side, Florida State has advantages with seasoned coordinators against a patched up staff for Arizona State.
Expect second half adjustments by Florida State to be the difference. — Collin Wilson
Picks: Under 54 and Florida State +4
I agree with Collin that the play is on the Seminoles here as I make this game closer to a PK with Arizona State's two best skill position players sitting out.
Florida State's offense has been held back all season by atrocious offensive line play (120th in Line Yards and 114th in sack rate) which has killed so many drives and prevented the Noles from getting anything downfield. However, they will be going up against a fairly weak Arizona State defensive line that really doesn't get much pressure at all (102nd in sack rate) in its 3-3-5 base.
ASU's defense does excel at stopping the run, so don't expect FSU to get much going on the ground, especially without Akers and Khalan Laborn, but James Blackman should have much more time in the pocket than he's used to and he has the ability to move this offense down the field.
The special teams edge for ASU is a little worrisome, but I think FSU more than makes up for that discrepancy with how much of an advantage the Noles have in finishing drives on both sides of the ball.
I expect FSU to show up here for interim head coach Odell Haggins, who is loved by the players. This likely comes down to the wire as every ASU game seems to, so I'll gladly take +4 or above in a coin flip to me. — Stuckey
Pick: Florida State +4
Navy vs. Kansas State Odds, Pick
Odds: Navy -2.5
Over/Under: 52.5
Time: Tuesday, 3:45 p.m. ET
TV: ESPN
Location: Memphis, Tenn.
---
Navy vs. Kansas State odds via FanDuel, where Action Network users get a risk-free bet up to $500.
---
Collin Wilson: Is This Over/Under Too Low?
The Liberty Bowl features two teams that put together bounce-back seasons. Navy contended for the AAC and won the Commander-in-Chief's Trophy, while Kansas State enjoyed a successful first season under new head coach Chris Klieman, highlighted by an upset over Oklahoma.
One thing to keep in mind is that the Wildcats should have some familiarity with Air Force's triple-option offense. Defensive coordinator Scottie Hazelton used to hold the same position at Wyoming and Klieman faced plenty of FCS triple-option attacks when he was at North Dakota State.
Even with some triple-option experience on their sidelines, the Wildcats may struggle to stop Malcolm Perry and the Midshipmen. Kansas State's defense finished 79th in rushing success rate, 109th in power success rate and 111th against rushing explosiveness. The Wildcats have been sturdy with their backs against the goal line, ranking 14th in finishing drives, but Navy's offense is the best in the country by that same metric.
The Wildcats also boast some advantages on offense, specifically in the passing game. Kansas State isn't a pass-heavy team, but it may want to throw more considering it ranks 32nd in passing explosiveness. Other passing offenses like SMU, Notre Dame and Houston had a lot of success throwing on the Midshipmen.
Live betting the site at +3 or better may be the best option for either team, but I do think there's an angle on the Over/Under.
Our projected total for this game sits at 55 points, meaning there's value on the over at the current price. Considering that each offense can exploit the opposite defense, I think this game will feature plenty of points despite featuring two of the slowest offenses in college football.
Pick: Over 52.5 or better
Georgia State vs. Wyoming Odds
Odds: Wyoming -7
Over/Under: 47.5
Time: 4:30 p.m. ET
TV: CBS Sports Network
Location: Tuscon, Ariz.
Both Georgia State and Wyoming won just a single game in the month of November, just enough to make their way to the Arizona Bowl.
Wyoming is leaving the quarterback position a mystery as practices plays out through December. Levi Williams is expected to get most of the playing time with Tyler Vander Waal entering the transfer portal.
Despite the mystery at quarterback, the Cowboys rushing attack should have plenty of success. Georgia State does not have many defensive statistics that rank inside the top 100, including line yards, opponent rushing explosiveness and havoc.
The Panthers are 129th in defensive finishing drives, allowing any opponent within the 40 to secure plenty of points. Wyoming may be middle of the pack in national statistics on the ground, but that is good enough to expose the Georgia State defense.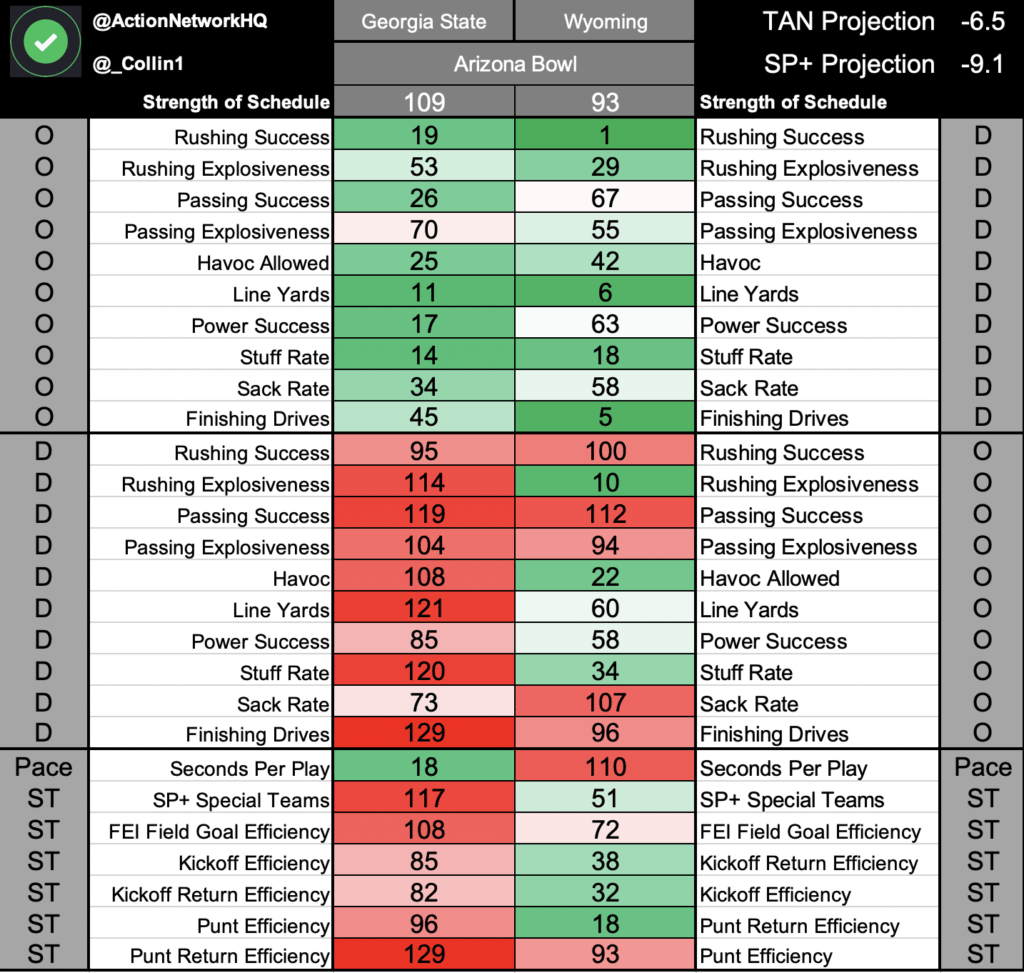 Georgia State head coach Shawn Elliot said quarterback Dan Ellington will be the team's quarterback despite playing the end of the season on a torn ACL. The senior has been injured since a loss to Appalachian State, but returned to action against South Alabama to secure a bowl trip.
Ellington is the key cog to a Georgia State passing attack that is top 30 in success rate.
The point spread has no value with the Action Network projection of Wyoming -6.5. Our total projection of 52 does lead to a bit of value on the over as the market continues to dip.
Georgia State is not the most explosive offense, but ranks 18th in overall success rate and seconds per play. The more plays from the Panthers offense, the bigger the chance a Wyoming defensive unit can capitalize on havoc. The Cowboys are top 15 in the nation in forced fumbles with 14 total.
The special teams of Wyoming may have its say in the total number of points in the game. The Cowboys have clear advantages in punt and kickoff return units that should grant fantastic starting field position.
I will continue to let the number steam down through key numbers in the upper 40's before eventually taking an over, as Georgia State should dictate the pace of the game. — Collin Wilson
Pick: Over 47.5 or better, Georgia State +7
Too Many Unknowns to Bet
This has to be one of the oddest bowl games on the schedule. These two teams are polar opposites. Georgia State has a very solid offense that likes to play super fast but has one of the worst defenses in the nation.
Meanwhile, Wyoming has an excellent defense (top 25 in yards per play) led by a stout front 7seven that is particularly dominant against the run, allowing only 2.7 yards per carry (fourth in the nation). Although you could argue some of the Wyoming defensive numbers are inflated as a result of very favorable weather (extremely high winds) in a number of games this year.
However, the Pokes have an abysmal offense that will now have a new quarterback under center for this bowl game after an injury and a transfer.
I've thought Wyoming has been overrated most of the year and they won't have the extreme weather that's helped them frequently this year. A team with an elite run defense and heavy ground attack offense will obviously thrive in heavy winds.
But I just don't know what I'm going to get from Ellington with that ACL and the new Wyoming quarterback. And like I said before, the Georgia State defense is horrid as is its special teams. I likely won't have anything pregame here but will be looking to see how the game develops for any potential live action.
This game is a pass for me. — Stuckey
Utah vs. Texas Odds and Pick
Odds: Utah -7
Over/Under: 55
Time: Tuesday, 7:30 p.m. ET
TV: ESPN
Location: San Antonio, Tx.
---
Utah vs. Texas odds via FanDuel, where Action Network users get a risk-free bet up to $500.
---
Collin Wilson: How To Attack This Total
There will be plenty of new faces for this game. Texas head coach Tom Herman cleaned out his staff on both sides of the ball, firing his defensive coordinator and demoting his offensive coordinator.
As for Utah, its secondary will be missing a few key players, including Julian Blackmon, who has four passes defensed to go along with four picks this season.
Utah's depleted secondary may give Texas a lifeline to get the ball down the field. The Utes were terrific at limiting explosiveness this season but the missing pieces could open them up and allow quarterback Sam Ehlinger and wide receivers Collin Johnson and Devin Duvernay to get the Longhorns into scoring range.
Utah has a distinct advantage when it has the ball. The Utes rank inside the top 10 in passing success rate and will go up against a defense that ranks 114th in the same category.
Long story short, both teams should have success moving the ball into scoring position, which should translate into points.
Pick: Over 55
Stuckey: Stick To the Tom Herman Trend?
As soon as Oregon had the Pac-12 championship locked up, I immediately started thinking about the potential Utah bowl fade.
The Utes had their College Football Playoff dreams shattered and that could create a situation where they check out during bowl preparation and come out a little flate.
We all know that the Longhorns are always intriguing as an underdog under Tom Herman. The Texas head coach is 15-5-1 ATS (70.6%) as a pooch, covering by more than 10 points per game. That includes a perfect 3-0 ATS record in Bowl games with three outright wins as underdogs:
2015 Houston (+7.5) beat Florida State
2017 Texas (+3) beat Missouri
2018 Texas (+12.5) beat Georgia
This is an extremely important game for Texas in regards to recruiting, especially after such a disappointing season. One of the primary concerns I have with Texas is the coaching staff shakeup in Austin.
Herman fired both coordinators and a few other key staff members late in the season. So, it's anybody's guess where this team is mentally. It's a legitimate concern, though the 'Horns did respond nicely in their finale against Texas Tech.
History also suggests I should trust Herman to have his troops ready here for a game in their home state. Plus, some new and unfamiliar looks on both offense and defense from Texas could work in its advantage.
The Longhorns were decimated by injuries on both sides this year but I assume they'll be as healthy as they've been all season for this game. Ultimately, I think Texas is a little undervalued in the market after having their season derailed by injuries. Meanwhile, Utah may have been a bit of a paper tiger that I had overrated after dominating so many inferior Pac-12 squads (and a few with backup quarterbacks).
I also think the two losses in the secondary in Julian Blackmon and Jaylon Johnson, two All-American caliber defensive backs, will loom large here.
I like Texas at a touchdown dog or better.
How would you rate this article?