College Football Odds & Betting Picks for Week 10: BJ Cunningham's Top CFB Picks
Credit:
Robin Alam/Icon Sportswire via Getty Images. Pictured: Notre Dame Stadium.
BJ Cunningham maps out his college football betting card for Week 10, including three underdogs and two road teams.
Cunningham's three picks also include a marquee matchup between Clemson and Notre Dame.
Dive in below and get ready for another wild weekend of football.
Saturday's Week 10 college football slate features some massive slates. In fact, the slate is colossal enough that three of our college football betting experts have their own betting cards.
Along with Collin Wilson's Week 10 betting card and Stuckey's top nine situational spots, BJ Cunningham has three bets for three key Saturday games that he wants to share with the world.
His first bet begins in West Lafayette, Indiana, as the Purdue Boilermakers host the Iowa Hawkeyes in a Big Ten West showdown between two very different offenses.
Then, Cunningham turns his attention to Acrisure Stadium, where the Syracuse Orange look to take a conference game from the home Pitt Panthers.
To wrap up the night, Dabo Swinney and the Clemson Tigers look to keep their perfect season alive when they take on Marcus Freeman and the Notre Dame Fighting Irish in South Bend.
Check out all three of Cunningham's top college football bets for Week 10 below, along with other key college football picks for this tremendous week of action..
---
Cunningham's Week 10 College Football Best Bets
The team logos in the table below represent each of the matchups that BJ Cunningham is targeting from today's slate of games. Click the team logos for one of the matchups below to navigate to a specific bet discussed in this article.
Game

Time

Pick

12 p.m. ET

Iowa +4

3:30 p.m. ET

Syracuse +4

7:30 p.m. ET

Notre Dame +3.5

Specific bet recommendations come from the sportsbook offering preferred odds as of writing. Always shop for the best price using our NCAAF Odds page, which automatically surfaces the best lines for every game.
---
Iowa vs. Purdue
Iowa hits the road to West Lafayette to take on Purdue in a crucial Big Ten West clash on Saturday.
The Hawkeyes got back to their winning ways last weekend, blowing out Northwestern in Iowa City. It's been a difficult year for Kirk Ferentz's team, which sits at 4-4. However, three of its four losses have come against teams currently in the top 20.
The Iowa defense continues to look good, but the question marks surrounding the Brian Ferentz-led offense remain.
Purdue comes in off of a bye, but the last time it was in action, it lost to Wisconsin, 35-24, in Madison.
The Boilermakers are currently 5-3 on the season and 3-2 in the Big Ten. They're also only one game behind Illinois in the very congested Big Ten West, so this game is incredibly important for them if they want any chance to make it to Indianapolis.
---
Hawkeyes Offense
Overall, Iowa's offense is one of the worst in the Power Five, but it did put up an improved performance against Northwestern last Saturday. It put 33 points on the scoreboard and averaged 6.0 yards per carry on the ground. 
Spencer Petras has been bad this season, and the Ohio State game was the worst game of his career. However, he has had three very solid performances against Rutgers, Michigan and Northwestern, putting up a PFF passing grade over 84 in all three contests. 
Petras isn't the reason Iowa's offense is as bad as it is. Iowa's biggest Achilles' heel has been the offensive line.
The unit ranks 130th in pass blocking, 78th in run blocking and 125th in Offensive Line Yards. Petras has been under pressure on 36.6% of dropbacks — one of the highest marks in college football — and has a 45.4 PFF passing grade with a crowded pocket.
Purdue has a very poor secondary, so Petras will need to be on his game Saturday.
Iowa's run game has struggled behind the offensive line. The Hawkeyes' running backs haven't found much room to run and are averaging only 4.0 yards per carry.
Hawkeyes Defense
Iowa has the best defensive grade in college football at 93.9, per PFF. The Hawkeyes are allowing only 4.0 yards per play while ranking second in EPA/Play and first in explosiveness allowed.
The 54 points allowed to Ohio State were incredibly deceiving and not a testament to how the Iowa defense held up under impossible circumstances.
Iowa's offense put its defense on a short field seven times against one of the best offenses in football. In fact, Ohio State had recorded just 184 yards of offense late in the third quarter.
Iowa has shut down opposing running backs this season, allowing only 3.4 yards per carry while ranking first in rushing explosiveness allowed. The best rushing attack Iowa has faced was Michigan, and it put up just 4.1 yards per carry.
It helps when a team has one of the best linebacking duos in the country in Jack Campbell and Seth Benson, who are both in the top 10 for defensive grades among linebackers, per PFF.
The Iowa secondary is once again one of the top units in the country. The Hawkeyes allow only 5.6 yards per attempt to opposing quarterbacks and own the No. 1 coverage grade in the nation, per PFF.
Along with reigning Big Ten Defensive Back of the Year Riley Moss, Cooper DeJean and Terry Roberts have been tremendous. They've combined to allow a 46.7% reception rate on 5.2 yards per target to go along with eight pass breakups and four interceptions on the season.
Iowa also has one of the best punters in the country in Tory Taylor. He's already downed 22 punts inside the 20-yard line (second most in FBS), and opposing returners are averaging just 3.5 yards per punt return.
---
Boilermakers Offense
Purdue's offense had been on a roll until heading into Madison before turning the ball over three times. It ended up with 5.5 yards per play, but a lot of that came in garbage time.
Quarterback Aidan O'Connell has been very inconsistent this season. Sure, he put up incredible numbers against Indiana State and Nebraska, but he's been pretty poor against everyone else.
Image via PFF.
He's averaging only 7.2 yards per attempt this season to go along with a 71.7 PFF passing grade. He's also recorded 11 big-time throws compared to 15 turnover-worthy plays.
So, going up against the top secondary in college football isn't a good recipe for success, especially when Purdue is throwing the ball 57.4% of the time.
Purdue has found some success on the ground. Running back Devin Mockobee is averaging 5.4 yards per carry and has gone for over 100 yards in his last two games against Wisconsin and Nebraska.
However, his offensive line hasn't contributed much to his success. That unit ranks 105th in Offensive Line Yards and 64th in terms of a run-blocking grade.
Boilermakers Defense
Purdue's defense has been incredibly solid this season, ranking 23rd in Success Rate Allowed and 18th in EPA/Play Allowed.
However, while the Boilermakers have been good from a Success Rate standpoint, they're not doing a great job keeping teams out of the end zone when they cross the 40-yard line. Purdue ranks 73rd in Finishing Drives, which is the reason they're allowing 29.1 points per game (78th in FBS).
The front seven has been the strength of the defense, especially against the run. Purdue sits 17th in Rushing Success Rate Allowed, 22nd in rushing explosiveness allowed and 14th in EPA/Rush Allowed. So, it's going to be very difficult for an average Iowa rushing attack to run the ball consistently against the Boilermakers.
The secondary is a completely different story.
Purdue has been torched repeatedly this season and has a really big problem giving up big plays in the passing game. The Boilermakers are allowing 8.3 yards per attempt (114th in FBS) while ranking 111th in passing explosiveness allowed and 99th in PFF coverage grade.
So, Petras may be able to find some success through the air on Saturday.
---
Iowa vs Purdue Betting Pick
With how inconsistent O'Connell has been, plus the fact he's going up against the best secondary in college football, it's hard to see Purdue's offense lighting up the scoreboard — especially when it's throwing the ball over 57% of the time.
Petras has been bad overall this season, but he has put up three impressive performances and is going up against a below-average secondary. The Hawkeyes should be able to move the ball similarly to how they did against Northwestern last week.
So, I like the value on Iowa at +4.
---
---
Syracuse vs. Pitt
Syracuse tries to end its two-game losing streak on Saturday when it heads to Acrisure Stadium to take on Pitt.
It's been a resurgent season for the Orange, who won six straight games out of the gates and reached as high as 14th in the polls. This is just their third road trip of the season away from the dome, so we'll see if Syracuse can stop the skid on Saturday.
Pittsburgh finds itself in its own little skid at the moment, losing three of its last four games, which culminated in a 42-24 loss to North Carolina in Chapel Hill last weekend.
The Panthers had high hopes coming into the season with an elite defense returning a lot of starters, but they've been anything but elite, sitting at 4-4.
---
Orange Offense
Quarterback Garrett Shrader was benched during the Notre Dame game, but Shrader has been really good this season overall. He owns an 82.6 PFF passing grade and averages 8.5 yards per attempt with a 77.9% adjusted completion percentage.
We'll see if Dino Babers decides to stick with Shrader against Pitt — or instead if Babers opts for Carlos Del Rio-Wilson, who came on in the second half.
No matter who's at quarterback, the focus of the Syracuse offense revolves around Sean Tucker, who is one of the best running backs in college football. Tucker averages 5.3 yards per carry with an 81.2 PFF rushing grade.
He's also accrued 21 runs of 10 yards or more.
Moreover, Syracuse's biggest advantage against Pitt is Finishing Drives. The Orange offense ranks 27th in Finishing Drives, whereas Pitt sits 67th in Finishing Drives Allowed.
Orange Defense
One of the main reasons why Syracuse started out 6-0 was because of its defense. The Orange rank 16th in Success Rate Allowed and 29th in EPA/Play Allowed. They've also given up just 4.8 yards per play (21st in FBS).
The run defense has been a bit of a concern. Notre Dame ran all over the Orange last week for 246 yards.
Syracuse is allowing 4.1 yards per carry while ranking 97th in Rushing Success Rate Allowed and 106th in Defensive Line Yards —not good when that same team is going up against Israel Abanikanda.
However, the Syracuse secondary has been elite. The Orange rank 11th in Passing Success Rate Allowed, sixth in EPA/Pass Allowed and fifth in coverage grade, per PFF. So, they should be able to shut down Kedon Slovis.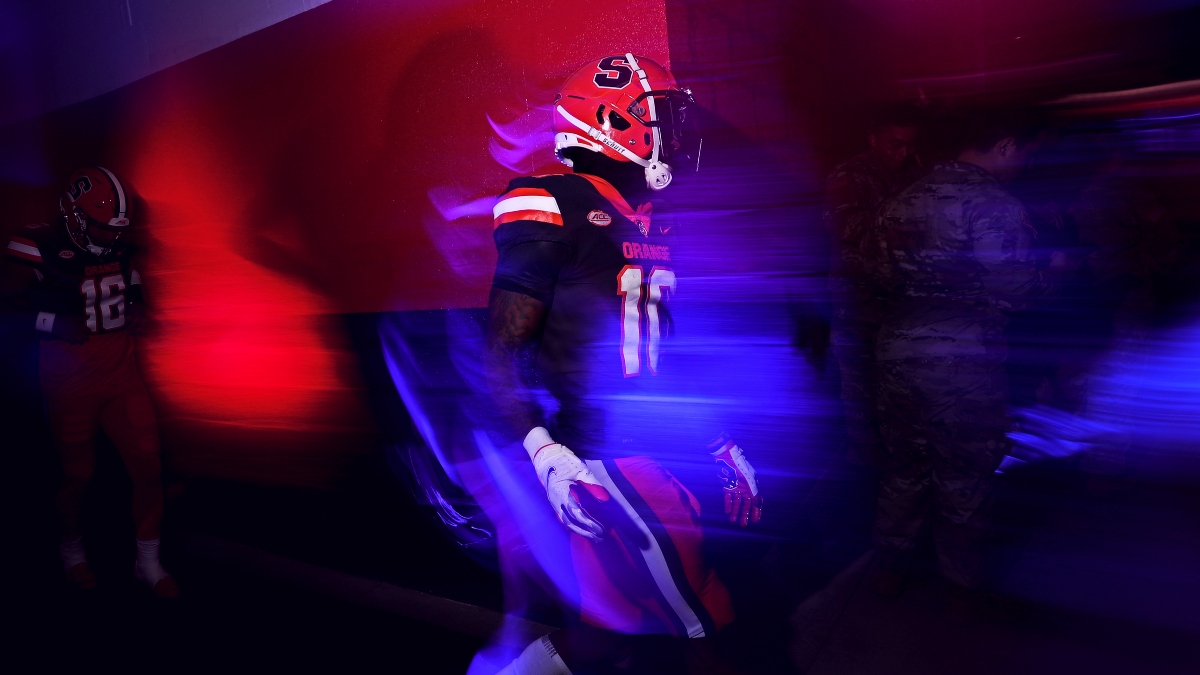 ---
Panthers Offense
The main problem with Pittsburgh's offense comes at the quarterback position with Slovis. Let's be blunt: The USC transfer has played poorly this season.
Slovis averages 7.5 yards per attempt, reports a mediocre 69.7 PFF passing grade and has seven big-time throws compared to 10 turnover-worthy plays.
On Saturday, Slovis must contend against one of the best secondaries in the ACC. The Syracuse defense allows just 6.2 yards per attempt (10th in FBS), owns the fifth-best PFF coverage grade nationally and ranks sixth in EPA/Pass Allowed.
Pitt has a tendency to become incredibly reliant on the run game; the Panthers run the ball on 54% of their offensive plays.
They have an outstanding running back in Israel Abanikanda, who averages 5.9 yards per carry to go along with 16 touchdowns and 29 runs of at least 10 yards.
However, much of Abanikanda's production came against Rhode Island and Virginia Tech. In contrast, Abanikanda managed fewer than 5.0 yards per carry against West Virginia, Western Michigan, Georgia Tech, Louisville and North Carolina.
Panthers Defense
Coming into the season, many pegged Pitt to be one of the best defenses in the ACC. However, the Panthers allow 5.7 yards per play (50th in FBS), ranking 40th in EPA/Play Allowed and 67th in Finishing Drives Allowed.
The front seven has been solid overall. That unit sits 24th in Rushing Success Rate Allowed, 15th in Defensive Line Yards and fourth in Stuff Rate.
However, Pitt's defense is highly susceptible to giving up explosive plays in the run game; the Panthers rank 124th in rushing explosiveness allowed. That's not good news for a team going up against Tucker, who has broken off more than 20 runs of at least 10 yards this season.
The Panthers' secondary has been pretty solid, giving up only 6.6 yards per attempt and ranking in the top 40 in terms of PFF coverage grade and EPA/Pass Allowed.
However, Drake Maye just torched them last Saturday for 388 yards and five touchdowns. So, if Shrader is on his game, he should be able to move the ball consistently through the air.
---
Syracuse vs Pitt Betting Pick
Finishing Drives is the biggest advantage for Syracuse in this game on both sides of the ball. The Orange should be able to make the Pittsburgh offense completely one-dimensional, especially with winds projected to be over 10 MPH.
Cuse should also find ways to move the ball through the air or on the ground against an average Pittsburgh defense.
I have Syracuse projected as a -1.1 favorite, so I like the value on the Orange.
---
---
Clemson vs. Notre Dame
Clemson looks to stay undefeated and in the College Football Playoff picture when it travels to South Bend to take on Notre Dame on Saturday night.
The Tigers were unveiled at No. 4 in the first edition of the CFP rankings, which means the target will be firmly placed on their backs for the rest of the season.
They're coming off of a bye, but the last time they were in action they survived a scare at home against Syracuse.
Notre Dame, meanwhile, has rebounded from a bad start to the season, as it pulled off an upset over Syracuse last weekend, 41-24.
It's been a difficult first season for Marcus Freeman, as the Irish sit at 5-3. But a win here would give the Fighting Irish six victories in their last seven games, helping Freeman reach a bowl in his inaugural season as a head coach.
---
Tigers Offense
The Clemson offense has been far from elite this season, and a lot of that has to do with the play of DJ Uiagalelei. He had an incredible game against Wake Forest and has 21 big-time throws compared to only five turnover-worthy throws, which is all great.
However, he's been average at best since the Wake Forest game.
Image via PFF.
The biggest reason we've seen him heading toward a decline is there's a big difference between his performance with a clean pocket versus under pressure.
When Uiagalelei has a clean pocket, he's averaging 8.3 yards per attempt and owns a 91 PFF passing grade. When he's under pressure, his yards-per-attempt number drops to 5.3, and his PFF passing grade falls to 46.1.
Notre Dame has the 48th-best pass-rushing grade in the country, so if it can get to DJ, it'll force him into some bad throws.
However, the way to beat Notre Dame is on the ground, and Clemson does have a decent rushing attack. The Tigers rank 34th in Rushing Success Rate and 24th in Offensive Line Yards, but they're 86th in rushing explosiveness.
So, it's going to have to be four yards at a time for running back Will Shipley.
Tigers Defense
Clemson has been really average up front this season, which isn't typical of a  Dabo Swinney-coached team. The Tigers rank 39th in Rushing Success Rate Allowed and 61st in Defensive Line Yards.
In their last two games against Florida State and Syracuse, they've allowed 5.3 yards per carry. So, Notre Dame may be able to have some success on the ground.
Clemson does have an outstanding pass rush that ranks third nationally in Havoc and sixth in pass rush grade, per PFF. However, Notre Dame has an outstanding offensive line, so it won't be easy for the Tigers to get to the quarterback.
Clemson's secondary has been the strength of its defense, sitting 25th in Defensive Passing Success Rate, 10th in EPA/Pass Allowed and 41st in terms of coverage grade, per PFF. It may be a long day for Drew Pyne.
---
Fighting Irish Offense
With Tyler Buchner out for the season, Pyne has taken over at quarterback, and there have been some mixed results.
Image via PFF.
He had great games against North Carolina, BYU and UNLV, but he averaged under 7.0 yards per attempt and posted a PFF passing grade under 60 against Cal and Syracuse. However, the focus of the Notre Dame offense the past few weeks has been its rushing attack.
The Irish ran the ball a whopping 54 times against Syracuse because they were playing with the lead for most of the game and the Orange have an elite secondary.
Notre Dame deploys a three-running back system, but Audric Estime has by far been its best back, averaging 5.6 yards per attempt and rushing for eight touchdowns.
Notre Dame's offensive line will also be a key in this game, as it ranks top-15 in run-blocking grade, Offensive Line Yards and pass-blocking grade. So, it should be able to control Clemson's front seven.
Fighting Irish Defense
Notre Dame's front seven has really struggled this season. The Irish are 84th in Rushing Success Rate Allowed, 90th in EPA/Rush Allowed and 67th in Defensive Line Yards.
However, they did just hold Sean Tucker and the Syracuse rushing attack to 2.4 yards per carry, so they might be starting to turn a corner. They also are incredibly disciplined, ranking third in terms of tackling grade, per PFF.
The Notre Dame secondary was outstanding against Syracuse last weekend, holding it to just 6.3 yards per attempt and forcing two interceptions while getting Garrett Shrader benched.
The Irish rank 10th in Passing Success Rate Allowed and 29th in EPA/Pass Attempt while allowing 6.6 yards per attempt.
They should be able to make things extremely difficult for Uiagalelei.
---
Clemson vs Notre Dame Betting Pick
The key in this game is going to be whether or not Notre Dame's front seven can put pressure on Uiagalelei. It's a top-50 pass rush in the nation, so it should find a way to get to the Tigers' signal-caller.
Clemson's struggles against the run the past few weeks are also pretty concerning going up against a Notre Dame rushing attack that runs the ball 61.3% of the time behind a top-15 run-blocking unit.
I only have Clemson projected as a -0.4 favorite, so I like the value on Notre Dame at +3.5.
How would you rate this article?
This site contains commercial content. We may be compensated for the links provided on this page. The content on this page is for informational purposes only. Action Network makes no representation or warranty as to the accuracy of the information given or the outcome of any game or event.