What State Produces the Most NFL Players?
Credit:
What state produces the most NFL players header image
The NFL is known world wide for having some of the best athletes in the world. Some regions of the country, though, have become well known for regularly producing NFL-caliber talent. So we set out to determine what state produces the most NFL players.
Action Network analyzed each NFL team's current roster to identify the state and university each of their players came from. From there, we ranked which state currently has produced the most NFL players. We also identified the college football programs that sent the most players to the NFL within those states. Read on to see the results.
Total Number of NFL Players By State
Looking at the current NFL landscape, Action Network was able to identify several hot spots where top talent came from. Here is an in-depth look at the top five states.
Texas
Is it any surprise that the Lone Star State tops the ranking? Texas is a football crazy state where towns live and die by their local teams at every level. 211 current NFL players came from a school in Texas. That is more than 1 in every 12 players currently in the league.
California
The sheer size of California and the number of universities within it has propelled the state to #2 on the list. There are 151 NFL players that came from colleges across California. That is about 9% of the current active players in the league.
Florida
Florida is another NFL-producing machine. The Sunshine State comes in at #3 with 149 total players in the NFL. The dominance of Florida, Florida State and Miami has dwindled slightly over the years, but they are still producing NFL players at a high rate.
North Carolina
Perhaps a surprise to some, North Carolina takes the fourth spot. North Carolina can claim 121 current NFL players in the league. Many may not think of the Tar Heel State as a football-dominant state, but they sure know how to produce top-talent.
Alabama
Alabama rounds out the top 5 with 109 active NFL players.  It features arguably the most successful college football program in history. So, it is no surprise to see them on this list.
Here's a breakdown of every state's active NFL players.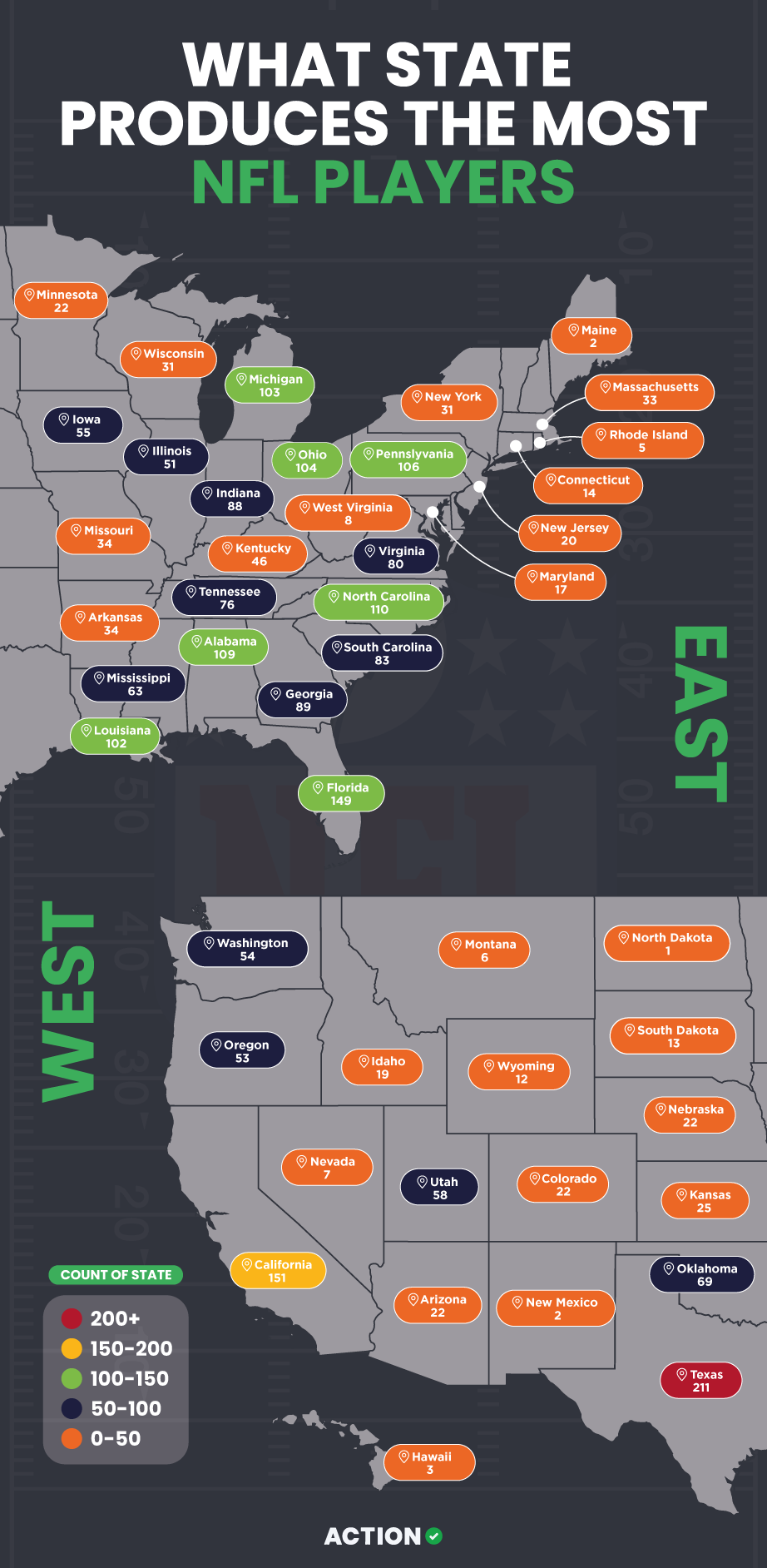 Which College Has the Most NFL Players (By State)?
We've looked at the top states for producing NFL players, but how about the most successful schools within those states? We've ranked the best NFL-talent producing universities in Texas, California, Florida, North Carolina, and Alabama. 
Top Colleges in Texas
Several prestigious Texas programs have contributed to the current NFL talent pool. Here's the top five schools for sending players to the pros:
Texas A&M Aggies – 37 current NFL players
Texas Longhorns – 29 current NFL players
TCU Horned Frogs– 25 current NFL players
Baylor Bears – 23 current NFL players
Houston Cougars – 20 current NFL players
Top Colleges in California
There are five schools who that dominate when it comes to producing NFL talent in California. Here's the breakdown:
UCLA Bruins – 28 current NFL players
USC Trojans – 28 current NFL players
Stanford Cardinal – 27 current NFL players
San Diego State Aztecs – 25 current NFL players
Cal Bears – 23 current NFL players
Top Colleges in Florida
There are three colleges that have dominated Florida football for decades. But see who makes up the rest of the top 5 in the state:
Florida Gators – 36 current NFL players
Miami Hurricanes – 34 current NFL players
Florida State Seminoles – 30 current NFL players
Central Florida Knights – 15 current NFL players
Florida Atlantic Owls – 14 current NFL players
Top Colleges in North Carolina
North Carolina has produced a surprising number of NFL players. Here are the universities cultivating the talent:
North Carolina State Wolfpack – 25 current NFL players
North Carolina Tar Heels – 22 current NFL players
Duke Blue Devils – 15 current NFL players
Wake Forest Demon Deacons – 13 current NFL players
Appalachian State Mountaineers – 12 current NFL players
Top Colleges in Alabama
In Alabama, there's no denying which school is best at producing professional football players. Here's how the rest of the list shakes out:
Alabama Crimson Tide – 62 current NFL players
Auburn Tigers – 31 current NFL players
UAB Blazers – 6 current NFL players
Samford Bulldogs – 3 current NFL players
South Alabama Jaguars – 3 current NFL players
The college football landscape is already taking shape for the 2022-23 season. Many of the schools on this list are poised to send another great class of rookies to the NFL next season. Will Texas cede its dominance, or will it hold strong as the top NFL-producing state? Time will tell! Score big on your bets for NFL with the assistance of the BetMGM bonus code.
Be sure to visit the Action Network's NCAAF Odds page each week to the lay of the land for betting lines. Don't forget to take advantage of Caesars Sportsbook's NCAAF odds week-in and week-out!
How would you rate this article?
This site contains commercial content. We may be compensated for the links provided on this page. The content on this page is for informational purposes only. Action Network makes no representation or warranty as to the accuracy of the information given or the outcome of any game or event.