Madden NFL 22 Quarterback Ratings: The Blatant Disrespect for Aaron Rodgers and Josh Allen
Credit:
Photo by Dylan Buell/Getty Images. Pictured: Josh Allen #17 of the Buffalo Bills and Aaron Rodgers #12 of the Green Bay Packers
I'm baaaaaaack! And so excited for the upcoming NFL season that I thought it was time to put the writing cap on and bring back your favorite of all Action Network articles … Man Crush Monday (#MCM).
Of course it's your favorite article. What else brings you up-to-date (not at all up-to-date) NFL fantasy news and stats (and none of that, either)?
With that said, let's dive right in.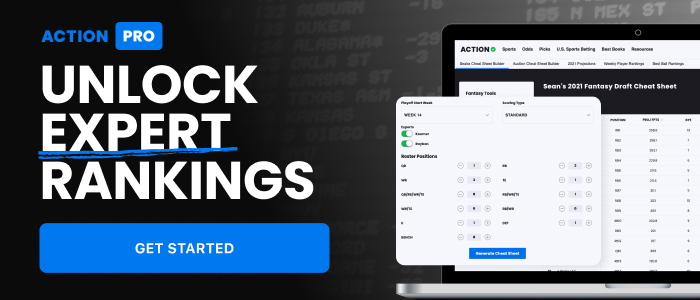 On Thursday, after a morning of plotting where to go (kid-free) with my husband (who also has the unfortunate luck of being married to me), we decided on a nice, quiet coffee shop.
I spent HOURS creating my famous (infamous?) yearly fantasy football quarterback rankings.
It's very scientific, you see.
I sit down, drink large quantities of coffee, do a little quarterback reading, decide whom I love this year based solely on personal opinion and nothing else, write them down, add some weird lines connecting all the quarterbacks and then move them around to other places with illegible notes next to them so the whole thing looks like a crime whodunit board.
Very scientific.
I worked so hard for the final results of my QB ranks that I'm basically peacocking at this point and pretty sure that my husband has had enough of my shit and is planning on leaving me at the restaurant.
Totally worth it. My rankings are beautiful.
And then I see it.
The bane of my existence, the antithesis of my quarterback rankings, the proverbial knife in the back …
… Madden NFL 22 quarterback rankings.
I am now burning with rage, an inferno of indignation. OK, not really.
I'm just slightly annoyed, but my kids have been up since 5:30 a.m., I've had three cups of coffee, and I need someone to take it out on.
Madden, in a clear moment of insanity, has ranked Aaron Rodgers THIRD and Josh Allen SEVENTH. WTF!
How DARE you Madden, how dare you. My rankings for the upcoming season are directly tied with the previous year, and this whole thing blows them out of the water.
I don't know if you're aware, but I'm a bit dramatic. It's fine. Everything is fine.
But someone should check in on my husband every now and then (and more specifically, his whiskey supply).
Anyway, someone please tell me HOW they have Rodgers ranked behind Tom Brady, and maybe even Patrick Mahomes? Why? WHY?
While I create my rankings based solely on preference (with some stats), I'm pretty sure that's not how a video game is supposed to work.
Then, I thought that maybe my love for all that is Rodgers was superseding actual statistics. So I went back to my rankings, my crime scene wall, and took a look at the 2021 season to see where everything went wrong.
For Madden. Not for me because I'm always right.
And here it is:
In 2020-21, Rodgers, with a Madden rating of 96, had a higher pass completion percentage, higher yards per attempt (YPA), more passing touchdowns and fewer interceptions than both Brady (Madden rating 97) and Mahomes (99).
DISCLAIMER: Stats used in this article may not be accurate and are used solely to conform to my opinions.
Call me crazy, but I feel like actual passing stats should be factored into their ratings.
Guys, Allen had a better completion percentage, YPA, more rushing touchdowns and fewer interceptions than Brady, and he received a Madden rating of 88 (compared to Brady's 97).
Granted, Brady had more passing touchdowns, but only three more than Allen last season.
I bet you're asking what all of this means.
Nothing. It means absolutely nothing in the grand scheme of things, but it has taken up a huge rent-free space in my head and I needed to get it out.
Will it change my rankings? No. Will it change the outcome of future seasons? Absolutely not.
But who knows, maybe someday when my little Rodgers grandkids are running around they will want to know that their grandpa was the best quarterback of the 2021-22 NFL season.
So screw you Madden.
[End rant that was supposed to be an NFL fantasy football article.]
If you feel like you've wasted 10 minutes of your life, below is a list of my top 10 fantasy football quarterbacks to draft this season.
Aaron Rodgers
Patrick Mahomes
Josh Allen
Aaron Rodgers
Aaron Rodgers
Aaron Rodgers
Aaron Rodgers
Aaron Rodgers
Tom Brady
Aaron Rodgers
Fin.
How would you rate this article?
This site contains commercial content. We may be compensated for the links provided on this page. The content on this page is for informational purposes only. Action Network makes no representation or warranty as to the accuracy of the information given or the outcome of any game or event.