Maple Leafs-Lightning: What's the Betting Impact When Two Prolific Offenses Meet?
Credit:
Kim Klement, USA Today
We've got a clear headliner in the NHL on Tuesday night as the Tampa Bay Lightning host the Toronto Maple Leafs in an Atlantic Division hootenanny.
The Bolts just clinched a spot in the postseason, but they still have a lot to play for with the Bruins just three points off their pace in the division. The Leafs, meanwhile, are six points back of Boston in the Atlantic as they look to make a run at home-ice advantage in the first round.
Giddy up.
All info as of Monday evening. Check back during the day and keep an eye on our Twitter handle for any updates.
For live spreads and bet percentages, check out this page. To get access to our premium betting tools, subscribe here.
---
Toronto Maple Leafs (+150) @ Tampa Bay Lightning (-170) | O/U 6.5
7:30 p.m ET
The Best Offense Is A Good Defense: Tampa Bay is widely considered to have one of the league's best offenses, and the stats bear that out. The Lightning have scored a league-best 254 goals this year. That is 13 more than Vegas, 16 more than Winnipeg and 18 more than Toronto; those teams rank second, third and fourth in the NHL in goals scored, respectively. And while the Bolts' attack is exemplary, their defense is pretty darn good, too. Tampa allows only 55.36 shot attempts (also known as Corsi) per 60 minutes at even strength (score + venue adjusted). That is the third-best mark in the league. — Michael Leboff
The Best Defense Is A Good Offense: Toronto's defense, on the other hand, isn't all that special. The Leafs allow the 11th-most shot attempts and the ninth-most scoring chances (both score + venue adjusted per 60 minutes). However, they get by thanks to a terrific offense that generates the third-most scoring chances per 60 minutes at 5-on-5 (score + venue adjusted), behind only Chicago and Tampa. — Michael Leboff
Voodoo: Frederik Andersen has yet to be ruled in or out of this contest, so be sure to check back later. If Andersen is 100% healthy, there really isn't much difference between him and Tampa's Andrei Vasilevskiy in this one. In fact, Andersen has a better goals saved above average (the number of goals saved compared to a hypothetical league average goaltender, also known as GSAA) than Vasilevskiy. And even though Vasilevskiy (.932) has a higher 5-on-5 save percentage than Andersen (.924), the latter has a much lower expected save percentage (meaning he's faced tougher shots) at .918 compared to Vasilevskiy's .929.
This all becomes moot if Andersen is ruled out of the game and the Leafs are forced to roll with No. 2 goaltender Curtis McElhinney. We often refer to goaltending as black magic or voodoo because of the volatility of the position, and McElhinney is a good example. The veteran backup currently leads the NHL with a .949 even strength save percentage. But in the two previous seasons combined, McElhinney posted a .914 even strength save percentage and a -6.02 GSAA. Voodoo. Update: Andersen will start in goal.— Michael Leboff
Two for Tuesday: Victor Hedman is squarely in play, ranking in the 98th percentile in shots+blocks over the past month, but Steven Stamkos is intriguing in the 98th percentile in power-play shots. It will be crucial to find value if you want to roster both in your Tampa Bay stacks, but the Lightning studs look to be a favorable spot to spend salary today against Toronto. Stamkos has also seen a recent shooting spike on the power play, ranking only in the 76th percentile over the past year. — Joe Holka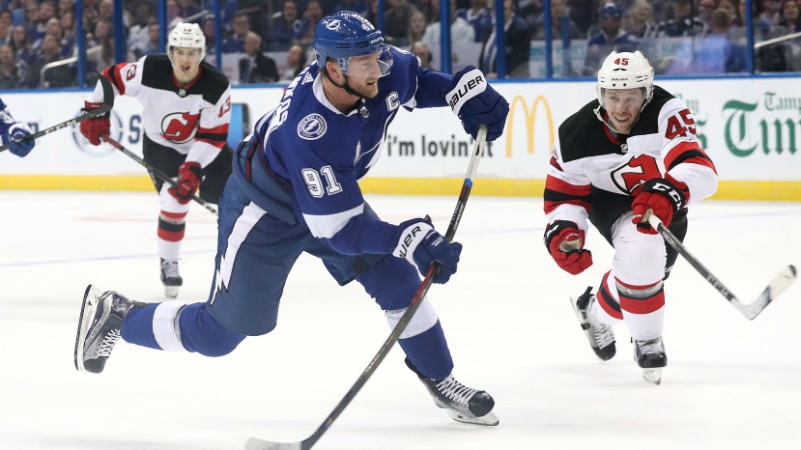 For the Win: Obviously there's value in targeting goaltenders on great defenses because the odds of that team allowing fewer goals and accruing the win are much greater. On such a large slate, you essentially need your goaltender to get the win or you're drawing dead. Tampa Bay has allowed the fourth-lowest Corsi (44.75) over the past month, and Vasilevskiy could certainly end Toronto's four-game winning streak, which makes his 34.37 Save Prediction that much more enticing. — Joe Holka
Under The Radar: The over in Lightning games is an NHL-best 45-26-1. The Leafs also have a winning over record (35-32-5). When two teams with winning over records meet late in the season (March-April), the under is 224-185-19 (55%). — John Ewing
Home Sweet Home: Tuesday evening's clash will mark Tampa's eighth consecutive home game. This season, teams have had success on extended homestands. Teams playing at least their sixth consecutive home game are 20-8-1 on the moneyline in 2017-2018, including 10-1 on the moneyline when playing at least their seventh consecutive home game.
Since 2005, teams playing at least their seventh straight home game are winning 65.5% of the time, by an average of 0.9 goals per game. — Evan Abrams
Injury Notes: Auston Matthews remains out for Toronto. After going 1-2-2 in the first five games without their 20-year-old star, the Leafs have won four in a row. Interestingly, Toronto actually has a better Corsi For % (53.78) over their last nine games than their season average (50.31). — Michael Leboff
---
Top Photo: Tampa's Andrei Vasilevskiy (L) tries to stop Toronto's James Van Riemsdyk. Credit: Kim Klement, USA Today Sports
Stats in betting analysis are at 5-on-5 unless otherwise noted. Stats in DFS analysis consider all skating situations unless otherwise noted.