Tuesday NHL Mega Preview: Expect Preds-Jets to be Low-Scoring
Credit:
Pekka Rinne via Christopher Hanewinckel-USA TODAY Sports
Don't look now, but the NHL playoffs are just over six weeks away, though it feels like the grind is only beginning. Things will turn up a notch on the ice, and we've got some doozies on the slate today.
Boston and Carolina are the two best possession teams in the league, but only one is seeing fruits of its labor, while the other is still struggling to put it all together. Why are the Bruins so good? Why aren't the Canes?
There are two legitimate four-pointers on the card, starting with New Jersey at Pittsburgh. As fate would have it, the teams are separated by … four points in the Metropolitan Division, so the clash is vital for playoff positioning.
The biggest matchup on the slate starts at 8 p.m. ET, when the first-place Predators host the second-place Jets in a critical Central Division showdown. Only two points separate these two teams as we head down the final stretch.
Our hockey deep dive concludes out West, where the Los Angeles Kings and Vegas Golden Knights finish up their home-and-home after the Kings came away with two points last night.
Let's jump in.
Information is current as of Tuesday morning. Check back during the day and keep an eye on our Twitter handle for any updates.
If there's a specific matchup you want to jump to, click the quick links below. For live spreads and bet percentages, check out this page. To get access to our premium betting tools, subscribe here.
CAR-BOS | NJD-PIT | NAS-WPJ | LAK-VGK
---
Carolina Hurricanes (+158) @ Boston Bruins (-175)
7 p.m. ET
Corsi Champs: Carolina and Boston rank first and second, respectively, in Corsi For (CF%) this season (the ratio of shot attempts generated to total shots, both for and against). The Hurricanes rank third in the NHL with 62.29 shot attempts per 60 minutes and second with 52.98 shot attempts allowed per 60 minutes. The Bruins are the best shot suppressors in the circuit, allowing 50.77 shot attempts per 60. — Michael Leboff
Expected Goals: Only Dallas has a better expected goals (xG) differential than Carolina. The Hurricanes create 2.58 xGs per 60 minutes (xGF/60) compared to 2.26 xGs allowed per 60 minutes (xGA/60). Boston ranks fifth in xG differential this year and fourth in xGA/60. — Michael Leboff
Big Z: At just $4,300 on DraftKings, Zdeno Chara is a strong value option as one of only three players in this game who ranks in the 95th percentile of shots+blocks or better over the past month. That said, a lack of pace is certainly a concern. The Bruins have the seventh-lowest Corsi Expectation on the slate and face a Hurricanes defense allowing the fourth-lowest Corsi over the past month. — Joe Holka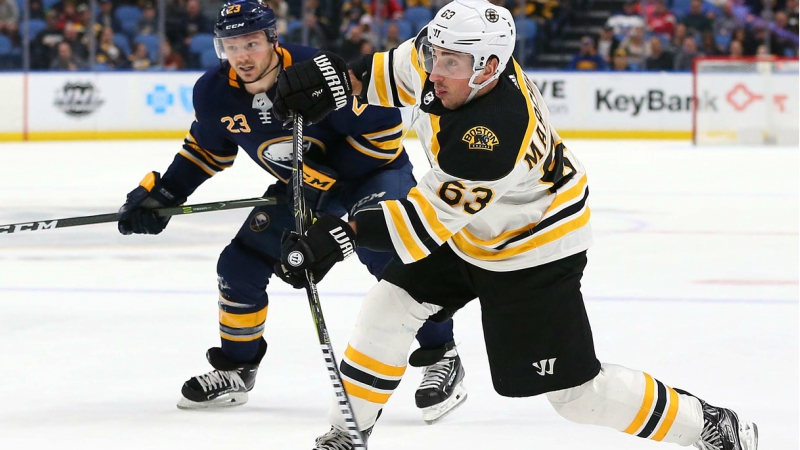 The Hockey Gods: Despite their terrific underlying numbers, Carolina is on the outside of the playoff picture. That's because the Hurricanes are currently the NHL's unluckiest team per PDO (a measure of luck that is based on shooting percentage + save percentage where 100 is the average). Carolina currently has a PDO of 97.77 thanks to their 6.51 shooting percentage and 91.26 save percentage. — Michael Leboff
To Tuukka or Not to Tuukka: Tuukka Rask poses an interesting decision for DFS owners. On one hand, Rask has performed above his salary-based expectation in six of his past nine starts. On the other, Boston doesn't give up shots (second-fewest Corsi Against on the slate), so his margin for error is small if Boston doesn't get the win. Historically, goalies as comparable moneyline favorites at home have provided a +0.31 DraftKings Plus/Minus and a 62% Consistency Rating. — Joe Holka
The Sundance Kids: Under head coach Bruce Cassidy, the Bruins have won 20 of 31 games after a loss, including 10 of their past 12. Since Cassidy took over for Claude Julien on Feb. 7 of last season, the Bruins are the fifth-most profitable team in the NHL. — Evan Abrams
Carolina On My Mind: The Bruins are one of the best teams in the league, but the Hurricanes are one of the few groups that can drive play at the same rate as the B's. Carolina at anything above +170 is a fine wager.  — Michael Leboff
Market Update: The Bruins will be without their best player, Patrice Bergeron, for the next two weeks thanks to a fractured foot. The injury was announced just after 11 a.m. ET and caused Carolina's price to shorten to +158 at Pinnacle.
---
New Jersey Devils (+171) @ Pittsburgh Penguins (-190)
7 p.m. ET
Similarities: The Penguins and Devils aren't all that different under the hood. Pittsburgh produces 2.58 xGF/60, while New Jersey creates 2.55 xGF/60. On the other end of the ice, the Penguins allow 2.4 xGA/60, while the Devils allow 2.42. — Michael Leboff
Differences: Even though the Penguins have the more robust offense, the Devils have the better shooting percentage this year. New Jersey has scored on 8.12% of its 5-on-5 shots this season, while Pittsburgh has tallied on 7.12%. — Michael Leboff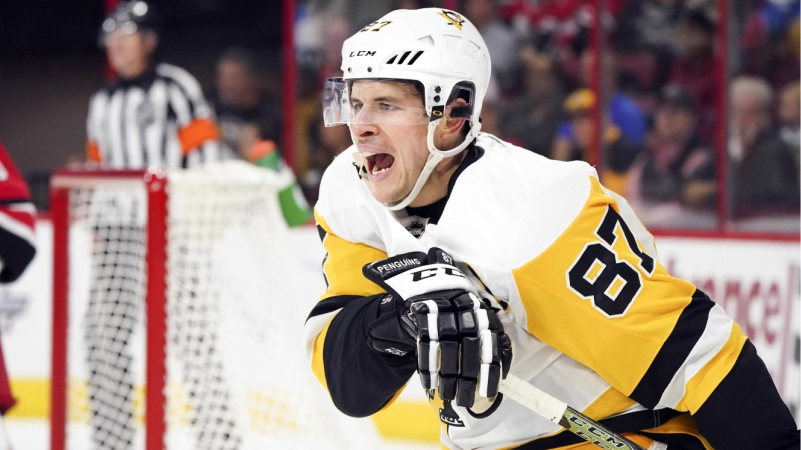 Hall's Floor and Ceiling: In DFS hockey, targeting peripheral stats is key when searching for both a high floor and ceiling. The upside with targeting shots over blocked shots is pretty simple: Small events (shots) are exactly what lead to less predictable — but often more significant — events like goals and assists. Taylor Hall's 3.71 shots per game over the past month lead all wingers (and trail only Vladimir Tarasenko in shot attempts at the position) among players in action on the schedule today. The Devils winger currently holds an 87% Bargain Rating on DraftKings and has exceeded his salary-based expectation by an average of 1.85 points per game with an 80% Consistency Rating over his past 10 games. — Joe Holka
Le-tempting: Kris Letang has been a solid peripheral stat option over his past eight games. He has ranked in the 99th percentile in shots+blocks, and his price has stalled out at $5,900 on DraftKings. He is a strong bargain based on peripheral stats alone, but he also quarterbacks the top power-play unit in the league, which converts at an uber-efficient 27.2% clip. His 21.58 Corsi For over the past month leads all Penguins skaters and trails only Roman Josi (23.07) and Ryan Ellis (22.36) on today's slate. — Joe Holka
Pull Up: Under head coach Mike Sullivan, Pittsburgh is 29-11 (72.5%) on the moneyline at home after a loss, including 11-2 on the moneyline this season. The Penguins lost to Florida in their last game. — Evan Abrams
---
Nashville Predators (+102) @ Winnipeg Jets (-122)
8 p.m ET
Slow and Steady: This game could be a bit of a slog, as both teams are good at controlling play and neither plays at a particularly high tempo. Winnipeg has the eighth-slowest pace (shot attempts for + shot attempts allowed at 5-on-5) in the league, while Nashville is just about at league average. — Michael Leboff
Roman Numerals: Roman Josi continues to be a strong and reliable option on the back end. He leads the slate with 11 Pro Trends on both DraftKings and FanDuel as the only Predators skater who ranks the 99th percentile in shots+blocks over the past month. — Joe Holka
Safety First: Neither the Jets nor Preds create high-danger scoring chances at a high rate, but Winnipeg is second in the NHL at preventing them. The Jets allow just 9.11 high-danger chances against per 60 minutes, the second-lowest total in the league. — Michael Leboff
Tight at the Top: Only two points separate Nashville and Winnipeg at the top of the Central Division. They both create 2.36 xGF/60 and are separated by only .17% in CF%. Where there is a gap is the discrepancy between the teams' actual goal differential and expected goal differential. Nashville has an xG differential of +1.16 compared to an actual goal differential of +27, thanks in large part to the stellar play of goaltender Pekka Rinne, who is second in the NHL in Goals Saved Above Average (GSAA). Winnipeg's xG differential is much closer to its actual performance. The Jets' goal differential is +21, while their xG differential is +12.93. — Michael Leboff
Hellebuyck Stops Here: Obviously there's value in targeting goaltenders on great defenses because the odds of that team allowing fewer goals and accruing the win are much greater. That said, in DFS hockey we need saves to buoy a reasonable floor for cash games, and wins drastically impact our bottom line. On today's slate, the Jets have allowed the fewest Corsi Against over the past month, which impacts Connor Hellebuyck's Save Prediction. Plus, the Predators offer the fourth-worst Matchup Rating on the slate. — Joe Holka
Best of the Best: Winnipeg and Nashville are two of six teams in the NHL that have at least 80 points. The Jets have struggled against the best teams in the circuit, going 3-6 on the moneyline against the other five members of the 80-point club. — Evan Abrams
Tough Spot: Winnipeg is 32-52 on the moneyline (38.1%) under current coach Paul Maurice against opponents with a winning percentage of 60% or higher. Maurice and the Jets are 8-15 on extended rest (three days or more) on the moneyline in this spot. — Evan Abrams
According to Script: Big games this time of year are tightly checked and that will likely be the case here. These are two really good defenses with in-form goalies, making the under 6 goals (Pinnacle) a good play. — Michael Leboff
---
Los Angeles Kings (+144) @ Vegas Golden Knights (-160)
10:30 p.m ET
Stingy: A lot of Vegas' success has been driven by its ability to limit scoring chances despite not having a true No. 1 defenseman. The Golden Knights allow just 9.8 high-danger chances against per 60 minutes, which puts them seventh in the NHL. — Michael Leboff
Knights vs. Kings: The Golden Knights' success seems to check out on basically every level. They are a positive Corsi team, they have a +9.84 xG differential, and they're averaging more scoring chances than they are giving up. The Kings, on the other hand, are a bit harder to read. Los Angeles has a CF% of 50.13, a -8.63 xG differential and the fifth-highest PDO in the NHL. The Kings are a decent group, but the evidence strongly suggests they're a notch below their opponents tonight. — Michael Leboff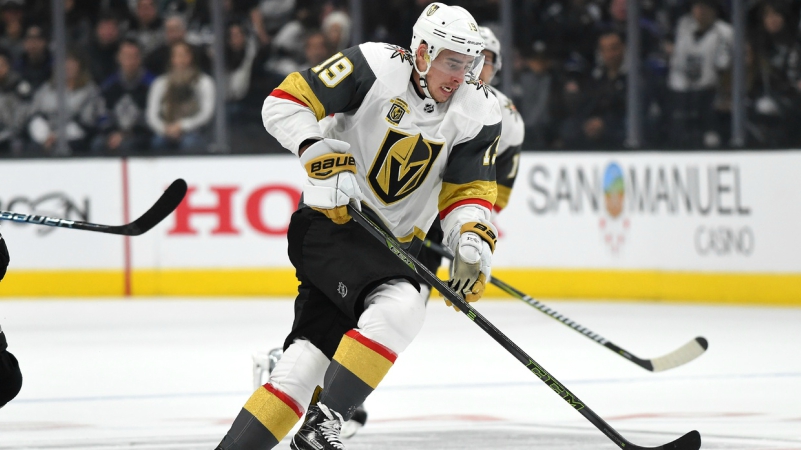 Kingly Stack: The top power-play unit for the road underdog Kings certainly stands out as an appealing stack for tournaments from an ownership and peripheral stats perspective. Anze Kopitar, Drew Doughty and Jeff Carter all rank in the 93rd percentile or higher in both shots and shots+blocks over the past month. — Joe Holka
Working a Double: The Vegas Golden Knights have played 10 games this season on a back-to-back and are 5-5 on the moneyline. More alarming than their win-loss record is the fact that they are allowing 3.7 goals per game, a full goal higher than their season average (2.69), in this spot. Oddly enough, this is the first time Vegas will play on home ice on the second leg of a back-to-back this season. — Evan Abrams
Lagace Watch: With Malcolm Subban hurt and Oscar Dansk playing for their AHL affiliate today, the Knights are either going to play Marc-Andre Fleury on a back-to-back or give the keys to Maxime Lagace tonight. It's usually detrimental to play a goalie on consecutive nights, but that's because most of the time your backup goalie isn't No. 4 on your organizational depth chart. We won't know who's playing until much closer to puck drop but if Vegas does roll with Lagace and his league-worst .884 5v5 save percentage you can expect money pouring in on the Kings and the over. – Michael Leboff
---
Except for DFS-specific, all stats are at 5-on-5 unless otherwise noted.
Top Photo: Drew Doughty (L), Nate Schmidt (R)
Credit: Jayne Kamin-Oncea-USA TODAY Sports