The NHL Daily: Stuffed slate before stuffed plates
Welcome to the NHL Daily. Go inside the NHL's card for Wednesday, Nov. 22, as we explore betting angles and try to find value in this volatile, cruel, good-for-nothing sport. 
There are 15 games tonight and a lot to get to, so let's get right to the nuts and bolts.
Last night's action: There was just the one play last night, Edmonton (+134) and it was a big, fat loser. Nothing like an 8-3 loss to quell the panic button chatter in Edmonton.
Tonight's slate: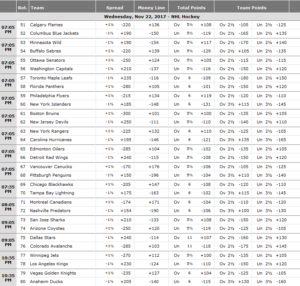 It feels like the Sabres are perpetually in the midst of a three-game losing streak, and tonight they will look to end their latest slide against Minnesota. The Sabres have been a disaster at 5-on-5, but Minnesota isn't exactly setting the world on fire, either. The Wild should start to trend up with Charlie Coyle back in the fold, but tonight isn't the night to back Minny. It's an ugly one, but the value is on the home team at +139.
We can say it until we're blue in the face, but these aren't the same Washington Capitals that we've grown accustomed to over the last six or seven seasons. Neither Washington nor Ottawa is a possession driving machines, and both are relying on structure, goaltending and their good forwards to get the job done. I made the Caps at -145 at home against the Sens, so there's value in their number.
The New York Islanders are finding a way to operate under the radar. Most of the column inches wasted on the Isles talk about John Tavares' pending free agency, but the Isles have a very solid top six and a good defensive unit. If they can solidify their goaltending they could be a threat in the Metro (and yes, the author of this article is an Islander fan).  While the Isles depend on the top part of their lineup a lot, the Flyers don't have the depth to keep up. They will also be missing Radko Gudas. It's a big price, but the Isles are the value side of this fixture.
The Carolina Hurricanes are starting to come on. Sebastian Aho is producing, Teuvo Teravainen is producing, and their defense is up there with the best in the league. The Canes are the best possession team in the league, and the Rangers operate below 50 percent Corsi, so the script for this one is for New York to shell up and hope for the best. There's value on Carolina at home.
Picks: Sabres +139, Washington -137, Islanders -148, Carolina -146
Season to date: 55-61, +3.88u
---
Be part of the Action
You can be a part of our growing community by simply downloading the SportsAction App through the [App Store]  or [Google Play].