Welcome to the NHL Daily. Go inside the NHL's card for Tuesday, November 14, as we explore betting angles and try to find value in this volatile, cruel, good-for-nothing sport. 
For the love of Gretzky, take a look at the Metropolitan Division. All eight teams in the Metro are above .500. Six points are all that separate the first place team and the last place team. The Rangers, who have won six games in a row, are two points above the last place Flyers and four behind the division-leading Devils. Only one team in the division sports a negative goal differential, and that team is the two-time defending Stanley Cup Champion Pittsburgh Penguins at -18. The Hurricanes, who lead the league in Corsi For, have scored 15 fewer goals than the Devils, who are second-to-last in Corsi For. Nothing makes sense.
Last night's action: There were only two games on Monday night, and only one of them piqued our interest. The Flames were the better team against St. Louis and were rewarded as such, to the tune of a 7-4 victory.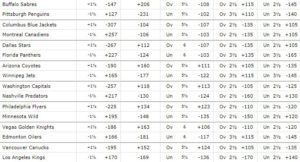 It's becoming redundant, but here we go again. The Sabres are already a bad team, but they are also banged up pretty good. Tonight, Buffalo goes on the road to take on the Penguins, who are very good. Still, I can't get to this number. It's not one you expect to win, but the value is with the Sabres, and that's where we'll be. Yikes.
Washington is being outshot, out-chanced and generally outplayed, but the Caps are still picking up points thanks to good goaltending from Braden Holtby and having good players like Alex Ovechkin. Tonight, the Caps will take on the Nashville Predators, who are driving play at a good clip but not converting their possession into good scoring chances. The Preds, like the Caps, have a negative expected goals differential at 5-on-5. With Washington probably getting Matt Niskanen back in the fold tonight, I think there's a good bit of value on the Caps.
Picks: Sabres +206, Capitals +118
Season to date: 42-53, -5.61u
Be part of the Action
Download the Sports Action app at the App Store or Google Play