NHL Odds & Pick for Blackhawks vs. Panthers: Back Chicago as Road Underdog (March 15)
Credit:
Eliot J. Schechter/Getty Images. Pictured: Sergei Bobrovsky #72 of the Florida Panthers defends the net.
Chicago and Florida play the second part of their two-game series after the Panthers won 4-2 on Saturday.
Both teams have been arguably the biggest surprises in the NHL this season as they sit in the middle of the Central Division.
Chicago hasn't been swept in a two-game series since January, and Sam Hitchcock doesn't expect that to change.
Blackhawks vs. Panthers Odds
Blackhawks Odds
+155
Panthers Odds
-177
Over/Under
6
Time
Monday, 7 p.m. ET
TV
FS-FL
Odds as of Sunday and via DraftKings
---
Squinting at the NHL divisional standings midway through the abridged regular season, the Central Division stands alone for bucking chalk. Tell me you had the Florida Panthers making the playoffs, and I'll silently nod and not believe you. If you claim that the Chicago Blackhawks were on your radar for a postseason berth, especially after Kirby Dach and Jonathan Toews went on IR and goaltender Corey Crawford retired, my face will morph into the side-eye emoji. Everything in hindsight can seem obvious.
Arguably these two teams are the biggest surprises in the NHL, and they play the second game of their mini-series on Monday. In Meeting 1 on Saturday, the Panthers tallied three quick goals in the second period to obtain a healthy lead they would not relinquish.
The Blackhawks are feisty, however. The last two-game series in which they were swept traces back to January 26 and 27 against Nashville. After a dreadful January, Chicago has lost consecutive games only once, yet Florida is -186 to win on DraftKings.
The Panthers have won three in a row and are finally garnering respect that is overdue, while Chicago's ghastly analytics, combined with how young and light they are on elite skill, make them easy to doubt. Still, at +155 moneyline for the Blackhawks to win, I think it is worth betting on the underdog to split the series.
---
Chicago Blackhawks
In my mind, Blackhawks coach Jeremy Colliton should be the runaway winner of the Jack Adams Award. The Blackhawks are orbiting a playoff spot with 37-year-old Duncan Keith as their No. 1 defenseman and minutes leader, and Mattias Janmark playing a top-six forward role. Despite very modest talent, the Blackhawks consistently play hard.
One recent example is against the Dallas Stars last Thursday. The Blackhawks fell behind 2-0 very quickly, but they clawed their way back and won 4-2, despite being badly outshot. For bettors, embracing the Blackhawks demands an acceptance that their opponents will outshoot them, especially at 5-on-5. In 29 games this season, the Blackhawks have only outshot their opponents at 5-on-5 eight times. They rank last in expected goals and third-to-last in high-danger chances.
On Saturday, the Blackhawks failed to contain the Panthers' Aleksander Barkov line, which finished with 14 shots at 5-on-5 while only allowing two. It recorded three of the four Panthers' goals. Usually, Barkov and Carter Verhaeghe thrive at carving teams up on the rush, and two of the three goals came in that mode of offense.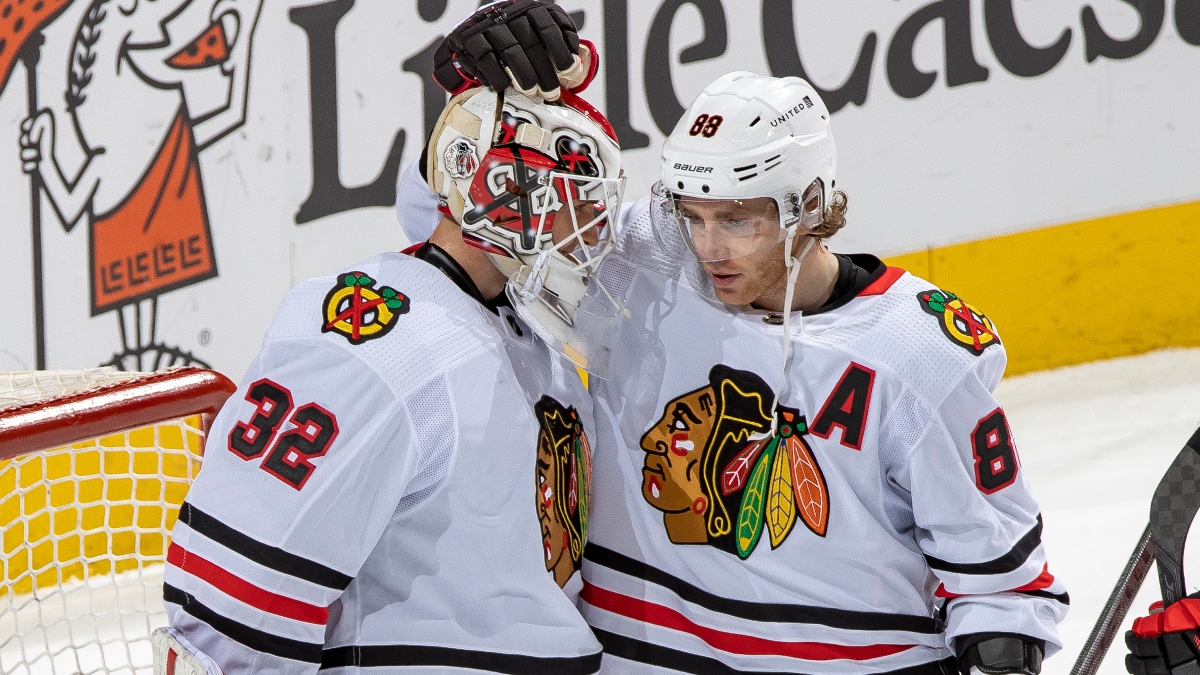 Prudent puck management and tighter gaps are paramount against the Barkov line, and given the opportunistic, high-risk tolerance of Patrick Kane and Alex DeBrincat, Colliton would be wise to do everything in his power to make sure his star forwards are not getting ice time against Barkov.
Playing at home, Florida has last change, so determining matchups is harder, but the Dominik Kubalik, David Kampf, Brandon Hagel line is a logical candidate to assume the role of stifling the Barkov line. The Kampf line faced the Jonathan Huberdeau line on Saturday and excelled.
The Blackhawks struggle at even strength and were trampled by the Panthers' top line last game. Where then is the argument for betting on them? Two reasons, and they complement each other: the Blackhawks' power play and Patrick Kane.
In Game 1, the Panthers provided the Blackhawks with four cracks at the man advantage, and Chicago converted on zero. Chicago has the third best power play in the NHL, and against the Panthers' middle-of-the-road penalty kill, they are primed for one or two goals against likely goaltender Chris Driedger, who in the last month has a -1.65 Goals Saved Above Expected (GSAx) over seven games.
Six games into March, Kane has zero goals. The right wing had a four-game scoreless streak in January, but he followed that up with a goal in three straight games. In three games in March, Kane has had five or more shots, including on Saturday. After taking a knee from Aaron Ekblad, Kane was clearly irritated for the rest of the contest. Kane has been in the league a while now, having recently eclipsed 1,000 regular season games and played in over 100 playoff games. When Kane is cranky, he is productive.
The Blackhawks likely wouldn't beat the Panthers in a series. But in a single game, with a highly-motivated star-player buoying a power play, the Blackhawks are undervalued.
---
Expected goals (also known as xG) is a predictive statistic that gives an indication of whether results are based on sustainable factors like a steady creation of scoring chances, or whether it is down to aspects such as shooting luck or outstanding goaltending.
Simply put, an expected goals rate (xGF%) above 50% is considered good because it means a team is creating the majority of the scoring chances. Anything below 50% is usually a sign that a team is struggling to control play.
xG numbers cited from Evolving Hockey.
---
Florida Panthers
If the Panthers win on Monday, they will be on a four-game win streak, their longest of the season. Unlike the Blackhawks, the Panthers are awesome in the analytics, ranking top five in expected goals and high-danger chances percentage. A catalyst for their success has been their balanced scoring.
The Panthers have five players with 10 or more goals, and defenseman Ekblad has nine. In individual expected goals, Florida has three players in the top 20 in the NHL. The Panthers have been lauded for their depth, but it is worth underscoring that their top-six forwards are crushing their opponents.
Against his old team, it must have been encouraging for coach Joel Quenneville to see the Panthers, who pride themselves in their speed, use their heavy game to control the low slot and create scoring chances from the boards. The Blackhawks are aggressive with the stick-check and poke-check, but the Panthers plowed through them. In a long playoff run, winning those battles when space shrinks is imperative.
Florida needs to take heed that Chicago is very good at running set plays for its scorers. The Panthers dominated the Blackhawks in the faceoff dot on Saturday, winning two-thirds of the draws, so they will need another strong performance to help eliminate a primary avenue for Chicago to free up their skill players in space.
Since Quenneville has the last change, he should also be cognizant of who he deploys Anton Stralman and Keith Yandle against. That Florida defensive pairing was on the ice for both goals on Saturday, and even though Hagel stormed past Yandle for a tally, Stralman is the millstone around Yandle's neck.
When Yandle does not play with Stralman at 5-on-5, the Panthers have outshot their opponents by 22 shots. When Stralman is away from Yandle, the Panthers have been outshot by 25. Even worse, when the Panthers have Stralman on the ice without Yandle, they are at 40.51 high-danger chances percentage. When Yandle is playing without Stralman, it is 60 percent. There was a time when Stralman had the reputation of being a shutdown defenseman, but he is now a liability.
---
Betting Analysis & Pick
The odds on DraftKings suggest that the Panthers are strong favorites to win this game, when in reality this one is closer to a coin toss. When an underdog is at +150 or higher, it generally raises questions like "Has this team completely quit on its coach?" Or "Since they have lost eight of their last nine, they have to win eventually, right?"
Thankfully, Chicago doesn't have a crater-sized question about its viability. If the Blackhawks can slow down the Barkov line, light the fuse for the power play, and get better goaltending than Florida, they could win. At +155, I ask bettors to ride the road underdog.
Pick: Blackhawks ML +155
How would you rate this article?
This site contains commercial content. We may be compensated for the links provided on this page. The content on this page is for informational purposes only. Action Network makes no representation or warranty as to the accuracy of the information given or the outcome of any game or event.