NHL Betting Pick (Wednesday, Feb. 26): Oilers vs. Golden Knights Odds Too Good to Pass Up?
Credit:
Al Powers/NHLI via Getty Images.
Updated betting odds for Wednesday's Oilers vs. Golden Knights NHL matchup have Vegas as a -220 favorite at home.
The Oilers are +185 underdogs, but have improved considerably since the turn of the new year.
Check out Michael Leboff's betting pick for the Pacific Division matchup below, as he breaks down whether the lofty moneyline offers value.
For the first half of the season I was very skeptical of the Edmonton Oilers. Sure, the Oilers have two of the best players in the world — Connor McDavid and Leon Draisaitl — but they relied so heavily on their dynamic duo and a red-hot power play to get results.
A team constructed like that was bound to wilt over the 82-game marathon that is the NHL regular season, but the Oilers were able to bank enough points in the early going to remain relevant and more importantly, Edmonton improved as the season progressed.
Since Jan. 1, the Oilers own a 51.1% expected goals rate and are averaging 2.83 goals per 60 minutes at 5-on-5 in 21 games. That number doesn't pop off the page, but it is a marked improvement from the first half of the season when the Oil boasted a 48.1% expected goal share and were scoring 2.2 GF/60.
A big reason for Edmonton's improvement at 5-on-5 was the arrival and subsequent breakout of Kailer Yamamoto. The diminutive forward balanced the Oilers' top-six and provided McDavid and Draisaitl with a little relief. Yamamoto was injured on Sunday and is out week-to-week, but I remain confident that Edmonton is better equipped now to handle a loss like that. Hell, it just went 3-2-1 in six games without McDavid.
Furthermore, Edmonton made a trio of shrewd moves to bolster its depth at both ends of the ice. Andreas Athanasiou, Tyler Ennis and Mike Green all provide the Oilers with able bodies they can plug in different roles. Athanasiou is a high-ceiling scorer with speed to burn, Ennis is a nifty bottom-six forward who can drive play and Green is a smooth-skating third-pair defenseman who can run a power play. It was a tidy bit of business for Ken Holland at the Deadline.
Edmoton always had an outside shot at making a run thanks to McDavid and Draisaitl, but the added depth has elevated the Oilers.
If you are someone who loves playoff hockey and wants to have a team to pull for, I don't think Edmonton is a bad play at 23-1 (FanDuel). They are not without flaws, the Oilers have issues on defense and their goalies are hard to trust, but the Western Conference, specifically the Pacific Division, is so wide open that it could be worth a shot.
The Oilers have a big game against Vegas, the team they are chasing in the Pacific Division, on Wednesday night.
Edmonton Oilers at Vegas Golden Knights Odds, Betting Pick
Oilers odds: +185
Golden Knights odds: -220
Over/Under: 6.5
Time: 10:30 p.m. ET
---
Odds via DraftKings. Get up to a $1,000 sign-up bonus at DraftKings today or see more offers and reviews for the best online sportsbooks.
---
The Vegas Golden Knights are a 5-on-5 behemoth, leading the NHL with a 54.9% expected goals rate this season. Like the Oilers, the Knights got better at the deadline by addressing their biggest flaw. Vegas acquired goaltender Robin Lehner, in the middle of his second fantastic season in a row, to stabilize the Knights' goaltending situation.
Marc-Andre Fleury was struggling this season and Lehner now gives the Knights a strong 1B option in net, though he probably should just be handed the keys to the car right away.
Relative to their preseason expectations, the Knights were mediocre through the first half of the season but the Pacific Division is weak, so even that was enough for Vegas to stay in the mix atop the table. The Knights always boasted great 5-on-5 numbers, but they were not getting the bounces or goaltending needed to run away from the pack. That led to Gerard Gallant's dismissal and the subsequent hiring of Peter deBoer.
Vegas is 10-3-2 with a 57.4% expected goals rate since the controversial coaching swap, so perhaps a new voice in the room was needed at T-Mobile Arena.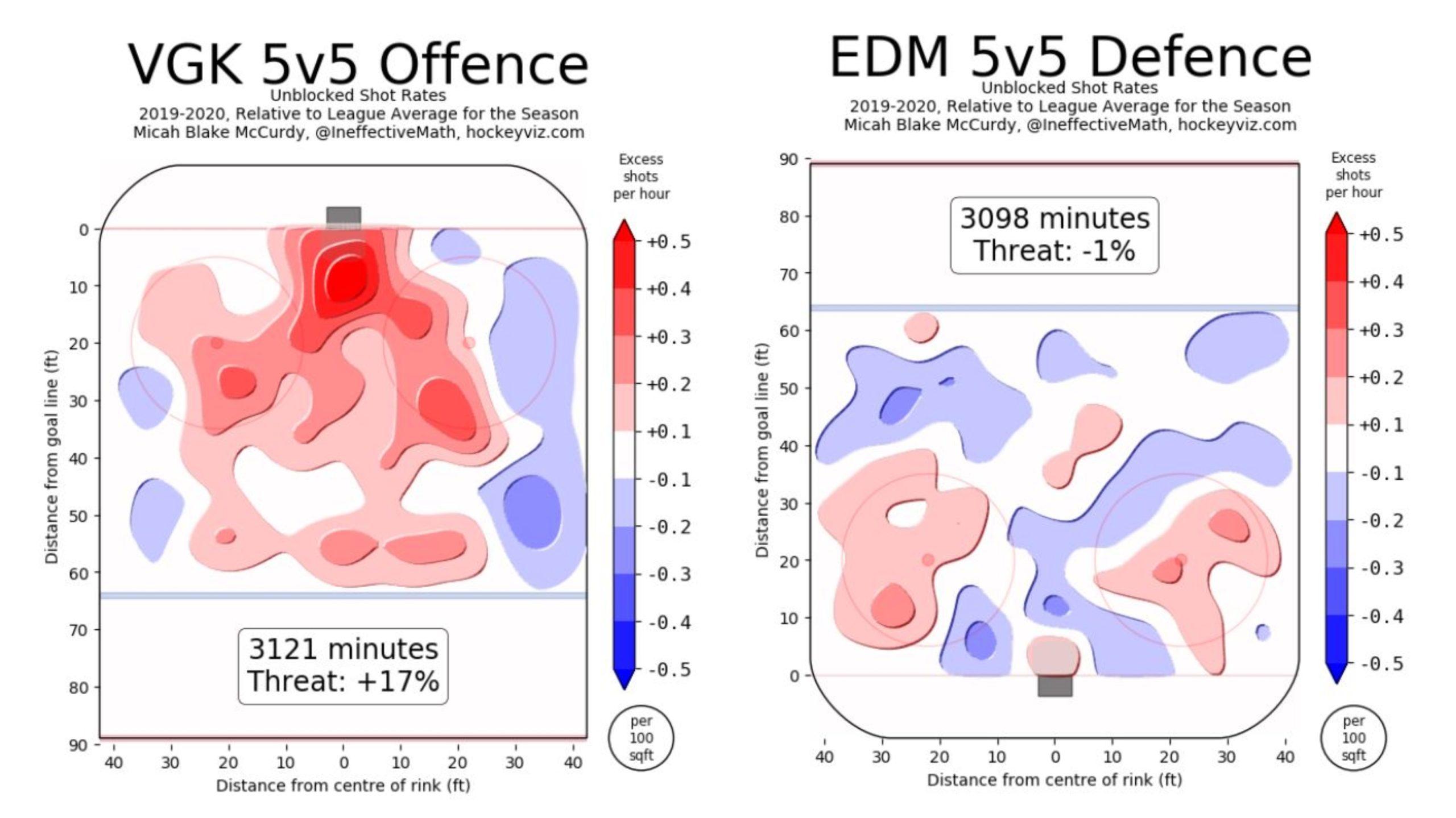 The Knights could be a lot to handle for the defensively-challenged Oilers on Wednesday night and Vegas wins this game more often than it loses, but I think the number on Edmonton is good enough to get involved.
The listed odds imply that Edmonton wins this game less than 34% of the time and I disagree with that. Despite being on a back-to-back and missing Oscar Klefbom and Yamamoto, I think the Oilers are a fine bet at +175 or better.
How would you rate this article?