NHL Betting Picks and Odds (Friday, March 6): Coyotes vs. Flames, Golden Knights vs. Jets and More
Credit:
Norm Hall/NHLI via Getty Images. Pictured: Taylor Hall
As the NHL season winds down, the Western Conference postseason picture is starting to take shape and its creating some value in the betting market.
Michael Leboff previews Friday's slate, including Coyotes vs. Flames and Golden Knights vs. Jets.
Check out his betting preview and picks below.
The Western Conference playoff race remains bonkers. I know there's a faction of hockey people who want to see the regular season shortened, there's certainly an argument that a six-month marathon followed by a two-month fight to the death is a bit much, but with the parity the NHL sports, it's kind of hard to tell when the regular season ends and the playoffs begin.
Here's a quick snapshot of the bottom half of the Western Conference playoff picture:
*Calgary Flames: 77 points, 14 games remaining
*Minnesota Wild: 75 points, 15 games remaining
*Vancouver Canucks: 74 points, 16 games remaining
Nashville Predators: 74 points, 15 games remaining
Winnipeg Jets: 74 points, 14 games remaining
Arizona Coyotes: 74 points, 14 games remaining
Chicago Blackhawks: 70 points, 15 games remaining
Five of the seven teams listed above are playing on Friday night, including the Coyotes and Flames, who will do battle in Calgary.
---
Odds via FanDuel. Get up to a $500 risk-free bet at FanDuel today or see more offers and reviews for the best online sportsbooks.
---
Arizona Coyotes at Calgary Flames
Coyotes odds: +125
Flames odds: -145
Over/Under: 5.5
Time: 9 p.m. ET
It's been a pretty mediocre season for the Arizona Coyotes thus far. Arizona ranks 19th in expected goals rate (49.5%), 18th in goal share (50.2%) and 22nd in points percentage (54.4%). Nobody would have confused the Yotes with a legitimate contender in the preseason, but they've underwhelmed relative to their modestly-high expectations — especially after they acquired Taylor Hall in November.
The good news is that Arizona has had some jump in its game recently. The Coyotes have a 51.2% expected goals rate over their last 15 games and that number has increased to 52.1% in their last five games. Those numbers aren't that exciting, but now is as good a time as any to start trending in the right direction.
The Calgary Flames are also trending in the right direction. The Flames were a force through the regular season in 2018-19, but a lot of their offensive oomph disappeared through the first 50 games in '19-20.
Calgary has found its offensive mojo. Since the beginning of February, no team is creating more expected goals for at 5-on-5 than the Flames and only one team — the Flyers — is scoring more 5-on-5 goals than Calgary in that span.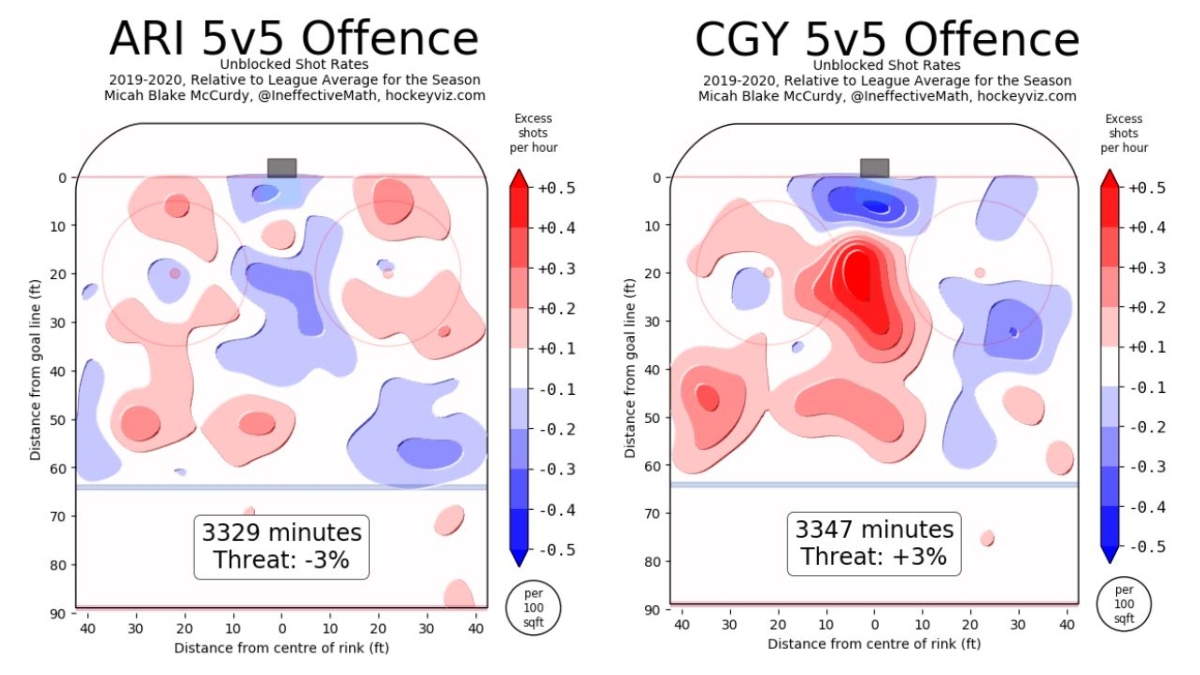 The Flames were certainly due for some positive regression on offense — they weren't going to shoot 7% forever — but they've been running pretty hot as of late and sport the second-highest shooting percentage (10.1%) since the beginning of February. Arizona, despite its improving offense, has scored on just 6.5% of its 5-on-5 shots in that same timeframe. Calgary's scoring talent is greater than Arizona's but the goaltending edge certainly goes to the Coyotes.
Like all sports, betting on the NHL comes down to price. The listed odds suggest the Flames win this game 57.1% of the time. When you adjust for home-ice advantage (4.9% in the NHL), you'd get Calgary as roughly -120 on neutral ice. That isn't a big gap, but I still think the market is a little high on Calgary. I wouldn't go any further than +125 and you may see a +130 pop, but I think this is a good sell-high spot on the Flames.
Around the League
Just how much better than the Winnipeg Jets (+120) are the Vegas Golden Knights (-140)? They are certainly better, and the Knights are in great form, but do the Knights beat the Jets in Winnipeg 56.2% of the time?
I have no problem making Vegas, a team with the best expected goals rate in the NHL this season, a favorite against Winnipeg, a team with the worst expected goals rate in the league, but I don't think the number should be this high. The Knights have won nine of 10, so I wonder where this line would have been if these two teams were playing two weeks ago. I would play Winnipeg down to +115.
How would you rate this article?