NHL Betting Odds and Picks: Maple Leafs vs. Canadiens, Islanders vs. Lightning and More (Saturday, Feb. 8 2020)
Credit:
Rich Graessle/Icon Sportswire via Getty Images. Pictured: Brendan Gallagher, Phillip Danault
The Toronto Maple Leafs can whip up a media frenzy like no other team in the NHL. On Wednesday night, the Leafs fell to the New York Rangers, 5-3, at Madison Square Garden. It was another loss that featured a sub-par effort from No. 2 goaltender Michael Hutchinson. That was a big problem for the Leafs since starting goalie Frederik Andersen is out dealing with an injury.
The issue was partially solved after the loss at MSG, as general manager Kyle Dubas acquired back-up goalie Jack Campbell and play-pushing fourth-line forward Kyle Clifford from Los Angeles for Trevor Moore and some draft picks.
The deal was met with the usual Dubas-level praise, but it also isn't a sure thing to fix the Leafs and send them on their merry way into the postseason.
After a terrific season with Los Angeles in 2018-19, Campbell has struggled to a -7.6 Goals Saved Above Expectation (GSAx) this season. Compared to Hutchinson, Campbell is an upgrade. But if Andersen, who has struggled this season, isn't healthy or can't find his form, I have my doubts that Campbell can succeed in the Leafs' run-and-gun environment.
Toronto visits rival Montreal on Hockey Night in Canada on Saturday.
---
In New Jersey? Bet now at PointsBet for access to their NHL promotion, which stipulates that if your NHL bet ever gets a two-goal lead in a game, you win even if it ends up actually losing (promotion good for up to $100).

---
Toronto Maple Leafs at Montreal Canadiens
Maple Leafs odds: -110
Canadiens odds: -110
Over/Under:
Time: 7 p.m. ET
TV: NHL Network
The Montreal Canadiens are one of the best play-driving teams in the NHL with a 53.6% expected goals rate. Montreal is the only top-5 expected goals team that isn't in the playoff picture. Injuries and mediocre goaltending from Carey Price (-4.8 GSAx) and his band of rotating backups have doomed the Habs to the dreaded fringe.
The playoffs are very much a longshot for Montreal, but the Habs are giving it a go with a 7-3-0 record and a 56.3% expected goals rate in their last 10 games.
A win over Toronto, one of the teams Montreal is trying to catch in the standings, would go a long way. That's easier said than done, the Maple Leafs are quite a talented bunch, but the odds tell us that this game is a toss up.
Since Nov. 22, Sheldon Keefe's first game as head coach in Toronto, the Maple Leafs lead the NHL with a 2.9 xGF/60 (expected goals for per 60 minutes at 5-on-5) and are fourth in the league with a 3.2 GF/60 (goals for per 60 minutes at 5-on-5). The name of the game for the Leafs is outscoring the opposition, which isn't an easy task against the Canadiens, who are averaging 2.76 xGF/60 in that same span.
Montreal doesn't have the shooting talent that Toronto has, but the Habs can make life tough on an opposing defense and goaltender, which is where you can enjoy your cookies against the Leafs.
Toronto's defense has been slightly above average since Keefe took over, but the goaltending has been a mess and this group just isn't built to grind out 2-1 victories. The Leafs' high-risk, high-reward style puts pressure on the defense and goaltenders to make plays and if they don't, then the offense is going to need to put up crooked numbers. The Leafs are more than capable of that, but it's not something you can expect every night in today's NHL.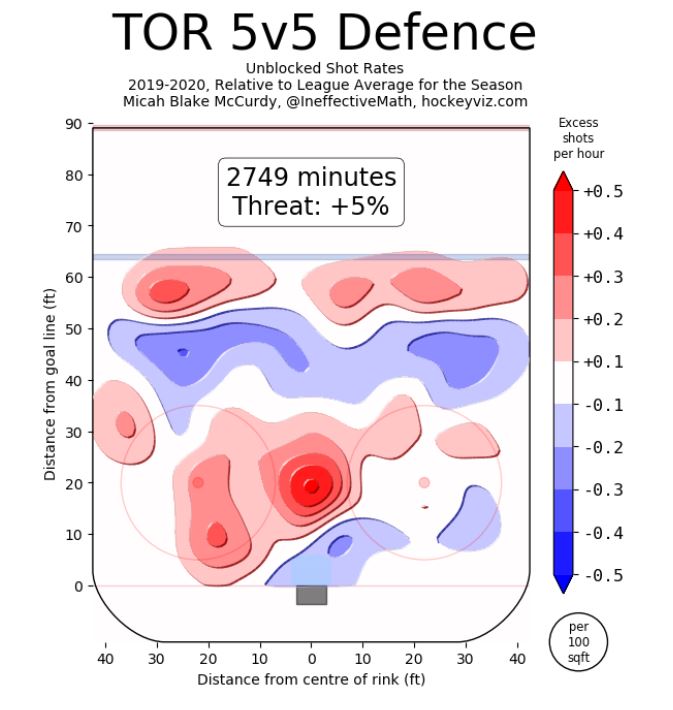 Both teams should create scoring chances in this game, so it could come down to which goaltender is up to snuff. Price hasn't been a world-beater this season, but I don't think there's any question about which team has the edge in the blue paint.
At -110/-110, the listed odds suggest this game is a true coin flip. That seems a tad harsh on the Canadiens, in this instance. Not only is Montreal at home (home-ice advantage is worth ~4.9% in the NHL), but the Canadiens also have a schedule advantage since Toronto is on a back-to-back and playing its fourth game in six nights. I like Montreal up to -115.
Around the League
There are a couple of matinees on the docket today and I played one of them. I think the Ottawa Senators (+145) have some value on the road against the Winnipeg Jets (-170). The Jets are dead last in expected goals rate this season so I expect the Senators, another bad 5-on-5 team, to have a puncher's chance in this one.
It may not be a good idea to step in front of the Tampa Bay Lightning (-210) but the number on the New York Islanders (+180) is a bit high. After a holiday-season swoon, the Islanders have improved their 5-on-5 numbers over the past few weeks and look to be getting back to the style of hockey that turned them into last season's Cinderella.
Tampa Bay wins this game more often than not, but Barry Trotz's Islanders are a tough nut to crack and often have value at a number like this, especially with Tampa missing Ryan McDonagh and Jan Rutta on defense.
I also took a shot on the Dallas Stars (+140) on a back-to-back against the St. Louis Blues (-165). Both of these teams want to play a low-event style of hockey and that means we could be looking at a tight game, so I'll take the number on the Stars in what should be a close contest.
How would you rate this article?