NHL Daily Odds & Picks (Tuesday, April 20): Our Best Bets for Islanders vs. Rangers, Hurricanes vs. Lightning & Maple Leafs vs. Canucks
Credit:
Derek Cain/Icon Sportswire via Getty Images. Pictured: Braden Holtby
We are getting to the business end of the 2020/21 NHL regular season. Most teams are now down to their final dozen games and the race for the playoffs is incredibly tight. Things could get even crazier on Tuesday night as four of the teams in the thick of the hunt for the last playoff spot in their respective division are in action.
Here are our favorite bets for Tuesday's eight-game slate:
Michael Leboff: New York Islanders (-125) vs. New York Rangers
Puck Drop: 7 p.m. ET
The New York Rangers come into Tuesday's game on Long Island as one of the NHL's hottest teams. The Blueshirts couldn't have timed their recent surge better, as their 7-1-2 run has vaulted them within shouting distance of the playoff teams in the East Division. There is still plenty of work to be done, but playing meaningful games this deep into the season looked unlikely for this team just a month ago.
While their numbers have certainly been padded by a couple of laughers in a four-game sweep of the Devils, the Rangers have definitely earned their way back in the race. The Blueshirts have a +16 goal differential during their recent 10-game swell and their +0.97 goal differential per 60 minutes at 5-on-5 is the fifth-best mark in the league since April 1.
While their offense is still what drives the bus, the Rangers have done a terrific job of shoring up their defensive play this season. The Blueshirts rank seventh in the NHL with a 2.58 goals against average and have allowed just 1.79 goals per 60 minutes at 5-on-5 over their last 10 contests.
I'm not here to argue that the Rangers have been impressive. What I am here to do is make a case that they are getting just a little bit too much respect from the betting market on the heels of this streak. Not only have their numbers been padded by a few laughers in a four-game sweep of the Devils, but the Rangers have also benefited from terrific goaltending, a hot shooting percentage and a couple of bounces going their way.
Over their last 10 games the Rangers are scoring 2.82 goals per hour. According to xG models that number should be closer to 2.5. The disparity on defense is even wider as the Blueshirts have allowed just 1.79 goals per hour at 5-on-5 but their xGA/60 sits at 2.37. The Rangers have plenty of game-breaking skill so it's not surprising when they beat their xG, but they will likely come back to earth at some point.
---
Expected goals (also known as xG) is a predictive statistic that gives an indication of whether results are based on sustainable factors like a steady creation of scoring chances, or whether it is down to aspects such as shooting luck or outstanding goaltending.
Simply put, an expected goals rate (xGF%) above 50% is considered good because it means a team is creating the majority of the scoring chances. Anything below 50% is usually a sign that a team is struggling to control play.
xG numbers and advanced stats cited from Evolving Hockey, MoneyPuck and Natural Stat Trick.
---
The New York Islanders have written a much different tale this season compared to their crosstown rivals. While the Rangers have been a roller coaster that is currently on the rise, the Islanders had been remarkably consistent for the bulk of the season before hitting a recent rough patch.
The Isles have lost three of their last five games and are just 5-5 with a -3 goal differential over their last 10 games. Every team goes through dips over the course of a season but this one has the Isles a little hot under the collar considering their next six games are against the Rangers and Capitals.
As unimpressive as the Islanders have looked of late, they still boast one of the NHL's best statistical portfolios. The Isles rank third in the NHL in expected goals rate, sixth in goal share and first in high-danger chance rate this season. Those numbers have dipped over the past few games, but I'll still back the Isles' long-term form being more indicative of their overall level instead of a couple of pedestrian games. I also would think the Islanders will hit some positive regression as the team has generated 2.57 xGF per 60 minutes at 5-on-5 over their last 10 games but is only averaging 1.82 goals per hour in that same span.
Recent form certainly points to the Rangers in this game but I think this number — which suggests the Blueshirts would be favorites on neutral ice — is a bit inflated off of recency bias. I like the Islanders up to -130 on Tuesday night.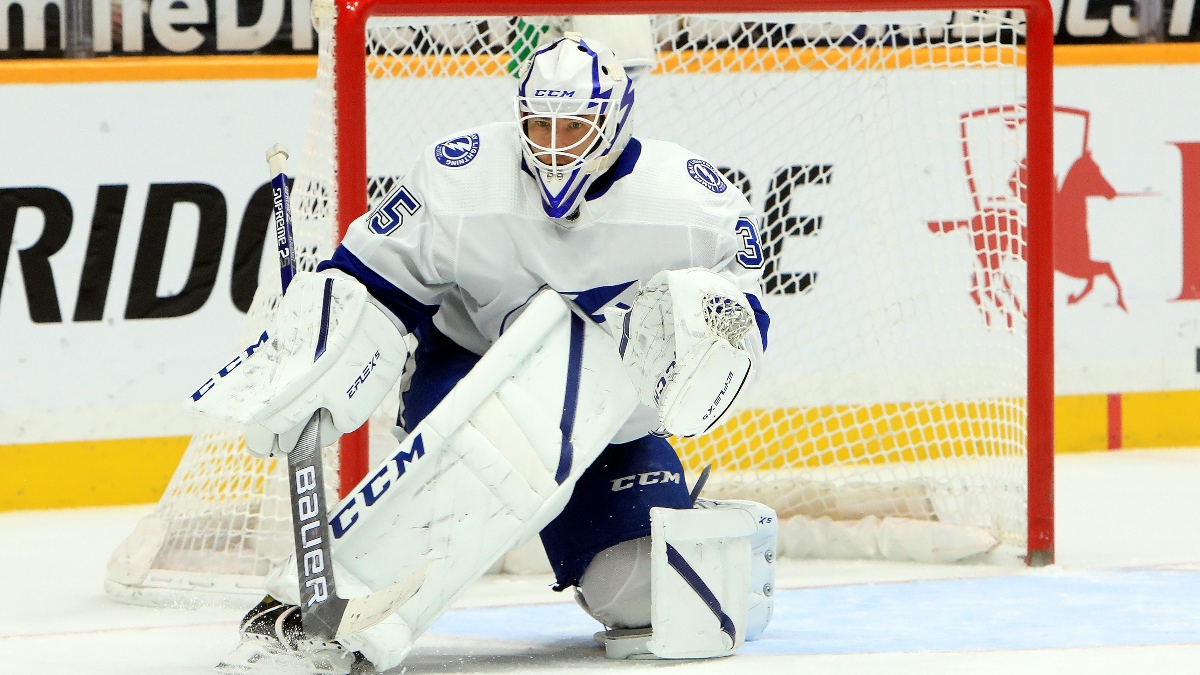 Nicholas Martin: Tampa Bay Lightning-Carolina Hurricanes Over 5.5 Goals
Puck Drop: 7 p.m. ET
We saw a ton of talent on display in an entertaining affair between two of the deepest rosters in hockey on Monday night. Both the Hurricanes and Lightning showed very well in a hard-fought, back-and-forth matchup. The reigning cup champs were much more engaged than we have seen of late, and managed to skate off with a 3-2 overtime win behind Yanni Gourde's winner.
The Lightning managed to keep a Carolina team that has created loads of chances of late (3.36 xGF/60 over its last 10) in check thanks to an excellent showing from Andrei Vasilevskiy, who continued his case towards a second Vezina Trophy.
Currently playing without Steven Stamkos and Nikita Kucherov, the Lightning have still managed to put together a terrific regular season thanks to their ridiculous depth at all positions and a fleet of talented two-way forwards. Most fans know the names by now, but I certainly would like to note how well Ross Colton has played skating mainly on a fourth line with Mathieu Joseph and Pat Maroon.
The Hurricanes are a dangerous offensive team at 5-on-5 and on the power play. Carolina, which went 1-for-3 on the man advantage on Monday, paces the NHL with a 27.9% conversion rate on the PP and is 10th in the NHL with an average of 3.16 goals per game overall. Couple those numbers with Tampa's 25.8% power play percentage and 3.36 goals for per game and you can see why the Over starts to look appealing on Tuesday.
Making that bet even more attractive is the potential goalie matchup. While there were definitely enough scoring chances to push Monday's game over the total, incredible goaltending from Vasilevskiy and Petr Mrazek kept the game in hand. That shouldn't be an issue on Tuesday as we will likely James Reimer take on Curtis McElhinney in the crease on Tuesday night.
Waiting to wager until the goaltending matchup is confirmed tomorrow is reasonable, it's also possible that this number gets worse if/when Reimer and McElhinney are confirmed.
Matt Russell: Hurricanes (+100) vs. Lightning/Hurricanes-Lightning Over 5.5
Is this a 2 for 1 special? Or a cop out? Let's hope it's not a disaster waiting to happen.
The Hurricanes and Lightning play their final matchup of the season as they both vie for the division title, and a cozier route in the playoffs, but they'll have to bank the points early. Monday's game was a 3-pointer as the Lightning won in overtime, and deservedly so as they had better than 60 percent of both the Expected Goals and High-Danger Chances at even-strength.
A night later they meet again and I expect the Hurricanes to play a much better game, and be a live short underdog. The only issue is that they likely won't have Petr Mrazek in goal to keep them in the game, like they did last night. Head Coach Rod Brind'Amour has indicated he'll be using more than just Mrazek down the stretch.
The big question is whether or not the Lightning go back to their number-one goaltender in the rematch. No team in the NHL has as epic of a drop off from one goaltender to another as do the Lightning. If Curtis McElhinney gets the call to spell Andrei Vasilevskiy, the Hurricanes are an autobet. Even if he doesn't, the over is worth a play at 5.5 goals with Vasilevskiy and 6.0 without him.
The two teams have shown they're more than capable of creating High-Danger Chances against one another, and it takes the top tier goaltending the likes of which we saw on Monday in order to keep the game under. Any slip in quality for either team in the crease, and we could see much more of an offensive explosion, as each team looks to send a final message before a probable playoff series in late May.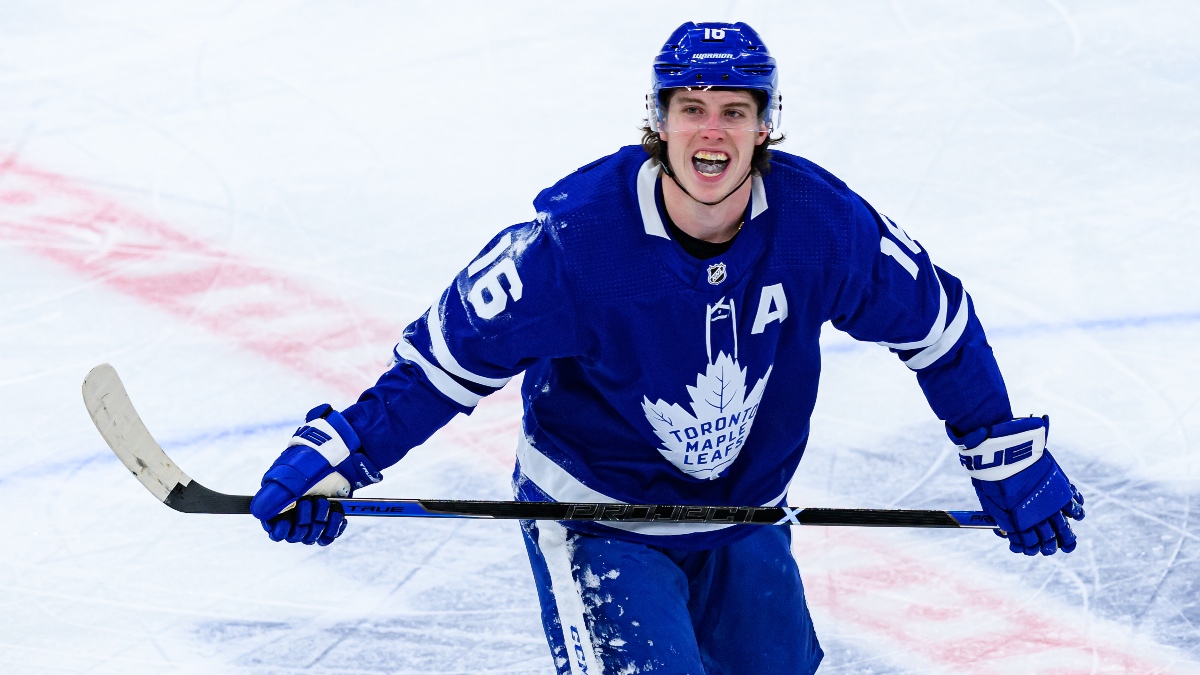 Pete Truszkowski: Toronto Maple Leafs -1.5 (-115) over Vancouver Canucks
Puck Drop: 9 p.m. ET
Thirty fanbases across the NHL had a laugh on Sunday night as we got another "LOL Leafs" moment. Some years, it's losing to their own zamboni driver. This season, Toronto lost to the Vancouver Canucks after they were out of commission for 25 days and had 22 players test positive for COVID-19 over that span. They had players openly come out and say they weren't ready to play. The Leafs took a 2-0 lead in the game and still lost.
While the Leafs might be everyone's favorite team to hate and root against, it doesn't mean they're a bad team. In fact, quite the opposite is true. Toronto has a 28-12-5 record through the first 45 games and sits comfortably in first place of the North Division. The Buds are the clear favorite to come out of the division come playoff time.
The Leafs record is well deserved as they lead the league in expected goals for per 60 minutes, rank second in the NHL with a 55.2% expected goals rate, have the third-best high-danger chance percentage in the league and are fourth in 5-on-5 scoring.
When looking at their forwards, it's no surprise to see them near the top of the league. Auston Matthews is widely considered the most dangerous goal-scorer in the league while Mitch Marner and John Tavares would be considered franchise players on many other teams.
On the other hand, Sunday's feel-good win for the Vancouver Canucks might be the highlight of their season. After an impressive showing in The Bubble last summer, expectations were raised for the young Canucks but they've failed to meet them. Vancouver currently has a 17-18-3 record and it won't be easy to make up any ground with how frantic their schedule will be to close the season. It also won't help that Vancouver has really struggled to play with the puck this season. The Canucks rank inside the bottom five in terms of both expected goal rate and shot attempt rate. They rank 24th in high-danger chance percentage.
The Canucks have especially struggled when it comes to their defensive effort. Their mark of 2.78 expected goals against per hour at 5-on-5 is by far the worst in the league and they rank 29th in high-danger chances allowed.
Vancouver's goaltending situation is worth monitoring. Thatcher Demko has enjoyed a break-out season for the Canucks, but he might not be ready to return after a battle with COVID. If Demko still can't go, Braden Holtby will get the start for Vancouver. Holtby had a strong performance on Sunday, but that hasn't been the case for most of the year. Holtby is stopping under 90% of the shots he's seen this season while posting a -3.3 Goals Saved Above Expectation.
While I do appreciate the Leafs giving us a laugh every once in a while, it's important to realize we're dealing with one of the better teams in the league. Even in Sunday's loss, MoneyPuck's "Deserve to Win O-Meter" had the Leafs at over 82% thanks to a 3.63-1.63 expected goal advantage in all situations and a 3.16-1.21 score-adjusted advantage at 5-on-5.
I expect the Leafs to bounce back and win comfortably against a subpar team that, basically to a man, is recovering from a serious respiratory illness. The embarrassment of Sunday should keep them focused as well.
How would you rate this article?
This site contains commercial content. We may be compensated for the links provided on this page. The content on this page is for informational purposes only. Action Network makes no representation or warranty as to the accuracy of the information given or the outcome of any game or event.