NHL Daily Picks & Odds (Friday, May 21): Best Bets for Capitals vs. Bruins, Hurricanes vs. Predators, Oilers vs. Jets & Avalanche vs. Blues
Credit:
Codie McLachlan/Getty Images. Pictured: Connor McDavid
We're getting close to the business end of Round 1 of the Stanley Cup Playoffs. Four series sit at 2-1, two at 2-0 and the two North Division showdowns have seen the underdog win Game 1.
Here's what's in store on Friday night:
Washington Capitals (+148) at Boston Bruins (-175), 6:30 p.m. ET
Carolina Hurricanes (-148) at Nashville Predators, 8 p.m. ET
Winnipeg Jets (+143) at Edmonton Oilers (-165), 9 p.m. ET
Colorado Avalanche (-225) at St. Louis Blues (+185), 9:30 p.m. ET
Check out our favorite bets for Night 7 of the 2021 Stanley Cup Playoffs below:
Matt Russell: Boston Bruins -1.5 (+155) vs. Washington Capitals
Puck Drop: 6:30 p.m. ET
We're not going to overtime again in this series, are we? Just like a roulette table that shows a row of reds that have hit consecutively, each individual game in a series is its own event with the same probability of the ball landing on red or black.
However, a fourth straight OT game would be pretty wild. Especially since the Bruins have been the better team through the first three games. Better than 60% of the 5-on-5 Expected Goal Share, four more high-danger scoring chances at even-strength per game, and at the very least, not having to use three different goaltenders, have all helped the Bruins to the lead, even if on the scoreboard, it amounts to one extra goal, in the second overtime of Game 3.
---
Expected goals (also known as xG) is a predictive statistic that gives an indication of whether results are based on sustainable factors like a steady creation of scoring chances, or whether it is down to aspects such as shooting luck or outstanding goaltending.
Simply put, an expected goals rate (xGF%) above 50% is considered good because it means a team is creating the majority of the scoring chances. Anything below 50% is usually a sign that a team is struggling to control play.
xG numbers and advanced stats cited from Evolving Hockey, MoneyPuck and Natural Stat Trick.
---
Call it as simple as being due, but I'm betting the Bruins' advantages come to a head with a chance to take a stranglehold in this series at home. The Capitals had mental, physical and emotional meltdowns at the conclusion of Game 3, and a second straight brutal loss may have broken their will to play uphill the way they have in the first three games.
While there's still value on the Bruins at -165, I don't think we'll need the back-up plan of overtime this time around, so I'll try the Bruins to get it done in regulation, and if need be, they'll bury an empty-netter to seal it.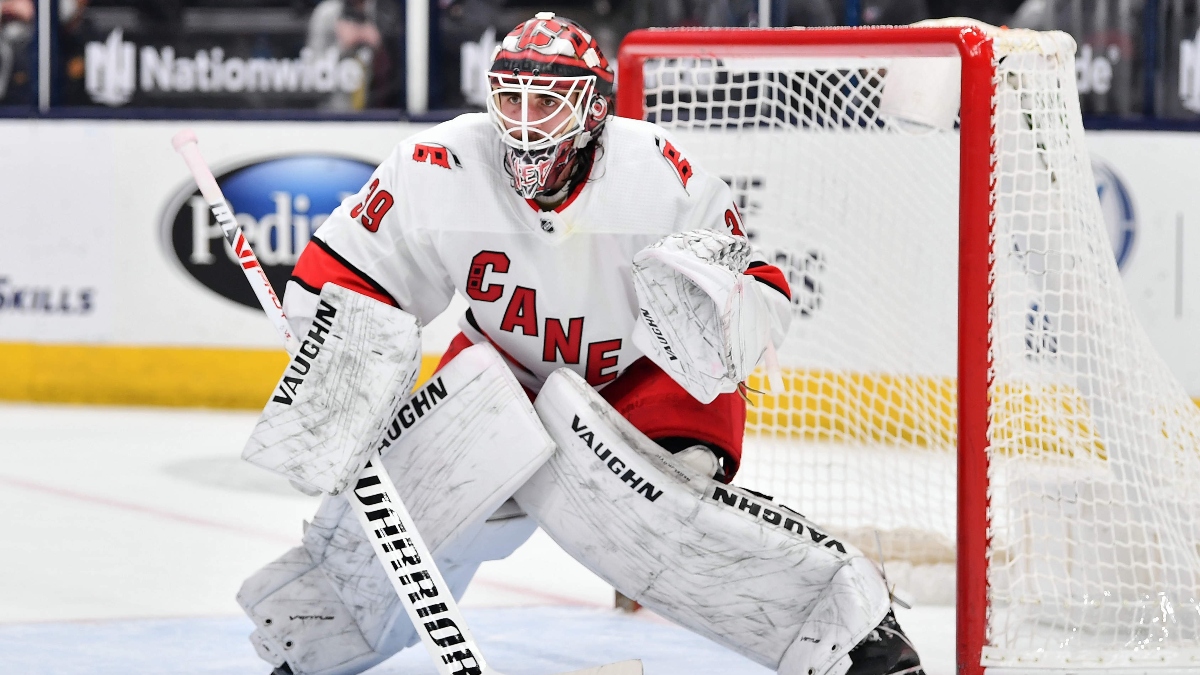 Mike Ianniello: Nashville Predators (+130) vs. Carolina Hurricanes
Puck Drop: 7 p.m. ET
My biggest takeaway from the first two games between the Carolina Hurricanes and Nashville Predators is that the fans are BACK! PNC Arena in downtown Raleigh was absolutely rocking with 12,000 roaring fans, the largest NHL crowd of the season, powering the Hurricanes to a 2-0 series lead.
The series now shifts to Nashville, where the Predators will welcome 12,135 fans inside Bridgestone Arena to try and match the energy of the Carolina faithful.
Through two games of the series, the top-seeded Carolina Hurricanes have been dominant, outscoring Nashville 8-2 and have gotten at least a point from 12 skaters already. Will Carolina be able to run away with this series, or will the Predators put up a fight back in their home arena?
Carolina's top two lines have totally controlled play against the Preds in this series. Warren Foegele, Jordan Staal and Jesper Fast have skated to an 76.9% expected goals rate and Sebastian Aho, Teuvo Teravainen and Andrei Svechnikov are not far behind at 70%. Aho and Svechnikov are fourth and fifth among all skaters in the playoffs in expected goals. Svechnikov was the best player on the ice in Game 1 and Aho was the best player on the ice in Game 2.
After leading the Charlotte Checkers to the 2019 Calder Cup Championship, goalie Alex Nedeljkovic made his Stanley Cup playoffs debut and earned his first win in Game 1, and earned his first playoff shutout in Game 2. In the regular season, Nedeljkovic led all NHL-regulars with a .932 save percentage and 1.90 goals against average. Through two playoff games he has a .964 save percentage and 1.00 goals against average.
The Nashville Predators finished the season scorching hot, going 20-7-1 in the second half of the season to fight their way into the playoffs. The Preds run was largely on the back of their netminder Juuse Saros.
Over his last 26 games, Saros was outstanding with a 18-7-1 record with a .940 save percentage with three shutouts. He had a +14.29 Goals Saved Above Expectation (GSAx), the best mark in the league over that time.
Despite getting out played to a 1.1 to 1.89 expected goals at 5-on-5 in Game 1, it was actually Nashville who had the advantage in Game 2, playing to a 1.31 to 1.38 goals expected rate. The Predators also had an 8-5 edge in high-danger scoring chances.
The Carolina Hurricanes are clearly the better team here and I don't think Nashville has much of a chance to come back and win this series. But can the Preds win a game or two? I think so, and this is a great spot to fight back as they return home to Bridgestone Arena.
It is easy to see an 8-2 scoring margin in Carolina's favor and feel like they dominated the first two games. But when you look at when the goals came, the Hurricanes have outscored Nashville just 3-2 in the first and second periods. The Predators have just run out of gas in the third periods, and Carolina has been able to pull away once Nashville needs to play desperate and gets away from their style of hockey.
We saw how much the crowds seemed to energize the Hurricanes, and I think the 12,000+ fans in Nashville will do the same and give the Predators the boost they need to carry them through the third period.
Saros went 15-3 at home this season with a .941 save percentage and 1.86 goals against average. He is as capable as any goaltender in stealing a game and I'll back Saros and the Predators to bounce back at home and get a win in Game 3 at +120 or better.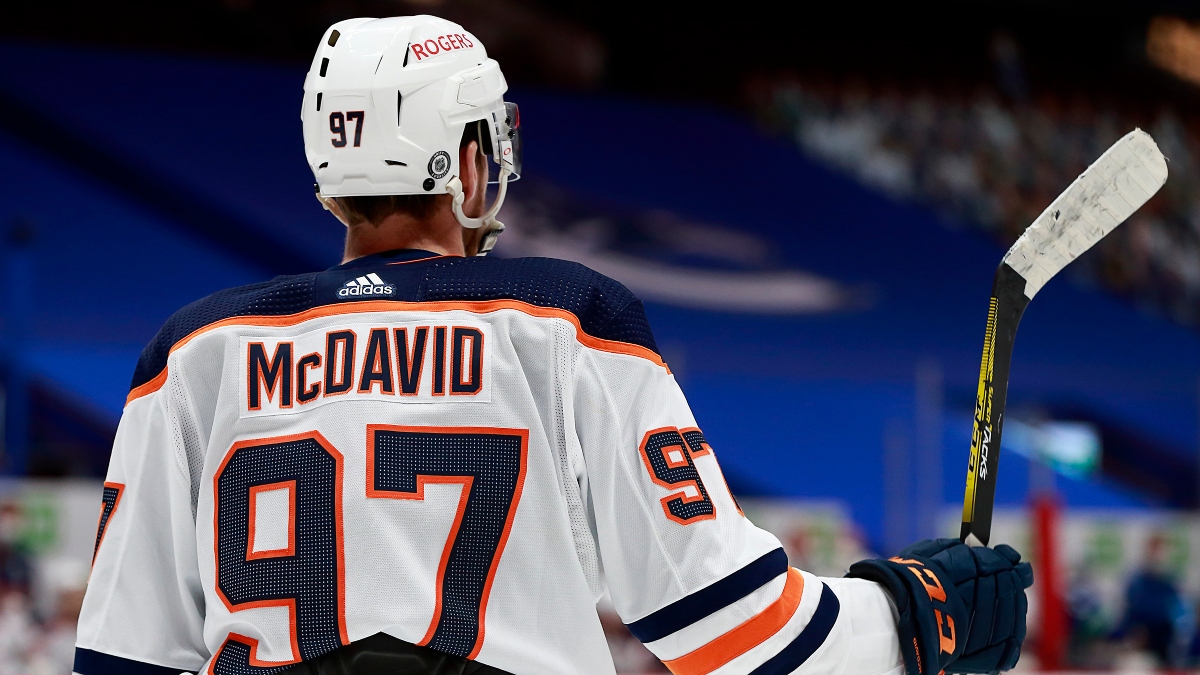 Pete Truszkowski: Connor McDavid to score (+106)
Puck Drop: 9 p.m. ET
If you've followed either of these teams this season, you shouldn't be too surprised by what you saw in Game 1.
The Winnipeg Jets lost the 5-on-5 expected goal battle by a count of 2.98-1.38 (31.7%). Their defense allowed the Oilers to generate 13 high-danger chances. However, they won the game because Connor Hellebuyck stopped 32 of 33 shots while posting a +2.09 GSAx.
This is pretty consistent with what we saw from the Jets during the regular season. Winnipeg ranked 24th in the league in terms of expected goal rate. They ranked 27th in expected goals against. They were bottom five in terms of high-danger chances allowed. However, just like in Game 1, Hellebuyck bailed them out by leading the league in terms of GSAx.
On the other hand, Connor McDavid had a subpar game for the Oilers and that usually spells trouble for Edmonton. McDavid had 105 points in 56 games in 2021. He was directly involved in 57.4% of Edmonton's goals this season with either a goal or an assist. This is far and away the highest rate in the league. Edmonton went 2-8-1 in the 11 games where McDavid didn't register a point this regular season. It is now 0-1 in the playoffs.
There will be a lot of narratives flowing from this game about how the Jets shut down McDavid and how they might have figured something out. Winnipeg had the 29th-worst rush defense during the regular season and I highly doubt they figured out how to stop the best rush player in hockey during their few days off. Nobody has been able to slow down McDavid in six seasons and I don't think this iteration of the Jets will be the first.
Our own Matt Russell recently wrote a great piece about backing Connor McDavid in the prop market as opposed to backing the Oilers as a team. Additionally, earlier in this article, I outlined how the Oilers record is extremely correlated to McDavid production.
Simple back-of-the napkin math tells you that by scoring 33 goals in 56 games, McDavid scores almost 0.6 goals per game. In other words, you expect over a goal from McDavid every two games he plays. Additionally, he scored seven goals in nine games against the Jets during the regular season. It's slightly more complicated than that with more nuance, but it gives you a general idea of where I'm going with this one.
If you're interested in backing the Oilers to even this series, you are probably expecting a big game from McDavid. The two are definitely correlated. Rather than lay -160 on the Oilers moneyline, you should peek towards the prop market here.
McDavid is +106 to score a goal at anytime.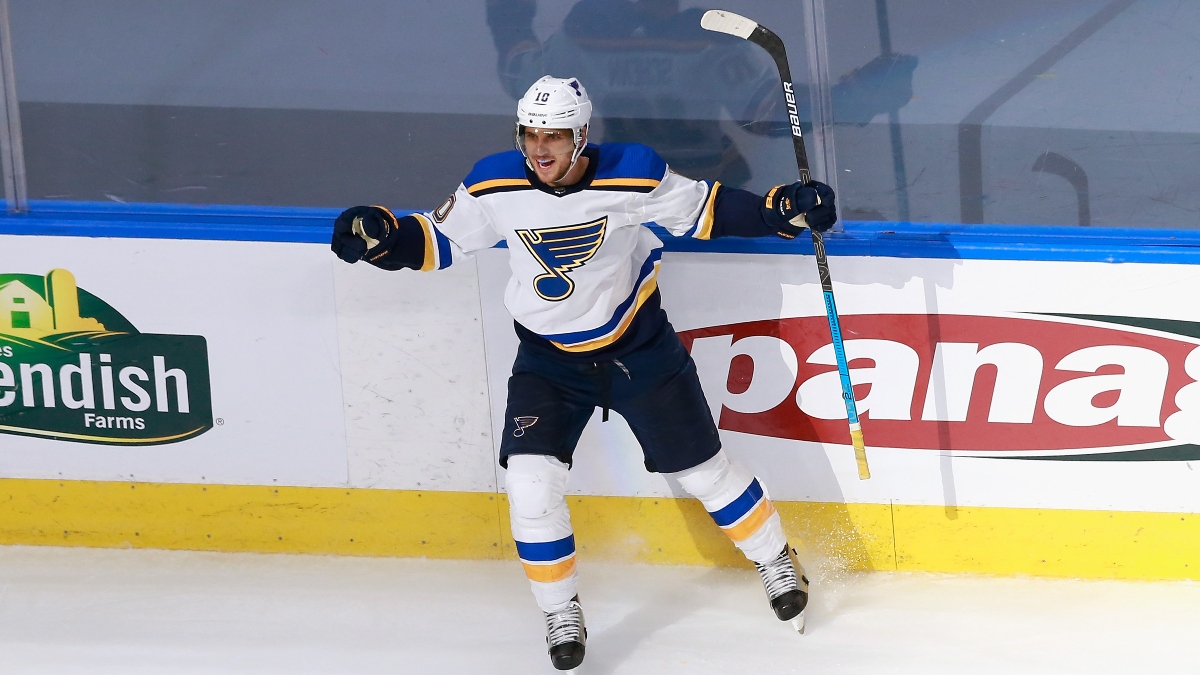 Michael Leboff: St. Louis Blues (+185) vs. Colorado Avalanche
Puck Drop: 9:30 p.m. ET
The Colorado Avalanche overwhelmed the St. Louis Blues through the first four periods of the teams' best-of-7 series. The Avs, NHL juggernauts and the clear Stanley Cup favorites, pummeled the Blues in Game 1 and were actually a bit unlucky to only win 4-1. It looked like a similar script would unfold in Wednesday's Game 2 matchup: Colorado outshot the Blues, 18-6, in the first period. If it wasn't for Jordan Binnington's heroics, the game would have been out of hand in the opening 10 minutes.
Whereas in Game 1 the Blues never really found an avenue into the fight, Game 2 played out differently. St. Louis came out as an improved bunch in the second period and began to tilt the ice. It was too little, too late, and perhaps the score effects caused Colorado to pace itself, but the Blues were definitely the better team for the second and third period on Wednesday night. According to MoneyPuck, St. Louis deserved to win that game nearly 63% of the time.
Now, the question must be asked: Should we expect more of the same from St. Louis in Game 3?
Now, it's time to play devil's advocate: The Blues' odds are as long as they are for a legitimate reason. The Avalanche were far-and-away the best team in the NHL in 2021. Colorado led the circuit in 5-on-5 goal differential, expected goals rate, goals per game (at 5-on-5 and overall) and finished a measly third in goals allowed. St. Louis was below average (or worse) in basically every one of those metrics. The Blues survived the season thanks to a weak division and the individual talent it has on their roster.
All of these numbers, plus the 10-4 aggregate scoreline will likely add up to bettors flocking to the Avalanche on the moneyline, puckline and in parlays. In other words, this number could still go up as we get closer to puck drop on Friday night.
Admittedly, I've been higher on the Blues than I should have been throughout this season. This team is not all that different from the one that won the Stanley Cup in 2019 and posted the best record in the Western Conference in 2019-20. The Blues' system, combined with their talented roster and star goaltender, led me to believe that this team had a higher ceiling than they had shown. That hypothesis never really panned out, and I expect St. Louis to eventually go down not with a bang — but a whimper. Still, there's reason to back this team at these odds, even against the best team in the NHL.
The Blues found their footing in Game 2, skating to a 1.25 to 0.56 expected goals advantage and had a 6-1 edge in high-danger scoring chances in the second and third periods. Those 40 minutes certainly don't make up for a season's worth of stats that paint this as a mismatch, but they do make this number interesting.
Winning this bet will require another monster effort from Jordan Binnington, but the fiery goaltender appears locked-in, and it looked like his teammates finally joined him during Game 2.
Everything in this matchup is pointing to the Avalanche — and when that is the case, it usually means that prices get inflated. While acknowledging that this type of bet isn't for everyone, I do think it's Blues or nothing at this price.
At +185, you're only asking the Blues to win this game about 35.2% of the time. With Binnington in form and the team showing some signs of life in Game 2, I think they check that box.
How would you rate this article?
This site contains commercial content. We may be compensated for the links provided on this page. The content on this page is for informational purposes only. Action Network makes no representation or warranty as to the accuracy of the information given or the outcome of any game or event.