NHL Daily Picks & Odds (Monday, May 24): Our Best Bets for Islanders vs. Penguins, Lightning vs. Panthers, Oilers vs. Jets & Wild vs. Golden Knights
Credit:
Darcy Finley/NHLI via Getty Images.
And then there were 14.
Sunday night saw two teams (Washington Capitals, St. Louis Blues) get eliminated from the Stanley Cup Playoffs. Neither exit was all that surprising, though most folks thought that the Bruins-Caps series "had seven games written all over it."
There are five more Stanley Cup Playoff games on Monday night, including an elimination game for the Florida Panthers as they try to claw their way back into their series with the Tampa Bay Lightning. Here's what's on tap:
New York Islanders (+118) at Pittsburgh Penguins (-137), 7 p.m. ET
Toronto Maple Leafs (-165) at Montreal Canadiens (+140), 7 p.m. ET
Tampa Bay Lightning (-108) at Florida Panthers (-108), 8 p.m. ET
Edmonton Oilers (-106) at Winnipeg Jets (-112), 9:45 p.m. ET
Minnesota Wild (+148) at Vegas Golden Knights (-175), 10:30 p.m. ET
Here are our favorite bets for Monday night's Stanley Cup Playoff games:
Matt Russell: New York Islanders (+118) vs. Pittsburgh Penguins
Puck Drop: 7 p.m. ET
What's the plan? As we finally get back to asking our partners, friends and family that question socially, the answer is more simple when it comes to this series. The Islanders plan was to slow Sidney Crosby, stay out of the penalty box, and get good goaltending. Sounds easy enough, right?
Well, they showed they could handle 'Sid The Kid' two years ago, and have done so again through four games. Crosby has just one goal so far. The Penguins have just eight power play opportunities, or two per game.
The last element in the Isles plan has been a bit more of an adventure. Semyon Varlamov earned the right to play when ready. So bringing him in for the second game of the series, and staying with him for Game 3 were understandable decisions. However, when he struggled for the majority of those two games, Barry Trotz went to Plan B. Ilya Sorokin won Game 1, and was outstanding in Game 4, and while it took the long route, the Islanders now have confident goaltending along with an offense that is creating 10.75 high-danger scoring chances per game at even-strength. Two more than Pittsburgh.
I have more confidence in what the Islanders are doing and how they're doing it, and I expect more of the same from their ability to create offense. I also like what I've seen from Sorokin, and continue to not trust Tristan Jarry in net for the Penguins.
Give me the short underdog who seems to have finally have more answers to the question, "what's the plan?"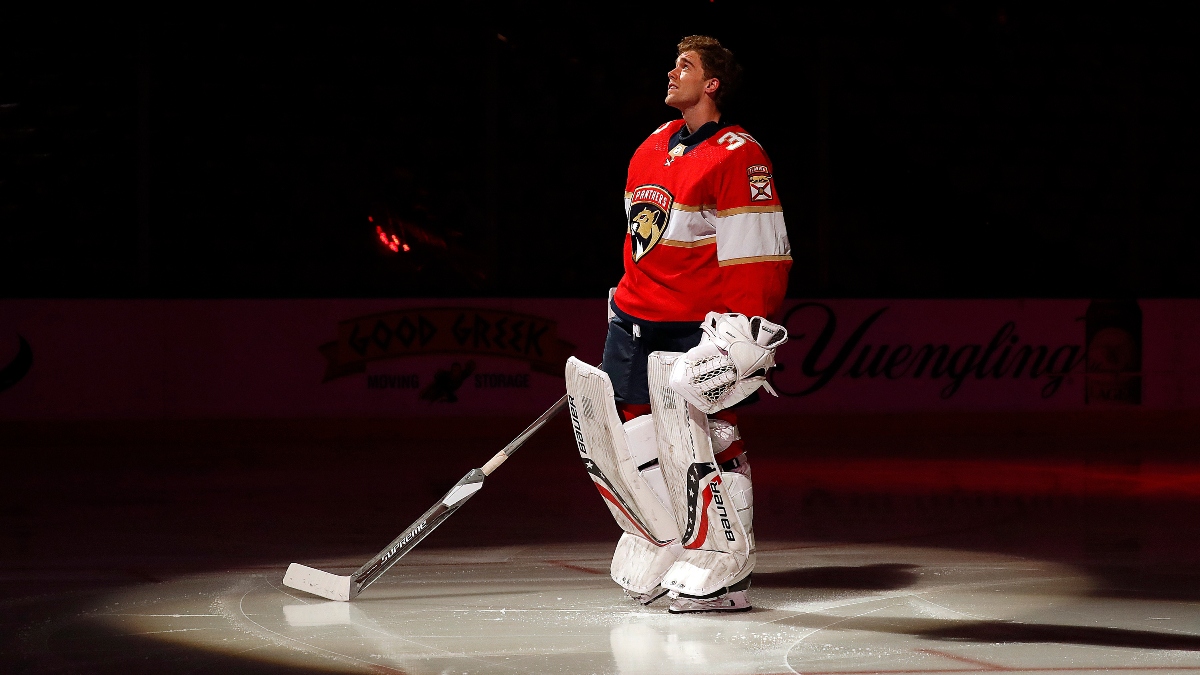 Pete Truszkowski: Tampa Bay Lightning (-108) vs. Florida Panthers
Puck Drop: 8 p.m. ET
The Tampa Bay Lightning had a solid, but by their standards, unspectacular regular season. The Bolts finished the regular season with the eighth-best points percentage and were 12th-best at 5-on-5 in both goal differential and expected goals rate. However, as often is the case with elite teams, the Lightning were biding their time until the postseason.
Steven Stamkos missed the last month of the season due to injury, limiting him to just 38 games. More notably, former league MVP Nikita Kucherov sat out the whole regular season after being placed on long-term injured reserve due to a combination of a hip injury and salary cap reasons.
Neither player has missed a beat. Stamkos has six points, while Kucherov has nine. The two have helped Tampa score seven power-play goals on 15 opportunities. While Kucherov is questionable for this game, it seems more likely than not he will play.
If you've lost track of who's between the pipes for the Florida Panthers in this series, you're probably not alone. Sergei Bobrovsky and Chris Driedger have made two starts each and both of them have been pulled once. Bobrovsky and Driedger have combined for a -6.8 Goals Saved Above Expectation (GSAx) through four games.
So which way will Joel Quenneville turn in the must-win Game 5? Bobrovsky or Driedger? How about none of the above.
Spencer Knight was in the starter's net at Florida's practice on Sunday, meaning it's likely he'll get the call for the Cats on Monday. Knight is just 20 years old with four NHL appearances and three starts on his resume. The former first-round pick was playing college hockey in March. He's performed well in his limited NHL action and he has an impressive pedigree, but it's not a confidence inspiring choice for the Panthers.
The Lightning closed as -152 favorites in Saturday's Game 4. At the time of writing they sit at -108 for Game 5. Of course the line is adjusted for the change in venue as the Lightning go from being the home team to the road team, but it's still quite the adjustment for the Bolts, who have been a top-5 team on the road for each of the past three seasons with fans in the stands. Additionally, they have stronger road splits in the playoffs going back to 2017.
I can't pass on the opportunity to back the Lightning at this price. These teams may be near-equals in terms of overall skating talent, but the goaltending disparity between Andrei Vasilevskiy and Knight (or whoever starts for the Panthers) is in itself worthy of a bet. I like Tampa up to -115.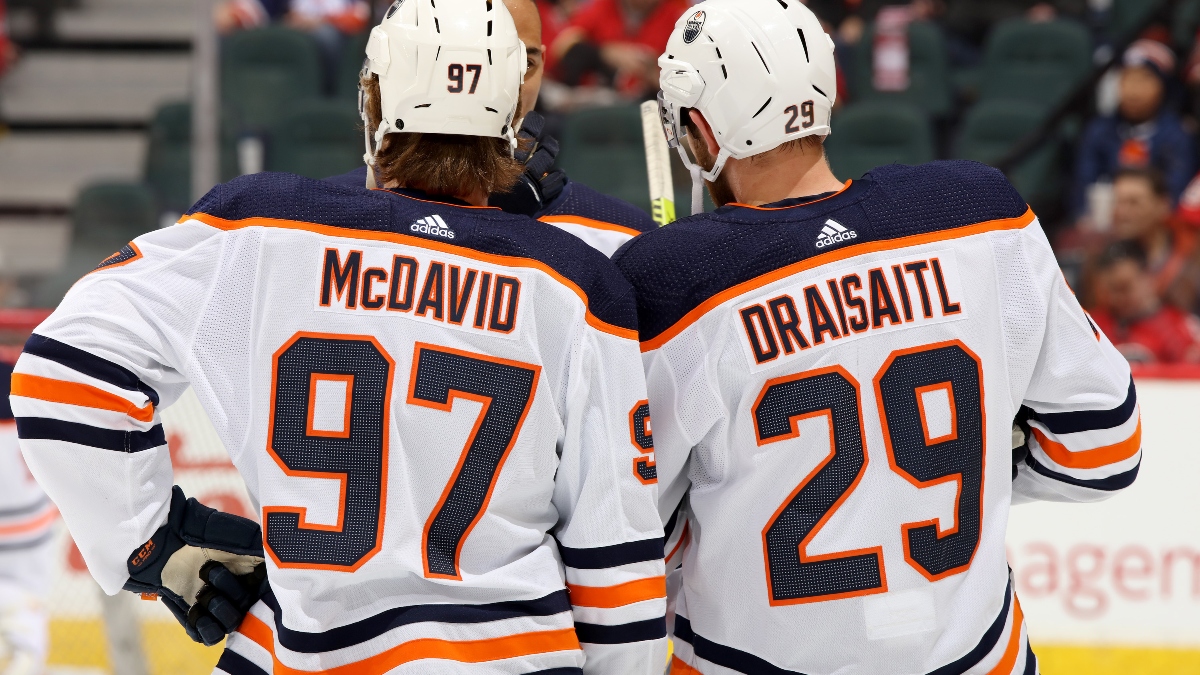 Michael Leboff: Winnipeg Jets (-112) vs. Edmonton Oilers
Puck Drop: 9:45 p.m. ET
After closing as a -124 favorite in Game 3, the Oilers opened as a -106 underdog for Game 4.
One of my tried-and-true philosophies about betting Playoff Hockey is that you can't overreact to the previous game. Sure, it's hard to go back to the Oilers after watching them take the biggest gut-punch of the postseason, but that kind of performance could also provide an opportunity to buy low on a team that closed at -167, -177 and -124 in the first three games. The problem is that the Oilers were a bit overrated to begin with, which leaves us with a different kind of quandary.
The Winnipeg Jets can drive numbers-based bettors batty. Long an analytics nuisance, the Jets finished the season near the bottom of the league in expected goal rate and high-danger scoring chance rate. On average, the Jets allowed 0.3 more xGs and 2.22 high-danger chances than they created per 60 minutes at 5-on-5. Those numbers put them in the company of some pretty bad teams like Los Angeles, Columbus and Anaheim.
But this wasn't the first time we've seen the Jets play this tune. Winnipeg was not a good 5-on-5 team in 2019/20 and still was able to hang around the playoff picture for the entire season.
While some people will call it smoke-and-mirrors, at some point we just need to accept that this is who the Winnipeg Jets are. Paul Maurice's team doesn't seem to mind chasing the puck all night because they know that they have a world-class goaltender behind them to bail them out and they have plenty of high-level finishers to convert the chances they do create.
It may not be an easy style to quantify or handicap, but it's working once again.
Through three games the Oilers have created 15 more high-danger scoring chances and hold an 8.48 to 5.83 edge in terms of expected goals (5-on-5). Despite those strong underlying metrics, the Jets have a 6-4 edge in 5-on-5 scoring and have doubled up the Oilers, 10-5, overall. While Connor Hellebuyck deserves a ton of credit in goal, it takes a team effort to take a 3-0 series lead over two of the best players in the world. What's more impressive is that two of those wins came without Ehlers and one of them came without both Ehlers and Pierre-Luc Dubois. Outside of Hellebuyck, Winnipeg's biggest asset is its forward depth, so having Ehlers and Dubois back is a big deal.
I was bullish on Winnipeg's chances before this series and I remain confident that the Jets are better than they have been given credit for this season. Prior to Game 1, I thought that the betting market got caught up in a couple of things in this matchup. One, everybody was (rightfully) falling over themselves talking about Connor McDavid's 105-point season. McDavid is a world-beater and can get Edmonton over the line on his own on some nights, but the playoffs are a different beast. McDavid and Draisaitl will need help and I don't think Edmonton's depth is good enough to make a run.
Secondly, I thought people were writing off the Jets too quickly because of their poor finish to the season. Sure, the Jets stumbled down the stretch, but they had some built-in excuses. They lost their best forward for the last month of the season and they were basically locked into a playoff spot with 20 games to go. It wasn't too long ago that this team was within a whisker of Toronto at the top of the North Division.
At the risk of buying high after a wild win, I think the Jets are deserving favorites on Monday night. Not only are they healthy, but Edmonton has a bit of a goaltending dilemma to deal with. Mike Smith was terrific all season, but he's 39 years old and didn't play all that well in Game 3. The other option in net is Mikko Koskinen and his -10.37 Goals Saved Above Expectation (GSAx). No matter who Dave Tippett rolls with, the Jets will have a considerable edge, as long as Hellebuyck gets the nod.
I thought the market was too high on Edmonton coming into this series and I still think that is the case. I'd play Winnipeg at -115 or better to pull off the sweep.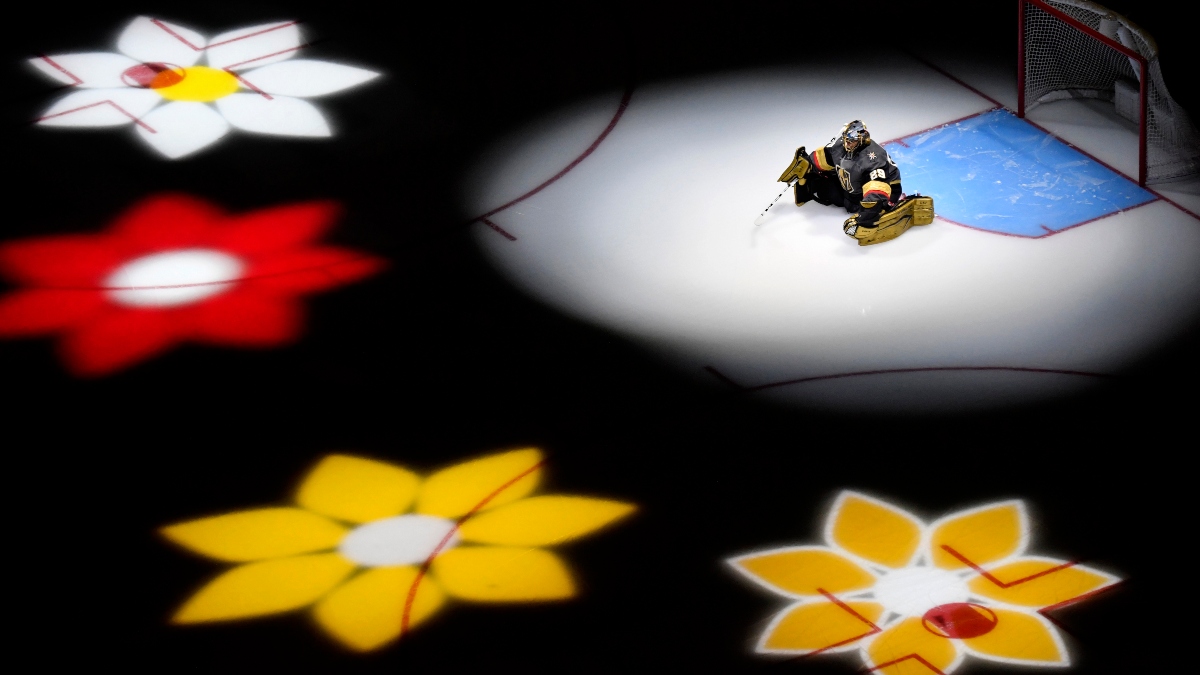 Nicholas Martin: Minnesota Wild (+148) vs. Vegas Golden Knights
Puck Drop: 10:30 p.m. ET
The Minnesota Wild head to T-Mobile Arena in Vegas needing an upset win to keep a very encouraging season alive. The Wild have done a number of things well in this series against a strong Vegas club, but they've been outdone by a few other-worldly performances from Marc-Andre Fleury.
Fleury has been truly spectacular so far in this series, particularly in Games 2 and 4 where we saw Minnesota control much of the play but come up empty time and again. Fleury is already sitting with an absurd +6.3 GSAx and a stellar .966 save percentage through four games.
The Knights also received some very favorable and timely breaks in Games 3 and 4. Vegas ended up on the right side of a video review in both contests. It is fair to call Minnesota's 3-1 deficit a bit harsh.
Goaltending is obviously a huge part of the game and Marc-Andre Fleury outplaying Cam Talbot is a very repeatable result, but it is likely unsustainable for the Wild to continue to create so many deep slot chances with reasonable time and space not find some more success offensively, even against a spectacular goaltender.
Minnesota opened as a heavy underdog for Game 5 in Vegas and when you consider how tight these games have been, I see considerable value backing the Wild to get a better result.
How would you rate this article?
This site contains commercial content. We may be compensated for the links provided on this page. The content on this page is for informational purposes only. Action Network makes no representation or warranty as to the accuracy of the information given or the outcome of any game or event.