NHL Daily Picks (Thursday, May 20): Our Best Bets for Panthers vs. Lightning, Islanders vs. Penguins, Canadiens vs. Maple Leafs & Wild vs. Golden Knights
Credit:
Francois Lacasse/NHLI via Getty Images.
The Stanley Cup Playoffs roll on Thursday night with a four-game slate starting at 6:30 p.m. ET.
Florida Panthers (+128) at Tampa Bay Lightning (-148), 6:30 p.m. ET
Pittsburgh Penguins (-106) at New York Islanders (-110), 7 p.m. ET
Montreal Canadiens (+170) at Toronto Maple Leafs (-200), 7:30 p.m. ET
Vegas Golden Knights (-112) at Minnesota Wild (-106), 9:30 p.m. ET
After a wild start that saw the first three games go to overtime and the underdogs win each one of them, favorites have come roaring back with wins in 10 of the last 11 games. Will Thursday night feature more success for the dogs?
Check out below for our favorite bets for Night 6 of the 2021 Stanley Cup Playoffs.
Nicholas Martin: Florida Panthers (+128) vs. Tampa Bay Lightning
Puck Drop: 6:30 p.m. ET
In a series that most people thought would be long and tightly-contested, the Tampa Bay Lightning have a chance to go up, 3-0, against the Florida Panthers on Thursday night. The Bolts opened around -150, which is considerably higher than where they closed for Game 2. Obviously part of that uptick in price is due to the series shifting to Tampa Bay, but bettor beware as the perception of home-ice advantage is more dramatic than the numbers indicate in the postseason.
Excluding 2020's results from The Bubble, home teams have skated to an 86-87 mark altogether over the last two playoff seasons. When we factor that number in with the fact that higher seeds play more home games, it is hard to say that home ice has actually been advantageous on average.
---
Expected goals (also known as xG) is a predictive statistic that gives an indication of whether results are based on sustainable factors like a steady creation of scoring chances, or whether it is down to aspects such as shooting luck or outstanding goaltending.
Simply put, an expected goals rate (xGF%) above 50% is considered good because it means a team is creating the majority of the scoring chances. Anything below 50% is usually a sign that a team is struggling to control play.
xG numbers and advanced stats cited from Evolving Hockey, MoneyPuck and Natural Stat Trick.
---
Some teams do have notably stronger home splits (I better note that the the Islanders and their raucous Nassau Coliseum fall into that category before I irk our team leader and passionate Isles fan Mr. Michael Leboff), however Tampa Bay does not seem to fall into that group. From 2017-19, the Lightning went 6-6 at home and 5-4 on the road in the playoffs.
Tampa is certainly trending upwards, with Nikita Kucherov picking up right where he left off, dominating on a line with Ondrej Palat and Brayden Point. It's not a bold call by any means at this point, but I fully expect Tampa to finish the series off and have a hellacious series next round with Carolina.
However Florida have played relatively well overall so far and could very reasonably be sitting with a 1-1 split. The Panthers won the expected goals battle 3.21-2.52 in Game 2, but ultimately could not complete the comeback, falling 3-1 after a late empty-netter.
Considering how close the first two games of the series have been, I think backing Florida as a +130 underdog is a good value bet. Especially when you consider that bettors will overreact to the results from the first two games and the fact that Tampa is now playing at home.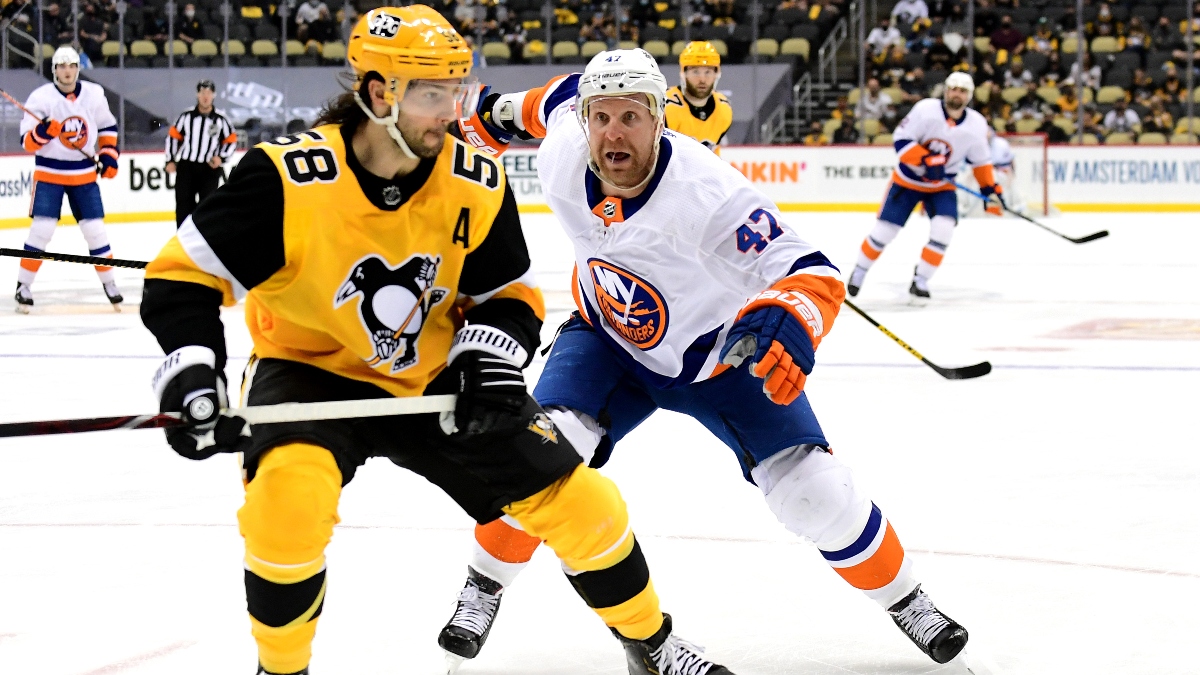 Pete Truszkowski: Islanders-Penguins Under 5.5 Goals (-143)
Puck Drop: 7 p.m. ET
Game 2 of this series encapsulated the pros and cons of backing the New York Islanders. The Islanders did not play particularly well and generated almost nothing offensively. They scored just one goal against a goaltender that looked extremely vulnerable in Game 1. Despite that, the Islanders were always in the game and had a chance to tie the contest in the final minute when they had a 6-on-4 skating advantage.
The Penguins top line featuring Sidney Crosby, Jake Guentzel and Bryan Rust has posted a 63.6% expected goal mark through the first two games. Particularly concerning for the Isles is that they've matched up Adam Pelech and Ryan Pulock against Crosby for 65% of Crosby's even strength time on ice.
With the Isles now at home, Barry Trotz will continue to seek out this matchup. Pelech and Pulock were arguably the best shutdown pairing in hockey during the regular season, but they haven't been up to the task through the first two games.
On the other side, the Isles' top line with Mat Barzal, Jordan Eberle and Leo Komarov has played to a paltry expected goal rate of just 25.5%. Mike Sullivan has largely matched Brandon Tanev, Teddy Blueger and Zach Aston-Reese against the Isles top trio. The Penguins shutdown line has an expected goal rate of 75%.
The Islanders haven't been the same team since mid-March when they lost captain Anders Lee. They haven't been able to find the right combination of lines and in turn they've struggled to score goals. Outside of the energy fourth line for New York, the other three lines have expected goal rates below 46% in this series. As mentioned above, Mat Barzal, the Isles' best offensive player, has particularly struggled.
While the Isles would prefer not to spot the Penguins an early 2-0 lead again like they did on Tuesday, they feel most confident playing in low-scoring games. They thrive at turning games against more talented teams into coin flips. With Trotz being one of the better coaches in the league and now having home-ice advantage, I expect him to find the combination that slows down Crosby and company. Pelech and Pulock have a long track record of shutting down top opposition, so I expect their performance to improve.
The Islanders offense doesn't inspire enough confidence for me to bet them here as a slight home favorite. However, I have great respect for their defensive ability and their goaltending. I expect them to be able to play their game in front of their fans. Their game entails great defensive checking and tenacious play; the opposite of a high-flying game.
Game 1 was tied at two with just over four minutes to go in the third period before two quick late goals to force overtime. It was an unfortunate break for under bettors. If you had the under in Game 2, you had a relatively relaxing night with no real sweat as the total was never in jeopardy. I think the tight checking continues as this series heads to Long Island.
Matt Russell: New York Islanders (-110) & Minnesota Wild (-105)
It's a two for one special from your boy here. While I wrote extensively about the Canadiens-Maple Leafs series that finally drops the puck on Thursday, the general thesis was that uncertainty is creating variance which may be creating value. That's not the best circumstance when it comes to the concept of the "Best Bet".
Instead I'll go back to a pair of series that I'm more heavily invested in. The Islanders and the Wild are brothers in arms as far as I'm concerned. Two underdogs that I have series bets on that also cashed for us in Game 1. While I stayed away from each team's rematch, both tight losses to the Penguins and Knights respectively, I was encouraged by what I saw.
The Islanders were good enough to create 14 even-strength High-Danger Chances (HDC) in Game 2, to the Penguins 8, despite the conventional thinking that the desperate Penguins would carry the play. While they lost the game, 2-1, now the scene shifts to Long Island, where a rabid, half-vaccinated crowd awaits.
Meanwhile, the Wild should have been under siege in Vegas with the Golden Knights fearing an 0-2 deficit heading out on the road. However, Minnesota was the better team, doubling the Knights 12-6 in High-Danger Chances. Alas, Vegas managed to finally score after more than five periods of being shutout, and they won 3-1. That may have saved their season, as the Wild's home-ice environment should be, well, wild.
Give me both the Wild and the Islanders at anything near a -110 pick'em, and we'll take our chances, expecting a split, but hoping for a sweep. No matter what happens, I'll be back to do it again on Saturday, as the Wild and Isles link metaphorical arms. Even if they don't know it.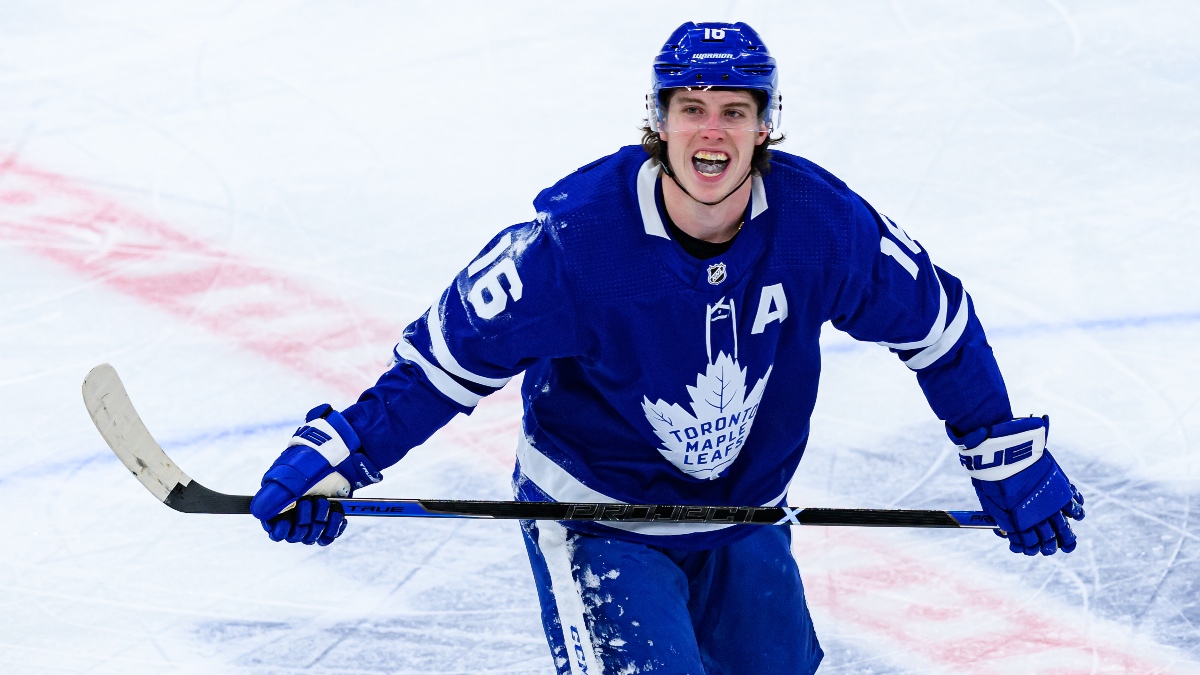 Michael Leboff: Montreal Canadiens (+170) vs. Toronto Maple Leafs
Puck Drop: 7:30 p.m. ET
Talk about a nightmare.
Not only did the Montreal Canadiens limp into the postseason, but the Habs basically limped through the entire second half of the 2021 season. The Toronto Maple Leafs, meanwhile, went wire-to-wire to win the North Division in style. As such, nobody is giving Montreal a puncher's chance to even make a this series — the first playoff encounter between these longtime rivals since 1979 — interesting.
On paper that notion makes sense. After a thrilling start to the season, Montreal wobbled, fired its coach and then went 15-16-5 under new bench boss Dominique Ducharme. Their 5-on-5 numbers dipped from near-elite levels during the first 15 games of the season (and the entire 2019/20 campaign) to below-average over the second half. In fact, Montreal had the second-worst goal differential at 5-on-5 over the last month of the season and ranked 20th in terms of expected goals rate. Toronto, on the other hand, skated to the third-best goal share and fifth-best expected goals rate in that same span.
All of this may sounds like doom-and-gloom for the Habs, but I think there's reasons to believe we see an uptick in form from Montreal to start the postseason. First of all, the Canadiens are healthy for the first time in months. Brendan Gallagher, Phillip Danault, Shea Weber, Ben Chiarot and Carey Price are all back after missing significant time down the stretch.
Additionally, Montreal finally got a breather over the past few days. Thanks to COVID issues, the Habs' already condensed schedule became even more grueling over the last six weeks. Montreal played 24 games between April 1 and May 12 and 19 of its last 25 games saw them face a more rested opponent. Every team in the NHL dealt with arduous stretches, but when you consider the travel in the North Division and throw in the injury issues that Montreal was dealing with and you can start to see why this team almost fumbled its playoff berth.
The last thing that could tip in Montreal's favor is the goaltending matchup. Jack Campbell was superb to start the season for the Maple Leafs, but he came back down to earth over his last 15 starts, skating to a -2.37 Goals Saved Above Expectation (GSAx). Campbell still posted much better numbers than Montreal's presumed Game 1 starter, Carey Price, but we've seen Price elevate his game to elite levels during the playoffs in the past, including last year in the Bubble. It's hard to count on Price to play like he did in The Bubble considering where his game has been over the past two seasons, but a hot run from a goaltender is basically all any team needs to upset the odds. It's also worth noting that this will be Campbell's playoff debut.
While it's not a bet you should expect to win, getting +170 on the Habs in Game 1 means you're only asking them to win this contest 37.1% of the time. I'm willing to bet on Montreal's upside at this price and also think the series line is worth a bet at +240.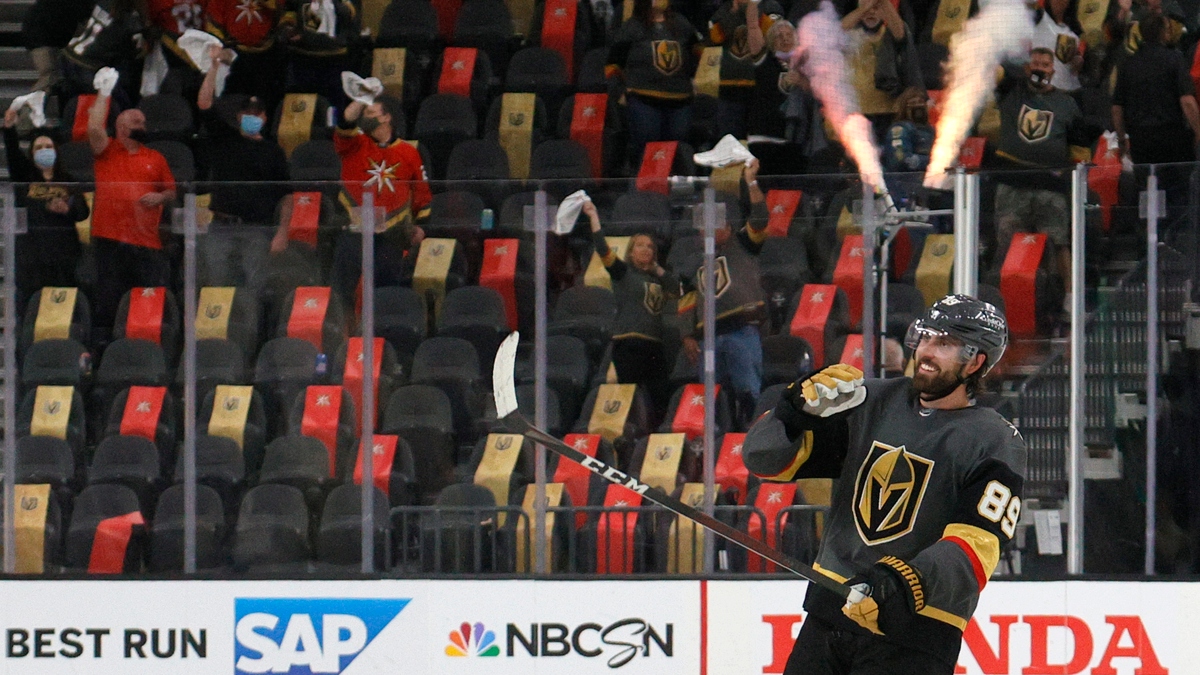 Mike Ianniello: Minnesota Wild (+100) vs. Vegas Golden Knights
Puck Drop: 9:30 p.m. ET
The Vegas Golden Knights have been one of the best teams in the NHL all season and were a sizable -155 favorite in Game 1 and a -167 favorite in Game 2. Yet this series is all tied 1-1 heading into Game 3.
I've seen some narrative that Minnesota "stole" Game 1 with their 1-0 overtime victory off a Joel Eriksson Ek goal. Cam Talbot was remarkable making 42 saves in the shutout. So was this just a case of a hot goaltender stealing a game? I don't think so.
The expected goals in Game 1 at 5-on-5 were 2.11 to 2.06 in Vegas's favor, so virtually a tie. The high-danger chances were all square at nine apiece. The Minnesota line of Kirill Kaprizov, Ryan Hartman and Mats Zuccarello skated to a 61.3% expected goals rate, the best among any forward line in the game.
In Game 2, the 5-on-5 play was more lopsided, however not in the Golden Knights favor, despite their 3-1 win. It was actually Minnesota who had the higher expected goals at 5-on-5 leading Vegas, 3.04 to 1.89. The Wild had double the high-danger scoring chances as the Knights, leading 12 to 6. The Wild's top three lines were dominant, skating to expected goals rate of 82.1%, 74.6% and 81.7%, respectively.
Vegas is just an excellent matchup for the Wild. The Golden Knights play a physical, defense-first game and excel at limiting high-danger scoring chances. Well so do the Wild. As successful as Vegas has been through the franchise's first four years, the Knights have struggled against the Wild, especially in Minnesota.
In four seasons, Minnesota has gone 12-3-3 against Vegas, and have gone 6-2-2 this season through Game 2. In St. Paul at their home Xcel Energy Center, the Wild have been a dominant 6-0-2 against the Golden Knights. This game is every bit a coin flip, and I like Minnesota in their home building and will back them at anything plus money.
How would you rate this article?
This site contains commercial content. We may be compensated for the links provided on this page. The content on this page is for informational purposes only. Action Network makes no representation or warranty as to the accuracy of the information given or the outcome of any game or event.