NHL Daily Odds & Picks (Saturday, April 10): Our Best Bets for Blackhawks vs. Blue Jackets, Oilers vs. Flames
Credit:
Brett Holmes/Icon Sportswire. Pictured: Jacob Markstrom
With the trade deadline looming on the other side of the weekend, NHL fans are in a bit of a tizzy. There are plenty of big names still out on the market and several contenders, who are expected to add to their table before the clock hits zero on the trading season.
However, before we can get to the business off the ice, we need to settle business on the ice and that includes Saturday's intriguing 10-game slate.
Check out our favorite bets on the loaded card.
---
Michael Leboff: Chicago Blackhawks (-114) vs. Columbus Blue Jackets
Puck Drop: 7 p.m. ET
Neither the Columbus Blue Jackets nor Chicago Blackhawks are in a purple patch of form right now. Combined, the two clubs sport a 6-13-1 record over their last 20 games. That said, one team is playing marginally better than the other and presents some decent betting value on Saturday night.
The Blue Jackets have been in disarray for basically the entire season. From the moment Pierre-Luc Dubois requested a trade, the usually buttoned-up Jackets have been an unmade bed.
John Tortorella's tenure in Ohio has been defined by scrappy underdogs punching above their weight by playing a relentless, detail-oriented game, and relying on a stalwart defense to turn contests into coin flips. As impressive as the Jackets have been over the past two seasons, it looks like they've lost the plot during the 2021 campaign.
Not only are the Jackets sporting an unimpressive .452 points percentage in a relatively soft division, but they're also last in expected-goal rate; 28th in 5-on-5 goals allowed; and, 20th in XG allowed. Columbus has never been a 5-on-5 behemoth, but to see the club rank that low defensively is a big surprise.
The reason Columbus needs its defense to do the heavy lifting is due to the fact it doesn't have enough high-end talent to make up for its mistakes. Add in the fact some of Columbus' best players are either underperforming (Patrik Laine, Max Domi), hurt (Zach Werenski) or randomly scratched (Jack Roslovic) by its wild-card head coach and you can see how this whole thing has turned sideways pretty quickly.
---
Expected goals (also known as xG) is a predictive statistic that gives an indication of whether results are based on sustainable factors like a steady creation of scoring chances, or whether it is down to aspects such as shooting luck or outstanding goaltending.
Simply put, an expected goals rate (xGF%) above 50% is considered good because it means a team is creating the majority of the scoring chances. Anything below 50% is usually a sign that a team is struggling to control play.
xG numbers cited from Evolving Hockey.
---
The Chicago Blackhawks are nothing to write home about, either. After an eye-opening start to the season, the Hawks have wobbled down to earth and are now outsiders to make the playoffs.
It always looked like the Blackhawks were vulnerable to regression, because of their inability to drive play and the stellar play of rookie Kevin Lankinen in goal. However, they do remain a team with high upside even if their play-driving metrics lag compared to their peers.
On the season, Chicago boasts a 46.6% XG rate (27th); 45.2% goal share (25th); and, 44.8% high-danger chance rate that's 29th in the league. Those kind of numbers are really difficult to overcome, but the Blackhawks have enough game-breaking talent to give themselves a chance in games where they are chasing the puck.
Patrick Kane, Alex DeBrincat, Kirby Dach and Dominik Kubalik are the headliners for an offense that should give the Jackets some issues, especially without David Savard and Zach Werenski.
And it's not like bettors should expect the Hawks to be shelled in this game. Chicago might not control play on most nights, but against a Columbus team with perhaps the worst 5-on-5 portfolio in the league, there's a good chance we see most of the action take place in front of the Jackets' goal.
It's nearly impossible to handicap a team's motivation. I try my best to ignore that kind of stuff and stick to numbers, but it's pretty hard to look past what we've seen from the Blue Jackets lately. With the trade deadline looming, it's not all that unlikely that we don't get the best effort from a team that has underwhelmed so far this season.
On the other hand, the Blackhawks are having a better-than-expected season and will fancy themselves to stick around the playoff picture.
That said, I think Chicago is underpriced in this game and lay it up to -130 odds.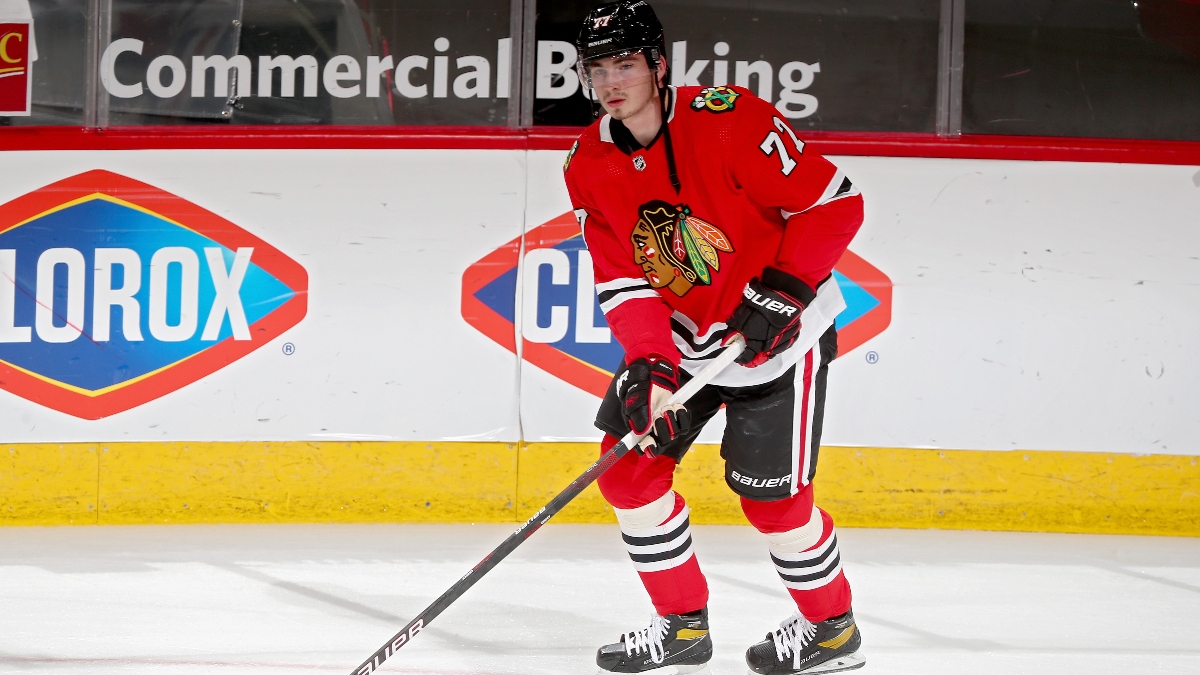 Nicholas Martin: Blackhawks (-114) vs. Blue Jackets
Puck Drop: 7 p.m. ET
After four successful seasons, the Columbus Blue Jackets have now fully accepted that they will be sellers at the trade deadline and losing No. 1 defenseman Zach Werenski for the rest of the season firmly punctuates that. David Savard will be held out again as a precaution with Monday's trade deadline on the horizon.
Columbus has the worst XG rate in the NHL this season, and has actually seen its play-driving numbers deteriorate even further over its last eight games.
Chicago has also struggled of late, regressing closer to where most expected the Hawks to finish this season — near the bottom of the Central Division. Chicago's possession numbers certainly aren't strong, with its 45.04% XG rate over its last seven games not providing any signs of improvement. However, the Blackhawks still have the league's sixth-best power play at 24.6 percent.
Chicago also boast a considerably better goal differential than the Blue Jackets overall, and has received very strong goaltending from Kevin Lankinen. Kirby Dach is also starting to look a lot better, and could be a boost for Chicago down the stretch after missing most of the year.
Simply put, I think there is a lot of value on Chicago's moneyline price at -114 considering how poor Columbus has already played and how much lower the Jackets' floor is now that it will be missing arguably its best player.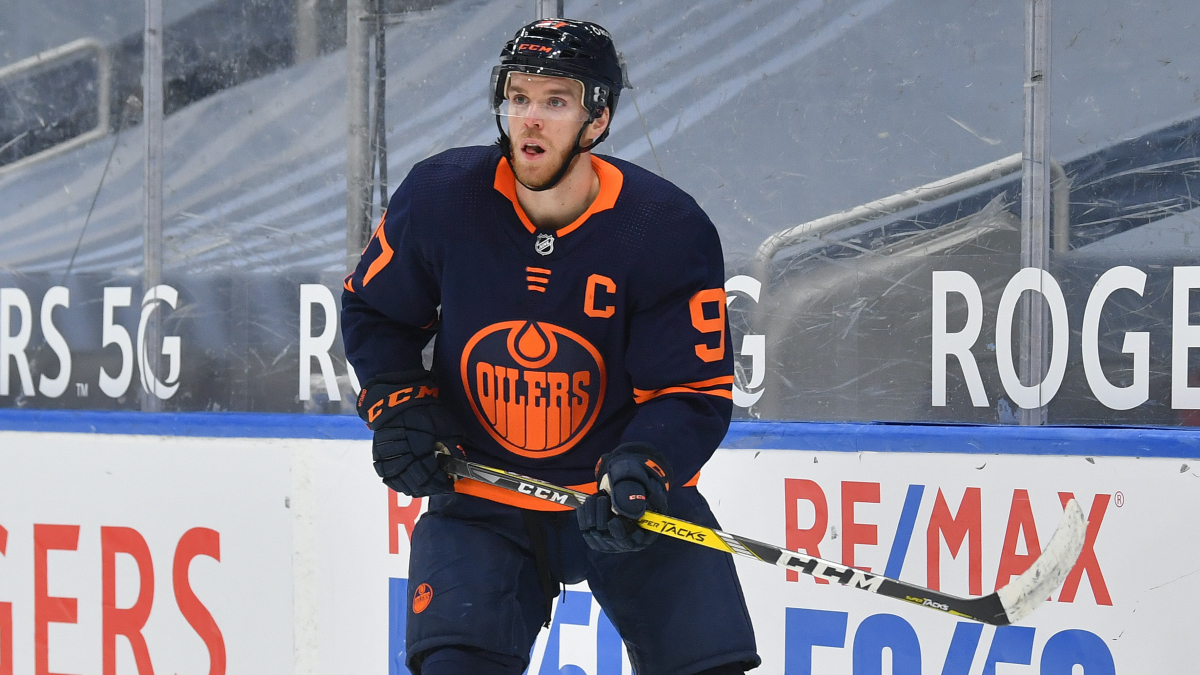 Mike Ianniello: Edmonton Oilers (-112) vs. Calgary Flames
Puck Drop: 10 p.m. ET
The Edmonton Oilers head south to Calgary for the eighth out of 10 meetings this season for the Battle of Alberta rivals. However, this campaign has gone very different for the two squads.
The Oilers sit in second place in the North Division with 52 points, compared to the Flames, who find themselves in sixth with just 35 points. Edmonton has won five of the first seven meetings, outscoring the Flames via a 4.14 goals per game to 2.71 goals/game margin.
Once again, the Oilers are led by their pair of All-World superstars in Connor McDavid and Leon Draisaitl. McDavid, the 2016-17 MVP, leads the NHL with a very nice 69 points in 41 games. Draisaitl, the 2019-20 MVP, sits second in the league with 61 points.
McDavid has been especially good in the Battle of Alberta, averaging 2.14 points per game with 15 tallies in seven meetings. His seven goals against Calgary are his most against any opponent this season.
The biggest difference for the Oilers this season has been their depth contributions. Darnell Nurse has been one of the best defensemen in the league. His 0.68 points per game would be a career high, and he's 12th among NHL blue liners with 28 points. Nurse is second in the league in time-on-ice, which has helped Edmonton improve defensively.
For Calgary, this season has been pretty much a disaster, given the expectations and talent on the roster. The Flames' .438 percentage points would be tied for its worst since the 1997-98 season. They have already fired head coach Geoff Ward and expect to be sellers before the trade deadline.
When you look at the advanced stats, Calgary should be much better than it has been. The Flames have a higher xGF% and High-Danger Scoring chance percentage than the Oilers this season. So why am I backing the team with the worse analytical profile?
The first reason is goaltending. Calgary signed Jacob Markstrom to a six-year, $36 million contract this offseason, and he has been one of the worst goalies in the NHL and lost six consecutive games. Markstrom has gone just 12-14-2 in his first season in Calgary, and his 3.02 GAA and .898 save percentage would both his worst marks in six years.
Of the 91 goalies who have made an appearance this year, Markstrom ranks 86th with -11.34 GSAx. He has been bad against every team, but his .849 save percentage and 4.62 GAA against the Oilers are his worst against any team.
On the flip side, Mike Smith will start between the pipes for Edmonton and he has been terrific, amassing a 14-3-2 record with a 2.34 GAA and .922 save percentage. Smith has suffered just one regulation loss in his last 11 starts, plus he's 4-1 against Calgary. Smith has a 4.49 GSAx this year that's good for 12th in the league.
The second reason is McDavid. To some degree, xG are less important when you have guys like McDavid and Draisaitl, who are capable of scoring goals that aren't expected to be goals. For example, there is no way this goal Draisaitl scored the other night was considered a High-Danger Scoring chance.
While the Oilers' 5-on-5 numbers might not be as good on paper as the Flames, they also possess the NHL's second-best power-play percentage. That is a good recipe against a Calgary team that gives opponents the second-most power play opportunities. Edmonton has scored nine power-play goals in its seven meetings with the Calgary this season.
The Oilers are 7-1-2 in their last 10 games, while the Flames have flickered to a 2-8 record during that span. With the upcoming trade deadline, there's always a chance Calgary makes a trade before the puck even drops here. The Oilers have consistently been the better team all season, and I think the current price of -112 odds is too small for them here in the Battle of Alberta.
How would you rate this article?
This site contains commercial content. We may be compensated for the links provided on this page. The content on this page is for informational purposes only. Action Network makes no representation or warranty as to the accuracy of the information given or the outcome of any game or event.