The Premier League season officially ends Sunday, May 13 with all 20 teams in action at 10 a.m. ET, but there are still six matches to be played on Tuesday, Wednesday and Thursday of this week. Some games are critically important for the relegation race, starting with Southampton at Swansea on Tuesday night. Here's a look at the Premier League table as of Monday morning: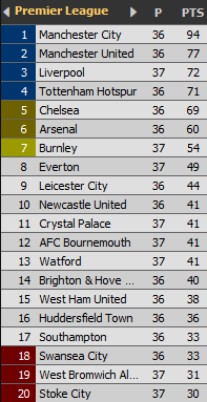 Stoke City have already been relegated from the Premier League.
West Brom can stay alive only if Southampton and Swansea end in a draw Tuesday.
The winner of Southampton-Swansea will essentially be safe, and the loser will likely be demoted.
Now let's get into the betting market and what's at stake for the six midweek matches …
(All odds via Pinnacle at time of publication. All betting percentages are offshore market consensus. You can find the latest odds and public/sharp info with a Sports Insights membership.)
Southampton at Swansea (Tuesday, 2:45 p.m. ET)
Moneyline odds: Southampton +142, Swansea +225, Draw +235
What's At Stake: This match is massive in terms of the relegation race, and not just for Southampton and Swansea – a draw would keep West Brom alive, while a win by either team would see West Brom officially join Stoke for relegation.
Since Swansea (-26) have a much worse goal differential than Southampton (-19), the Swans would still need a point in their final match to ensure they stay in the Premier League. If Southampton and Swansea finish with the same number of points, it would be Swansea being relegated due to the tiebreaker.
Injuries/Suspensions: Southampton defender Maya Yoshida picked up a red card late in their 1-1 draw with Everton and is suspended for the match against Swansea. Defensive midfielder Mario Lemina (quad) is also doubtful.
As for Swansea, they'll be without the trio of Wilfried Bony, Leroy Fer and Kyle Bartley, while Kyle Naughton (illness) may be back for Tuesday.
Betting Market: Despite having home-field advantage, Swansea are the small underdogs, mostly because their recent form has been atrocious. Nonetheless, public bettors are taking their chances on the Swans to win with 55% of moneyline tickets. I already liked Southampton to win/draw before analyzing the betting market and feel even more confident knowing that this is a great spot to go contrarian by fading Swansea.
Huddersfield at Chelsea (Wednesday, 2:45 p.m. ET)
Moneyline odds: Chelsea -532, Huddersfield +1917, Draw +677
What's At Stake: Huddersfield still need two points to ensure they won't be relegated, but that drops to just one point if either Swansea or Southampton wins Tuesday night.
For Chelsea, they're still in fifth place but can finish in the top four, which would guarantee a Champions League spot for 2018-19. Chelsea can't afford to lose at home to Huddersfield or else they'll need a ton of help from Liverpool and Tottenham.
Injuries/Suspensions:  Chelsea forward Alvaro Morata missed the weekend match against Liverpool but he'll reportedly be back for Wednesday.
Betting Market: Oddsmakers aren't too concerned about Huddersfield's shock draw at Man City last weekend, which paid out +1375 on the moneyline. The market currently lists Chelsea -532 on Wednesday night, an implied win probability of 84.2%, while Huddersfield are +1917 (4.9%). I don't see much value in this match but do expect Chelsea to find a way to win.
Arsenal at Leicester City (Wednesday, 2:45 p.m. ET)
Moneyline odds: Arsenal +101, Leicester City +274, Draw +293
What's At Stake: Arsenal are locked into the sixth spot no matter what happens in the final week. The Gunners were listed at -450 to finish in the top six before the season. Leicester City are in ninth position but could be passed by multiple teams, while the best they can finish is eighth.
Injuries/Suspensions: Arsenal defender Laurent Koscielny (Achilles) is done for the season and the World Cup, and midfielder Mesut Ozil is also doubtful with a "back injury" that magically popped up again last week. Leicester City's injury list is quite long and they could be missing six players, including goalie Kasper Schmeichel and defensive midfielder Wilfred Ndidi.
Betting Market: Arsenal play just two more games under manager Arsene Wenger, and they're small +101 favorites to win his penultimate match at Leicester City. It's no secret how poor Arsenal have been away from home in 2018, but they'll undoubtedly want to finish the year strong for Wenger. They've also owned Leicester City and are undefeated against the Foxes in 15 straight matches. Lots of signs point toward Arsenal winning here, but the loss of Koscielny is too worrying for me to back them on the road.
Before getting to the other three midweek matches, let's take a look at 2017-18 season results:
Draws have been consistently good all season, and Huddersfield-Man City added nearly +14 units to that tally from Week 36. Road teams have struggled for most of the season and will finish in the red, while home teams are in the black.
Brighton at Manchester City (Wednesday, 3 p.m. ET)
Moneyline odds: Man City -783, Brighton +2381, Draw +871
What's At Stake: Manchester City have already locked up the Premier League title, but they're aiming for a 100-point season. Brighton sit safely in 14th place but could potentially finish in ninth with two wins and some help from other clubs.
Betting Market: These odds are similar to Huddersfield-Man City over the weekend where Huddersfield held on for a 0-0 draw. It'd be a huge surprise if Man City were shut out again, but Brighton come into this match with confidence after beating Manchester United, 1-0, last Friday. This should be a comfortable Man City win but no value whatsoever on the moneyline.
Newcastle at Tottenham (Wednesday, 3 p.m. ET)
Moneyline odds: Tottenham -537, Newcastle +1600, Draw +680
What's At Stake: Tottenham still have work to do to stay in fourth, which guarantees a Champions League spot. A draw or loss would open the door for Chelsea to sneak by them. Newcastle are 10th in the league but could slip to as far as 16th if they don't earn a point in their final two matches.
Betting Market: The huge moneylines continue as Tottenham are -537 to beat Newcastle on Wednesday. I expect a lot of Man City/Chelsea/Tottenham parlays for the midweek action, but that pays out only -160.
Manchester United at West Ham United (Thursday, 2:45 p.m. ET)
Moneyline odds: Man United -121, West Ham +365, Draw +289
What's At Stake: United are comfortably in second and need just one point to stay there. West Ham are in 15th, but could move up to ninth or 10th with a strong finish to the season.
Betting Market: Public bettors unsurprisingly love Man United (-121) at such a short price this week, and it's looking like it could be another prime contrarian spot to fade the Red Devils. In last Friday's match at Brighton, they closed with nearly 90% of moneyline tickets but lost, 1-0, a big blow for the public. I'll be keeping my eye on the lines and public betting percentages throughout the week for this one.
---
You can also follow me on Twitter (@ArsenalDMC) for all the latest soccer news and updates.
Cover photo features Southampton's Oriol Romeu (left) shielding the ball from Swansea's Leroy Fer