Latest European Soccer COVID-19 Tracker: Arsenal-Tottenham Reportedly Postponed
Credit:
Visionhaus/Getty Images. Pictured: A positive lateral flow test for COVID-19 with the Premier League logo.
The European soccer ecosystem continues to face its latest COVID-19 crisis, forcing leagues across the continent to snap judgments affecting their respective season calendars.
That's why The Action Network is here to bring you the latest news and reports directly impacting the betting markets for Europe's top leagues.
Whether it's game postponements, positive tests for players and managers or something bigger, we'll be delivering bettors key insight and updates via a live file with all the information that could impact a wager.
All updates are time-stamped and are sourced directly from the respective league, unless otherwise indicated.
Jan. 15, 9:30 a.m. ET: According to reports from The Athletic's David Ornstein, the Premier League has postponed Sunday's North London Derby between Tottenham and Arsenal.
The news arrives after a request came in from Arsenal to postpone due to not having enough available personnel from suspensions, injuries and positive COVID-19 tests. Premier League rules stipulate that teams must have 14 available players – 13 outfield players and one goalkeeper – in order for the match to go forward. As it stands, Arsenal only have 12 outfield options available to manager Mikel Arteta.
If the fixture in fact fails to go forward as reported, this will mark Tottenham's third postponement and the second for Arsenal.
---
Jan. 14, 11:30 a.m. ET: The Premier League has postponed the Matchday 22 fixture between Burnley and Leicester City at Turf Moor. No rescheduled date has been provided.
This marks the fourth postponement for Burnley due to a rising number of positive COVID-19 cases in their first-team squad. Meanwhile, it's the third postponement for the Foxes, who were dealing with a number of injuries and international duty absences anyway. All told, this leaves the Premier League with 18 matches without confirmed dates.
---
Jan. 6, 11 a.m. ET: Managers Pep Guardiola and Sean Dyche are the latest Premier League frontmen to head into COVID-19 health and safety protocol, with both scheduled to miss their respective clubs' third-round FA Cup ties.
Guardiola, who leads Premier League leader Manchester City, tested positive and will be absent from the powerhouse's weekend clash against Swindon Town. Reports also say seven first-team players are currently in isolation.
As for Dyche, the Burnley manager has had a positive test and will miss his team's matchup with Huddersfield Town.
Stay tuned for the latest updates and information on the European landscape.
---
Jan. 2, 7:30 a.m ET: Lionel Messi has become the latest star to have a positive COVID-19 test result.
The seven-time Ballon d'Or winner was one of four Paris Saint-Germain players with a positive test ahead of Monday's French Cup match against fourth-tier side Vannes.
There's a good chance the quartet will miss out in the French powerhouse's first Ligue 1 match at Lyon next Sunday as well.
Juan Bernat, goalkeeper Sergio Rico and midfielder Nathan Bitumazala were the other players joining Messi now in COVID-19 health and safety protocol.
---
Jan. 1, 3 p.m. ET: Maybe the biggest match in the first month of 2022 pits Chelsea against Liverpool, with both clubs trying to keep up with Manchester City in the race for the Premier League title.
Well, the Blues will have to face the Reds without manager Jürgen Klopp roaming the sideline after he had a suspected positive COVID-19 test that will keep him away from the Stamford Bridge pitch in Sunday's showdown.
Chelsea sits 11 points behind Manchester City, who secured a thrilling 2-1 win over Arsenal in Saturday's match. Liverpool is 12 points back, alone in third place in the table.
---
Dec. 31, 11:30 a.m. ET: Match postponements continue to roll in on the Premier League slate, with Sunday's schedule clash between Southampton and Newcastle United the latest fixture to be moved to another date following the Tyneside club's request to league officials.
This marks the second consecutive postponement for Newcastle, which had its Thursday fixture against Everton called off. For Southampton, it's the club's second game that has been postponed following the delay of its scheduled contest against Brentford. The postponement leaves the EPL with 19 matches needing to be rescheduled in the new year.
However, the league only has two open spaces on the calendar in which there are no domestic or UEFA competitions scheduled — the midweek of April 18 and the midweek of May 9. If the EPL hopes to complete its schedule on time, it will be forced to get creative in its rescheduling of these fixtures.
---
Dec. 30, 3 p.m. ET: Another weekend full of Premier League matches. Another game postponed.
Norwich City had its request approved to move Saturday's match against Leicester City to a later date due to COVID-19 issues.
Stay tuned for more details and further updates from the English top flight and other leagues on the European soccer landscape.
---
Dec. 29, 11:45 a.m. ET: Having already dealt with COVID-19 issues less than two weeks ago, Spanish giant Real Madrid announced some unfortunate news Wednesday when it revealed star attacker Vinícius Júnior, along with goalkeeper Thibaut Courtois, Federico Valverde and Eduardo Camavinga, had all tested positive ahead of Sunday's La Liga match against Getafe.
---
Dec. 29, 9:45 a.m. ET: Manager Mikel Arteta of Arsenal has tested positive for COVID-19 and will not be on the sideline for his team's huge Premier League match against Manchester City on Saturday at Emirates Stadium.
The Gunners are sitting fourth in the table on 35 points, which would be good enough to secure them a Champions League berth if the season ended at this moment. They're four clear of fifth-place West Ham United entering the weekend's fixtures.
As for manager Pep Guardiola's side, City is in cruise control atop the standings with 47 points. That puts the Cityzens six points ahead of Chelsea and Liverpool in the English top flight.
---
Dec. 28, 4 p.m. ET: Thursday's Premier League fixture between Everton and Newcastle United has been postponed.
Somewhat surprisingly, the postponement request came in from the Magpies following Monday's 1-1 draw against Manchester United.
Recently, Everton has been one of the main Premier League clubs afflicted by the latest COVID-19 crisis. This latest situation marks the Toffees' third consecutive match postponement, so one would have possibly assumed the request would have came in from them.
However, one will also assume Everton will have no complaints about the league delaying this fixture.
Everton is due back in action Saturday against Brighton & Hove Albion. Newcastle is next scheduled to play Sunday at Southampton.
---
Dec. 26, 3 p.m.  ET: Two midweek Premier League fixtures are the latest matches to be postponed. Arsenal vs. Wolves , which was scheduled to take place at Emirates Stadium, and Leeds United vs. Aston Villa at Elland Road will not go forward as planned on Tuesday's slate.
This marks the second consecutive postponement for Wolves and Leeds, with both EPL outfits battling a COVID-19 crisis. These sides will have two games in hand on the clubs that have completed the scheduled 20 matches up through the midweek.
Leeds' next scheduled match is Jan. 2 against Burnley, while Wolves are set to be in action Jan. 3 at Manchester United.
---
Dec. 24, 12 p.m. ET:The Premier League Boxing Day card has shrunk to seven fixtures. The scheduled clash between Burnley vs. Everton at Turf Moor became the latest postponement on the heels of word coming down from league headquarters that games featuring Liverpool vs. Leeds United and Wolves vs. Watford would also be pushed back to a later date..
This means the EPL currently has 16 fixtures to make up by the end of the season. Additionally, Burnley will likely face a congested period somewhere down the line, as the Clarets have now seen four games moved, including three consecutive contests.
Assuming Tottenham's match goes forward Sunday, that will leave Burnley with the fewest games played in the league as it searches to escape the relegation zone.
---
Dec. 23, 10 a.m. ET:The Premier League has postponed matches featuring Liverpool vs. Leeds and Wolves vs. Watford on the Boxing Day schedule.
For the former fixture, the league ruled the match would be unable to go forward due to the high number of cases in the Leeds squad. For the latter contest, a request came in from Watford to postpone due to a rising number of COVID-19 cases, which was accepted.
This means the Premier League now has 15 matches to make up as a result of COVID postponements, with the possibility of more still to come.
---
Dec. 23, 10 a.m. ET:Six English Championship games have been called off on Boxing Day, per BBC Sport. The matches are as follows: Cardiff City vs. Coventry City, Millwall vs. Swansea City, Fulham vs. Birmingham City, Stoke City vs. Barnsley, Peterborough United vs. Reading and Preston North End vs. Sheffield United.
Additionally, a further 13 matches across League  1 and 2 in England have also been postponed by their respective leagues.
---
Dec. 20, 10:30 a.m. ET: The Premier League is set to continue with their festive period, as no games between Boxing Day and Monday, Jan. 3, according a report from The Athletic.  Some clubs supported moving one round of fixtures, but none wished to halt the season completely. Ultimately, though, the decision lies with the Premier League, not the clubs per the report.
This comes on the heels of six matches being postponed this past weekend.  That leaves 13 total matches needing confirmed dates on the Premier League calendar.
If there's one silver lining for teams, it's that there will be an 11-day international break in January after the round of festive fixtures concludes, so teams should have an opportunity to try and get healthy.
Dec. 18, 9 a.m. ET: Saturday's Premier League fixture between Aston Villa and Burnley has been postponed. According to Aston Villa's team website, the decision came down after "an increased amount of positive COVID-19 test results within our playing squad." That leaves only four EPL fixtures across the weekend and means at least 13  teams have at least one game to make up.
---
Dec. 17, 12 p.m. ET: According to a number of reports, manager Pep Guardiola of Manchester City has posted an inconclusive COVID-19 test and missed his pre-match press conference. The Cityzens are due to battle Newcastle United on Sunday and Guardiola will await the result of another test to determine whether he'll be on the bench at St. James' Park.
---
Dec.  17, 12 p.m. ET: Manager Thomas Frank of Brentford has called for all Premier League and League Cup fixtures to be postponed. As of this writing, the Bees have 13 positive tests within the club. Brentford had its midweek fixture against Manchester United postponed and has already had its weekend fixture against Southampton pushed back.
Now, the key item to recognize with Frank is that — on paper — he's not calling for as big of a shutdown as others.
"We think we should postpone the full round of Premier League games this weekend," said Frank, referring to the slate of games. "To postpone this round and also the Carabao Cup round would give everyone a week at least."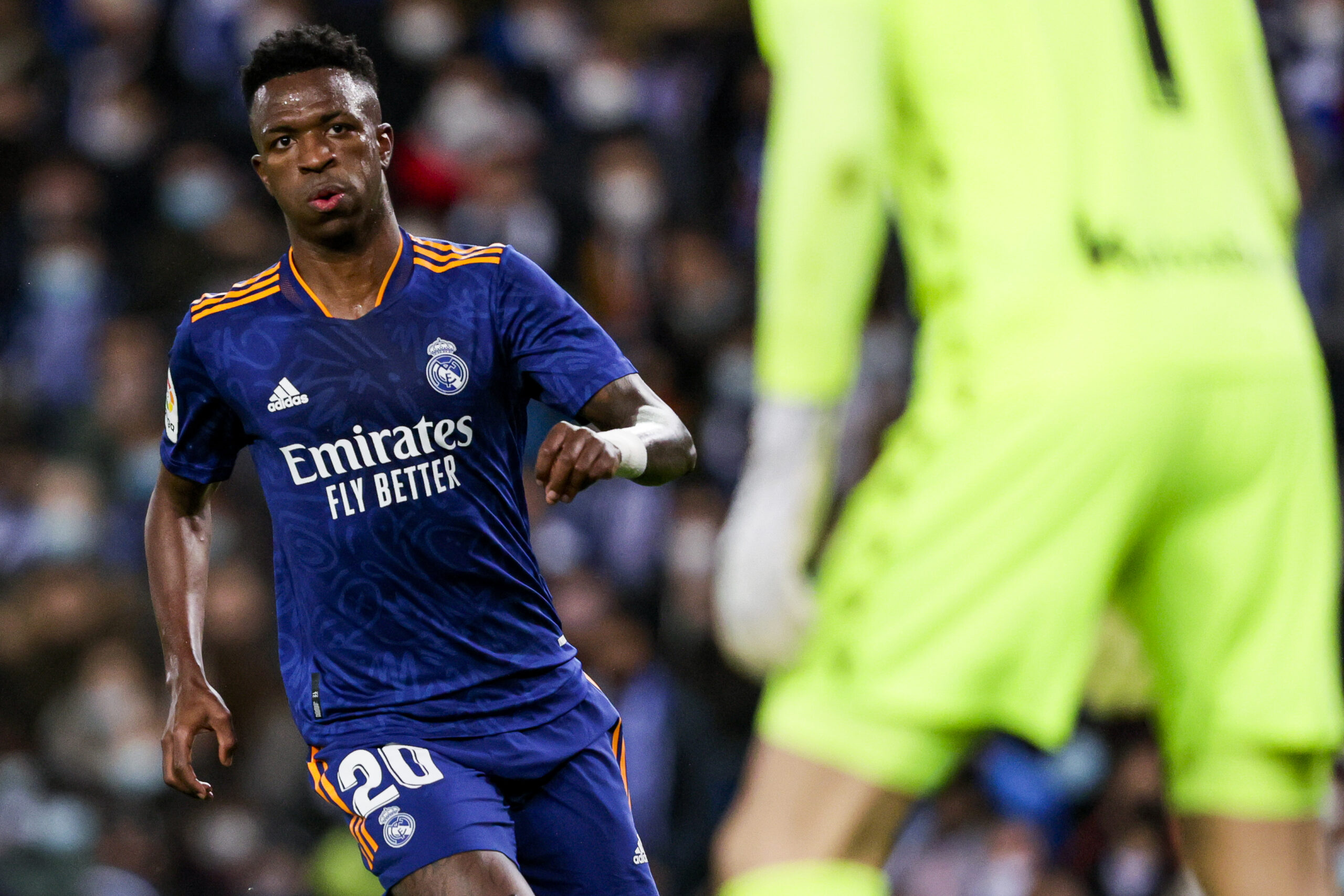 Dec. 17, 12 p.m. ET: La Liga leader Real Madrid is facing a COVID-19 crisis ahead of Sunday's match with Cadiz. Los Blancos will be without Marco Asensio, Gareth Bale, Rodrygo, Luka Modric and Marcelo, as well as assistant manager Davide Ancelotti.
The somewhat good news for Real is that after its visit to Cadiz, the Spanish giant faces only one more fixture this year, which comes in a scheduled match against  Athletic Bilbao on Wednesday's card.
---
Dec. 16th, 7 p.m. ET: The Premier League has already postponed five games across the weekend slate:
Manchester United vs. Brighton & Hove Albion
Southampton vs. Brentford
Watford vs. Crystal Palace
West Ham United vs. Norwich City
Everton vs. Leicester City.
Keep an eye out on Tottenham vs. Liverpool, as well since Spurs were the originator of the latest crisis and have three games to make up on the teams that have played all 17 scheduled matches to date.
That number could rise to four if either Aston Villa vs. Burnley or Arsenal vs. Leeds United take place as scheduled.
---
Dec. 16, 7 p.m. ET: According to ESPN FC correspondent Rob Dawson, an "increasing number of Premier League clubs are pushing for fixtures to be cancelled through Jan. 8."
That would suspend four rounds of league games and would likely push back the end of the league calendar. However, seven sides would have to make up more than that total as they've yet to complete the scheduled 17 games to this point in the season.
With the FA Cup starting in January and multiple teams involved in European competitions, the EPL could face another shortened offseason before the beginning of the 2022 campaign and pause for the World Cup next November.
---
How would you rate this article?
This site contains commercial content. We may be compensated for the links provided on this page. The content on this page is for informational purposes only. Action Network makes no representation or warranty as to the accuracy of the information given or the outcome of any game or event.