Euros Qualifying Projections & Best Bets | Picks For Belgium vs Austria & More
Credit:
Visionhaus, BSR, DeFodi/Getty. Pictured: Mykhailo Mudryk, Romelu Lukaku and Benjamin Sesko.
Did you miss international soccer? Well, it's back and better than ever as we have important qualifiers for the European Championships, also known as the Euros.
For those who are unaware, I created the Action Network's International Soccer Power Rankings for all 209 countries. Those rankings help me project lines for any given matchup across the world.
Both the rankings and projections are based on four critical factors I believe are essential when trying to handicap international soccer. Let's get into those and the picks for the matches.
1)Expected Goals Results
I am a big believer that expected goals (xG) are a better indicator of a nation's performance than what the final score winds up being.
---
Expected Goals measure the quality of a chance by calculating the likelihood it will be scored from a particular position on the pitch during a particular phase of play. This value is based on several factors from before the shot was taken. xG is measured on a scale between zero and one, where zero means it is impossible to score and one being a chance in which a player would be expected to score every time.
---
I have gone through and logged every country's xG results, but only from competitive competitions, meaning no results from friendlies or Nations League competitions were included.
2) Transfer Value Adjustment
I use Michael Caley's method of using a team's overall transfer value to account for the talent level of each country.
3) FIFA Coefficients
Similar to the idea of UEFA Coefficients, which help determine how many teams each country can get into the Champions League, Europa League and Europa Conference League, I wanted to put a coefficient on each continent.
UEFA Coefficients are determined by how well the club teams from each country do in European competitions.
So, I applied that same method to FIFA Coefficients by going back through the past five World Cup competitions. I gave out point values (based on the criteria below), along with a weight for the average transfer value by continent, to get to a value that can be added to each country's rating based on what continent it resides in.
FIFA Coefficient Points: 
Two points: For all wins in the group and knockout stages
One point: For all draws in the group stage
Two points: Bonus for finishing second in the group
Four points: Bonus for winning the group
One point: Bonus for each round reach from the Round 16 onward
After some calculations, here are the following "FIFA Coefficients" that are added to each country's xG differential plus transfer value adjustment:
4) Strength of Schedule 
Strength of schedule needs to be taken into account when determining rankings like this:
Inside Continent
First, there is a strength-of-schedule adjustment at the intra-continent level, which starts by ranking each team based on its xG differential plus transfer value adjustment. Then, from the average strength of schedule for that specific continent, divided by each team's average rank played, you get the "percentage above/below the average strength of schedule."
Worldwide
Even though FIFA coefficients can give us a good weight for each continent's true level of play, another strength of schedule at the world level is necessary to properly rate each country.
So, there's a "final ranking before strength of schedule adjustment," which is the final rating after taking into account xGDiff plus transfer value adjustment in addition to the intra-continent strength of schedule adjustment.
After that, the same method mentioned above at the intra-continent level is applied at the world level, taking the average strength of schedule of the World Cup teams divided by the average rank of opponents faced minus 100%.
After all of that, let's get to the projections & best bets:

Euro Qualifiers (June 16th-17th)
Projections
Finland vs Slovenia
Finland Odds
+137
Slovenia Odds
+190
Draw
+220
Over/Under
2.5 (+140 / -188)
Day | Time
Friday | 11 a.m. ET
How To Watch
Fox Soccer Plus
Odds via bet365. Get up-to-the-minute Soccer odds here.
Slovenia really shouldn't be an underdog here.
Finland secured a 1-0 road win over Northern Ireland their last time out, but they were incredibly fortunate to do so, losing on xG 1.16 to 0.9.
In fact, Finland haven't won the xG battle against a country not named Kazakhstan since the beginning of World Cup qualifiers back in 2021.
So, for them to be favored over an impressive Slovenia squad that won their first two matches to begin qualifying is a little crazy.
Finland aren't really a team that profiles well as a favorite because of their 5-3-2 structure. The reason they do that is because they have little talent in their back five. Not one defender is playing in Europe's top five leagues and none of them command a transfer value over $1 million, per transfermarkt.com.
Offensively it's basically Teemu Pukki or nothing, but he is 33-years old now and his production for Norwich City has gone way down. Two years ago in the Championship and right before the 2021 Euros, Pukki scored 26 goals and commanded a 0.69 xG per 90-minute scoring rate. Last season, he scored just 10 goals in the Championship and had just a 0.38 xG per 90 minute scoring rate.
Slovenia actually have quite a bit of talent on their squad, led by new RB Leipzig striker Benjamin Sesko. The 20-year old had an amazing season for RB Salzburg in the Austrian Bundesliga, scoring 16 goals in 30 appearances.
Most importantly though, Slovenia actually have good underlying metrics. Throughout World Cup Qualifying and their first two Euro Qualifiers, Slovenia have a +0.22 xGD per 90 minutes, while Finland are sitting at -0.68.
Pick: Slovenia – Draw Not Bet (+120) & to win Group H (+650)
Wales vs Armenia
Wales Odds
-250
Armenia Odds
+650
Draw
+333
Over/Under
2.5 (-115 / -106)
Day | Time
Friday | 2:45 p.m. ET
How To Watch
Fubo
Odds via bet365. Get up-to-the-minute Soccer odds here.
Wales were incredibly fortunate to make it to the World Cup this fall and every time they have to face decent competition they've been exposed. It happened against Denmark in the Euro round of 16 and against England in the World Cup group stage.
They are still rolling with a midfield of Joe Allen and Aaron Ramsey, who are eacb on the wrong side of 30. Gareth Bale has retired, and Brennan Johnson who was only a 0.36 xG + xA attacker for Nottingham Forest despite playing as a striker for a majority of the season.
It's 5-3-2 or 4-4-2 deep low block for Wales when they are out of possession. They don't press and they allow teams to get off a ton of shots, which is why you saw them allow such a high amount of xG over the past three years. So, for this team to be a -250 favorite, they better be playing a bottom end European side. Armenia are far from that.
Armenia had a good showing in their lone match in the last round of qualifying. They did lose 2-1 at home to Turkey, but the xG battle and shot numbers were dead even.
They were in a pretty easy World Cup Qualifying group that had Germany, who beat them pretty soundly in both meetings, but outside of that they actually had a +4.45 xG differential against North Macedonia, Iceland, Romania and Liechtenstein.
I love the value on Armenia on the spread +1.5 at -148.
Pick: Armenia +1.5 (-148)
North Macedonia vs Ukraine
North Macedonia Odds
+300
Ukraine Odds
-110
Draw
+240
Over/Under
2.5 (+120 / -154)
Day | Time
Friday | 2:45 p.m. ET
How To Watch
Fubo
Odds via bet365. Get up-to-the-minute Soccer odds here.
Ukraine played an absolutely bonkers 3-3 friendly with Germany on Tuesday and it gave us a really good look into the style that they want to play, which is front foot attacking football. With Mykhailo Mudryk, along with Girona winger Viktor Tsygankov, the Ukrainians will look to attack in wide areas just like this:
The problem with Ukraine at the moment is their defense. They were incredibly raw heading into the Euros. giving a then 18-year old Ilya Zabarnyi a start at center back. He has since made a move to Bournemouth, but only featured for 3.3 90s this season in the Premier League. Outside of him, Arsenal's Oleksandr Zinchenko is out for these qualifiers, which means Ukraine are weaker defending at the full back position.
They lost their first qualifying match to England, conceding 2.02 xG and throughout the entirety of World Cup Qualifying and the Euros, Ukraine conceded 1.50 xG per 90 minutes.
North Macedonia are an over team despite their defensive structure. If you go back to the start of World Cup Qualifying and take into account the Euros, they played a tough schedule that featured the Netherlands, Germany, Italy, Austria and Portugal. If you remove those matches and only take their offensive performances against non-elite European countries, North Macedonia are averaging 1.98 xG per 90 minutes.
We've also seen this match before in the group stage of Euro 2021, with Ukraine winning 2-1 and posting a high xG total.
Pick: Over 2.5 (+120)
Latvia vs Turkey
Latvia Odds
+900
Turkey Odds
-334
Draw
+400
Over/Under
2.5 (-125 / +100) 
Day | Time
Friday | 2:45 p.m. ET
How To Watch
Fubo
Odds via bet365. Get up-to-the-minute Soccer odds here.
Turkey are a very interesting team because they set up in a 4-1-4-1, but their approach has changed from the Euros two summers ago.
They are much more of an attacking minded squad now under new manager Stefan Kuntz, who was hired in September 2021 after the Euros and the World Cup Qualifying playoff against Portugal. In his first two competitive matches a total of 5.64 xG were created. In fact, they lost 2-0 to Croatia, but created 1.96 xG. Looking through Turkey's roster there is some attacking talent.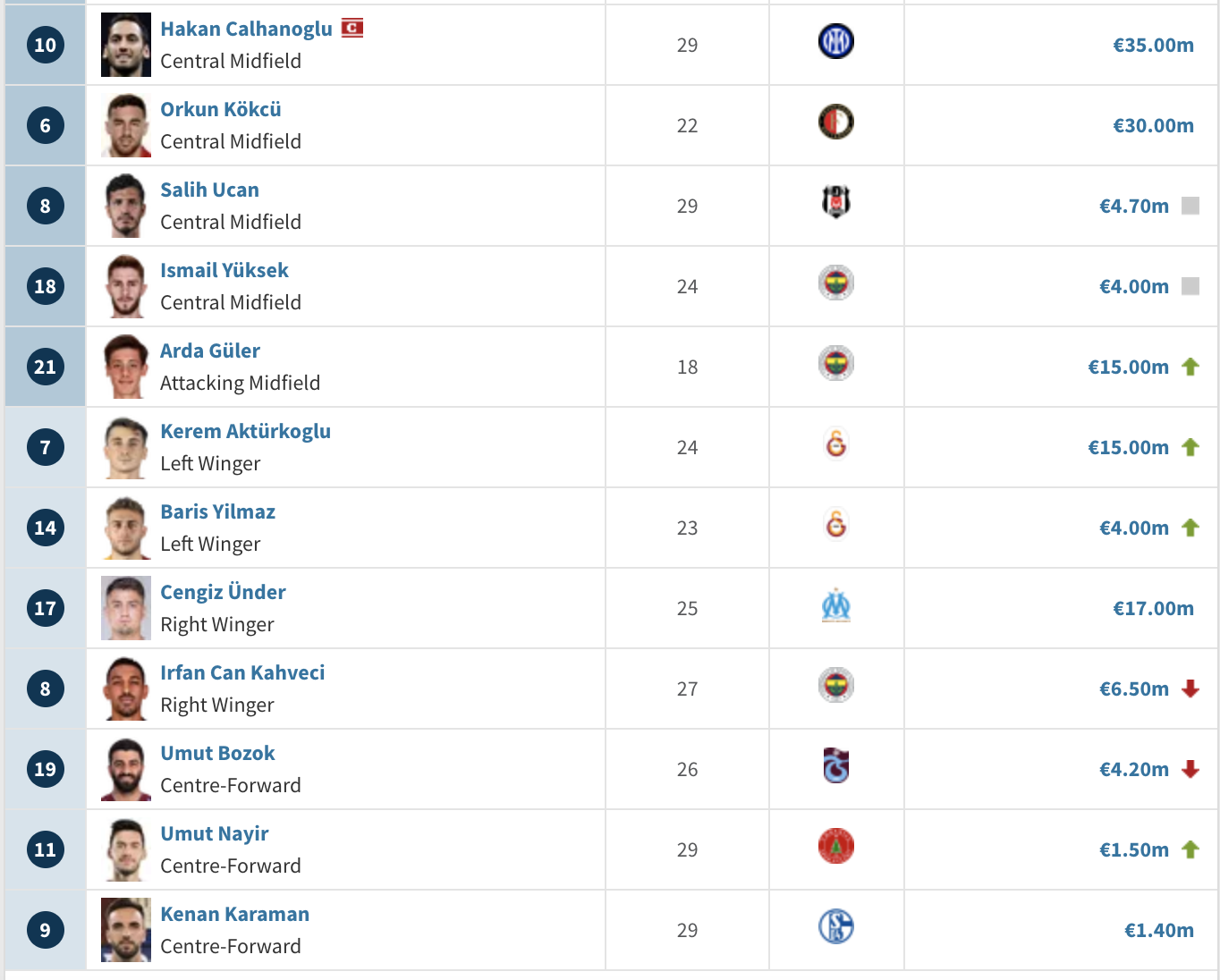 image via transfermarkt.com
Turkey have been an offensive force over the past three years. Since the beginning of World Cup Qualifying in March of 2021, they've only been held under 1.2 xG in a competitive match once (opening match of Euros against Italy) and are averaging 1.77 xG per 90 minutes. Defense has been a major issue for them, however, as they've conceded 1.78 xG per 90 minutes over that same time span as well, even with their defensive formation.
Latvia are a bottom feeder team in Europe. They have no talent to speak of, but what typically tends to happen with these smaller countries is once that first goal goes in and they can't park the bus in front of the 18-yard box, they can't defend a team with attacking talent like Turkey in open space, so matches to get out of hand.
Pick: Over 2.5 (-125)
Lithuania vs Bulgaria
Lithuania Odds
+240
Bulgaria Odds
+120
Draw
+220
Over/Under
2.5 (+140 / -188)
Day | Time
Saturday | 9 a.m. ET
How To Watch
FS1
Odds via bet365. Get up-to-the-minute Soccer odds here.
There isn't much talent between these two squads, but there isn't as big of a gap as the odds are suggesting.
Looking at transfermarkt.com, Bulgaria's total squad transfer value is $31.45 million, while Lithuania's is $7.28 million.
The funny thing about this match is these two teams have played already twice in World Cup Qualifying. Bulgaria won the first meeting at home 1-0 and won the xG battle 1.6 to 0.8, but in the second meeting in Lithuania they lost 3-1 and Lithuania created 1.9 xG against them.
Lithuania also just put in an impressive performances in their first two Euro Qualifying matches in March, losing to Serbia 2-0, but only losing on xG 0.8 to 1.4 and getting a historic 0-0 draw with a good Greek team.
Bulgaria, on the other hand, got pretty throughly dominated in their opening two Euro Qualifying matches against Montenegro and Hungary.
So, I really don't think Bulgaria should be a road favorite in this match, and I like the value on Lithuania +0.5 at -150.
Pick: Lithuania +0.5 (-150)
Azerbaijan vs Estonia
Azerbaijan Odds
+100
Estonia Odds
+260
Draw
+230
Over/Under
2.5 (+130 / -167)
Day | Time
Saturday | 12 p.m. ET
How To Watch
Fox Soccer Plus
Odds via bet365. Get up-to-the-minute Soccer odds here.
This is one of the most absurd lines you will see this weekend.
Here is what Azerbaijan have done since the beginning of 2021:
I understand their World Cup Qualifying group was more difficult than most, but they've drawn just one match and haven't won the xG battle in a competitive competition in over three years.
The only time they should be a favorite is over one of the three bottom feeder teams in Europe – San Marino, Gibraltar and Liechtenstein. In fact, Azerbaijan have a -1.52 xGD per 90 minutes, which would be the worst mark in Europe outside of those three teams mentioned above.
Estonia don't have much talent at all, but they at least are only at a -0.99 xGD per 90 minutes. They played a fairly difficult schedule through World Cup Qualifying and played Hungary and Austria to open up Euro Qualifying, but they've played one country around their talent level that would be a good comparison to Azerbaijan: Belarus. Over the two matches with Belarus in World Cup Qualifying they won the xG battle a combined 2.84 to 2.47.
Pick: Estonia +0.5 (-125)
Montenegro vs Hungary
Montenegro Odds
+250
Hungary Odds
+115
Draw
+220
Over/Under
2.5 (+125 / -163)
Day | Time
Saturday | 12 p.m. ET
How To Watch
Fubo
Odds via bet365. Get up-to-the-minute Soccer odds here.
I really don't think Hungary should be a road favorite here against an underrated Montenegro squad.
Montenegro put in to fantastic performances to open Euro qualifying. They got a completely underserved 2-0 loss to Serbia where the xG battle was dead even (1.04 to 0.98) and then got a convincing 1-0 win over Bulgaria.
Going back a little further, Montenegro were put in one of the most difficult World Cup Qualifying groups with the Netherlands, Turkey and Norway. They came out of that with a +3.82 xGD in 10 matches. Sure, they did a lot of their damage against Gibraltar and Latvia, but they played both Turkey and Norway fairly evenly in all four meetings.
What is especially important in these types of qualifiers, especially after a World Cup cycle when national teams are changing managers for the next four-year cycle, is continuity. Montenegro has that in Miodrag Radulovic, who has been at the helm since the beginning of 2021. They also play out 4-4-2, which gives them good defensive structure. Tactically, every player on the pitch knows their assignment since they've been playing the same formation for over two years.
Hungary are one of the biggest over-performers in Europe and a great to team to fade for some negative regression. Since the start of World Cup Qualifying in March of 2021, Hungary have a +7 goal differential, but their xG differential is -0.35. They largely benefitted by blowing out two of the worst teams in World Cup Qualifying in Andorra and San Marino to inflate their underlying metrics, but against decent competition they have struggled.
I have Montenegro projected as a favorite here at home, so I like the value on them +0.5 at -143.
Pick: Montenegro +0.5 (-143)
Albania vs Moldova
Albania Odds
-250
Moldova Odds
+750
Draw
+350
Over/Under
2.5 (-106 / -118)
Day | Time
Saturday | 2:45 p.m. ET
How To Watch
Fubo
Odds via bet365. Get up-to-the-minute Soccer odds here.
Albania are a team to watch during qualifying because of how good their defense is.
Since the beginning of World Cup Qualifying, Albania are only allowing 0.95 xG per 90 minutes. The have a talented center back in Berat Djimsiti who plays for Atalanta is Serie A, along with former Lazio goalkeeper Thomas Strakosha. They were in a World Cup Qualifying group with England, Poland and Hungary, so it's not like they've been putting up these types of xG numbers against nobodies.
The problem for Albania is their offense is entirely reliant on one man: Chelsea striker Armando Broja, who is still recovering from a torn ACL. Without him it's pretty barren in terms of talent that is going to be capable of breaking down a compact low block.
Moldova got a late penalty to draw 1-1 with the Faroe Islands in their first Euro Qualifying match. A total of 1.16 xG were created from open play between the two sides and then they got a historic 0-0 draw on the road against the Czech Republic.
I'll play the under in this fixture.
Pick: Under 2.5 (-118)
Belgium vs Austria
Belgium Odds
-154
Austria Odds
+425
Draw
+300
Over/Under
2.5 (-112 / -112)
Day | Time
Saturday | 2:45 p.m. ET
How To Watch
Fubo
Odds via bet365. Get up-to-the-minute Soccer odds here.
The total here is a tad too high for me.
Belgium have said goodbye to Roberto Martinez and are now under the management of former RB Leipzig manager Domenico Tedesco, who is an outstanding out of possession manager.
The Belgians have played one competitive match under him, which was a 3-0 over Sweden, but they were very fortunate to score three goals as they only created 1.2 xG.
Belgium's attack is pretty reliant on Romelu Lukaku at this point, and to be fair he had a fantastic second half of the season for Inter Milan. The emergence of soon to be RB Leipzig striker Lois Openda could give Belgium so more options, but Kevin De Bryune is not going to play in these qualifiers after getting injured in the Champions League final less than a week ago. Without him, the attacking midfield options are bit scarce to supply Lukaku.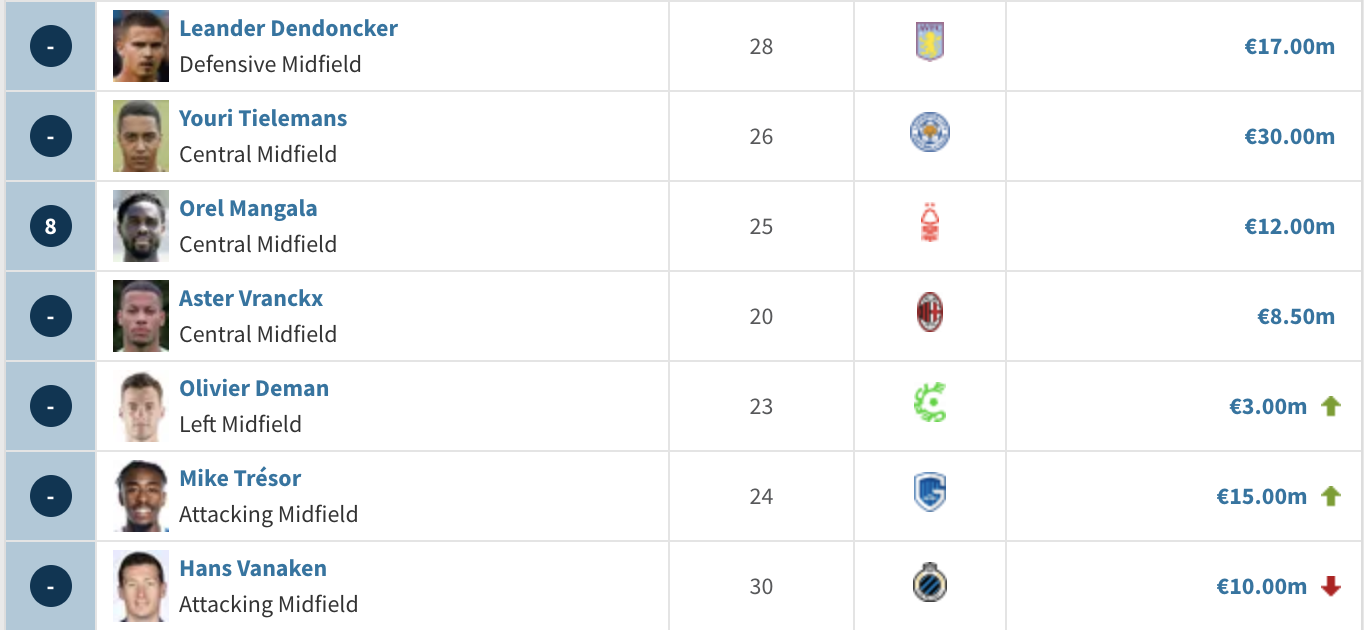 image via transfermarkt.com
Austria have a midfield and defense that can really neutralize the Belgian attack. RB Leipzig teammates Konrad Laimer and Xaver Schlager were two of the best pressing defensive midfielders in the Bundesliga this season and were a main reason why Marco Rose's side finished with the best defense in terms of xG in Germany.
Then, in the back line they have one of the most versatile defenders in the world in Real Madrid's David Alaba, along with Freiburg's best defender Philipp Lienhart.
Austria have been on an absolute tear defensively over the past two years. In the Euros they conceded 3.5 xG to the Netherlands, which was a shocking, terrible defensive display. Since that match they've allowed 11.2 xG in their last 12 competitive matches and have held their opponents under 1 xG in four of their last five matches.
I only have 2.14 goals projected for this match, so I like the value on the under.
Pick: Under 2.5 (-112)
Portugal vs Bosnia-Herzegovina
Portugal Odds
-550
Bosnia-Herzegovina Odds
+1200
Draw
+550
Over/Under
2.5 (-175 / +135)
Day | Time
Saturday | 2:45 p.m. ET
How To Watch
Fubo
Odds via bet365. Get up-to-the-minute Soccer odds here.
Portugal are one of the most talented teams in the world, but hiring Roberto Martinez is going to be one of the biggest mistakes they have ever made.
There were so many times throughout Fernando Santos' tenure where it seemed like they didn't have a tactical plan. It was very evident when they went up against Morocco in the knockout stage of the World Cup that they didn't have a good enough plan to break down their low block. Things aren't really going change under Martinez.
The other question is who is going to start up top? Are they going to go with a 38-year old Cristiano Ronaldo, who over the past year has been in poor finishing form and playing in Saudi Arabia? Or do they do make the correct decision and start Goncalo Ramos up top after his hat trick against Switzerland in the round of 16 in the World Cup.
Bosnia-Herzegovina are one of the more underrated teams across Europe and they have the talent to give Portugal some problems. They've been unlucky over the past three years, as since the start of World Cup Qualifying they have a -2 goal differential, but have a +3.3 xGD. They were in a World Cup qualifying group with France, which is probably the best comparison to Portugal. They lost 1-0 and drew them 1-1 in the two meetings.
They do have some talent in the back line in Sheffield United defender Anel Ahmedhodzic, Salzburg fullback Amar Dedic and former Arsenal defender Sead Kolasinac. They also have the ever reliable Edin Dzeko leading the front line after a solid season in Italy with Inter Milan.
I only have Portugal's spread projected at -0.86, so I like the value on Bosnia-Herzegovina +2 at +100..
Pick: Bosnia-Herzegovina +2 (+100)
How would you rate this article?
This site contains commercial content. We may be compensated for the links provided on this page. The content on this page is for informational purposes only. Action Network makes no representation or warranty as to the accuracy of the information given or the outcome of any game or event.