MLS Is Back Tournament Odds, Format and Betting Picks: Which Sleepers Can Make A Run in Orlando?
Credit:
Shaun Clark/Getty Images. Pictured: Rodolfo Pizarro
The MLS returns Wednesday, July 8th at Disney World in a "World Cup Style" tournament to continue their regular season. The 2020 season was only two weeks in when the world stopped, so the MLS had to get creative to get as many games into the season as possible.
I, for one, love the idea as it will provide gamblers with plenty of action to tide us over until the NHL, NBA and MLB come back.
There's still a lot up in the air with this tournament. FC Dallas has already pulled out due to a rash of positive COVID-19 tests and Nashville SC's situation is being closely monitored after they had at least five players test positive.
Tournament Information 
Here is breakdown of the tournament per the MLS website:
The 25 teams will be split into six groups (FC Dallas has pulled out due to 10 players testing positive for COVID-19).
The Eastern Conference will have three groups, one with six teams and two with four teams each.
The Western Conference will have three groups, one with three teams because of FC Dallas withdrawing from the tournament and two with four teams.
Each team will play three group stage matches over the course of 16 consecutive days.
The top three teams from Group A and the top two teams from Groups B,C,D,E,F advance. Also the next three highest-ranked teams in the group stage based on points total advance to Round of 16. More details
If two or more clubs are tied on points in the group stage, MLS regular season tiebreaking procedures are used.
The tiebreakers for determining the three highest-ranked teams are: (1) points, (2) goal differential, (3) goals scored, (4) fewest disciplinary points.
What's at Stake?
Regular Season points: Each of the 39 group-stage games will count for points toward the 2020 regular-season standings.
CONCACAF Champions League spot: In a one-time change to MLS berths to the annual Scotiabank Concacaf Champions League, the MLS is Back Tournament winner will earn a spot in the 2021 Scotiabank Concacaf Champions League, regardless of whether it is a U.S. or Canadian club. This berth replaces the one traditionally awarded to the regular-season conference leader that did not win the Supporters' Shield.
Prize Money: In addition to matches that count in the regular-season standings and competing for bragging rights, the MLS is Back Tournament will give players the opportunity to earn additional bonuses as part of a $1.1 million prize pool.
Upon completion of the MLS is Back Tournament, MLS plans to continue its regular season with a revised schedule in home markets, followed by the Audi MLS Cup Playoffs and the 25th MLS Cup.
The Groups have set as follows:
The scheduling of the tournament will be similar to that of the world cup with matches happening at 9 a.m. ET, 8 p.m. ET and 10:30 p.m. ET. It's a great schedule for US-based bettors, offering action early in the morning and late at night.
How to Bet on MLS Is Back 
Handicapping this tournament is weird because it's basically the start of the MLS season. Throw in the fact that there are two expansion teams (Inter Miami and Nashville SC) and you've got yourself a recipe for chaos.
---
Expected goals (also known as xG) is an advanced statistic that gives an indication of whether results are based on sustainable factors like a steady creation of scoring chances, or whether it is down to aspects such as luck or outstanding goalkeeping.
---
I will be using Michael Caley's method of projecting expected goals between seasons. For calculating expected goals, I will be using last year's expected goals numbers for each team, while factoring in each team's overall transfer value to account for transfers between seasons. Luckily, Transfermarkt provides all of these values for us.
So without further ado, here are expected goals values for each team entering the tournament: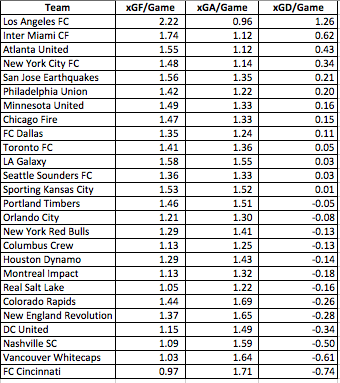 Note: Since Inter Miami and Nashville SC are expansion teams, their expected goals numbers are based on the teams transfer value (92%), while also factoring in the two games played so far this season (8%).
MLS Is Back Tournament Odds
| Team | Odds |
| --- | --- |
| LAFC | +350 |
| Toronto FC | +900 |
| Atlanta United | +1100 |
| New York Red Bulls | +1400 |
| Philadelphia Union | +1400 |
| NYCFC | +1600 |
| Seattle Sounders | +1600 |
| Sporting KC | +1600 |
| SJ Earthquakes | +1800 |
| LA Galaxy | +2000 |
| Columbus Crew | +2200 |
| Inter Miami | +2200 |
| Minnesota United | +2200 |
| Orlando City | +2800 |
| Portland Timbers | +2800 |
| Chicago Fire | +4000 |
| DC United | +4000 |
| New England Revolution | +4000 |
| Real Salt Lake | +4000 |
| Colorado Rapids | +5000 |
| Houston Dynamo | +6000 |
| Montreal Impact | +6000 |
| Vancouver Whitecaps | +7500 |
| Cincinnati FC | +8000 |
| Nashville SC | +8000 |
Group A 
Teams: Orlando City, Inter Miami, New York City FC, Philadelphia Union, Chicago Fire, Nashville SC.
New York City FC (+225)
After finishing atop the Eastern Conference last season, NYCFC are the natural favorites to win Group A. The Boys in Blue return almost their entire 2019 roster which led them to the third-best expected goal differential in MLS (+11.12) (per American Soccer Analysis).
NYCFC changed managers before the season, bringing in Ronny Deila, who has been dubbed "The Norwegian Klopp."
Delia changed NYCFC over to a 4-2-3-1 and with the change came some growing pains. NYCFC lost their first two matches of the season and were poor offensively, only averaging 0.43 xGF in those matches, so we will see if that carries over to tournament.
Philadelphia Union (+300)
The Union are coming off their best season in a long time, finishing third in the Eastern Conference and securing their first ever play-off win. Philadelphia is one of the more balanced teams in MLS ranking ninth in both expected goals for and against.
The Union were able to keep hold of their main core of players during the offseason and, crucially, brought back the glue of their midfield, Jamiro Monteiro, on a permanent deal.
Philadelphia did lose Haris Medunjanin, the mastermind of their attack, to FC Cincinnati, so replacing him will be a tall task. Nineteen-year-old USMNT call-up Brendan Aaronson will need to take a big step forward if the Union want to make some noise in this tournament.
Philadelphia is almost two deep at every position, which for a tournament like this should be beneficial. The Union have all of the pieces in place to compete with the top teams in MLS, so the biggest question for Philadelphia now is will they be able to take the next step?
Orlando City(+450)
The hosts of the MLS IS Back tournament are coming off a horrific season, where they finished second-to-last in the Eastern Conference. However, the Lions were a tad unlucky throughout the campaign, as they finished in the top half of the MLS in expected goal differential and had the third-best defense in the league, in terms of xG.
Oscar Pareja, who enjoyed a lot of success at FC Dallas, was brought in as the new manager and the Lions upgraded at goalkeeper with the arrival of Pedro Gallese. Former Manchester United winger Nani leads the Orlando City attack, though he'll be supported by a group of unproven players.
Orlando has a solid defense that could keep them in the tournament, but the Lions will need to produce more offense than they did last season (17th in MLS) if they want to make any noise in this tournament.
Inter Miami (+500)
The biggest wild card in this entire tournament is David Beckham's Inter Miami. Beckham spent big money bringing a load of talented players, most notably Rodolfo Pizzaro from Monterrey for $12,000,000.
Pizzaro has been one of the best attacking players in Mexico's Liga MX for the past few years and will play the key number 10 role for Inter Miami's attack. Miami's roster is a mix of young talented South Americans, blended with veteran MLS players who have won at the highest level.
Another reason Inter Miami could be a potential threat is that their coach Diego Alonso is a two-time CONCACAF champion with Monterrey. Having a coach of that caliber is crucial for Inter Miami, as he should be able to put all of their talent to good use.
Given the fact that Inter Miami's squad is just as talented as some of the top teams in MLS, I think +500 to win Group A is fantastic value.
Pick:
Inter Miami to win Group A +500
Chicago Fire (+650)
The Fire are in a transition year, with a new owner, manager, sporting director, and technical director. That transition also extends to the field as the Fire have lost their unquestioned leader, and former Bayern Munich captain, Bastian Schweinsteiger to retirement.
They've also lost one of their best attacking players Nicolas Gaitan to LOSC Lille, but the Fire brought in a number of talented European attacking players to fill the void, so it will be interesting to see how successful they will be in their first season in the Windy City.
Last season, Chicago was the most underrated team in MLS. The Fire had the second-best expected goal differential in MLS at +11.87, but finished a disappointing eighth-place in the Eastern Conference.
The Fire are another wild card in this tournament given the amount of turnover at the club and +650 seems like a fair price, but I can't pull the trigger with so much up in the air.
Nashville SC (+1000)
Note: There are reports that five Nashville SC players have tested positive for COVID-19. The MLS is currently reviewing their status for the tournament.
In their inaugural season in the MLS, Nashville prioritized defense over everything. All-MLS defender Walker Zimmerman was a huge addition to an already experienced backline that only allowed 0.34 expected  goals per game.
Offense will be an issue for Nashville as the only have one real attacking threat is Hany Mukhtar. The former top German prospect has been playing really well in Denmark over the past few years, so he has the chance to really light it up in MLS.
Like any expansion team, Nashville has a lot of question marks around the field and its difficult to see them making a run in this tournament.
Group B
Teams: Seattle Sounders, Vancouver Whitecaps, San Jose Earthquakes.
Note: FC Dallas was scheduled to participate in Group B but had to withdraw from the tournament due to a concerning number of positive COVID-19 tests. The odds listed below were taken from before FC Dallas pulled out. Most sportsbooks have taken Group B odds off the board.
Seattle Sounders (+110)
The MLS champions from last season are the unquestioned favorites in Group B and are +1600 to win the entire tournament.
Seattle's attacking trio of Jordan Morris, Raul Ruidiaz, and Nicolas Lodeiro combined for 28.26 expected goals last season, making them one of the league's best forward groups.
Seattle finished with a -2.84 xG differential, meaning the Sounders were very fortunate to win the title last year and should have been closer to the middle of the table.
I expect the Sounders to be overvalued throughout this tournament so they will be a team that I will be fading quite a bit during MLS Is Back.
San Jose Earthquakes (+350)
The Earthquakes are one of the dark horses to win the tournament at 18-1. The reason? Chemistry.
San Jose returns 96% of a roster that should have been a playoff team last season. Based on expected points, San Jose should have finished in the fourth place in the Western Conference in 2019.
The Earthquakes may be in the bottom half of the MLS when it comes to talent, but they still managed to put up the fifth-best xGF and seventh best xGD last season.
With their entire roster returning and a number of MLS teams scrambling to fill out their lineups, the Earthquakes are a good value bet to win Group B and the tournament.
Pick:
San Jose Earthquakes to win MLS Is Back Tournament +1800
Vancouver Whitecaps (+550) 
Last season, the Whitecaps were the worst team in the Western Conference and struggled mightily at both ends of the pitch, ranking in the bottom three of MLS in xGF and xGA.
Vancouver made a huge splash in the transfer market this offseason, breaking the club record to sign Canadian international Lucas Cavallini for six million dollars from Mexican club Puebla. He will be a massive improvement for a team that only generated 1.07 expected goals per game last season.
Even with the addition of Cavallini, the Whitecaps have too many issues across the field for them to be a real threat in this group.
Group C
Teams: Toronto FC, New England Revolution, Montreal Impact, DC United
Toronto FC (+135)
After reaching the MLS Cup final in three of the last four seasons, Toronto FC are the obvious favorites to win Group C.
The bad news, is Toronto will be without their rookie sensation Achara, who is out for the rest of the season with a torn ACL. The good news, is two of their key players, Michael Bradley and Pablo Piatti, will be able to return from injury for the tournament.
Toronto FC were a highly overrated team last year and were lucky to make it to the MLS Cup Final. The Reds finished in the fourth and final playoff spot in the Eastern Conference, but based on expected points, they should have finished in eighth place.
The Reds will likely get out of of Group C with ease, but I don't think a deep run in this tournament is in their future.
Montreal Impact (+300)
Arsenal legend Thiery Henry was appointed as manager at the beginning season, while the franchises best player Ignacio Piatti ended his five-and-a-half year stay in Montreal.
The loss of Piatti will have an impact (no pun intended), as Montreal ranked 19th in MLS last season with 1.26 expected goals for per game. The Impact do have three young attackers in Orji Okwonkwo, Lassi Lappalainen and Ballou Tabla who have the potential to produce monster numbers.
Montreal's defense ranked in the top half of the MLS in expected goals against in 2019 and they didn't make any changes in the back, so I'd imagine they'll be solid again in 2020.
The question marks up front make Montreal a pass for me.
New England Revolution (+325)
Bruce Arena's first season in charge of the Revolution could be a difficult one. The Revolution finished seventh in the Eastern Conference last season, and their underlying metrics were not pretty. New England allowed 1.87 xG per game, which ranked 20th in MLS.
The Revolution added some fire power up front with the addition of Adam Buska, who should pair well with the feared attacking duo of Charles Gil and Gustavo Bou.
However, the Revolution didn't solve their defensive issues and because of that, I don't think they'll be able to make a deep run in the tournament.
DC United (+400)
You'd be hard-pressed to find a more solid starting XI in MLS than DC United's. However, that starting unit lacks the talent needed to compete with the top teams in the league, as evidenced by United's -12.03 xG differential in 2019.
Former Manchester United legend Waye Rooney left DC in the offseason and the club signed Edison Flores from Liga MX's Morelia for a club record fee. Flores will provide some much needed help for the 18th-ranked offense in terms of expected goals.
There just isn't enough talent across the field for DC to make any sort of impact in this tournament.
Group D 
Teams: Real Salt Lake, Sporting KC, Colorado Rapids, Minnesota United
Minnesota United (+185)
Minnesota's defense was historically bad in their first two MLS seasons.
However, the Loons turned things around in 2019, finishing with the seventh-best expected goals against average in the MLS.
Minnesota returns their entire defensive core, including reigning MLS Defender of the Year Ike Opara. The Loons also added some fire power offensively in the form of Luis Amarilla, who led the Paraguayan league in goals last year. He will look to improve an already stout Minnesota's offense, which scored 1.63 xG per game last season.
Group D is one of the weaker groups in the tournament, so the Loons have a tremendous opportunity to win the group and make a run in this tournament.
Sporting KC (+225)
For the first time in 10 years, Sporting KC missed the postseason in 2019.
However, their underlying metrics show they were a bit unlucky. Based on expected points, Sporting should have earned 48 points rather than 38.
Over the offseason, Sporting finally addressed their need for a center forward by signing Liga MX's top goal scorer Alan Pulido from Chivas Guadalajara. He figures to improve an offense that averaged 1.72 xG per match last season.
Sporting's main issue last season was their defense. Kansas City let in 67 goals, which was the second-highest mark in MLS. If newcomers Roberto Puncec and Winston Reid can stabilize the Wizards' backline, they could be a dark horse in this tournament.
Real Salt Lake (+300)
RSL rode their defensive wall all the way to the playoffs last season.
Salt Lake returns most of that defensive core, but they did not address their offensive issues in the offseason. Although they finished third in Western Conference last season, RSL posted a -3.39 expected goal differential, which ranked 16th in MLS.
Real Salt Lake is truly a tale of two stories. Defensively, they are elite, allowing only 1.30 expected goals per match (second in MLS). But offensively, they are one of the worst teams in the league, creating only 1.20 expected goals per match (ranked 22nd in MLS).
It's hard to see Real Salt Lake getting through this group with their offensive struggles.
Colorado Rapids (+500)
Colorado had the worst defensive record in the league in 2019, allowing 1.93 expected goals per match, but the Rapids are hoping their two young centerbacks Lalas Abubakar and newly acquired Auston Trusty can help fix their leaky defense.
Colorado also lost USMNT legend Tim Howard in the offseason, so they'll need to find a capable replacement who can help stabilize things behind a young backline.
The Rapids posted decent offensive numbers last season, generating 1.64 xG per match. That number stands to improve as the Rapids signed talented attacking midfielder Younes Namli from FC Krasnodar.
With a shaky defense and an improving offense, Colorado's matches in this tournament could provide some fireworks.
Group E
Teams: Atlanta United, FC Cincinnati, New York Red Bulls, Columbus Crew
Atlanta United (+135)
The 2018 MLS Cup Champions enter as one of the favorites to win the tourament, but they'll need to it without their best player, Josef Martinez, who tore his ACL in the first game of the season.
It's hard to see where the goals will come from for Atlanta without Martinez. The Venezuelan scored 27 times for Atlanta in 2019, which was 21 more than the Atlanta's second-leading scorer.
If Atlanta is going to make a run in this tournament attackers Ezequiel Barco and Pity Martinez will have to step up.
Even though Atlanta may have some issues with injuries and chemistry, they are in a weak group, so they should be able to work out some of the kinks before the knockout stage.
Pick:
Atlanta United +135
New York Red Bulls (+225)
After an early playoff exit in 2019 and the departures of three club legends in the offseason, 2020 is a year of transition for the Red Bulls.
Luis Robles, Bradley Wright-Phillips and Kemar Lawrence are all gone and the Red Bulls haven't made any significant moves to replace them.
The core of the Red Bulls is solid and can compete with the top teams in MLS, but the Red Bulls lack depth across the board and in a tournament like this, that is going to be very important.
With a -0.06 expected goal differential, the Red Bulls were bang average in 2019 and I'm not sure they got any better in the offseason.
Columbus Crew (+300)
The Crew were riddled with injuries last season and finished a disappointing 10th in the Eastern Conference.
Columbus generated a measly 1.25 expected goals per match in 2019, but the Crew addressed those issues by signing Lucas Zelarayan from Liga MX's UNAL Tigres. The Argentine will provide a big boost in the No. 10 role for the Crew.
The Crew did have a few key departures, including hometown captain Will Trapp. Columbus does have a couple guys who can take over Trapp's role, but the captain will be missed. Club legend Frederico Higuain also moved on, but the 35-year-old was on the back-end of his career.
I don't think Columbus will score enough to make any impact in this tournament.
FC Cincinnati (+700)
Coming off one of the worst seasons in MLS history, Cincinnati will look to find some resemblance of defense. FC Cincinnati allowed a whopping 74 goals last season in their inaugural season. Things weren't much better offensively either as they averaged an MLS low 1.06 expected goals per match.
Cincinnati did make some big money acquisitions this offseason Jurgen Locadia and Yaya Kubo to try an bolster their attack. However, it's difficult to see Cincinnati having any sort of impact in this group given how many issues they still haven't addressed.
Group F
Teams: LAFC, LA Galaxy, Houston Dynamo, Portland Timbers
LAFC (-110)
LAFC put together a historic 2019 season, tallying a +42.69 expected goal differential, which was over 30 xG better than the next best team. That kind of output has made them the betting favorite for this tournament at +350.
Carlos Vela was the key cog in LAFC's offense, bagging 34 goals and 10 assists in 2019. However, the report today is that Vela is going to miss the tournament to remain at home with his pregnant wife and young son. It's hard to see how LAFC is going to replace his production in this tournament.
The Black and Gold had some key departures over the offseason, including their defensive rock Walker Zimmerman who was traded to Nashville. Zimmerman was part of a defense that only allowed 1.13 expected goals last season, so I expect LAFC to struggle a bit in their own end this season.
LAFC are the clear favorites to win the MLS Is Back Tournament, but there's no way I'm betting on a team at these kind of odds in what figures to be a chaotic competition.
LA Galaxy (+250)

With Zlatan Ibrahimovic moving onto AC Milan, LA Galaxy needed someone to replace his 30 goals. Javier "Chicharito" Hernandez is a fantastic fit for the Galaxy. He may not produce 30 goals a season, but the Mexican striker will be a star in MLS.
The Galaxy's offense were second in the MLS with 1.8 expected goals per match in 2019 but their defense washed that success by allowing an average of 1.78 xG per game.
The Galaxy didn't make any key additions this offseason to address their defensive issues, so it's difficult to make a case for them in this tournament.
Houston Dynamo (+500)
It was another poor season in 2019 for the Dynamo, who have missed the playoffs six of the last seven years. The Dynamo finished last season with a -1.35 expected goal differential, which is significantly lower than their actual goal differential of -14, suggesting they were a bit unlucky in 2019.
Despite some interest from Europe, Houston was able to hold onto their two best players Mauro Manotas and Alberth Elis, and when those two guys get going they can score in bunches.
However, the Dynamo lack the talent across the board to compete with top of the league, so I don't see them getting out of Group F
Portland Timbers (+650)
Portland did a lot of business in the offseason to fix some of their problems which led to them getting bounced in the first round of the playoffs.
The Timbers signed two new center forwards, a new center back, a central midfielder, a winger, and re-signed club legend Diego Valeri. With all of those new faces, it could take some time for the Timbers to gel.
The Timbers averaged 3.37 total expected goals per match, so you may want to consider the Over when Portland is playing.
If the Timbers drew a more favorable group, I would potentially see some value on them. However, I don't see them getting past the two LA clubs.
Future Bets to win the MLS is Back Tournament:
San Jose Earthquakes +1800
Inter Miami +2200
How would you rate this article?
This site contains commercial content. We may be compensated for the links provided on this page. The content on this page is for informational purposes only. Action Network makes no representation or warranty as to the accuracy of the information given or the outcome of any game or event.