Premier League Midseason Awards: Mohamed Salah & Joāo Cancelo Headline Our Best Starting XI Lineups
Credit:
Photos courtesy of Getty Images. Pictured: Manchester City standout Joāo Cancelo, left, and Liverpool star Mohamed Salah.
The Premier League has reached the halfway point of the 2021-22 season following the festive fixtures period, even though there are some clubs with matches to make up in the second half due to postponements.
As the league now takes a short break for the Carabao Cup semifinals and FA Cup third round, Action Network soccer analysts BJ Cunningham and Anthony Dabbundo have put together their respective best starting lineups from the first half of the campaign. 
Both handicappers chose to use a 4-3-3 formation for their teams, featuring two wide attackers, a central striker and three standouts in the midfield.
The selections had only one rule: To prevent it from only being a Liverpool and Manchester City Top XI, they put a limit of two players per club allowed to make the chosen starting lineup.
Let's take a look where they landed when it comes to the finest of the first half.
Our Favorite EPL Starting XI Picks
Goalkeeper
Dabbundo: José Sá (Wolves)
There will be more popular top-four picks like Chelsea's Edouard Mendy and Arsenal's Aaron Ramsdale. However, from a post-shot expected goals perspective, no player besides David de Gea (+7.6 goals saved) has denied more goals for his club than Sá (+6.7) at Wolves so far this season. 
I chose Sá over de Gea, though, because Wolves' defense has been considerably better at keeping out goals and Sá rates well above average in bth stopping crosses and defensive actions outside the penalty area. In contrast, de Gea is quite poor at both, ranking among the worst in the league with his feet and claiming crosses.
Cunningham: Robert Sánchez (Brighton & Hove Albion)
Sá certainly has an impressive post-shot xG record and Sánchez is a little behind him sitting at only +1.5, but he provides a lot more than just shot stopping. He has the highest average percentage of crosses stopped at 13.4% thus far.
Sánchez is a fantastic sweeper keeper as well, with 21 defensive actions outside of the penalty area, which is the second-best mark in the EPL, per fbref.com. 
Brighton has been one of the best defensive teams in the league, but they've done it after losing their best center back — Ben White — to Arsenal and relying on Shane Duffy and Lewis Dunk.
So, Sanchez stopping crosses and coming out of the box to stop attackers, who have ventured beyond the Brighton back line, has been a big part of why Brighton is top five in non-penalty expected goals allowed.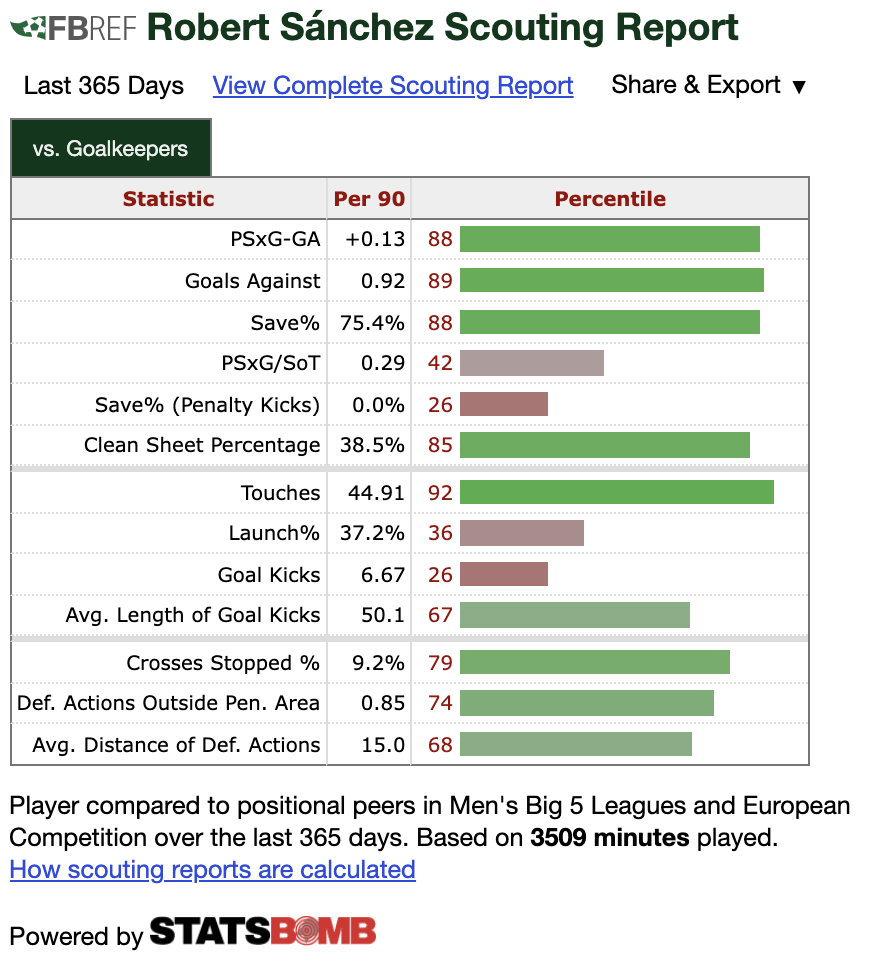 *(image via fbref.com)
---
Left back
Dabbundo: Joāo Cancelo (Manchester City)
Outside of right wing, this was the easiest choice on the entire board. Cancelo has been stellar for the last two seasons. He's a ball progression and chance-creation machine from the position.
Manager Pep Guardiola often has him tucked in the Manchester City midfield to offer more passing and defensive solidity, but he also has 169 passes into the final third (first in the league), 52 into the penalty area (first) and adds in about 0.26 xG + xA to the attack for the club.
Cancelo also carries the ball into the final third more than anyone in the league. 
Cunningham: João Cancelo (Manchester City)
I agree with Anthony that it's impossible to look away from Cancelo as not only the best left back in the English top flight, but maybe the most important player in Manchester City's starting lineup. Cancelo's numbers are off the charts in terms of progressing the ball up the field and supplying the attack. 
Cancelo has 152 progessive passes (second in EPL), 57 shot-creating actions (second among defenders), 205 progressive carries (second overall) and 3.0 expected assists (second in EPL among defenders). His defensive numbers aren't as great as a lot of other wingbacks in the league, but with controlling on average 68% possession, he isn't tested very often. 
So, without him I don't know if City would be playing at the level they're currently at, sitting 10 points ahead of Chelsea and 11 clear of Liverpool.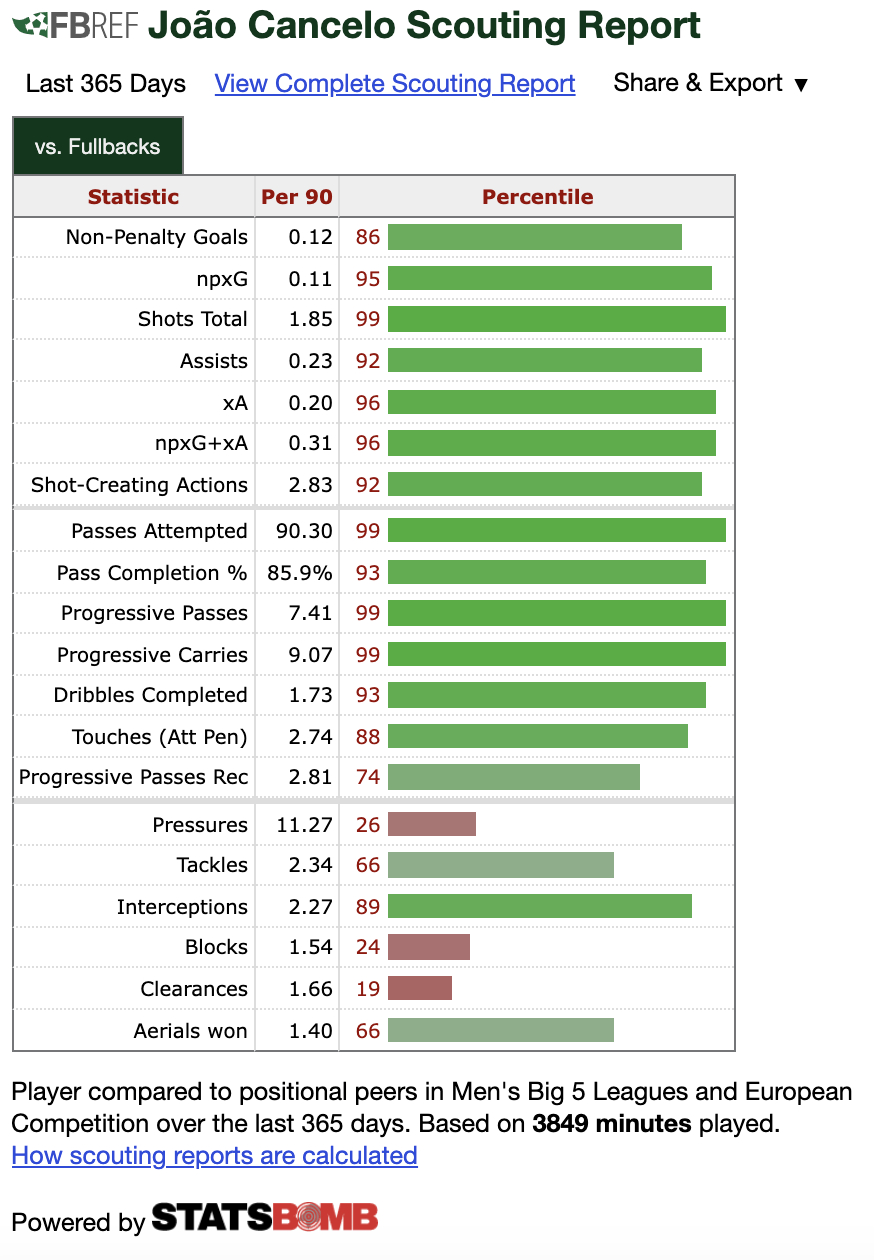 *(image via fbref.com)
---
Center Backs
Dabbundo: Antonio Rudiger (Chelsea) & Ruben Dias (Manchester City)
Rudiger has been at the center of Chelsea's defensive revolution in the last calendar year and continued his stellar play while injuries have piled up at fullback, in the midfield and other center-back positions. Rudiger is excellent in the air, but adds even more value with the ball at his feet.
Manager Thomas Tuchel's system is reliant on his ability to carry the ball across the halfway line and into the final third, plus he's an excellent passer. He's the best at his position taking the ball into the final third this season. 
Dias is the best center back on an elite, suffocating City defense. He has to be on this list, even if his impact was potentially a bit overstated last season. Dias is an elite passer and ball-playing center back, which is a must in the Guardiola system. He completes 94.1% of his passes, contributes on set pieces and the Cityzens have conceded 4.5 fewer xG than every team in the EPL this season.
Cunningham: Ruben Dias (Manchester City) & Mohammed Salisu (Southampton)
The reality is Dias doesn't have the defensive numbers that some of the other top center backs in the league do, but he's fantastic at starting City's build-up play from the back. He attempts 84.8 passes per 90 minutes and completes more than 94% of those attempts. Dias also averages 8.36 progressive carries per 90 minutes, which is the most of any center back in the Premier League. 
With City controlling so much possession, he has only attempted 25 tackles, but won 20 of them, which is obviously a really good percentage. It's just hard to leave one of the best center backs in the world off this list.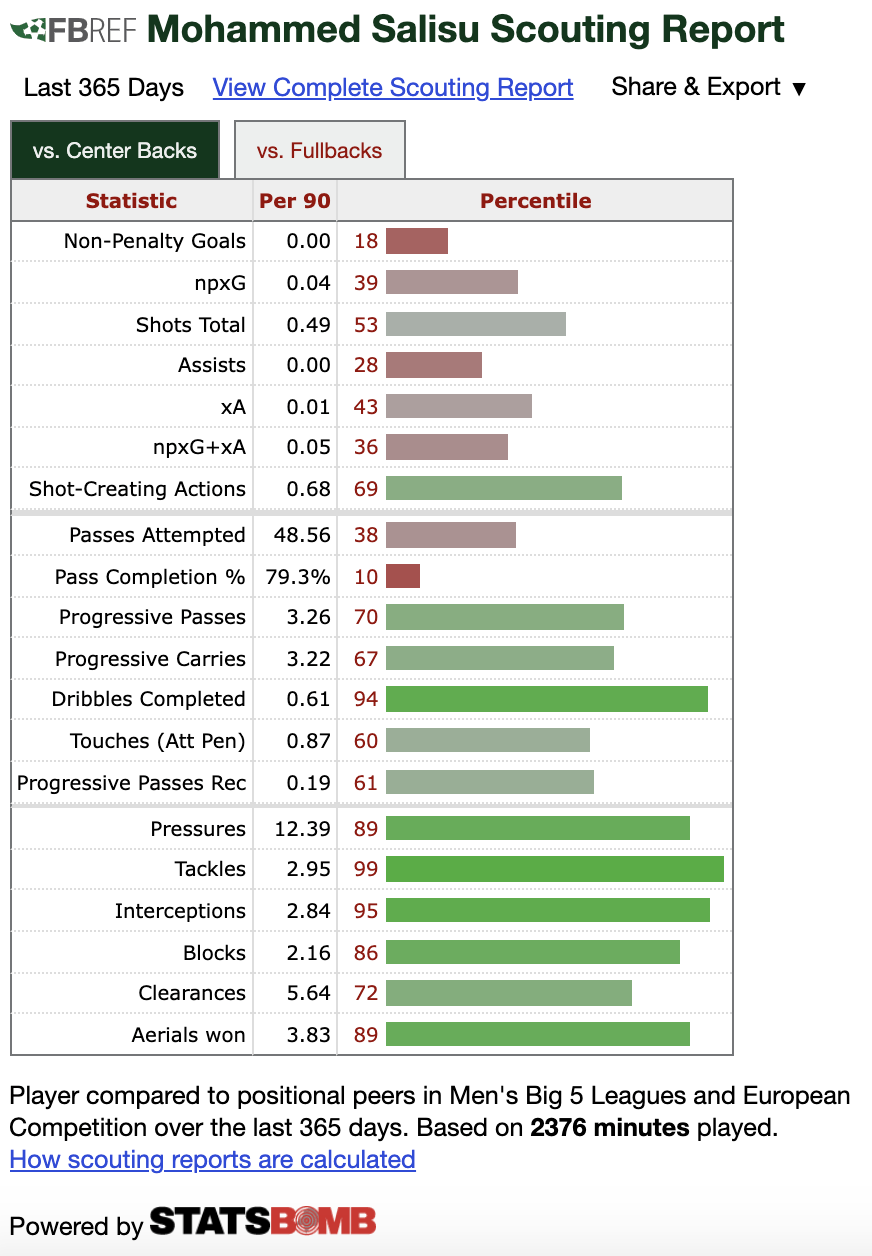 Salisu might not be a name an average EPL fan has heard of that often, but he's been the most influential player in manager Ralph Hasenhüttl's side and his defensive numbers are off the charts.
Salisu has the second-best pressure success rate at 42.9%, 95 tackles plus interceptions and 113 clearances, which are the most of any center back in the Premier League. Salisu also is incredible in the air, winning 4.41 aerial duels per 90 minutes, which is fourth best in the league. He has a better aerial duel % won than Liverpool star Virgil van Djik.
So, if Southampton avoids relegation, it's going to be because of Salisu.
*(image via fbref.com)
---
Right back
Dabbundo: Trent Alexander-Arnold (Liverpool)
I have to give an honorable mention to Chelsea's Reece James here, but Alexander-Arnold has been Liverpool's No. 1 ball progressor and chance creator… and he's a right back. His 50 passes into the penalty area is second in the league. Alexander-Arnold is also fourth in passes into the final third and first in shot-creating actions.
Alexander-Arnold is averaging an 0.51 xG + xA per 90, meaning he's contributing more than a goal or assist every other game. He's been incredible producing for the Reds and his partnership with Mohamed Salah on the right wing has been unstoppable at times. 
Cunningham: Trent Alexander-Arnold (Liverpool)
I have to agree with Anthony again on Alexander-Arnold. It's simply impossible to look away from Alexander-Arnold as the best right back in the league.
Alexander-Arnold has 90 shot-creating actions, which is the most in the league. Yes, a right back has the most shot-creating actions. That's how good Alexander-Arnold has been at supplying Salah, Sadio Mané and Diogo Jota.
He also has 168 progressive passes, which is far and away the EPL's best mark. In fact, João Cancelo and Pierre Højbjerg are only other players that have more than 100 this season.  
It's not all offense with Alexander-Arnold, though. He's vital to manager Jürgen Klopp's frantic pressing system, plus he's incredible at winning the ball in the middle and in Liverpool's own final third of the pitch. His 48 interceptions are good for fourth best in the league. He also has a 35.9% successful pressure rate, which is third-best among wing backs in the Premier League.
You could honestly make the argument that Alexander-Arnold might be the most important player in Liverpool's starting XI, but I'm not that crazy.
Central Midfielders
Dabbundo: Conor Gallagher (Crystal Palace) & Declan Rice (West Ham United)
Gallagher, a Chelsea loanee, has surprised me more than any other EPL player. He's only 21 years old and one of the most unique players in the league. Gallagher helped revolutionize the Palace squad by assisting the midfield with his defensive pressing and intensity off the ball. He doesn't do much passing at all and is rarely on the ball for them in the center of the midfield, though.
Instead, Gallagher receives progressive passes at an elite rate. And for a midfielder, he has elite numbers when it comes to touching the ball in dangerous areas. He makes his time on the ball count, racking up six goals and three assists this season.
Rice is more of a traditional defensive midfielder. He's great ball winner and ball stopper, plus he's added more ball carrying and passing into his game this season as West Ham has had more of the ball than last year. Rice has a career high 5.05 tackles plus interceptions per 90 minutes and has improved his passes into the final third per 90 minutes from 3.53 to 6.26 this season.
Add in his progressive ball carrying improvements from 5.16 per 90 minutes last year to 7.00 this year, and the result is a player who's on a trajectory to be one of the best all-around midfielders in the world as he reaches peak age. 
Cunningham: Declan Rice (West Ham) & Pierre Højbjerg (Tottenham)
Rice might be the most important player to his own club than anyone in the Premier League because he does everything for West Ham. 
He's an unbelievable defender in protecting the Hammers' backline and allowing fellow midfielder Tomáš Souček to go forward in attack. Rice leads the league with 55 interceptions and has a little more than 40 tackles as well.
However, as Anthony said, it's not all defense with Rice. He has really improved his ability to progress the ball up the field and get it to guys like Jarred Bowen and Michail Antonio. He's also completing close to 89% of his passes, which doesn't hurt either. 
Pierre Højbjerg might be one of the more underrated EPL midfielders, given his ability to progress the ball up the field and defend. Højbjerg has 102 progressive passes this season, which is the most of any midfielder in the league and is completing more than 89% of his passes.
Højbjerg is the key in connecting Tottenham's build-up play from the backline into Harry Kane and Son Heung-min, as he has a whopping 113 completed passes into the final third this season.
He's is also a solid defender that has been crucial in stopping the opponents' counterattack, with 78 tackles plus interceptions, which is 13th best in the EPL and has the seventh-most pressures in the middle third of the pitch. As manager Antonio Conte continues to implement his system, Højbjerg is going to be a very key part of Tottenham's pursuit of the top four.
---
Attacking Midfielder
Dabbundo: Mason Mount (Chelsea)
Mount has one of the more interesting statistical profiles for years, with excellent pressing and shot numbers for a young central midfielder. He runs everywhere on the pitch for Chelsea and gets a good number of shots. Now, he's added passing range and ball progression to his game and really blossomed under Tuchel. 
By pressures and tackles per 90 minutes, he's one of the best defensive attackers in the league. Add in his 0.72 xG plus xA per 90 minutes and 1.94 passes into the penalty area/90 minutes and you have an elite all-around attacking midfielder.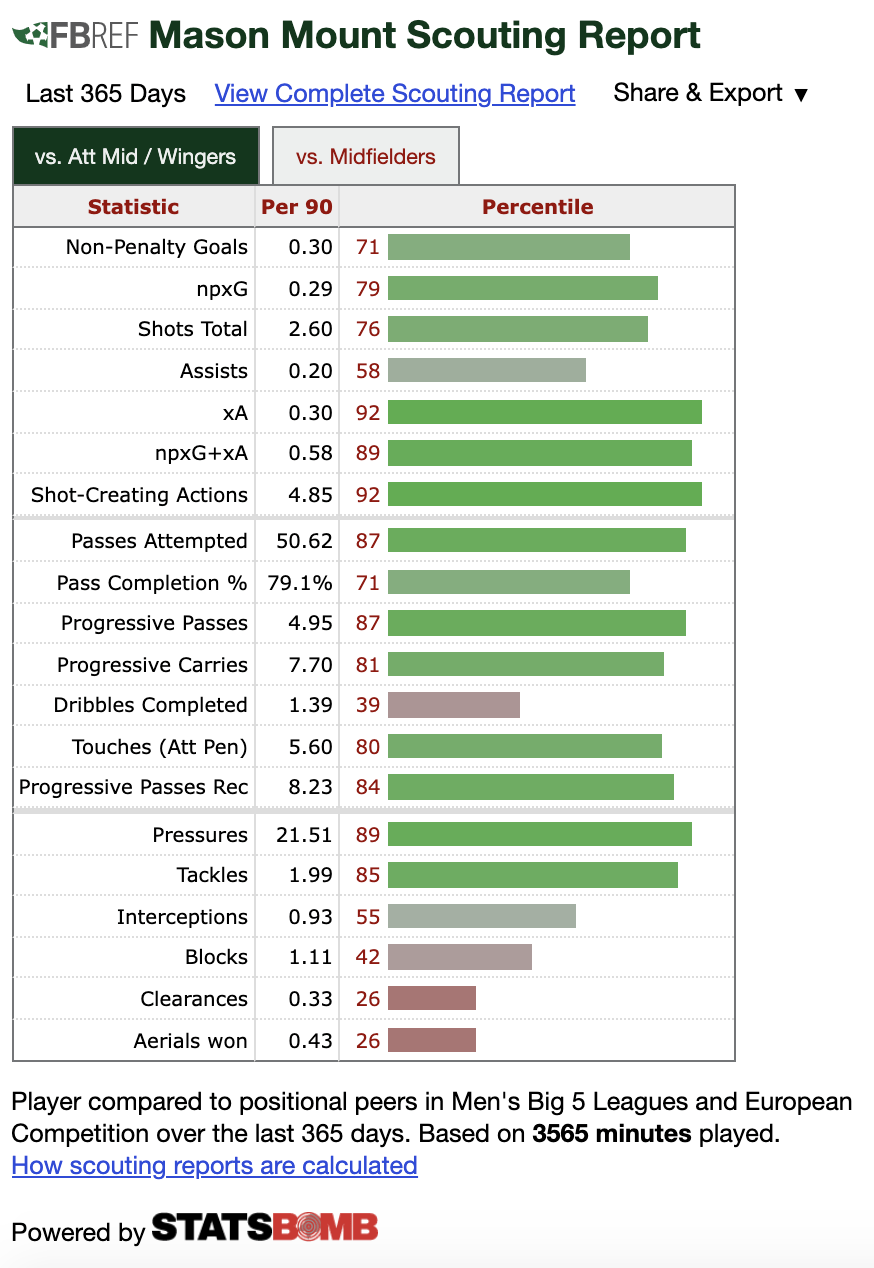 *(image via fbref.com)
Cunningham: Martin Ødegaard (Arsenal)
I don't have a problem with picking Mount or Manchester United standout Bruno Fernandes in this spot, but Ødegaard has been one of the biggest reasons for Arsenal's recent resurgence. Ødegaard was a wonderkid and an unreal passer coming out of Norway, which is why Real Madrid paid so much for him at such a young age.
Sure, he only has four goals and four assists to his name, but there's so much more to Ødegaard than just goals and assists. 
Now, he's starting to blossom in manager Mikel Arteta's 4-2-3-1 system as a ball control and progressing midfielder, supplying Bakayo Saka, Gabriel Martinelli and Alexandre Lacazette.
Ødegaard is averaging 2.37 pass per 90 minutes that lead directly to a shot, which is the sixth-best mark in the Premier League and averages close to 12 progressive passes plus carries per 90 minutes, which is a top-tier attacking midfielder mark.
So, if Arsenal is going to finish in the top four in the table, it's going to be with Ødegaard being the catalyst to its attack.
Right Wing
Dabbundo: Mohamed Salah (Liverpool)
The first name on the world's team sheet right now, Salah was the easiest choice on the board. The Liverpool star and Egyptian international is having the best season since his first in the Premier League when he scored 32 goals during the 2016-17 campaign.
Salah's underlying numbers suggest his production is no fluke or just a good finishing run. Salah averages 0.98 xG + xA per 90 minutes, producing 16 goals and nine assists playing for the EPL's best attack this season.
Only teammate Diogo Jota is close to him in 90 minutes attacking production.
Cunningham: Mohamed Salah (Liverpool)
I mean, what else is there left to say about the great Salah? He's the best player on the planet and his numbers are off the charts. 
He has 16 goals from 12.8 xG and provided nine assists as well. Those are Lionel Messi and Cristiano Ronaldo type of numbers at the halfway point. Salah has the second most shot-creating actions (81) behind his teammate Trent Alexander-Arnold, plus he's averaging a staggering 3.94 shots per 90 minutes, which leads the entire English top flight.
The Premier League record for goals in a season is 34, shared by Alan Shearer and Andrew Cole. Now, Salah most likely won't reach that since he's going to miss a few matches representing Egypt in the Africa Cup of Nations tournament this month, but if he keeps up the pace he's on, it's not crazy to think he couldn't threaten the record.
Left Wing
Dabbundo: Son Heung-min, Tottenham
It's been an under-the-radar year for the Spurs' winger because his attacking partner, Harry Kane, has had a down season and the club has struggled on attack. However, Son is still producing as he always does. Eight goals and two assists means he's headed toward a sixth consecutive season with 10-plus goals and a second year in a row with 15-plus goals.
His ball-carrying ability, plus pace and power, make him deadly in space in manager Antonio Conte's improved Tottenham side.
Cunningham: Son Heung-Min, Tottenham
There really isn't any competition here for Son on the left attacking flank, especially with how often Chelsea and Manchester City have rotated that spot on the pitch. I would go with Mané here, but for the purposes of limiting ourselves to two players per team, Son is the next logical choice.
The South Korean international has the rare ability of blistering speed and elite technical ability, which has allowed him to become one of the league's best left wingers. He's already bagged eight goals and three assists, along with a 0.63 xG plus xA per 90 minutes and averages 5.63 touches in the penalty area/90 minutes, both of which are 13th in the league this season.
Son is vital to Spurs' attack in pursuit of the top four, so if he keeps up his current pace and Kane rounds into form, they have a legitimate shot.
---
Striker
Dabbundo: Emmanuel Dennis (Watford)
The striker position was actually a bit tricky because I couldn't use Jota after picking Salah and Alexander-Arnold from Liverpool. Cristiano Ronaldo doesn't add much to Manchester United besides his goals, plus his numbers have dropped off from previous years. Kane has had a down year as well.
So, I chose Watford's Emmanuel Dennis, who has recorded eight goals and added five assists for Watford.
Dennis is excellent at running into space on the counterattack. He wins a ton of aerial duels, does a lot of defensive work when Watford doesn't have the ball and his goal/assist output has helped keep the Hornets above the relegation zone. He'll likely cool off based on his xG numbers, but for now, he belongs in this team.
Cunningham: Michail Antonio (West Ham)
It's time to give some love to Michail Antonio, who has put himself into the elite striker level. I heard the quote a few years ago I thought applied perfectly to Antonio at the time that was, "He plays like a man who recognizes what a privilege it is to play up front when you're not really a striker."
Well, Antonio has turned himself into a very important player for manager David Moyes' side and is one of the most deadly strikers in front of net.
Antonio has bagged eight goals from 7.4 xG and also has 67 shot-creating actions, which is the second most of any forward in the Premier League behind only Salah. He has also been a big assist provider for his teammates, with 4.2 xA this season.
Antonio, whose 0.66 xG plus xA per 90 minutes are second best in the league, is the type of players who can beat you in a multitude of ways given his rare size, power and speed. And now he's added the technical ability to make him one of the best strikers in the English top flight.
How would you rate this article?
This site contains commercial content. We may be compensated for the links provided on this page. The content on this page is for informational purposes only. Action Network makes no representation or warranty as to the accuracy of the information given or the outcome of any game or event.