Biggest UEFA Champions League Upset Ever? Sheriff Tiraspol Shocks Real Madrid as +2800 Underdog
Credit:
Pictures by Getty Images.
The entire team from Transnistria collapsed to the ground when the whistle blew at the Santiago Bernabéu Stadium in Madrid, as if what had just transpired was too ridiculous to believe.
Sheriff Tiraspol, — a team located in an unrecognized state that's one of the poorest in Europe — had just beaten European titans Real Madrid, 2-1, at their vaunted home ground.
It's Sheriff's first-ever season in the Champions League.
They're from the city of Tiraspol in Transnistria, a tiny strip of land between Moldova and Ukraine that has remained unrecognized by the international community for more than 30 years.
To give you an idea about how minuscule this state is, the club and the conglomerate that own Sheriff represent an absurd 60% of the state's annual GDP.
The team's entire salary is somewhere in the ballpark of $14 million. Compare that to Madrid's hundreds of millions of dollars in wages.
It's a rag-tag group of players originally from lower leagues across Europe, Africa and Latin America,  most of whom were leased, loaned or gifted to the minnow club.
And yet, with that roster, here they are, sitting atop Group D in the Champions League. They're three points clear of Real Madrid and five points ahead of Serie A side Inter Milan.
It's perhaps the biggest upset in European club history.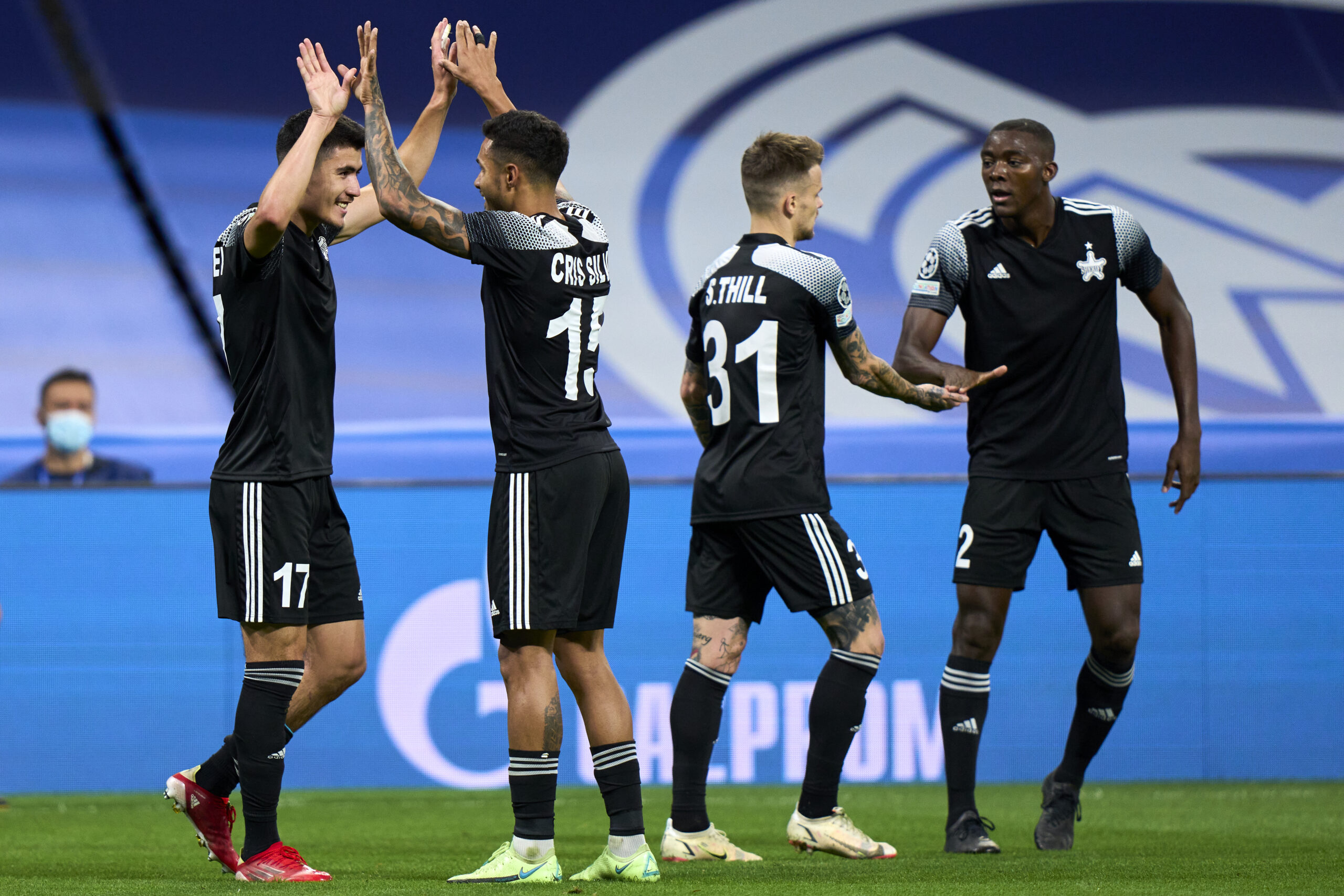 Yes, some other individual upsets may have had greater meaning.
Celtic beating Barcelona, 2-1 ,in 2012 in Scotland or Deportivo de La Coruna defeating defending champions AC Milan, 4-0, in the 2004 quarterfinals of the competition come to mind.
However, none of those teams came from a league — or country — quite as unheralded and unheard of as the Divizia Națională and Transnistria are. And none of those wins came against Europe's most successful football club.
Sheriff came into the game with +2800 odds to win the game at FanDuel, the longest odds to win in the Champions League since the U.S. Supreme Court approved sports betting in 2018. Real Madrid had been -1000 favorites. The draw sat at +1000.
Sheriff took the lead with a counterattack goal from Uzbekistani striker Jasrubek Yakhshiboev.
The strategy all night was to sit back on defense then pounce when the opportunity presented itself. It worked beautifully on this quick transition to Brazilian winger Cristiano to open the scoring.
Then, Greek goalkeeper Giorgos Athanasiadis kept Sheriff in the game with a series of amazing stops. He was the unsung hero of this game. Though Real Madrid put up 3.29 expected goals against Sheriff, according to xGPhilosophy's metrics, they scored zero goals in open play. The Greek keeper played a massive part in that.
Real Madrid eventually got their goal back after knocking on the door for the entire second half. Karim Benzema buried a penalty after a borderline VAR call gave Madrid the break it needed.
As the clock ticked down, most minnows would have been resigned to time-waste and take the draw. For some of the last 20 minutes of play, it looked like that's what the little club from Transnistria was trying to do.
Then, Sheriff did this instead:
THIS was the goal that Sheriff scored to upset Real Madrid in the 90th minute ⚡️

— FOX Soccer (@FOXSoccer) September 28, 2021
Los Blancos came close again in the waning minutes, but Sheriff put the game away, then collapsed in utter elation.
Real Madrid, Barcelona and Juventus are the last three holdouts from an asinine plan from earlier this year to break off and create a closed-off Super League.
Today's match is a clear indication as to why Real want to do so and why it's such a terrible idea.
How would you rate this article?
This site contains commercial content. We may be compensated for the links provided on this page. The content on this page is for informational purposes only. Action Network makes no representation or warranty as to the accuracy of the information given or the outcome of any game or event.