Turkish Super Lig, Snooker Futures and StarCraft: What We're Betting on Tuesday, March 17th
Credit:
Emrah Yorulmaz/Anadolu Agency via Getty Images.
The betting board for Tuesday, March 17 is uncomfortably barren, but there are sports to bet on and we, like you, miss the daily entertainment that betting provides. Hopefully this post helps fill that void even just a little.
Note: It should go without saying, but please bet responsibly. 
Michael Leboff
Goztepe vs. Rizespor (Turkish Super Lig) Draw +240
Time: 1 p.m. ET
I really miss the grind of handicapping games. For better or worse, the Turkish Super Lig is continuing to play matches behind closed doors which means it gives us the opportunity to, at the very least, taste some sense of normalcy by looking at some numbers, coming up with a betting strategy and firing away.
Tuesday's tilt between eighth-place Goztepe (9 wins, 7 draws, 9 losses for 34 points) and 16th-place Caykur Rizespor (7 wins, 4 draws, 14 losses for 25 points), is the last game left for Week 26. Here's how I landed on the draw:
Goztepe, which is located in Izmir on Turkey's West Coast, looks safe from relegation despite being on a three-game losing streak. The Goz Goz are a low-event team, with just 59 total goals (29 for, 30 against) scored in their 25 games this season. Their 2.36 totals goals per match is the third-fewest in Turkey's top flight (per FootyStats).
Rizespor, which is located on the edge of the Black Sea in Northeast Turkey, is currently in a relegation fight with seven other teams. Only six points separate the 18th-place team and the 11th-place team in the Super Lig. The Black Sea Sparrowhawk (hell of a nickname) is also a below-average team in terms of total goals per game at 2.72.
Not only do these two teams not score much, but they also don't get shots on target consistently, either. Goztepe ranks 17th with 3.32 shots on target per 90 minutes while Rizespor is just ahead of them in 15th at 3.56 SoT/90 (per FBRef.com)
Both of these teams are in awful form. The Black Sea Sparrowhawk has garnered one point from its last six matches while Goztepe has lost three in a row and has one win in its last six matches.
Given the statistical profiles for these two combatants, it's not surprising that the total for this match sits at 2.5 with the under juiced at -130.
I do worry about the coast-to-coast travel for the Goz Goz, but I also fancy their strong defensive numbers. A low total and two teams that struggle to score seems like a good recipe for a bet on the draw.
Fun Fact: Like a lot of other European sports clubs, Goztepe has teams that participate in other sports like handball and wind surfing.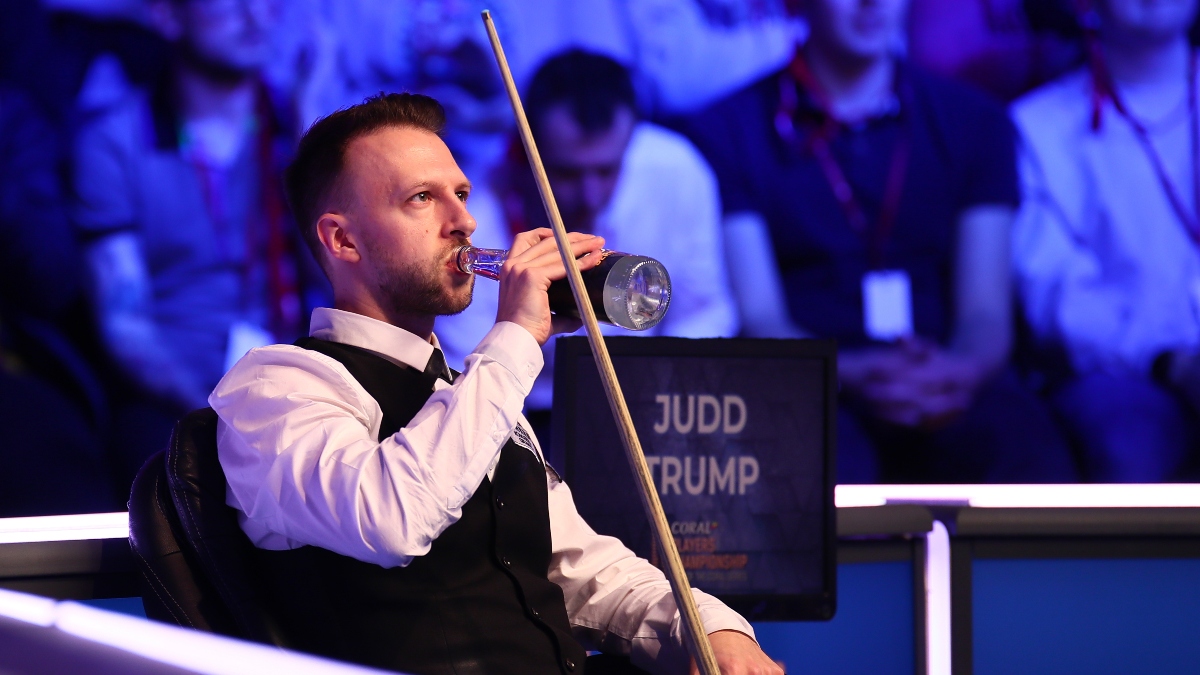 Stuckey
Judd Trump (+300) to win the World Snooker Finals
Today, I bet on Judd Trump (no relation) to win the Snooker Word Finals. I am familiar with Snooker but that's about as far as my knowledge goes on this sport. I wanted to bet something for a sense of normalcy and this was the pick.
Billiards is known as one of the safest sports in the world and requires no human-to-human contact, so I'm hoping The Snooker World Finals, which are set to take place from April 18 to May 4, are able to go off without a hitch. This at least gives me something to look forward to in these weird times.
Collin Wilson
SnOW (-285) over Stork (StarCraft Esports: Afreeca Starleague)
When people think of the University of Arkansas from an academic perspective, they think of the Sam M. Walton Business College. I have fond memories of the Walton campus, but not because of macroeconomics or business law (I was an engineer for godsake), but because the Walton College boasted the finest computer lab on campus. I spent a good part of my first four years in college in the lab to master one game…StarCraft.
Fast forward some two decades later and we can bet on Esports, specifically old-school StarCraft. I'm talking the first edition with Brood War. If you ever want to chat about throwing a Protoss cannon rush into the back of someone's base or hot-keying 72 units of a zergling rush 90 seconds into the game, I'm your man.
With most of hte sporting world on hiatus, I am turning to familiar territory — betting on StarCraft.
The biggest mismatch on the board is between SnOW and Stork on early Tuesday morning in the Afreeca Starleague.
If there is a mismatch on the board, it is SnOW versus Stork on early Tuesday morning. Currently being played in Season 9 of the Afreeca Starleague.
SnOW has been dominant in this format the past few seasons, finishing second in Seasons 5 and 8. Stork has been a different story, getting knocked out by SnOW in seasons 5 and 8 and failing to get out of the group stage in Season 6.
These two players are very familiar with each other, as SnOW is quicker with a Dragoon rush and implements Reaver drops. Last season's runner-up is also great at keeping his economy running in his initial base while laying a Nexus in multiple resource corners. Your StarCraft army is only as good as your economy, and SnOW is hands down better than Stork.
There is a reason this number is juiced up to -285 around the market.
How would you rate this article?