2018 ATP US Open Quarterly Betting Preview: Should Rafael Nadal Worry About His Draw?
Credit:
Robert Deutsch-USA TODAY Sports. Pictured: Rafael Nadal after winning the 2017 US Open
Rafael Nadal (-150 favorite to win quarter) will begin his U.S. Open title defense Monday night on Arthur Ashe Stadium.
While the Spaniard will be a significant betting favorite against every opponent in his quarter, there are a few tricky potential matchups.
Rafael Nadal, the defending champion and top seed at the U.S. Open, finds himself in a somewhat tricky quarter. While he doesn't have a particularly loaded section, his quarter does contain a number of potent shot-makers — including seeded players Dominic Thiem, Denis Shapovalov, Karen Khachanov, Kyle Edmund and even Jack Sock, as well as the player Nadal beat in last year's final, Kevin Anderson.
While none of these players is enjoying the type of form that will worry Nadal, they do present potentially difficult matchups from a style perspective.
Mind you, if you're going to upset Nadal — especially in the best-of-five format — you'll have to be comfortable playing on your front foot. And with all of the seeded players in this quarter (minus Roberto Bautista Agut) being offensively minded, Nadal can be tested.
At -150, Nadal is the odds-on favorite to come out of this quarter, but there's not much value in backing the Spaniard. Instead, let's explore some players with outside chances to survive this quarter — at a much bigger payout.
Seed Form Check
(2018 summer hard-court record)
#1 Rafael Nadal (5-0) — Nadal is in good form after winning the Rogers Coupe — marking his first hard-court Masters tournament win since 2013. He opted to sit out Cincinnati, giving his body a chance to recover, and should be completely fresh.
#5 Kevin Anderson (4-2) — Anderson put on a decent showing in Toronto (losing to Stefanos Tsitsipas in the semifinals) before losing to David Goffin in the second round in Cincinnati. While Anderson hasn't looked overly impressive since his final run at Wimbledon, he should be a tough out in Flushing Meadows.
#9 Dominic Thiem (0-1) — Thiem has not done much to remedy his hard-court woes over the past few years, and comes into the U.S. Open having played just one summer hard-court match (a loss to Tsitsipas in Toronto). Thiem's shot-making ability will always make him a threat, but given his lack of hard-court prep, there aren't high hopes surrounding the Roland Garros finalist.
#16 Kyle Edmund (3-4) — Edmund's summer hard-court performance has been nothing to write home about, including losses in the first rounds of the Citi Open (against a hobbled Andy Murray) and the Rogers Coupe (against Diego Schwartzman).
It was reported that tonsillitis had kept Edmund off the court for a month following Wimbledon, and given his play of late, he does not enter this tournament on any type of form.
#18 Jack Sock (0-2) — Sock comes into the U.S. Open riding an eight-match losing streak — and has looked utterly lost on the singles court for months. It's hard to expect much different in Flushing Meadows; look out for an early upset.
#19 Roberto Bautista Agut (0-0) — Having not played a hard-court match since Miami in March, it's difficult to gauge RBA. When he's feeling good about his game, he's one of the most consistent players on tour, but fitness concerns have limited the Spaniard's match prep. As a result, it's probably best to tread with caution.
#27 Karen Khachanov (6-3) — I've liked what I've seen from Khachanov this U.S. Open series. He had a super impressive run in Toronto — defeating Filip Krajinovic, Pablo Carreno Busta, John Isner and Robin Haase — before losing to Nadal in the semifinals. Khachanov's game will be suited to these slow hard courts, and if he can catch fire, he could be a tough out.
#28 Denis Shapovalov (5-3) — Shapovalov will come into this tournament with a sense of confidence after bursting onto the scene last year at the U.S. Open, advancing to the fourth round. However, things won't be easy for the rising star, starting with a tough first-round matchup against another young, talented Canadian by the name of Felix Auger-Aliassime.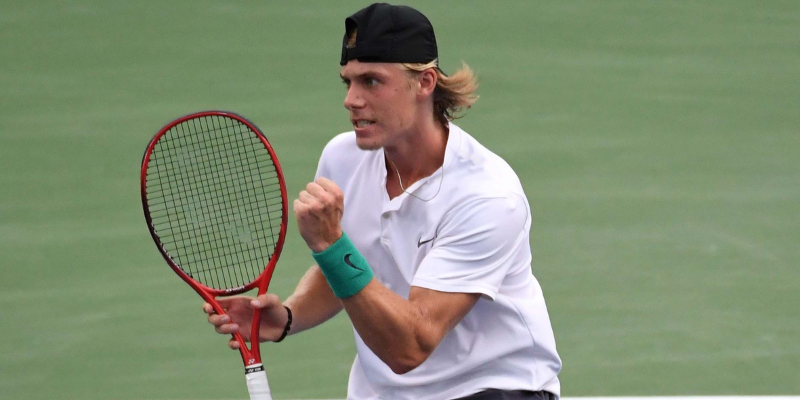 Key H2H Records
(hard-court record)
Bautista Agut 3-0 (3-0) vs. Thiem
Bautista Agut 1-0 (1-0) vs. Anderson
Shapovalov 1-0 (1-0) vs. Sam Querrey
Nadal 26-5 (12-2) vs. seven seeds in quarter
Interestingly enough, RBA has a 4-0 record on hard courts against all of the seeds in the bottom section of this quarter. (He's never played Shapovalov.)
Nadal owns an impressive 26-5 record against the other seven seeds in his quarter. Three of those losses came on clay against Thiem, while the other two came on a hard court — against Querrey (Acapulco) and Shapovalov (Montreal).
---
>> Sign up for The Action Network's daily newsletter to get the smartest conversation delivered into your inbox each morning.
---
Moneyline Parlay Potential
Querrey (-303) vs. Andreas Seppi (+220)
Anderson (-357) vs. Ryan Harrison (+254)
Although the Anderson line does look suspiciously low, I'll take my chances against Harrison, whose game off the ground is simply too dull to outlast Anderson (especially if he's "come on-ing") in a best-of-five. And Querrey should defeat an out-of-form Seppi.
Upset Alerts
Sock (-303) vs. Guido Andreozzi (+220)
Shapovalov (-303) vs. Felix Auger-Aliassime (+220)
Stevie Johnson (-357) vs. Denis Istomin (+254)
Anything's possible when two young guns face off, and Shapo-FAA is certainly not the exception. FAA looked really impressive earlier this month in Toronto — and can capitalize at a huge price if the moment gets too big for Shapovalov.
After a long week at the Winston-Salem Open in North Carolina, Johnson could be on upset alert in the first round, especially against a guy like Istomin, whose game is so compact on the backhand side. Istomin's peak level is almost bizarrely high — and the Uzbek won their only previous meeting (also in the five-set format, at Davis Cup).
As for Sock, do I really need to justify?
Futures Value
With Nadal being the almost overwhelming favorite to come out of this quarter, the most futures value comes with opposing the defending champ. And two players, at much better prices, whom I've got my eyes on are Khachanov (21-1) and Querrey (23-1).
While Querrey's been pretty tragic this season, I think the U.S. Open presents a good opportunity for him to turn it around. Mind you, Querrey goes well with these U.S. Open courts — specifically on Ashe. The American made the quarterfinals last year before losing to eventual finalist Anderson.
So much of Querrey's game comes down to confidence — or, typically, lack thereof — but if he can gain a head of steam early on, he's undoubtedly got the talent to survive the quarter.
As for Khachanov, he will have a tough path to the quarterfinal with Nadal potentially waiting for him in the third round. But if Nadal is going to get upset early, it will be against an offensive-minded player — and Khachanov is certainly that.
The young Russian gave Nadal a seriously tight match earlier this month in the Toronto semis, proving he can stay on his front foot and play aggressively for an entire match against Nadal. If he can raise his level even more — or pray for an off day from Nadal — I won't rule out the upset.
Khachanov's got top-five talent, in my mind.
The Safe Pick: Nadal -150
Long Shots: Querrey 23-1, Khachanov 21-1
First-Round Best Bets
How would you rate this article?