2018 US Open ATP Betting Preview: Rare Wide-Open Tourney Provides Futures Value
Credit:
Geoff Burke-USA TODAY Sports. Pictured: Alexander Zverev celebrating his win at the 2018 Cit Open final in Washington D.C.
ATP betting action for the 2018 US Open will get underway on Monday, Aug. 27 in New York. Novak Djokovic (+250 odds) and Rafael Nadal (+350) are the favorites.
With so many questions surrounding the "Big 5," I see a lot of value in the futures market.
This could be the perfect opportunity for Alexander Zverev (12-1) to finally break through, while Borna Coric (125-1) is a worthwhile longshot.
All right, we're back (Mike Francesa voice) in action for the US Open.
The draws were deployed on both the ATP and WTA sides of the Tour on Thursday afternoon — and that could only mean one thing: It's time to grab our shovels (and crystal balls) and start digging into this year's US Open futures market.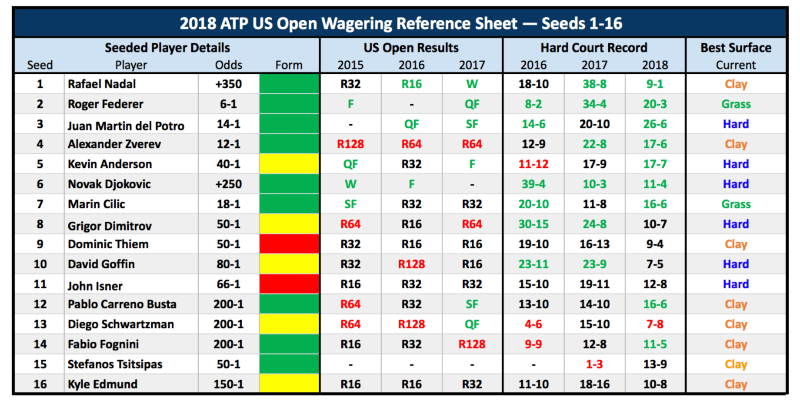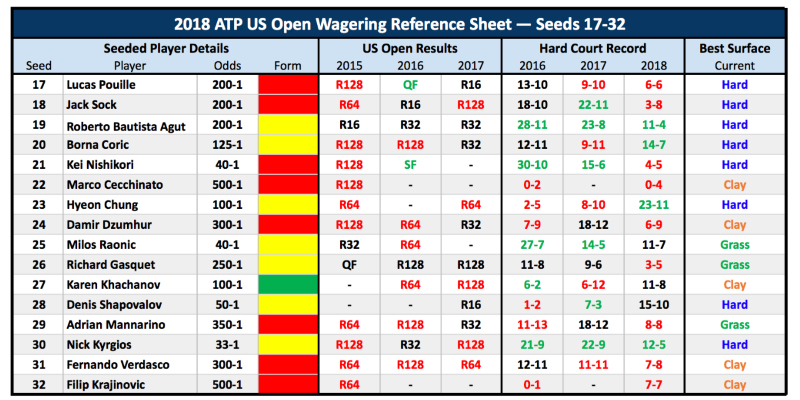 From the jump, I just want to say that this year's tournament is wide open. Like, wiiiide open.
Usually, ahead of Grand Slams, one of the Big 5 (Roger Federer, Rafa Nadal, Novak Djokovic, Andy Murray, Stan Wawrinka) looks like a safe bet to win the title. In fact, those five have combined to win every single major over the past four years.
2015
Australian Open: Novak Djokovic
French Open: Stan Wawrinka
Wimbledon: Novak Djokovic
US Open: Novak Djokovic
2016
AO: Novak Djokovic
FO: Novak Djokovic
W: Andy Murray
USO: Stan Wawrinka
2017
AO: Roger Federer
FO: Rafa Nadal
W: Roger Federer
USO: Rafa Nadal
2018
AO: Roger Federer
FO: Rafa Nadal
W: Novak Djokovic
USO: ?
---
>> Sign up for The Action Network's daily newsletter to get the smartest conversation delivered into your inbox each morning.
---
Question Marks
However, a number of questions surround the Big 5 ahead of the year's final major.
Andy Murray (+2800) was forced to withdraw early from his pre-US-Open hard court preparation, citing "exhaustion" after a marathon match against Marius Copil in Washington D.C. left the Scot feeling worn and weary.
Stan Wawrinka (+3300) has looked better of late, but is still working his way back to championship form. His backhand (the driving force behind each of his three Grand Slams) looks a little rusty (timing-wise) after months off Tour.
Roger Federer (+500) — after losing in the Wimbledon quarterfinals against an inferior player (with all due respect to Kevin Anderson) — looked outmatched in the Cincinnati final against Novak Djokovic. The invincible Roger 2.0 that we saw the past two years may have finally lost a step — and, at age 37, you can't really blame him. He is, alas, human.
That leaves Rafael Nadal (+350) and Novak Djokovic (+250) — the two strongest contenders of the Big 5 for the 2018 US Open title.
When Djokovic plays at his peak level — similar to what we saw throughout 2014, 2015 and 2016 — I believe he's the best hard-court player on the planet. Yes, that means better than Federer. The question then becomes: Can he bring his top level in Flushing and sustain it for seven matches?
As for Nadal, he has a solid shot to defend his 2017 title here, but the King of Clay can run into some problematic matchups on this surface — even on the slower US Open hard courts.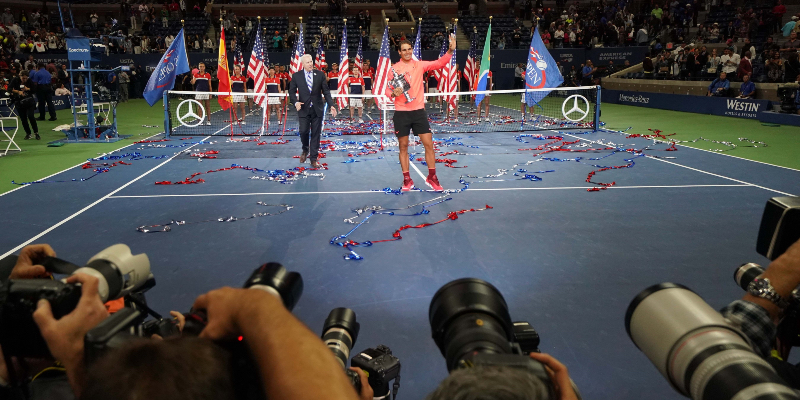 Opportunity Knocks
As a result of those question marks, I think a few others can seriously compete for the title.
Let's toss around some names — starting with two former US Open champions — who now find themselves on the outside, somewhat, looking in.
In one corner, we have Marin Cilic (+1800) — who has made two major finals in the past two years (2018 Aussie Open and 2017 Wimbledon). And, in the other corner, we find Juan Martin del Potro (+1400), who made the semifinals here last season.
Both players have value at their respective prices, but I'm not in love with either. While Cilic has a favorable draw, I worry about his propensity to wilt in pressure moments against top-shelf competition late in majors.
In contrast, del Potro is one of the strongest big-match players in the draw, but has injury concerns once again. The "Tower of Tandil" was sidelined from the Rogers Coupe this year with another — cue dramatic choral work — wrist injury.
I just don't see the big Argentine winning seven best-of-five matches with a hampered backhand — even with his massive serve and forehand popping.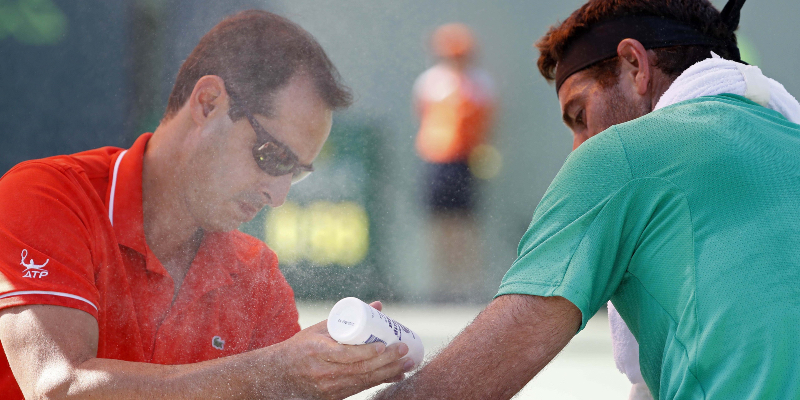 New Blood
This brings us to the young guns, who I think hold the most futures value — and potential. We could fiinally see some new blood capture a Grand Slam crown. The two names that stand out to me are Sascha Zverev (+1200) and Stefanos Tsitsipas (+5000).
The latter is one of the most in-form players on the planet, recently taking down five top 25 players (Damir Dzumhur, Domi Thiem, Novak Djokovic, Sascha Zverev, and Kevin Anderson) in just one week in Toronto.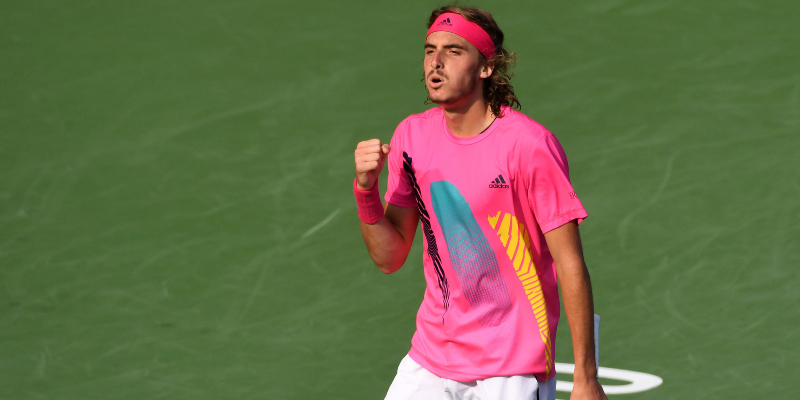 As for Zverev, he did one better than Tsitsipas last year in Montreal by beating Federer in the final. The German has the game to win a Grand Slam, but has consistently struggled to go deep at majors.
That said, I think Sascha might finally be ready to deliver on the enormous standards he's created for himself. When he serves well and — most importantly — hits his forehand aggressively, he's virtually unbeatable.
Zverev has already disposed of both Djokovic (Rome) and Federer (Montreal) in two Masters finals last year, each in straight sets. With a favorable draw (Cilic is the only real threat in his quarter), I like Zverev's chances — especially at 12-1.
As long as he avoids the early-round-marathons we have seen from him in previous majors, I fancy his matchups against the Big 5 as the tournament progresses.
Nadal is really the only one who has had repeated success against Zverev (5-0 H2H) — but Zverev did push him to five sets at the 2017 Australian Open. Even if Zverev faces Rafa in the final, I wouldn't necessarily rush to hedge.
Futures Lounge
Zverev is my pick to win it, but I also chose to roll the dice on Djokovic instead of Rafa as our "safe" choice. Although it may sound counterintuitive, I think Djokovic would have the advantage over Nadal on a slow hard court in a hypothetical final — as Rafa will lose some venom on his lefty-sliced, out-wide serve.
As for the long shots, I like two young guns from the same quarter in Tsitsipas (+50000) and Borna Coric (+12500).
With del Potro (injury concerns) and Grigor Dimitrov (form issues) as the two top seeds in their quarter, either can realistically get to the semis.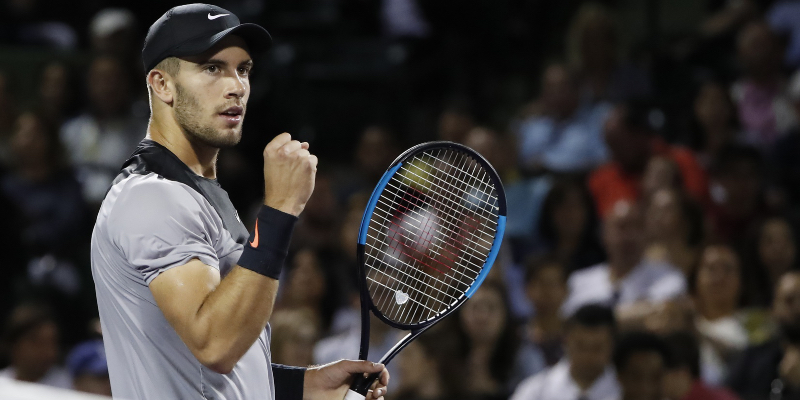 I don't know, guys, something tells me Coric could win this title. He's put together a really impressive year — winning a 500-level title on the grass in Halle by defeating Federer in the final. He also almost beat Federer earlier in the season at Indian Wells, where he held a break lead twice in the decisive third set of their semifinal clash.
There's been chatter about Coric winning Grand Slams since he was just a teenager — and, in a wide-open tournament,  he's worth a shot at 125-1.
2018 US Open ATP Futures
Novak Djokovic (+250)
Sascha Zverev (+1200)
Stefanos Tsitsipas (+5000)
Borna Coric (+12500)
How would you rate this article?