2019 Australian Open Betting Preview: Can Anybody Beat Novak Djokovic?
Credit:
Geoff Burke, USA Today Sports. Pictured: Novak Djokovic
The first Grand Slam of the 2019 tennis season, the Australian Open, starts on Sunday at 7 p.m. ET on ESPN 2.
Novak Djokovic is the favorite to win the tournament at +125 with Roger Federer, Rafael Nadal and Sascha Zverev not too far behind.
Daniel Scotti offers his thoughts on the futures market ahead of the Australian Open.
The Australian Open, the first Grand Slam of the 2019 tennis season, kicks off Sunday night (7 p.m. ET, ESPN 2). The men's side of the Aussie features 128 participants, which shakes out to seven rounds of scintillating tennis action over two weeks, culminating in the Final on Sunday, January 27 (more like early Monday morning).
Roger Federer is the returning champion, but the GOAT is not the favorite for this season's Aussie. That title belongs to Novak Djokovic, who barnstormed his way through the second half of 2018, winning Wimbledon and the U.S. Open.
2019 Australian Open Odds and Draw
The Djoker is at +125 to win the whole tournament. That means the market is giving Nole ~44.4% chance of taking home his seventh Aussie title.
Federer (+550), Rafael Nadal (+800) and Alexander "Sascha" Zverev (+900) round out the top four and are the only other players under 25-1.
Quarter 1
Top Seed: Novak Djokovic (1)
Seeded Players: Kei Nishikori (8), Fabio Fognini (12), Daniil Medvedev (15), David Goffin (21), Pablo Carreno Busta (23), Denis Shapovalov (25), Philipp Kohlschreiber (32)
Despite being the outright favorite to win the tournament, Djokovic finds himself in a rather tricky region of the draw — with names like Jo-Wilfried Tsonga, Denis Shapovalov, David Goffin, Daniil Medvedev, and Kei Nishikori floating around as potential opponents.
While Djokovic has not exactly impressed thus far in 2019 — dropping sets against Marton Fucsovics and Nikoloz Basilashvili in Doha, before losing out to Roberto Bautista-Agut — it's hard to argue against him surviving his quarter. Especially in the best-of-5 format.
For me, I've got Novak facing off against Kei in the quarterfinal, and — given his track record against the Japanese player (15-2 over the years) — I've got Novak advancing through to the semis.
I will say this, though, one of those two wins that Nishikori notched over Novak did come at a Grand Slam (2014 US Open semifinals). So, keep in mind, when Nishikori is playing his A-game, he can be a problem for anyone from the baseline.
Nishikori has looked stellar so far this season, capturing the crown in Brisbane against Medvedev, one of the game's fast-rising young stars.  So, if for whatever reason, Novak was to stumble prior to the quarterfinal — expect Nishikori to be the man to reap the benefits.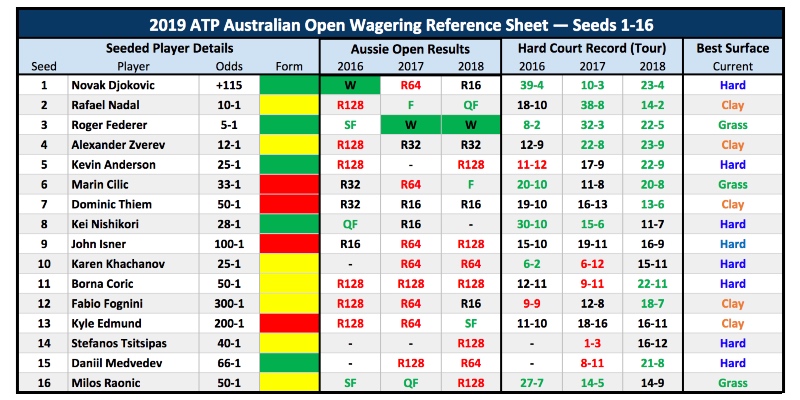 Quarter 2
Top Seed: Sascha Zverev (4)
Seeded Players: Dominic Thiem (7), Borna Coric (11), Milos Raonic (16), Marco Cecchinato (17), Chung Hyeon (24), Lucas Pouille (28), Gilles Simon (29)
Sascha Zverev is the top seed in this quarter, but — as is the case almost every Slam, it seems — there are reasons to shy away from backing the talented young German.
For starters, Sascha's fitness is a concern. After the World No. 4 pulled out of the World Tennis Challenge last week, citing a hamstring injury, Zverev seemed to injure himself again training in Melbourne — this time, with an achilles issue.
Fitness aside, Sascha has only advanced to the quarterfinals of a Slam once in his career (last year at the French) and has become notorious for disappointing performances under the brightest lights.
In my mind, a lot of this has to do with his forehand — which he seems to lose control of during tense points in matches. However, when he's feeling good about his game — like he was at the end of last season, during the ATP Finals (when he took out Roger Federer) — it's clear that Zverev is one of the best players in the world.
With the fitness concerns in play, I'm not expecting a deep run by Zverev at this tournament — although, I wouldn't be surprised by one, either.
If Raonic can get through his first-round match (against the ever dangerous Nick Kyrgios) I think the draw plays out nicely for him. Courts play lightning fast in Melbourne and Raonic is known for having one of the biggest serves on Tour, so he will surely be suited by the conditions.
Another player in this quarter who could be dangerous is Borna Coric. Coric, whose game is visually very similar to Djokovic, posted some impressive results last year on quick courts (in Shanghai and on the grass of Halle, where he beat Federer in the final) and could be in for a big tournament if he can get through a potential clash with Thiem in the fourth round. One thing to keep in mind with Coric, however, is that (surprisingly enough) he has never won a match at the Aussie Open.
With his ranking inside the top 12, now, I expect that to change.
But I'm going with Thiem to win this quarter. I liked the progress I saw from Thiem on hard courts last year, and I think he's only going to get better in that department as he gets older. If it comes down to a match against Coric for a spot in the quarterfinal, I like our chances with Thiem given their history.
Thiem is 3-1 against the Croat, including the last three meetings — and I have a feeling there's a little big brother-little brother thing going on in that rivalry. So I think there's some value with Thiem finally breaking through at a hard court slam.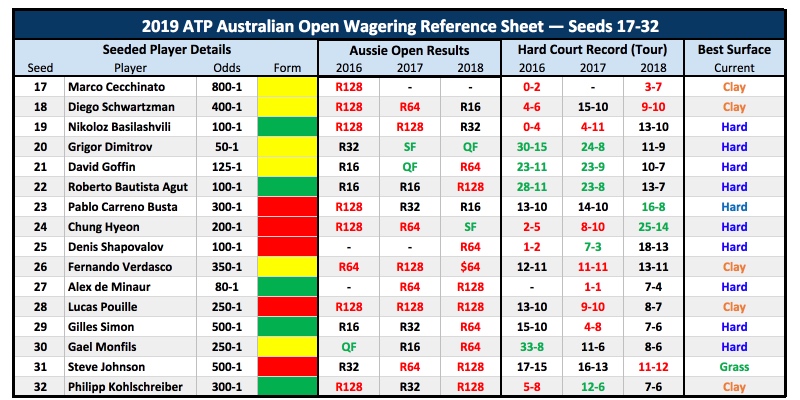 Quarter 3
Top Seed: Roger Federer (3)
Seeded Players: Marin Cilic (6), Karen Khachanov (10), Stefanos Tsitsipas (14), Nikoloz Basilashvili (19), Roberto Bautista-Agut (22), Fernando Verdasco (26), Gael Monfils (30)
After ending his 2018 season on a disappointing note, the Maestro, Roger Federer, looks rejuvenated (as he's known to look) after the offseason break — and I expect a good tournament from the 20-time Grand Slam champion (and two-time defending champ at the Aussie).
In his quarter, the only two players I think have legitimate chances of testing him are Marin Cilic and rising star Karen Khachanov. Both of these guys have big, imposing, games and — while Cilic, defending finalist and Grand Slam champion, has the experience — Karen Khachanov certainly comes into this tournament as the more "on form" player of the two.
Still, I question whether or not the new expectations and pressure will be too much for Khachanov to handle, after breaking onto the scene last year in Paris. So, for me, I think Cilic is the guy to keep an eye on in this quarter — especially after seeing him push Roger to five sets in the final, here, last year.
If Roger comes through the first rounds of this tournament strong, however, he will certainly be in control of his own destiny — and I think he's our man to survive this quarter of the draw.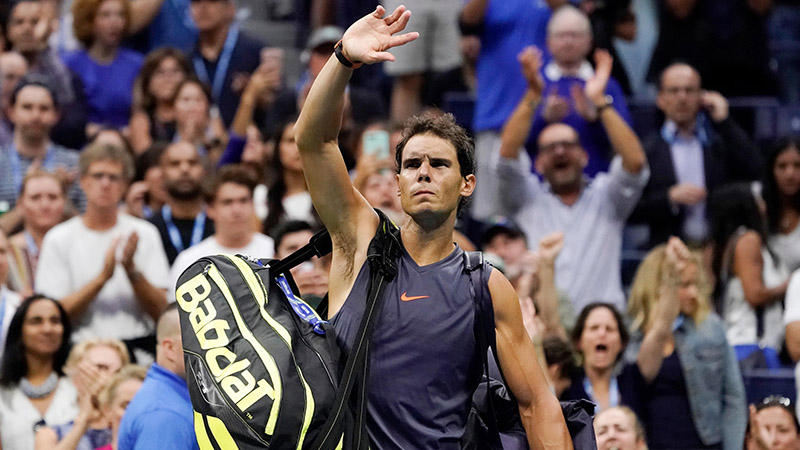 Quarter 4
Top Seed: Rafael Nadal (2)
Seeded Players: Kevin Anderson (5), John Isner (9), Kyle Edmund (13), Diego Schwartzman (18), Grigor Dimitrov (20), Alex de Minaur (27), Steve Johnson (31)
Finally, we arrive at the fourth quarter — which I think is the weakest one in the draw. Outside of the two top seeds (Rafa Nadal and Kevin Anderson) I'm not feeling great about any shock-picks making it out of this section of the draw.
Although the casual tennis fan may have high hopes for Kyle Edmund (who made the semifinal here last year) and Grigor Dimitrov (who made the semifinal in 2017), neither of these players will head into this tournament feeling good about their games.
I'm still not sold on Edmund's game on quicker courts and Dimitrov, well, I'm not sold on his backhand in general. That being said, I don't think either of these guys warrant much real consideration — at least in terms of competing for a title, here.
In my mind, this quarter will come down to Rafa's fitness. If Rafa is healthy, then he should advance out of this quarter. If Rafa is not healthy, well, then I think this quarter is Kevin Anderson's to lose. Personally (and I might be a little biased being a Rafa fan), I think Nadal will be fit to compete — and his pulling out of Brisbane was more precautionary than anything else.
I caught Nadal's match in Abu Dhabi last month against none other than Kevin Anderson, and — while it was only an exhibition — I was certainly impressed with Rafa's ball striking. Nadal's game has evolved (as his age has increased) and he's become much more of an attack-first player than he was in the past — and I think he'll enjoy playing that style of tennis on the quick conditions in Melbourne.
As far as Rafa's draw is concerned, his only real early test might come at the hands of Alex de Minaur — who has been soaring up the rankings over the past year. Nevertheless, it is hard for me to imagine de Minaur pulling off that type of upset in a match where he won't be the hardest working guy on the court.
Futures
Novak Djokovic to win (+125)
Roger Federer to win (+550)
Roger Federer to win 3rd quarter (+100)
Dominic Thiem to win 3rd quarter (+650)