Stuckey's 2019 WTA US Open Betting Preview: Who Can You Really Trust in New York?
Credit:
Dan Hamilton-USA TODAY Sports. Pictured: Bianca Andreescu
US Open betting action gets underway on Monday morning in Queens, New York.
Stuckey examines each quarter and provides his three futures on the women's side.
Everybody is excited for the start of football, but let's not forget that US Open betting action also starts on Monday. What a time to be alive.
It looks like another wide-open women's Slam. It's a really interesting draw with no shortage of question marks (either form or fitness) surrounding the top players. That makes it hard to find a good number players I can trust at their current prices, but I have found three worth an investment.
Before we get to that trio, let's take a closer look at this year's seeds and then each of the four quarters.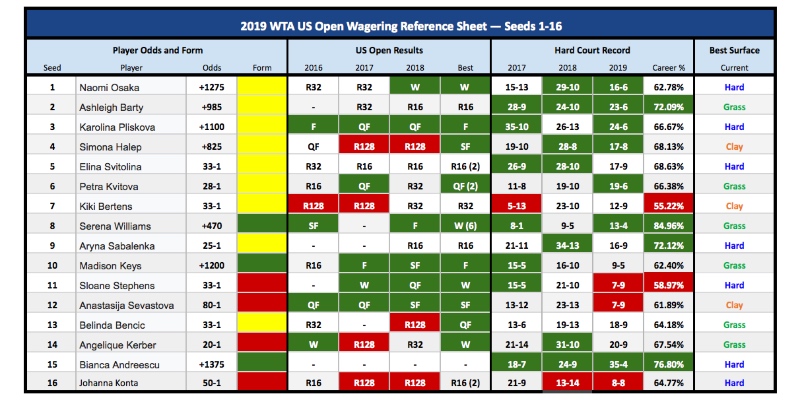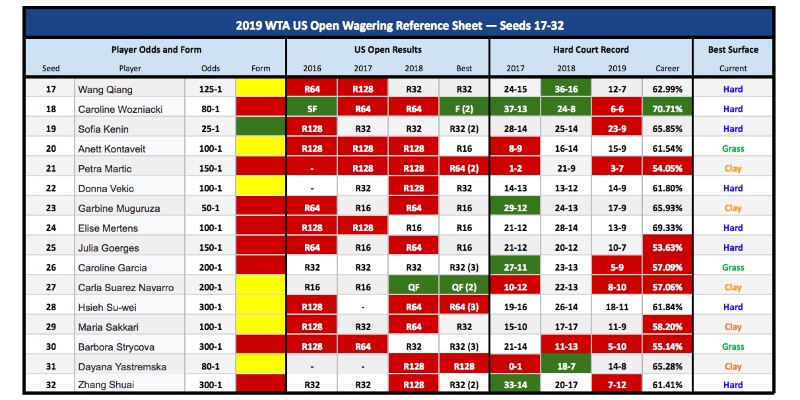 Former US Open Winners
In 2019 Draw
Serena Williams (6))
Venus Williams (2)
Svetlana Kuznetsova (1)
Angelique Kerber (1)
Maria Sharapova (1)
Sam Stosur (1)
Sloane Stephens (1)
Naomi Osaka (1)
Only the Williams sisters have won multiple US Open titles among this year's field, combining for eight of 14 past championships won by women in the draw.
Recent US Open Semifinalists
Since 2016
Serena Williams (2)
Madison Keys (2)
Anastasia Sevastova (1)
Naomi Osaka (1)
CoCo Vandeweghe (1)
Venus Williams (1)
Sloane Stephens (1)
Karolina Pliskova (1)
Caroline Wozniacki (1)
Angelique Kerber (1)
More American success in New York, as Serena and Keys are the only two women to make multiple semifinals in the past three US Open tournaments. The only two who have made it at least to the quarterfinal round in each of the past three years are Karolina Pliskova and Anastasia Sevastova.
2019 Hard Court Titles
Since Wimbledon
Madison Keys (Cincinnati)
Bianca Andreescu (Toronto)
Jessica Pegula (Washington)
Zheng Saisai (San Jose)
Magda Linette (Bronx)
US Open Quarter 1 Betting Preview
Top Seed: Naomi Osaka
Defending champion and current World No. 1 Naomi Osaka (+750) has a relatively easy draw on paper with Carla Suarez Navarro the only potential seed she could meet in the first three rounds. Although young American phenom Coco Gauff (80-1) will certainly have the New York crowd on her side.
The problem is Osaka may not be fully fit after retiring in Cincinnati with a knee injury.
Naomi Osaka at the @usopen draw ceremony about the knee injury she sustained @CincyTennis:

"It's getting better. I would say I'm a fast healer so I'm banking on that.

"I'm here and I feel as healthy as I can be."

— WTA Insider (@WTA_insider) August 22, 2019
Osaka also just hasn't looked quite right during the summer hard court season, so I have no interest at her current price, especially with the knee concerns.
So, who can take advantage of a potentially vulnerable Osaka? To me, these are the main contenders in the quarter:
Kiki Bertens (29-1)
Aryna Sabalenka (36-1)
Victoria Azarenka (45-1)
Belinda Bencic (45-1)
Donna Vekic (65-1)
Julia Goerges (80-1)
Anett Kontaveit (110-1)
I immediately passed on Sabalenka, Azarenka and Vekic, who all reside in the same mini-section — along with a few potential spoilers.
Elsewhere, Goerges simply doesn't come in with enough form. And while Kontaveit has played decent tennis recently, she has lost in the first-round here in each of the past three years.
That leaves Bertens and Bencic. The former has a fairly easy draw, but has historically struggled on this surface and has never thrived in New York, so I'd need more than 30-1 to even consider.
That leaves Bencic, who has struggled at Slams this year and has dealt with a foot injury of late. However, the Swiss does hold a 3-1 record over Osaka (who she could meet in the fourth round). That includes two wins in two tries this year and a 2-0 record on hard courts.
---
US Open Quarter 2 Betting Preview
Top Seed: Simona Halep
Simona Halep (+750), the most recent Slam Champion, is seeking her third overall major victory and first on a hard court. Surprisingly, the Romanian has lost in the first round in two consecutive years here but does have one US Open semifinal appearance.
Like Osaka, if Halep just brings her C-plus game, she should cruise to the fourth-round. But the Romanian also recently had to pull out of a tournament with an injury (achilles in Toronto). It might not be serious, but it's worth noting.
If healthy, the only seed that could stop her from reaching R4 is Barbora Strycova, who I can't see making a deep run here.
But unlike Osaka, Simona doesn't have any injury concerns. At the same futures price, I'd much rather back Halep but +750 is not high enough for me to invest.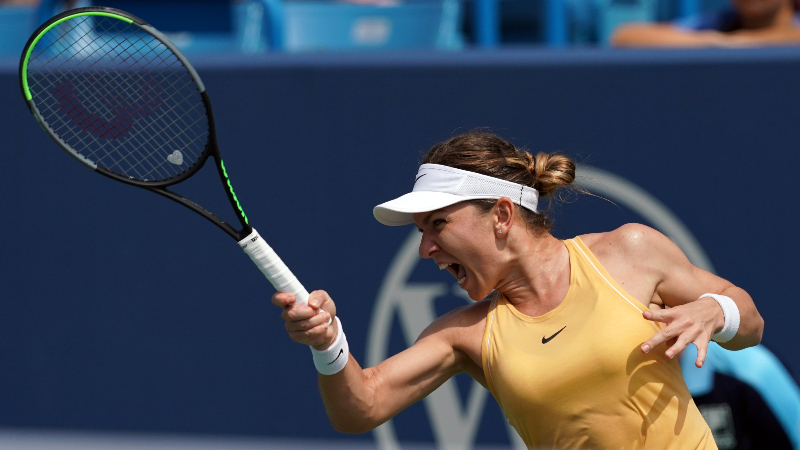 The two seeds that would most likely meet Halep in the fourth round are Caroline Wozniacki (80-1) and Bianca Andreescu (29-1). This is the Dane's favorite surface and she loves New York. However, this just isn't her year, as evidenced by a subpar 6-6 hard-court record in 2019.
You know who's year it is? Canadian star Andreescu, who recently won in Toronto and boasts a spectacular 35-4 record on hard courts this calendar year. When healthy, she's simply splendid and has been one of the most consistent players on Tour in 2019
This will be her first main draw appearance at the US Open but she has the game (and head) to make serious noise, especially if Halep is wounded.
In regards to the bottom half of this quarter, your guess is as good as mine. There are actually five former Grand Slam champions but none arrive in New York in peak form outside of Svetlana Kuznetsova (80-1).
Petra Kvitova (22-1) has the easiest path of the five, but she just hasn't looked right this summer.
Sure, Sloane Stephens (45-1) and Garbine Muguruza (65-1) have demonstrated they can get hot out of nowhere and win a Slam, but it feels like guesswork trying to figure out which woman will make it through this bottom half.
US Open Quarter 3 Betting Preview
Top Seed: Karolina Pliskova
The chase for the Czech's first slam continues and this might be her best opportunity yet. Pliskova (10-1) has enjoyed plenty of success in New York and has the easiest draw of any top seed in my opinion.
In the other half of this quarter, the in-form Madison Keys (14-1) is the favorite to make it through. The American, fresh off a win in Cincinnati, is also seeking her maiden Major victory.
However, Keys does have a tougher draw than Pliskova with a potential third-round matchup with a fellow in-form American, Sofia Kenin (29-1). Keys can also beat herself on any given day.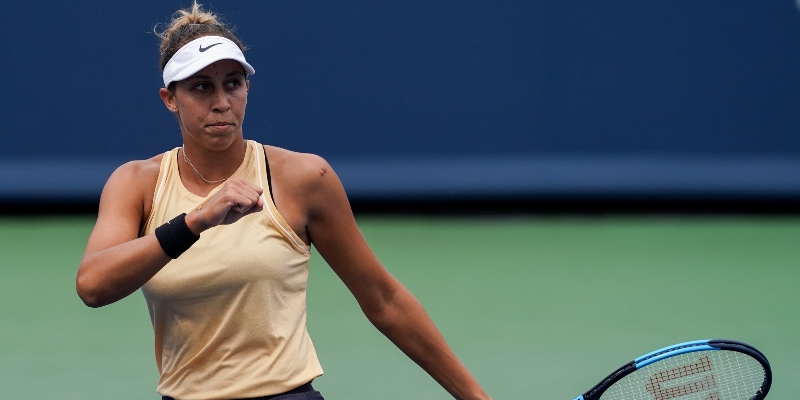 Kenin is one of the players I trust the most on Tour right now. Her game is just so consistent. However, she did just lose to Keys in Cincy and is 0-3 against Plskova.
Elina Svitolina (36-1) is actually the top seed in the Keys/Kenin half. While she's playing better of late, I still don't trust her at Slams. The Ukrainian did just make a deep run at Wimbledon, but that spoke more to an extremely favorable draw. She also has a tricky draw with Venus Williams and countrywoman Dayana Yastremska looming as potential second and third-round matchups, respectively.
If the mercurial Pliskova doesn't beat herself, she should sleepwalk to the quarterfinals. There just isn't any real threat in her eighth of the draw.
---
US Open Quarter 4 Betting Preview
Top Seed: Ashleigh Barty
I want no part of this quarter.
I simply have no interest in betting against Serena (+490) coming out of a quarter at the US Open. The six-time champion has made at least the quarterfinal round here in 10 straight appearances!
And even more impressive, Serena hasn't lost before the US Open semis in nine straight appearances. The American has also never lost in the first two rounds here and has made it to the fourth-round in 17 straight trips to New York. Yes, 17!
However, there are some injury concerns with Serena, who had to retire in the Toronto final with back spams. That issue also caused her to withdraw from Cincinnati but maybe that was simply a preventive measure. And on the positive side, she won't have to play back-to-back days in this tourney.
Still, I can't back Serena at such a low price with injury questions. She'll start off her quest for Slam No. 24 with a blockbuster first-round matchup against Maria Sharapova (who also has injury questions with her wrist). Serena has dominated the head-to-head against the Russian, winning 18 straight overall.
If fully fit, Serena should make it 19 in a row against Maria and get to the quarterfinals with relative ease. Anastasia Sevastova(80-1) has made the quarters here in three straight years but the Latvian comes in off her game.
Serena's most likely opponent in the quarterfinal would be either Angie Kerber (22-1) or Ash Barty (+750). Although Camila Giorgi could bash her way to a few upsets in this section. The Italian is playing extremely solid tennis of late, having appeared in two summer hard-court finals (Washington and Bronx).
Kerber just isn't in form right now and Barty hasn't necessarily been peaking during the summer hard-court swing. While always dangerous, I think the Aussie might be dealing with some fatigue — both mentally and physically.
Again, I want no part of any futures from this quarter.
My 2019 WTA US Open Futures Bets
Belinda Bencic 45-1
Bianca Andresscu 16-1
Karolina Pliskova 10-1
In the first quarter, I'm buying Bencic, despite some fitness concerns. I'm generally higher on the Swiss than the market and have been burned in the past backing her at Slams but I'm sticking to my guns here. If healthy, she's the one I think can benefit from a vulnerable Osaka. That said, make sure you shop around; anything lower than 40-1 is pushing it.
In all likelihood, the second quarter will come down to a blockbuster fourth-round match between Andreescu and Halep. I could see it going either way, so I'll invest in the Canadian at the much more generous futures price. Look for anything at 15-1 or better.
Lastly, I'm simply betting on Pliskova's extremely easy draw. She may make a mess of things but the path is too generous to pass on a shot at the Czech finally breaking through. I wouldn't go any lower than 10-1, though.
The one I almost pulled the trigger on was Sofia Kenin but ultimately passed on price.
How would you rate this article?