2019 Wimbledon ATP Betting Preview: Can Anybody Upend Djokovic, Federer and Nadal?
Credit:
Susan Mullane, USA Today Sports. Pictured: Roger Federer
The 2019 Wimbledon Championships begin on Monday, July 1 at the All England Club in London.
Novak Djokovic (+145) is the favorite to win the tournament with Roger Federer (+330) and Rafael Nadal (+650) right behind him.
Daniel Scotti previews each quarter of the tournament and suggests a few future bets along the way:
The 2019 Wimbledon Championships begin on Monday, July 1 at the All England Club in London. Novak Djokovic is the defending champion and the betting favorite at +145 with Roger Federer +330 and Rafa Nadal (+650) behind him.
It's been a while since anybody other than "The Big Three" have won a Grand Slam. And when it comes to Wimbledon, those three are the only ones in the field who have won a title in London since 2003. The only other to win Wimbledon over that 16-year span (Andy Murray) isn't in the field this year.
Could Wimbledon offer the opportunity for some new blood to lift some hardware? Let's take a look at the seeds and then dive into each quarter.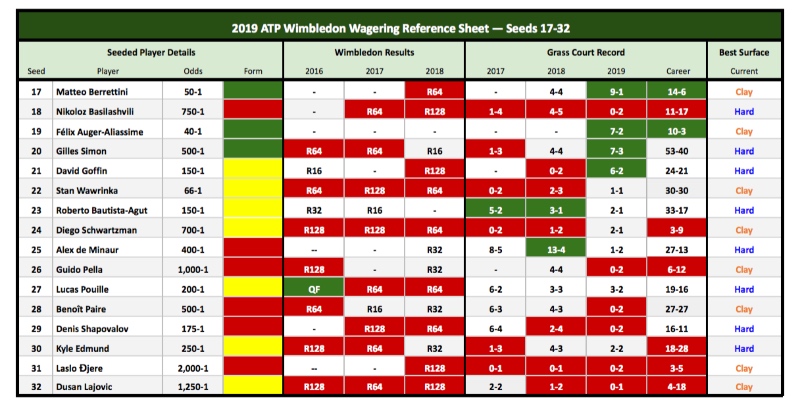 Wimbledon Quarter 1
Top Seed: Novak Djokovic
A few things stick out to me in this quarter.
I had my eyes on Felix Auger-Aliassime before the draw (I played him 90-1 to win Wimbledon a few weeks ago) as I thought he was primed for a deep run. The 19-year-old Montrealer has taken such rapid strides in the past few months, that I do believe he's on the verge of breaking through at a Grand Slam-level tournament.
That said, a potential fourth-round matchup against the World No. 1 looms large over FAA's draw and it would take a massive effort from the young phenom to get by Djokovic. FAA has the offensive weapons to beat a guy like Djokovic — but he's still unproven in the best-of-5 format and has never won a Grand Slam match. Nevertheless, Auger-Aliassime is the only real threat I see for Djokovic en route to the quarterfinal.
Grigor Dimitrov is also hanging around the top half of the region — but FAA disposed of the Bulgarian in straight sets just a few weeks ago and clearly is the better player right now.
As for the bottom half of the draw, I'm hoping for (and think we'll get) a fourth-round match featuring two rising players with bad blood: Daniil Medvedev and Stefanos Tsitsipas.
While Meddy owns the rivalry to this point, and might be the more capable player on grass, I would fancy Tsitsipas in that match. Tsitsipas has a champion's mindset and I love his competitive nature. He's also got the more robust Grand Slam resume to this point in their young careers.
I think Tsitsipas will advance to the quarterfinals and will back him to win the quarter at +750.
Wimbledon Quarter 2
Top Seed: Kevin Anderson
While this region is technically Kevin Anderson's quarter due to Wimbledon's seeding, the headliner in this region is Alexander "Sascha" Zverev. However you want to look at it, this is the most wide-open part of the draw.
Outside of the top two seeds mentioned above, I have my eyes on a different player to come out of this region — at a pretty hefty price.
I like the looks of Roberto Bautista-Agut at 14-1 to survive this quarter. Although Spanish players typically do their best work on clay courts — which seem to suit their top-spinny shots — RBA has a different game. He hits much flatter than his compatriots; and I've always fancied his game on faster surfaces, specifically grass courts, where he's enjoyed much success over the years.
RBA owns a 31-16 record on grass in his career won a grass tournament back in 2014. So far this year the 31-year-old has looked solid on the lawn, straight-setting Taylor Fritz (who recently won a grass title in Eastbourne) and Richard Gasquet (a very good grass player) in Halle, before bowing out against Roger Federer in a third set.
With a relatively light looking draw, that will probably lead to a meeting with Sascha Zverev in the fourth round (where I'd fancy the Spaniard) I'm looking at RBA to come out of this quarter and think 14-1 is a great price.
Wimbledon Quarter 3
Top seed: Rafael Nadal
This quarter is littered with big names like Rafa Nadal, Dominic Thiem, Marin Cilic and the mercurial Nick Kyrgios, and still I think Nadal will survive the field.
However, I do think we'll see some fireworks early in this section of the draw. Thiem, who is coming off a runner-up finish at the French Open, will have to deal with Sam Querrey in Round 1 and the American looks to be back in good form and is always dangerous on grass.
There's also the potential second-round showdown between Nadal and Kyrgios. If you remember back to 2014, Kyrgios took out Nadal at Wimbledon as an 18-year-old — and surely has the game to do it again.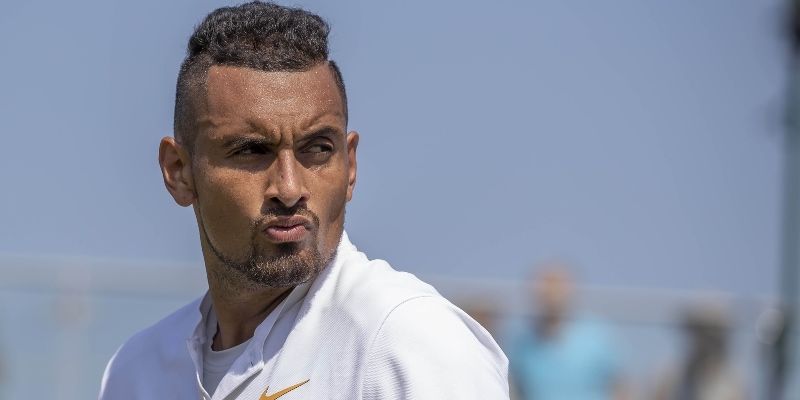 Still, with Kyrgios' commitment up in the air, it's hard to justify the idea of backing the volatile Australian in any capacity this tournament — especially after he backed out of the French Open without any real ostensible injury. Nadal is more focused, comes in with less fitness concerns and, as a two-time past Champion at Wimbledon, should be the man to make it out of this Quarter.
If he can get through Querrey, Thiem is an option. His section of the quarter is pretty soft but I'm still not totally in love with the idea of Thiem on fast surfaces.
Thanks to his poor form, Marin Cilic is the sleeper of this quarter, though he also has a tricky opening match against Adrian Mannarino. I know he's been a dumpster fire, for lack of better phrasing, of late, but, still, he should have a little more margin for error in the best-of-5 format — and clearly has the quality to go deep at a Grand Slam.
I think Nadal will make it through this section — and added a future on him to win Wimbledon to my portfolio. However, I'm also going to play a half-unit on Cilic (+750) and a quarter-unit on Denis Shapovalov (25-1) to win this quarter. Shapovalov has the shot-making arsenal to enjoy a run at the All England Club.
Wimbledon Quarter 4
Top seed: Roger Federer
That leads us to Roger Federer's quarter and there are some interesting storylines here.
First of all — I see a lot of young guns floating around this region: Matteo Berrettini (who's tore up the grass this season — and won a title), Alex de Minaur (who excels on quicker courts), Lucas Pouille (who tends to show up in Grand Slams) and Filip Krajinovic can all make deep runs.
But, for me, I'm going to play it safe here and back Federer to win this quarter. Fed's had another strong season so far in 2019, including a deep run (perhaps deeper than we expected) at the French Open. I also love the fact that Roger won a tune-up grass tournament ahead of Wimbledon, He should be feeling confident about his game — and at home, in general, on the courts at the All England Club.
I also think there's some value on Roger to win the tournament, even at the short price of +330.
2019 ATP Wimbledon Futures
Roger Federer +330
Rafael Nadal +650
Felix Auger-Aliassime 40-1* (0.5 unit)
Roberto Bautista-Agut to win quarter 14-1 (0.5 unit)
Stefanos Tsitsipas to win quarter +750 (0.5 unit)
Denis Shapovalov to win quarter 25-1 (0.25 unit)
Roger Federer to win quarter -200
*I have 90-1 but still like it some at 40-1
How would you rate this article?