Stuckey's WTA Wimbledon Betting Preview: Will Coco Gauff's Ride Continue?
Credit:
Susan Mullane, USA Today Sports. Pictured: Coco Gauff
Wimbledon betting action will resume on Monday with every fourth-round match on the men's and women's side.
Stuckey previews all eight women's R4 matches and shares his overall betting thoughts for Manic Monday.
I hope everyone is as excited as I am for Middle Monday at Wimbledon aka Manic Monday aka the best tennis betting day of the year. All 32 remaining players on both the mens' and women's side will all be in action.
We have a fantastic diversity of players remaining on the WTA side with three Wimbledon first-timers and four former Grand Slam champions still alive for the title. It should be a wild day of action.
Hit it, Bangles.
Let's get into comprehensive previews for each of the eight women's matches on Monday. I will finish up with my overall betting thoughts for the day.
---
WTA Wimbledon R4 Betting Preview
Ashleigh Barty (-594) vs. Alison Riske
Time: Monday, 6 a.m. ET
H2H: Riske leads 1-0
Two grass-lovers will clash early on Manic Monday.
Riske has followed up a 10-3 grass campaign in 2018 with a stellar 13-1 record this year. The American is now 76-31 (71.04%) for her career on grass, which includes four wins in her last five tries against top-20 opponents.
While those numbers are extremely impressive, Barty's are even better on grass — where she's a perfect 8-0 this year and 58-15 (79.45%) for her career. Her complete all-around game can translate to any surface but especially grass (her best). The Aussie has an extremely effective serve and one of the most vicious slices on Tour.
Barty has won 15 consecutive matches — and an even more impressive 20 straight sets (none of which required a tiebreaker). That streak spans her first ever Grand Slam championship at the French Open, a grass title Birmingham and three easy victories so far at Wimbledon.
Barty has lost only 12 total games in her three victories. Meanwhile, Riske lost two more than that in her last match alone.
Riske has had the much tougher path, taking out two women who could've potentially won this tournament in Belinda Bencic and Donna Vekic. She needed to scrap in each, which could catch up to her this week.
How much does Riske have left in the tank? That's a reasonable question for a player that has covered a distance of 25,387 feet (4.8 miles) so far at Wimbledon — especially against one that has covered less than half (2.37 miles) that amount.
Riske won their only previous encounter, which did come in two tight sets on grass in an ITF event back in 2016. This tournament marks the 30th career Grand Slam appearance for the American, who has only made it this far once and never made it further.
Regardless, I think this line is a tad too high but betting Riske for the first set might be the better approach with fatigue being a concern.
---
Elina Svitolina (-117) vs. Petra Martic
Time: Monday, 6 a.m. ET
H2H: Svitolina leads 3-1
Each of their four prior meetings came on clay with Svitolina taking two at the French Open (one via Martic retirement). Two of the three completed matches went a full three sets.
Svitolina will be seeking her fifth-career Grand Slam quarterfinal — although none of the previous four came at Wimbledon. Martic has only had previous Slam quarterfinal appearance but it came just last month in Paris.
This is still Svitolina's worst surface. The Ukrainian arrived in London with a career 15-18 record on grass. And despite three wins in a row, she's still not in great form.
She saved a match point before Margarita Gasparyan retired with an injury in the Round 2, and then needed three sets to get past a wild Maria Sakkari. Svitolina has a very suspect 46:61 winners: unforced errors ratio for the tourney, and  also had a foot blister issue in her last match.
On the other hand, Martic has won 60% of her career grass-court matches and arrived in London in much better form than her fourth-round opponent. And while she hasn't played the cleanest tennis all tourney, needing three sets in each win, she's looked more formful than Svitolina.
Martic just constructs points with more authority on grass where her backhand slice also becomes a useful tool. I ultimately think Martic's second serve will end up being the difference in a likely back-and-forth affair. The Croat has won 58% of her second-serve points, which is significantly higher than Svitolina's 43.7%.
---
Elise Mertens (-144) vs. Barbora Strycova
Time: Monday, 6 a.m. ET
H2H: Mertens leads 1-0
This match will feature two players that are also still alive in doubles.
In their only previous meeting, Mertens won in straight sets at last year's US Open. I don't much too much stock into that hard-court result, as grass is clearly Strycova's best surface.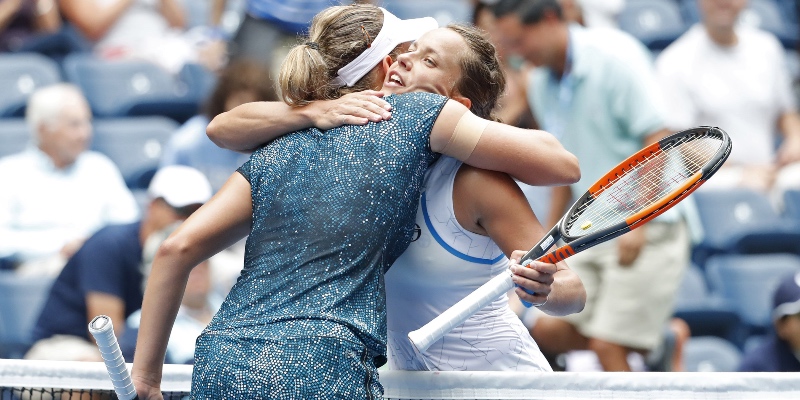 Both players have excellent mobility on grass. Mertens plays tremendous defense from the baseline on all surfaces but Strycova is the more natural grass-courter.
I think Strycova will play more aggressively and come forward at a higher frequency to win points at the net in a match that should see plenty of long rallies. That could be the difference in a matchup that could go either way.
In a match I essentially make close to a coin-flip, I certainly think Strycova is worth a wager at anything north of +115.
---
Dayana Yastremska (-180) vs. Shuai Zhang
Time: Monday, 6 a.m. ET
H2H: Yastremska leads 1-0
This is a matchup of two unseeded players, ensuring an unseeded woman will make a Grand Slam quarterfinal for the 23rd consecutive time. Both women have had fairly tough routes to the fourth-round.
Shaui has looked incredible so far this tournament, which is quite a surprise for someone who had never won a match at Wimbledon (0-5). She hasn't dropped a set and lost only 10 combined games in two victories over seeds Caroline Wozniacki and Caroline Garcia.
The match will still be on Yastremska's racquet. The young Ukrainian has power for days and goes for her shots with an ultra-aggressive style. However, her game can go off the rails at times.
These two have met once before — a straight-set victory for Yastremska on a hard court in the Hong Kong semifinals last year. We could see a similar result if Yastremska is firing deep winner from the jump..
However, nerves could play a part for the 19-year-old, who has never been this far at a Grand Slam. Shuai Zhang has been this far before (and won) — and is playing way too solid to be a +160 underdog here. She's a very streaky player that is very dangerous once she has momentum and confidence.
---
Serena Williams (-637) vs. Carla Suarez Navarro
Time: Monday, 8 a.m. ET
H2H: Serena leads 6-0
Serena not only has won all six prior meetings, she did so without dropping a set. In fact, Suarez Navarro has only won 16 TOTAL GAMES (!) in those 12 sets. The Spaniard has never won more than three games in a set against Serena — who won five of the 12 sets via bagel.
In their only two meetings at Grand Slam, Serena only lost three total games in four sets.
They've never met on grass but that's even more telling since this is Serena's best surface and Carla's worst. And while they haven't faced each other since 2015, those previous results scream mismatch as you'd expect.
Suarez Navarro hasn't lost a set in three matches, but she just doesn't have the power or serve to stay with the seven-time Wimbledon champ, especially on grass. The only way Suarez Navarro can advance is if Serena just doesn't show up.
I actually make Serena a heavier favorite than the market and the -5.5 games is also intriguing. In order for Suarez Navarro to simply cover +5.5 games, she'd have to first do something she has never done before: win more than three games in a set against Serena.
Serena should improve her career Wimbledon fourth-round record to 14-2.
---
Karolina Pliskova (-697) vs. Karolina Muchova
Time: Monday, 8 a.m. ET
H2H: Pliskova leads 1-0
It's an all-Czech battle, each Karolina is seeking their first ever Wimbledon quarterfinal.
Despite having a game that should thrive on grass, Pliskova has made the quarterfinals or better at every Grand Slam except Wimbledon. Meanwhile, this is the furthest Muchova has ever advanced at any Major.
Pliskova is in splendid form, having won eight straight matches on grass, dropping only one set. In her most recent win against the unorthodox Su-Wie Hsieh, Pliskova continued her clean tennis with 42 winners to just 14 unforced errors.
Hsieh should serve as an excellent primer for Muchova — who also has a ton of variety in her game. Her forehand slice and use of drop shots are well-suited for the grass — and will test Pliskova's movement once again.
Muchova, who has yet to drop a set during this tournament, has a fairly reliable first serve but won't get anywhere closer to the number of free points that Pliskova will enjoy. That ultimately could be the difference in the match.
Pliskova actually defeated Muchova at the Australian Open in straight sets earlier in the calendar year. However, the 22-year-old Muchova has been steadily improving with each passing day.
Like Barty, Pliskova is in such good form, which makes her tough to fade right now. That said, this line is a touch high and Muchova has the grass game to give her fellow countrywoman fits. They will also play on the slower Court No. 2, which should help the younger Czech.
---
Simona Halep (-464) vs. Coco Gauff 
Time: Monday, 10 a.m. ET
H2H: No previous meetings
The match everyone wants to tune in for on Manic Monday. Can the 15-year-old continue her magical run against a former Grand Slam champion? It will be her biggest test of the tournament by far.
Halep looked pretty vulnerable in the first two rounds before she breezed by Viktoria Azarenka on Friday. However, while the final result looks dominant, Halep benefited from good fortune on break points. Azarenka just had a completely off day with 33 unforced errors to just 14 winners. but the Romanian did look better and should be feeling better about her game.
If you're looking for a reason to back Gauff, there are some factors on your side. Not only does she have a game that should thrive on grass, she seems to have the maturity of a 25-year-old and showed the fight of a champion in her win over Polona Hercog.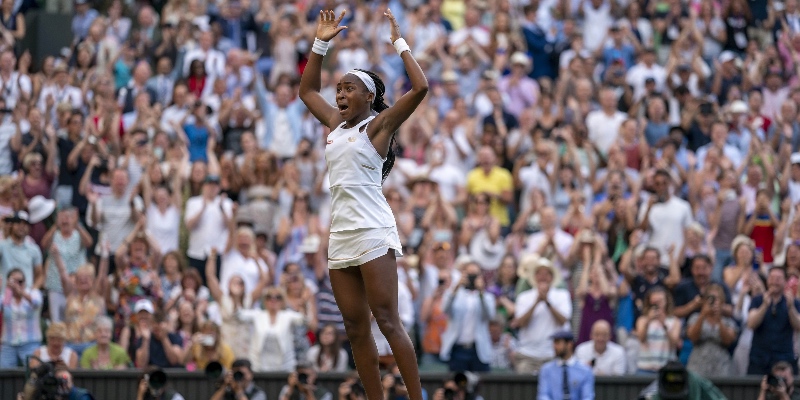 Grass is also Halep's worst surface.
Another potential advantage is pressure, which I actually think is now all squarely on Halep — the heavy favorite expected to win this match. Gauff might be able to relax after finding a way to stave off match points to get to this point. She may also have the crowd get behind her once again, which could frustrate Simona.
All of that said, I think Halep will be too solid here. As long as she keeps her head, I think she'll be too much for the teenager. Simona's elite defense should be the difference, as I don't think Gauff has the experience to make the necessary in-match adjustments or power to consistently hurt Halep.
I also wonder how much Gauff has left in the tank from both a physical and mental standpoint.
---
Petra Kvitova (-178) vs. Johanna Konta
Time: Monday, 10:30 a.m. ET
H2H: Kvitova leads 3-1
The lone fourth-round women's match on Centre Court should be a dandy between two in-form power players that are more than capable on grass.
Konta has been in excellent form since the start of the clay season. The Brit made two finals on the dirt leading up to her French Open semifinal run.
Meanwhile, we didn't even know if Kvitova would be healthy enough to compete in this tournament. But after not playing since Rome with no grass tune-ups, the two-time Wimbledon champ hasn't missed a beat. She has yet to drop a set in three matches.
Hello @Wimbledon – I'm back!

Happy to tell you that my arm is improving and I just hit some balls on the beautiful grass for the first time 👍

I'm doing everything I can to be able to compete here but I'll make a final decision later this week. Fingers crossed! 🤞 pic.twitter.com/bvZmiknV8b

— Petra Kvitova (@Petra_Kvitova) June 25, 2019
Kvitova hits powerful left-handed groundstrokes that wonderfully complement her plus-variety. When her serve is rolling, she's one of the toughest grass outs in the world.
Konta is very streaky. When she gets on a roll, she's tough to beat late in a tournament. That's part of the reason she has been so boom-or-bust at Grand Slams. She has made a semifinal at three of the four Majors (and two US Open fourth rounds) — but lost in the first or second round in all 16 other Grand Slam appearances.
And while Konta has three passports, she will only have one that matters on Monday: the British passport. The Centre Court crowd should be fully behind the last remaining Brit singles player on either the men's or women's side.
The Czech has won three of four against Konta but split their two meetings on grass. From a pure matchup perspective, Kvitova should have the edge on grass. When fit, she has a better serve and return on this surface — and she also loves getting pace from her opponent, which Konta will certainly provide.
Is Kvitova fully fit? While she has looked the part so far, the forearm injury could still become a problem this week.
---
WTA Wimbledon R4 Betting Thoughts
Per my numbers, Martic, Strycova and Zhang are the three underdogs with the most value.
The long shot with the best chance of an upset is Muchova.
Grass-specialist Riske might be worth a first-set flier.
I think Serena cruises.
I wouldn't be shocked to see Halep do the same but too much unknown for me there.
Konta-Kvitova is a must-watch match that I won't bet.
How would you rate this article?