2020 US Open Odds, Betting Picks & Preview: Our Favorite Tournament Futures, Sleepers and More
Credit:
(Photo by Matthew Stockman/Getty Images) Pictured: Milos Raonic.
Our tennis analysts highlight their favorite futures to bet before the 2020 U.S. Open, whether it be tournament outrights or taking players to win their quarters.
They've got four plays on the men's side and two more on the women's.
Get our full breakdown and futures preview for the 2020 U.S. Open below.
The 2020 US Open begins on Monday, Aug. 31 at the Billie Jean King Tennis Center in Flushing, New York. While the tournament format remains largely unchanged from previous years, there are huge names missing from both sides of the draw.
Roger Federer and defending champion Rafael Nadal will not participate on the men's side, while Ashleigh Barty, Simona Halep and Bianca Andreescu will sit out on the women's side.
The missing starpower, plus the other unknowns that we're dealing with, could turn this into one of the most wide open Majors we've seen in years.
With that in mind, here are our favorite bets for the 2020 US Open:
ATP
Gil Gross: Milos Raonic to win US Open (+1700)
Nobody was expecting much from Raonic in New York after Diego Schwartzman posted this.
Either the Instagram comment fat-shaming gave the Canadian extra motivation to prove the haters wrong, or the pasta belly is his secret to success, because Raonic is playing his best tennis since circa-2016.
Coming off a run to the final at the Western & Southern Open on these same courts, this isn't the creative pick. For me, it's still the clear choice for value as an outright winner. I have top seeds Novak Djokovic, Stefanos Tsitsipas and Daniil Medvedev as the three other semifinalists.
In that group, Tsitsipas (+750) has the longest odds, still not nearly the payoff you'd get from The Missile.
The key to Raonic's success has been his play off the ground. He has one of the best serves on tour, but he's not truly dangerous unless he's backing it up with confident first forehands and effective forays to the net.
The topspin backhand has been a glaring weakness at times, but it seems to be holding up nicely. He's never been a great returner, but as of late he's putting the ball in play more often.
That's putting a lot of pressure on the server, because one break is usually enough for Raonic to snag the set. Raonic is actually breaking serve in 2020: he's only won two of his last 11 sets via the tiebreaker.
The brand new court surface, which plays significantly faster than the US Open of old, is undoubtedly aiding Raonic in New York. On a slower surface, Dominic Thiem, a potential quarterfinal challenger, would be heavily favored against the Canadian.
Thiem has really struggled with his return on the quickest surfaces, making Raonic an attractive upset pick in that matchup. I was expecting huge things out of Thiem in New York, but a mystifying 6-2 6-1 loss to Filip Krajinovic in the first round of the Western & Southern provided no inspiration.
A third-round collision with the machine-like Roberto Bautista-Agut is cause for some concern, but Raonic owns a 5-0 head-to-head with the Spaniard, including a four-set victory at this year's Australian Open.
An underpowered Alex De Minaur could loom in the fourth round, providing a very realistic path to the QF.
If Raonic cracks the final four, I'd have him as a slight underdog against Daniil Medvedev, but his strong backhand slice and net-rushing abilities would give him an opportunity to win.
The only player who I can't see Raonic breaking is top-seed Novak Djokovic. If he gets to the Serb on the second Sunday, you already made money (hint: hedge).
[Bet the US Open at DraftKings and get a $1,000 sign-up bonus.]
Dillon Essma: Milos Raonic to win Quarter 4 (+450)
With Federer and Nadal skipping, Djokovic is an odds-on favorite to win the US Open. Some bettors will try to find value by taking on Djoker, but I think the smartest path is to take some shots in the Quarters Market and just bet Djoker to win this thing at anything under -130.
To me, the contenders to challenge him are Daniil Medvedev, Milos Raonic, and I will throw in Andrey Rublev. Just briefly, I do like Medvedev to win his quarter at anything under -130. His only real competition funny enough is Rublev. You could take a shot on Rublev, but I played Medvedev at +105.
All that said, the bet I think has the most punch on the men's side is backing Milos Raonic to win his quarter at +450. The Canadian is in great
As most tennis fans know, he is in great form. He is playing Djokovic in a final after pulling off two really nice wins over strong opponents in Krajinovic and Tsitsipas. He is historically a very serve orientated player, dominating service points won at around 72%. His problem has always been returned points won, with only 33%, which is pretty poor.
However, he showed me something by battling back against Krajinovic and winning some returns against Tsitsipas (who is third favorite in this event). On top of positive recent form, the quarter in my opinion is up for grabs. Dominic Thiem is best on clay and played really poorly in this most recent tournament. I will take the 4.5-1 to win his quarter.
[Bet the US Open at DraftKings and get a $1,000 sign-up bonus.]
Sean Zerillo: Diego Schwartzman to Win Quarter 2 (+1600)
Based upon the ATP US Open Forecast from Tennis Abstract, I see value on three players in both the tournament outrights and quarter-winner markets for this tournament – and those players come from the first (Novak Djokovic), third (Andrey Rublev) and fourth (Alex de Minaur) quarters of the draw.
Diego Schwartzman (projected +1000) and Hubert Hurkacz (projected +2600) each offer betting value in Quarter 2, headlined by Stefanos Tstsipas, who has yet to make it out of the second round in Flushing Meadows.
Schwartzman has a relatively difficult Round 1 battle with Cam Norrie – lined around -250, whereas Hurkacz is listed around -450 against Peter Gojowczyk – and the two are set to potentially face off to win the section of their draw.
Hurkacz has yet to hit his ceiling as a player, and though I'll continue to back him as an underdog against other top players, I would prefer to back Schwartzman – a two-time US Open quarterfinalist (2017, 2019) to make another run in a Slam.
He has a career 57% win rate in best-of-5 matches, compared to a 52.4% win rate in standard best-of-3 matchups.
[Bet the US Open at BetMGM and get an INSTANT $500 deposit match.]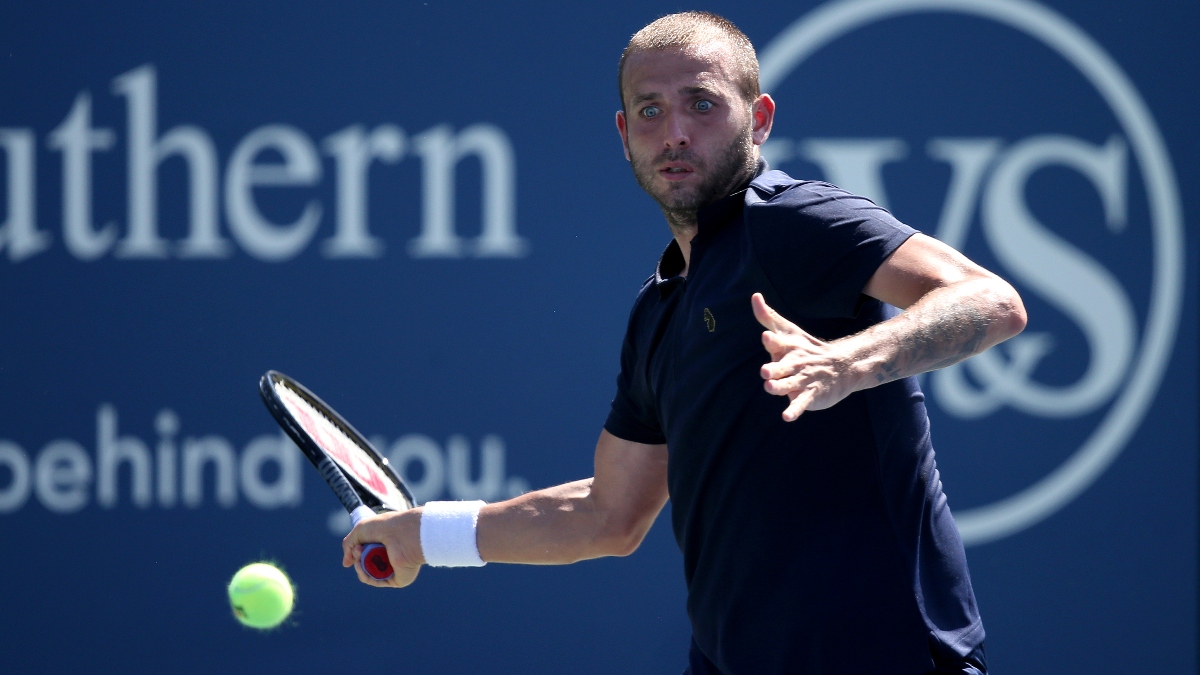 Michael Leboff: Dan Evans to win Quarter 4 (+5000)
I'm leaning into the chaos for the US Open and Quarter 4 — and more specifically the bottom part of Quarter 4 — is the part of the bracket where I think the most shenanigans will transpire.
The top half of Q4 features Milos Raonic, Roberto Bautista-Agut, Alex de Minaur and Karen Khachanov, so that portion of the draw is a mini-gauntlet. Avoiding that portion of the draw is key because the other half of Q4 is wanting.
Dominic Thiem, the +220 favorite in Q4, is the headliner down here but he looks like he could be a vulnerable favorite after his poor showing on these quick surfaces in the Western & Southern Open.
Outside of Thiem, none of the other big names in this section scare me. Felix Auger-Aliassime is still at the beginning of his career. Marin Cilic is on the opposite end of his. And who knows what to expect out of Andy Murray. Any of these guys can get upset in these conditions.
That leaves the door open for a longshot to get hot and make his way into the quarterfinals and No. 23 seed Dan Evans is my pick.
Evans is mercurial, a little insane but also tough to beat. Like any 50-1 bet, this punt could blow up in your face in Round 1 if Evans doesn't feel like playing tennis that day, but if the Englishman gets hot he has a viable path to the quarters.
Evans is a -670 favorite over Thiago Seyboth Wild in his first match and then will face Corentin Moutet or Jiri Vesely in the Round of 64. If Evans gets through the first two matches, Auger-Aliassime or Murray would await him in the Round of 32. Evans would likely be an underdog in both of those matches but they would be winnable.
A Round of 16 match against Thiem would likely be the end of the road for this bet — if Thiem gets that far it means he's probably playing well and that would prove too much for Evans — but there's a decent chance that the Austrian gets upset along the way, so I'll cross my fingers.
Getting through to the quarterfinals means a likely showdown with Raonic, Khachanov, de Minaur or Bautista-Agut, and that would be a tough ask of Evans, but if you get a 50-1 ticket to that point you'll have a lot of expected value and the opportunity to hedge.
The added bonus with this bet is that you'll be emotionally and monetarily invested in one of tennis' most colorful characters. Evans is an absolute bat.
This number is all over the place, Evans is down to 18-1 at MGM and 22-1 at bet365, but if you can find 30-1 or better I think it's worth a flutter.
[Bet the US Open at DraftKings and get a $1,000 sign-up bonus.]
WTA
Stuckey: Lauren Brady to win US Open (+3000)
Brady is the biggest threat to Karolina Pliskova in Quarter 1. The hard-hitting American has looked in form since the restart, taking home a hard court title in Lexington, winning every match in straight sets, before suffering a bit of a let down against an in-form Jessica Pegula in New York.
Brady hasn't made it past the second round in any major over the past three years but did get to the fourth round at both the US Open and Australian Open back in 2017. If she gets to the fourth round again this year, she'll likely have to take out Pliskova in the third round.
Brady won only one game in their only career meeting, back at the 2017 US Open, but she's a much different player now. If you value form and confidence, Brady is the outright target in this quarter.
[Bet the US Open at DraftKings and get a $1,000 sign-up bonus.]
Dillon Essma: Ons Jabeur to win US Open (+5000) and to win Quarter 4 (+1300)
This event is really wide open on the women's side. Serena Williams has looked particularly poor as of late. She played in five matches and didn't win any of them in straight sets, four of whom were outside the top 50. Naomi Osaka is the favorite, but she appeared to pull a muscle in her most recent semi-final match, so she may not be 100%.
There are a myriad of players who are capable of making a run, and I see some value further down the board. I am going to back Annett Kontaveit to upset Naomi Osaka in the quarter at 4-1. She has played really well as of late, and I think she is very live in this quarter. Coupled with Osaka's health issue, I will gladly take 4-1 on her here.
I would also take a shot on Amanda Anisimova (11-1) or Jill Teichmann (20-1) to upset Serena in her quarter. Both have the ability and the form to pull upsets if Serena isn't on her game.
Sofia Kenin is very hard for me to fade, as she has shown up in really big moments over the last year. However, I am going to take a shot on Ons Jabeur at 50-1 and to win her quarter at 13-1. She has really impressed me over the last few matches. If she plays anything like she has since tennis has restarted, I think she is definitely live to make a deep run in this tournament.
[Bet the US Open at DraftKings and get a $1,000 sign-up bonus.]
How would you rate this article?