2018 Australian Open Betting Guide
Credit:
Presse Sports-USA TODAY Sports
It's almost that glorious time of the year again when those of us in the United States stay up all night long sweating out break points while getting tired of the same "Visit Melbourne" commercial that ESPN loves to overplay for two weeks. In this particular Australian Open betting guide, we will look at the tournament from a futures perspective.
Make sure you check back over the weekend for quarter-by-quarter analysis. Also, fellow Action Network expert Stuckey and I will have you covered for daily ATP and WTA action throughout the tournament. May the break points all go your way!
Tournament Overview
Dates: Jan. 15 – 28
Level: Grand Slam
Surface: Hard (Plexicushion)
Prize Money: $55 million (AUD)
Draw Size: 128
Defending Champion: Roger Federer
With Roger Federer chasing his 20th major title, Rafa Nadal wrestling a potentially nagging knee injury, and the returns of former Australian Open Champions Novak Djokovic and Stan Wawrinka (as well as the absence of Andy Murray) — there will be no shortage of theatrical subplots at the season's first Grand Slam in Melbourne.
For the past decade, the "Big Five" (Federer, Nadal, Djokovic, Murray, Wawrinka ) have dominated play at the Australian Open, collectively claiming each of the last 10 titles. Djokovic has won six himself (2016, 2015, 2013, 2012, 2011, 2008). Defending champ Federer has won a pair (2017, 2010), and Rafa and Wawrinka have each won the Aussie once (2009 and 2014, respectively). But with a seemingly growing number of question marks surrounding these top players this year, it's as good of a time as ever for some player outside of the "Big Five (minus Murray)" to break through.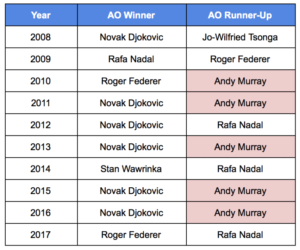 Who's In
[1]Rafa Nadal (knee)
[8]Stan Wawrinka (knee)
[14] Novak Djokovic (elbow)
[23] Milos Raonic (calf)
Who's Out
[19] Andy Murray (back)
[24] Kei Nishikori (wrist)
Conditions
The Australian Open is widely considered among the fastest-playing hard court tournaments on tour. Anyone who witnessed Roger Federer's mastery of the conditions last year en route to his fifth Australian Open can attest to the quickness of the surface. According to 2017 CPI (court pace index) data, centre court in Rod Laver Arena plays like a "medium-fast" court. The two other show courts — Margaret Court and Hisense Arenas — interestingly enough, fall into the medium range.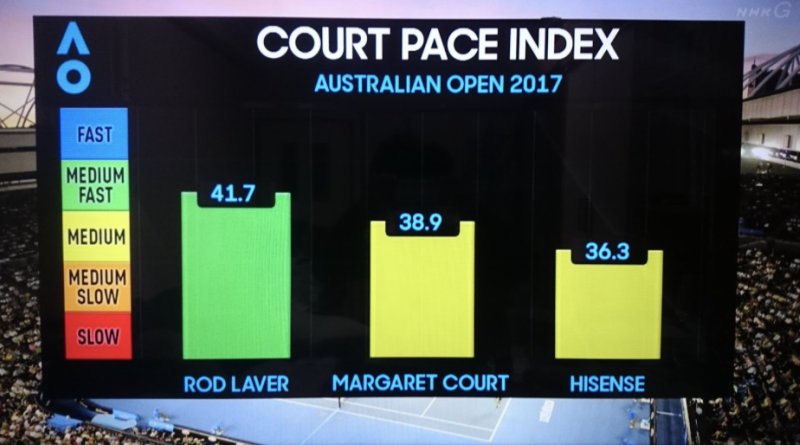 However, if you ask certain players, conditions in Melbourne tend to play exceedingly fast — especially on the outer courts. Analyst Brad Gilbert claims the outer courts play up to 25-30% faster than the bigger courts. Take Court 8, for instance, which Americans Jack Sock and John Isner described as the fastest they've ever played on. Be mindful of this when capping the first few rounds of the tournament when the outer courts are utilized more frequently. Players with bigger serves should receive a boost from the surface speed early in the tournament.
The weather has dominated the narrative here in the past, as they play the tournament in the middle of summer in Melbourne. The Australian Open even has an extreme heat policy, which has caused many controversies in the past. Keep an eye on the weather throughout the tournament, as fitness becomes a major capping variable when the temperatures reach triple digits. Although, fortunately for players, it looks as if we may get pretty mild conditions this year.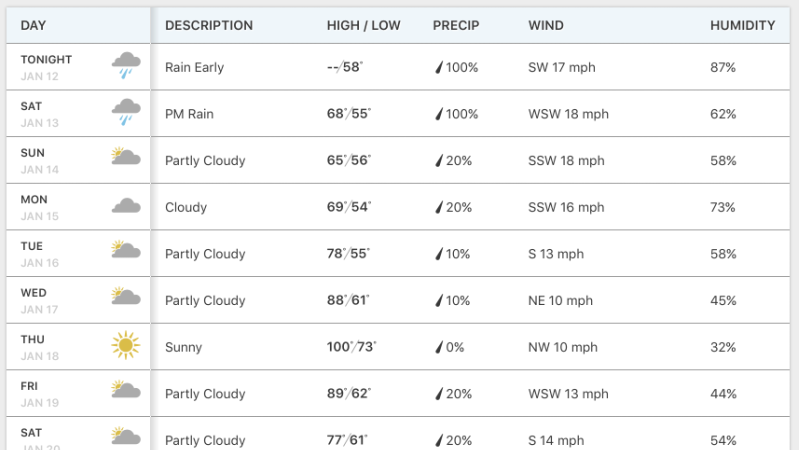 Betting Outlook

The way I see it, two distinct packs of players are vying for contention at this year's Australian Open. The "old" regime — consisting of Roger Federer, Rafa Nadal, Novak Djokovic and Stan Wawrinka — and the "new" wave of top players in Grigor Dimitrov, Sascha Zverev, Nick Kyrgios and Domi Thiem.
Believe it or not, I think defending champion Roger Federer (+210) still has value as the tournament's odds-on favorite at that price. After making his return to Tour, Roger dominated the winter hard season last year. And with the exception of a bizarre loss to Evgeny Donskoy in Dubai, he was virtually unbeatable on hard courts prior to Wimbledon. The somewhat-reinvented serve and volley game of Federer should suit the quick conditions of Rod Laver Arena perfectly. If he serves as well as he did for the duration of last year — winning close to 80% of first serve points — he will have a great chance to defend his title.

Rafael Nadal (+500) could have (fans of the Spaniard will argue "should" have) very well won this tournament last year. Rafa then silenced a lot of his hard-court doubters last summer by winning the US Open, although against a somewhat subdued field. While conditions on Laver (where Nadal will likely play all matches) won't suit his game the way Arthur Ashe did, Nadal will still feel confident about his game on quicker surfaces, having posted a 40-9 season on hard courts last year. Rafa pulled out of Brisbane last week with a lingering knee injury, but he did at least return to action in Kooyong for a pre-Aussie exhibition. If healthy, it wouldn't shock me to see Rafa make another deep run.
The tournament's biggest wildcard is Novak Djokovic (+600). No player in the Open Era has won this tournament as much as Novak, who has took home five of the past seven Australian Open titles. After months off Tour nursing an elbow injury, Djokovic now finds himself on the outside looking in. Though he claims his elbow feels great, a number of confidence-based concerns from his 2017 slump linger around the Serb. It's hard to guess which version of Djokovic we will see on court next week, but if Djokovic can conjure up a level anywhere close to what we have seen before in Melbourne, he looks a lively crack at +600. However, he does have a challenging path — with Federer in his half — setting up a potential mouthwatering semifinal.
As for the other member of the Big 5 returning from injury, Stan Wawrinka (+2200), I don't fancy his chances at this tournament. Wawrinka pulled out of Abu Dhabi last week with a shoulder issue, so it appears he might not be 100% fit. Mind you, the Swiss No. 2 ended his season early last year due to a separate knee injury. I simply haven't seen enough from Wawrinka this season, post-injury, to consider him a threat. Wawrinka has a power game behind the baseline relies so heavily on his physicality. I anticipate a quick exit for Wawrinka.
As for the "new" regime, I think Grigor Dimitrov (+1000) and Nick Kyrgios (+1600) have the only legitimate chances of winning the Australian Open. Over the past six months, Dimitrov has solidified his spot as the World No. 3, capping off an impressive 2017 campaign with a win at the World Tour Finals. Dimitrov will look to expand on last year's success in Melbourne, where he lost a grueling five-set match to Nadal in the semifinals. Although, if the seeds hold, he will have to go through Rafa in the semis yet again.
A big test for Dimitrov looms in the fourth round, where a potential matchup against Nick Kyrgios awaits him. Dimitrov looked more "ready" in their match last summer in Cincinnati, where he defeated Kyrgios in straight sets. However, Kyrgios won their match last week in Brisbane in three sets, which may suggest a shift in the balance of power. We've been waiting for Kyrgios to break through at a Grand Slam for quite some time now. If he can get through Dimitrov in the fourth round, he could make some serious noise with the full support of the raucous Aussie fans. That assumes he can hold his head, which he has failed to do the previous two years. In four main draws in Melbourne, Kyrgios has exited in the following rounds: 2R, QF, 3R, 2R.
As for Sascha Zverev (+1600) and Domi Thiem (+5000), I don't think either can win seven consecutive best-of-five matches in Melbourne. Zverev's forehand has looked suspect — loopy and lacking venom — of late, and he has never advanced past the fourth round of a slam. Thiem, on the other hand, has a long way to go on hard courts in general. Many pundits attribute his post-Roland Garros struggles the past two years to an overcrowded schedule. In my opinion, his struggles speak more to the surface than fatigue. He hired Galo Blanco to help with his baseline game but still isn't a savvy enough point constructor away from the clay yet.
ATP Australian Open Futures
Roger Federer +210
Novak Djokovic +600
---
Stuckey Says
No Serena, who has won seven of the last 15 Australian Open titles, which means we should see another wide open tournament. This year's field only contains two previous AO Champions in Angie Kerber and Maria Sharapova, who have each won once. We also could see another first-time slam winner, as we did with Sloane Stephens at the US Open. To illustrate the wide open nature of WTA right now, Sloane Stephens is as an underdog in the first round.
Many of you already know I played Ash Barty (+4000) to win the Australian Open over the summer. While the draw didn't do her any favors, I still think her current form warrants strong consideration at her current price of +3300. After seeing the draw, I had to throw some coin on an in-form Caroline Wozniacki (+1250). The Dane has an absolute laugher of a path to the quarters on her favorite surface.
Nothing else catches my eye from a futures perspective, but a number of first-round matchups present value. Check back over the weekend for more in depth analysis and first round plays.
WTA Australian Open Futures
Ashleigh Barty +4000
Caroline Wozniacki +1250
---