2018 ATP US Open Quarterly Betting Preview: Federer and Djokovic on a Collision Course
Credit:
Aaron Doster-USA TODAY Sports. Pictured: Roger Federer and Novak Djokjovic
Believe it or not, No. 2 seed Roger Federer is not the betting favorite to even win his US Open quarter.
With Djokovic (the favorite) and Fed in the same quarter, you might want to look elsewhere for futures value.
If you're looking for a long shot, this section features two enigmatic talents: Nick Kyrgios and Fabio Fognini.
Federer might be the highest seed in this quarter, but oddsmakers have Novak Djokovic (+100) as the favorite to survive this part of the 2018 US Open draw.
And after seeing Novak straight-set the Swiss Maestro in the Cincinnati final just a couple weeks ago, it's pretty understandable why.
However, beyond Roger and Novak, some other names floating around this quarter can potentially make a deep run.
Nick Kyrgios looms in this quarter, presenting a potentially enormous task for Federer in the third round. Even the mercurial Italian talent Fabio Fognini — who has recently surged up to No. 14 in the rankings — could make some noise.
Let's examine this fascinating quarter.
Seed Form Check
(2018 summer hard-court record)
#2 Roger Federer (4-1) — Despite a 4-1 summer hard court record, something has looked, well, off with Roger since Wimbledon. His on-court demeanor looks grumpy, and his legs look a half-step slow. While he's still capable of beating 99% of players on tour in this state, I worry about another potential matchup against Novak.
#6 Novak Djokovic (8-1) — Aside from one shocking upset against Stefanos Tsitsipas in Toronto, Djokovic has looked fairly solid this summer on the American hard courts. However, despite capping off his Cincy title with a comprehensive victory over Federer, the Serb needed a third set in four of the six matches he played there (including one against Adrian Mannarino).
#12 Pablo Carreno Busta (7-3) — I've liked what I've seen from PCB this summer. I believe hard courts are his best surface, specifically slow hard courts, which we saw at last year's US Open, when the Spaniard advanced all the way to the semifinals. After a quarterfinal run in Cincinnati — and a semifinal run in Winston Salem — PCB looks ready for another decent showing in Flushing Meadows.
#14 Fabio Fognini (5-1) — Picked up two titles since Wimbledon, including one on a slow hard court in Los Cabos. He didn't exactly back those up in Toronto — where he lost out to Denis Shapovalov in the second round, but fatigue may have caught up. Fognini is a dark horse to make some noise in Flushing Meadows. He's no stranger to pulling off the big upset; Fabio knocked out Nadal here in 2015.
#17 Lucas Pouille (2-3) — Enters tournament on horrible form. Aside from a win against a hobbled Murray, he doesn't have much to show for his summer hardcourt season. Pouille made the quarters here in 2016 (knocking out Rafa along the way) but doesn't seem primed for a deep run this year.
#23 Hyeon Chung (5-4) — Yet to hit his stride on the hard courts and his 5-4 record is reflective of that. Chung rose to prominence because of his defensive ability and sound hitting off the ground, but has looked sloppy of late. He doesn't appear to be feeling great about his game.
#26 Richard Gasquet (0-1) — Gasquet's summer hard court season has been short and … not so sweet. In his only match played, he went down against Pablo Carreno Busta. Stretching back to February, the Frenchman has lost five straight on this surface. He enters this tournament on no form to speak of.
#30 Nick Kyrgios (3-3) — Kyrgios had an impressive victory against Borna Coric in Cincinnati, but not much else to speak of since Wimbledon. Of course, given his immense talent, he's always primed to pull off an upset. But, if we're judging by form, he comes in on none whatsoever.
Key H2H Records
(hard court record)
Federer 2-1 (1-0) vs. Kyrgios (3rd-round)
Federer 3-0 (2-0) vs. Fognini (4th-round
Kyrgios 2-0 (2-0) vs. Djokovic (Quarterfinal)
Djokovic 13-1 (11-0) vs. Viktor Troicki (2nd-round)
Djokovic 24-22 (18-17) vs. Federer (Quarterfinal)
While Federer and Kyrgios have played just the one match against each other on a hard court, it was a tight one — that Federer won 7-6, 6-7, 7-6. If Federer beats Nick to get to Novak in the quarterfinal, the Serb will have the slight edge. After his victory in Cincy, Djokovic now owns an 18-17 record against the Swiss on hard courts.
---
>> Sign up for The Action Network's daily newsletter to get the smartest conversation delivered into your inbox each morning.
---
Moneyline Parlay Potential
Nick Kyrgios (-1000) vs. Radu Albot
Fabio Fognini (-400) vs. Michael Mmoh
Lucas Pouille (-200) vs. Yannick Maden.
Kyrgios should get through the weak game of Radu Albot, and I like Fognini's offense vs. Mmoh's defense. As for Pouille, that line is low, but I think he finds a way in a best of five format.
Upset Alerts
Pablo Carreno Busta (-833) vs. Malek Jaziri
I said earlier that that PCB could potentially make a run, but this line is just way too high. Jaziri is a capable baseline player, and if PCB expects to push his way to victory against Jaziri (who has a tidy offensive game and has no problem going about business on his own racquet), he may be in for a surprise. I also like the over in this match.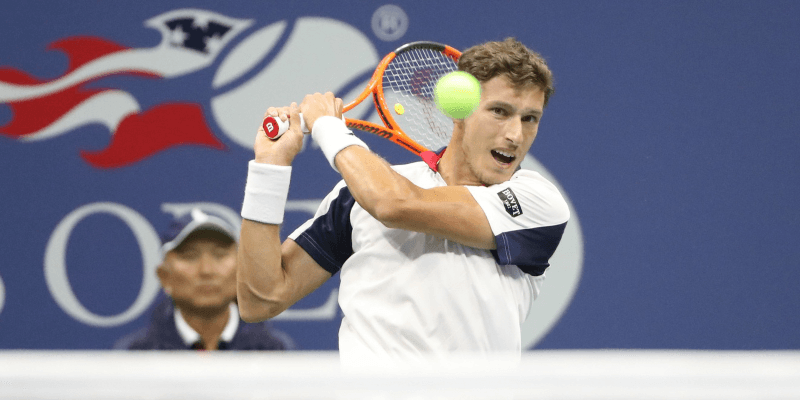 Futures Value
As far as winning this quarter, I think the futures value lies with Novak Djokovic (+100) and Nick Kyrgios (+1200).
Kyrgios should get Federer in the third round and if he overcomes that match, he's got as good of a shot as anyone, especially with his track record against Djokovic (2-0, both on American hard courts).
I don't see as much value with Federer at only +160 to win the quarter. Even if he beats Kyrgios, I simply don't fancy his chances in a potential quarterfinal against Nole, the way I do Nick — especially considering the price differential.
So, for me, I'm going with Novak as the safe choice and Kyrgios as the long shot hopeful. Of the other seeds in this section, the only other player who caught my eye was Fabio Fognini — at 67-1 to win the quarter. Of course, that is a huge punt at a huge price, but given the way Fognini has played all year, it's certainly not implausible.
Safe Bet: Novak Djokovic +100
Long Shot: Nick Kyrgios +1200 (Almost Obligatory)
Longer Shot: Fabio Fognini: +6700
First-Round Best Bets
Viktor Troicki +225 vs. Tennys Sandgren
Joao Sousa -114 vs. Marcel Granollers
How would you rate this article?