Nadal vs. Federer Odds: Rafa Is Historic Betting Favorite in French Open Semis
Credit:
Credit: Geoff Burke-USA TODAY Sports
Rafael Nadal and Roger Federer meet for the 13th time in a Grand Slam in their illustrious careers.
Nadal holds a 9-3 edge over Federer, including a 5-0 record at the French Open.
Nadal is currently listed as a -750 favorite against Federer, the highest line for either player in their 12 prior meetings.
The 2019 French Open semifinals should be a doozy, headlined by the 13th Grand Slam match between Roger Federer and Rafael Nadal (Friday, 6:50 a.m. ET).
Overall, Nadal holds a 23-15 edge in 38 matches against Federer, but what really counts is the Grand Slam record.
Not a shocker, but Nadal holds a firm grasp on that as well, going 9-3 against Federer, including an impressive 5-0 record at the French Open.
Let's take a look at the betting history behind Nadal and Federer's 12 Grand Slam matches dating all the way back to their first showdown in 2005…
Price, Price, Price
Rafael Nadal is listed as a -750 favorite against Roger Federer in the 2019 French Open semifinals, where Federer is a +525 underdog.
In their 12 career matches, the highest either player has been against the other was back in the 2006 and 2007 Wimbledon Finals, where Federer was -555 and beat Nadal both times.
Prior to the 2019 French Open, Federer had never been higher than a +300 underdog in any match against Nadal. The Swiss maestro was a 3-1 dog in the 2008 French Open Final and lost 6-1, 6-3, 6-0. It was the worst loss of Federer's Grand Slam career.
Three Out Of Four
Rafael Nadal and Roger Federer have faced off in three of the four Grand Slams in their illustrious careers. Incredibly, the two generational stars have never met at the US Open.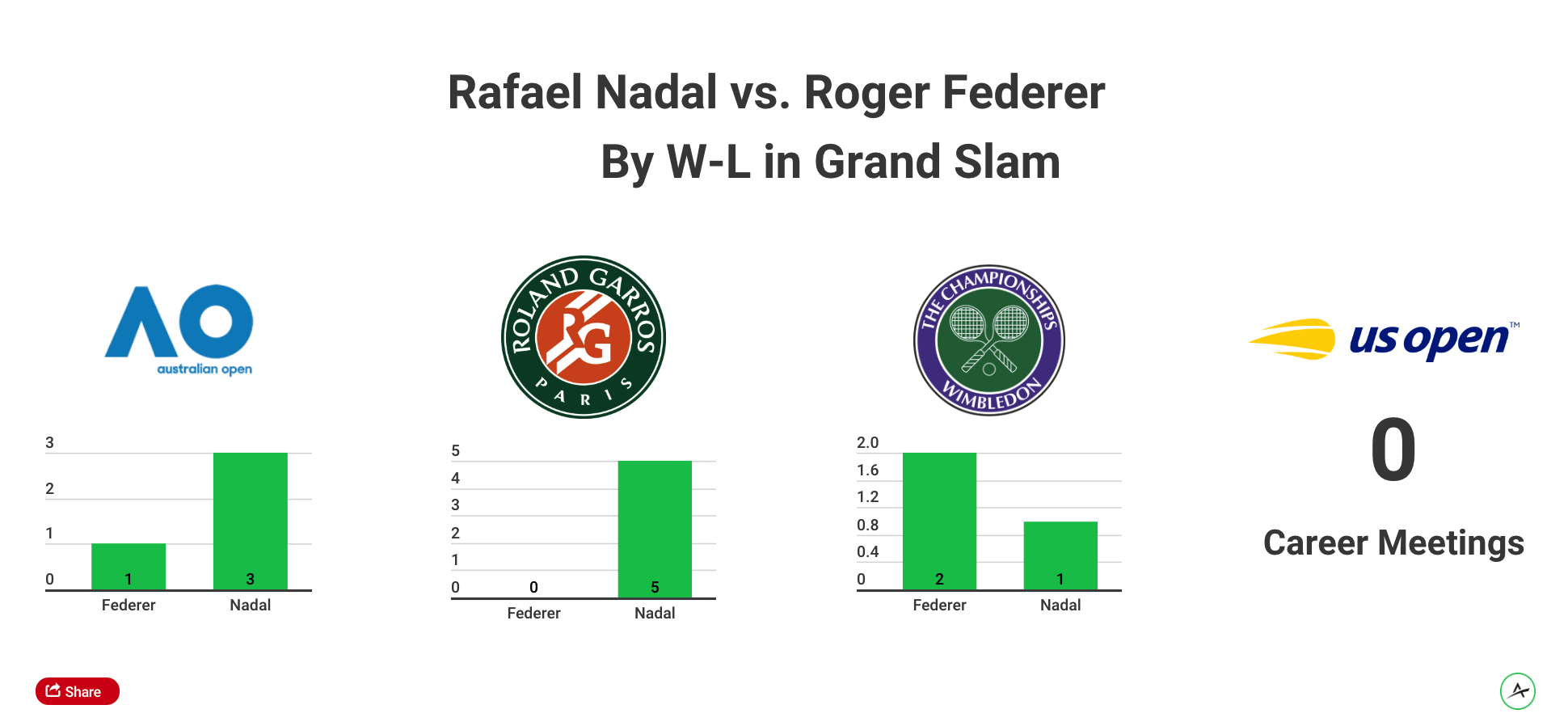 Favored vs. Fed
Nadal is 6-1 as a favorite over Federer in Grand Slam matches. His only loss came in the 2017 Australian Open Final where Federer beat the Spaniard in 5 sets. It was their first 5-set match since 2009.
Rafa DYK
In five career matches at the French Open, Rafael Nadal has been listed as the favorite four times and the underdog just once against Roger Federer.
In their first ever meeting at a Grand Slam back in 2005, Nadal was a +133 underdog in the French Open semifinals against Federer and took him out in four sets.
Dog Eat Dog
For just the third time in their thirteen career meetings in a Grand Slam, neither Nadal or Federer will be ranked No. 1 in the ATP rankings.
In those previous 2 meetings, the underdog won the match…
2017 Australian Open: Federer won as a +113 underdog in the final
2012 Australian Open: Nadal won as a +175 underdog in the semifinal
Not Quite…
Nadal and Federer will meet before the final of a Grand Slam for just the fourth time in their storied history…
The previous three times? Rafa had the edge.
How would you rate this article?