Sunday US Open Final Odds, Preview, Best Bets for Novak Djokovic vs. Daniil Medvedev: Will Joker Complete Calendar Grand Slam?
Credit:
Matthew Stockman/Getty Images. Pictured: Novak Djokovic.
Novak Djokovic faces Daniil Medvedev in Sunday's US Open Final in New York.
Landmark achievements are on the line, with Djokovic aiming to win the calendar grand slam and record 21st slam title.
See how tennis analysts Avery Zimmerman and Kenny Ducey are betting the historic match below.
Novak Djokovic vs. Daniil Medvedev Odds
Djokovic Odds
-250
Medvedev Odds
+210
Over/Under
38.5
Time
4 p.m. ET
Odds courtesy of Caesars Sportsbook
Tennis immortality is on the line when Novak Djokovic takes on Daniil Medvedev in the final match of the US Open.
The player, who has already established himself as one of the best players of all time, will be playing for his greatest accomplishment yet.
On the line for Djokovic are two next-level feats. He has the chance to win his 21st grand slam title, which would put him one ahead of Roger Federer and Rafael Nadal. He also has the chance to do something that hasn't been done since 1988, which is winning the calendar grand slam. Steffi Graf completed the task that year, becoming the third player to do it in the open era, after Rod Laver (1969) and Margaret Court (1970). Serena Williams came close in 2015 but was defeated in the semis of the US Open by Roberta Vinci.
It's hard to overstate just how impressive the feat would be, but I will try to provide some context. Neither Federer nor Nadal have ever put themselves in position for the accomplishment going into the US Open, and neither have won the Australian Open and French Open in the same year, let alone the first three slams on the calendar. To be able to play the amount of tennis that Djokovic has and not burn out is astounding.
His opponent for this monumental task is no slouch. Medvedev broke out in the 2019 season, when he won the Cincinnati Open over Djokovic, was runner-up in Toronto, won the Shanghai title and lost a five-set thriller to Nadal in the US Open. He's been a consistent player on tour since, and has risen to become the second-ranked player in the world, only behind Djokovic.
The two have met eight times on tour, with the Serb leading the head-to-head 5-3. Djokovic took their first grand slam meeting in 2019, but it was before the Russian broke out that summer. Impressively, Medvedev took a set butt ultimately lost in four.
More recently and more importantly, the two last met in the Australian Open final earlier this year. The match was a pick 'em, partly because Djokovic had injury concerns and partly because Medvedev had an impressive run to the final, similar to what he has done in New York. It did not play out as a pick 'em, however, as Djokovic absolutely dominated throughout the battle, taking it in three without much resistance.
This is a much different situation with far different implications, however, and there are reasons to believe in both players' chances heading into the title bout.
Djokovic On Different Level This Season
There is simply no other way to put it. The mental strength that Djokovic has, combined with his pure ability, is unlike anything we've ever seen on a tennis court. His remarkable talent was on full display against Alexander Zverev in the semifinals, as he defeated a player that is arguably in the finest form on tour.
He did so with ridiculous periods of toughness, where it seemed that Djokovic almost decided he wouldn't miss. The final game of the third set was a prime example of that. The crowd gave a feel that it understood that greatness was on full display.
Stats reveal the full extent of Djokovic's mental performance against Zverev. His ability to lock in on break points on both sides of the court was remarkable. The world number one and Zverev each won 35 percent of their return points throughout the match, but break point stats outline the insanity of Djokovic's level.
Djokovic won six-of-nine break points, while Zverev only converted three-of-12. On many occasions, Djokovic didn't even give the German a chance, as he was able to bomb aces and service winners without breaking a sweat. By no means did Djokovic dominate the match, in fact you could argue Zverev played really well, having the edge in second serve points won, winners and aces. But it didn't matter. When push came to shove, Djokovic capitalized on his legendary ability.
If he is able to repeat that mental and all-around performance, it will be monumentally difficult for Medvedev to upset Djokovic.
Medvedev Has Made Easy Work of Opponents
Second seed Medvedev hasn't really been pushed going into the final. He's only dropped a single set, against qualifier Botic van de Zandschulp, though he certainly hasn't faced the stiffest compeition. While Djokovic has gotten through two top-ten players in Zverev and Matteo Berrettini, Medvedev's highest ranked opponent has been the world number 15, Felix Auger-Aliassime.
You can only play whichever opponent is placed in front of you, so I don't discredit Medvedev for handling his business. But it may have been of use for him to be pushed prior to facing the biggest task in tennis, competing with Djokovic in a slam (sorry Rafa at Roland Garros, the tide has shifted).
Medvedev has been clutch when it matters, converting on 53 percent of his break points and saving the ones he's faced when needed, but it's hard to evaluate how well he's done when the competition just hasn't been there. It will be interesting to see how it impacts Medvedev when pressure moments come on Sunday.
Picks
Avery Zimmerman: Just re-reading the context above makes me beyond excited for this match. It feels like one of the most meaningful matches in tennis history, and it's coming at the end of a tournament that has re-invigorated a sport that sorely missed raucous crowds, especially the one that New York has to offer.
The matchup itself is intriguing, just as it was when the two faced off in Australia and on other less important occasions. In Melbourne, it was apparent that Medvedev wasn't mentally prepared to take on Djokovic. The tactics weren't there, he rushed himself on numerous occasions and he didn't know how to deal with a locked in Djokovic.
I haven't been bullish about Medvedev in big matches for this reason, and I didn't back him to have a great chance at winning this tournament before it started. At the same time, the Medvedev that is coming into this match has to be different than the one that went into February's contest. It just has to.
I have to think that Medvedev will come into this battle far more prepared. When the two have met with lower, but not meaningless, stakes, the matches have been far more competitive. In the ATP finals, Medvedev was able to throttle Djokovic, and in Cincinnati he used a compelling strategy by opting to only hit first serves in the second and third sets, abandoning a kick-serve second.
Medvedev is regarded as a solid tactician for moments like that, and he's going to have to be prepared to shift his game plan as the match goes on if he wants to win. It's a matter of being able to trust himself on the biggest stage, which he hasn't yet been able to do.
The level that I saw from Djokovic against Zverev gives me doubt that anyone can beat him with these stakes, but I can't get myself to believe that he'll be able to run a player as good as Medvedev off the court again. If odds didn't exist, this would be an easy Djokovic pick, but at -250, the value isn't there.
I have faith that Medvedev will make this matchup competitive. I will believe Medvedev has the mental strength to win a match like this only after I see it, but I do think he'll push Djokovic, who has been on court for 3 hours and 50 minutes more than Medvedev in their last three rounds.
Pick: Over 38.5 Games (-115) at Bet MGM
Kenny Ducey: When Novak Djokovic, probably the most dominant men's tennis player we'll ever see, says he's going to treat a match like it's the last of his career, you take note. You throw out the fact that he's dropped the first set in four straight matches. You simply trust Djokovic that he will bring his highest level from beginning to end without a mental lapse, and you measure that up against his opponent's best game.
In this case, Djokovic's best game will beat Medvedev's best game. When he saw the Russian earlier this year in Australia, he dusted the World No. 2 in three sets. When he met him at the ATP Finals, an event he rarely gives his all in anymore, he lost in two sets. He also fell to Medvedev in a pair of Masters 1000 tournaments in short order.
It's a complicated head-to-head, but for me the results at the Australian Open — where he's dropped just a set in the two meetings they've had there — and the win over Medvedev at the ATP Cup, an event where Djokovic went Super Saiyan to win it for Serbia, are all that I need to see before betting this match.
So far in Queens, Djokovic has showcased his ability to get in the zone and stay there, as he imparted to Patrick McEnroe after his win over Matteo Berrettini. He's taken the first set to feel out his opponent over the last four matches, sure, but it's unlikely he'll be willing to give Medvedev, his toughest competition yet, any sort of head start.
Looking strictly at the tennis matchup here, I have to favor Djokovic by a wide margin. We haven't seen Medvedev serve all that well over his last two matches, with a couple of great sets mixed in with some crummy ones. The World No. 1, on the other hand, has been exceptional in that department and by far has been the best clutch server on tour over the last two weeks.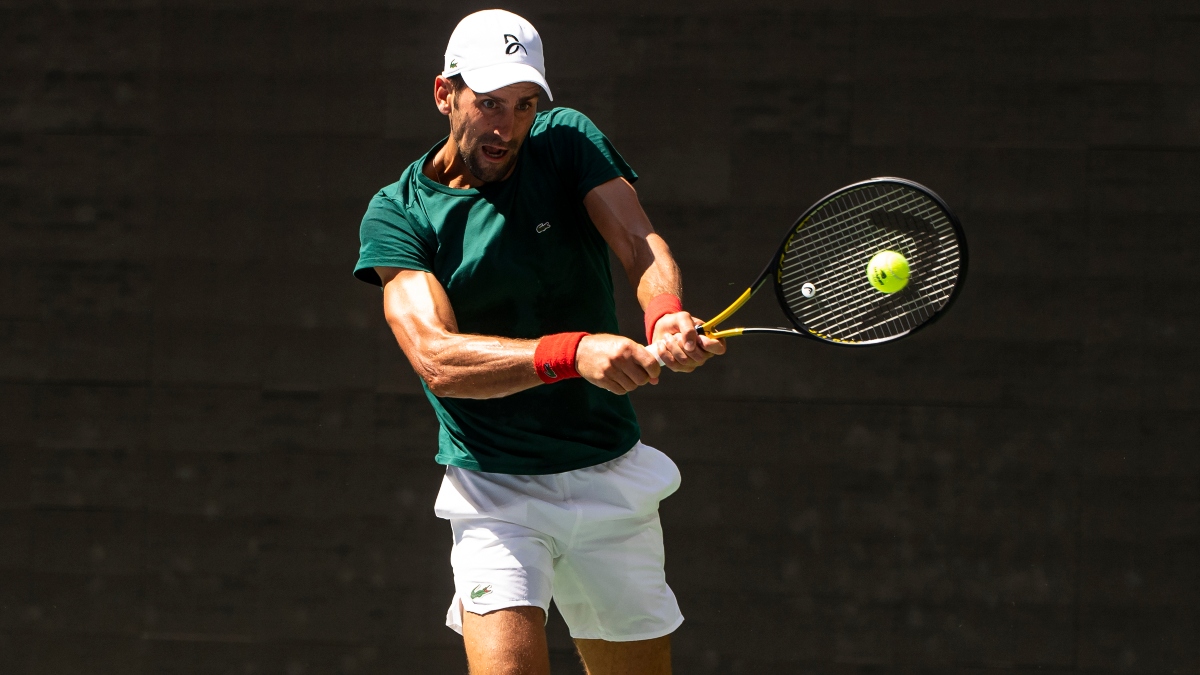 Djokovic should be able to force Medvedev into plenty of errors, considering the Russian had 25 against Felix Auger-Alisssime in his three-set semifinal win. Medvedev hardly hung on to win the second set there, and he seemed to let his grip on his quarterfinal match with Botic Van De Zandschulp go after dominating the first two sets.
While both men have had their fair share of lulls, Medvedev's hasn't come alongside sets of brilliance like Djokovic's. He's failed to wow anyone with his play since wrecking a long list of inferior competition, and in the face of perhaps the greatest men's singles star of all time, I think he will face an uphill battle.
Medvedev has simply looked sloppy over his last two matches and hasn't landed his first serve with enough consistency for me to believe in him here. I also think he has the tendency to overthink things and remain stubbornly committed to his gameplan, and that is what did him in against Djokovic in Australia.
I don't fear Djokovic dropping the first set again with his post-match comments, and think the set spread should be safe and a way to bet on a convincing win in perhaps the biggest match of Djokovic's life. His defensive skills, reads and serving have all been superb over his last few matches, and he seems to continue to trend upwards. I see a large gap between these two.
Pick: Djokovic -1.5 Sets (-135) at DraftKings
How would you rate this article?