2019 US Open Women's Final Betting Preview: Serena Williams vs. Bianca Andreescu
Credit:
Dan Hamilton-USA TODAY Sports. Pictured: Serena Williams and Bianca Andreescu
The US Open women's final will take place on Saturday afternoon in New York at 3 p.m. ET on ESPN.
Serena is seeking Grand Slam No. 24 against Bianca Andreescu, who will make her major final debut.
Leading up to the year's final Grand Slam, many were eyeing a rematch of the Toronto Final tennis fans were robbed of four weeks ago when Serena retired with back spasms against Bianca Andreescu.
Despite the chaotic nature of women's tennis in recent years, some things still do line up. We now get the popcorn Toronto rematch to end the summer.
We really shouldn't be surprised that these are the last two standing at the final Grand Slam of the year. Serena has now made the semifinals or better in 10 straight appearances at the US Open.
Meanwhile, Andreescu has an astonishing 41-4 hard-court record in 2019 and an all-surface record of 60-7 over the past 52 weeks. The Canadian phenom is 34-1 in completed matches since the Australian Open, including an absurd 24 straight wins, having not lost a completed match since February!
Let's take a closer look at this highly-anticipated US Open final as Serena will try to get that elusive Slam No. 24 against an opponent making her Grand Slam final debut.
Serena Williams (-270) vs. Bianca Andreescu
Saturday, 3 p.m. ET on ESPN
Head-to-Head
That shortened match in Toronto was the only prior meeting between the best player of all-time and the best hard-court player of 2019.
Serena had to retire just four games in with back stiffness. That injury is now just an afterthought as Serena looked fully fit in each of her first six matches in New York. Having a day off in between matches certainly doesn't hurt.
Perfect Conditions
The conditions on Saturday afternoon should be perfect with temperatures in the mid-70's and relatively low humidity at 45%. Fitness shouldn't be an issue for either player after multiple days off during the past two weeks.
Line Watcher
One of the first things that jumped out about this rematch is the major shift in the line from what we saw in Canada one month ago. Andreescu closed at +158 in that match — almost 100 cents lower than where the line currently sits.
A day off in between matches is a luxury Serena didn't get in Toronto, but Andreescu is receiving that same rest, which may benefit her just as much after so many grueling matches. Regardless, I don't think the extra rest for Serena warrants such a massive shift in the line.
We are seeing some line inflation as a result of Serena's reputation and the fact that this is Andreescu's maiden Grand Slam final.
The Tactics
This should be an ultra-competitive match on paper.
Both players have the power to push each other on the court. However, when at their peak, Serena can overpower anyone on Tour, even Andreescu.
That said, I'd give the edge to Andreescu in terms of variety to her game. They're both solid at the net, but Andreescu has a more impressive arsenal of shots, including an extremely dangerous forehand slice. She disguises it incredibly well and can win some easy points against Serena with it.
With Serena playing so well, you have to get her on the move and Bianca can do that with her repertoire.
The major advantage for Serena is her serve, which she always has over her opponent. If she can make over 60% of her first serves, the American will be tough to break and beat. But if she's just a little off, Andreescu is an outstanding returner who can take advantage.
I thought Svitolina would challenge Serena's serve in the semifinals, but the Ukrainian played too passive — especially on Serena's second serve. I don't expect that approach from Andreescu, who's one of the most aggressive returners on Tour.
Oddly enough, neither has played their best tennis during this tourney outside of Serena's quarterfinal victory over Qiang Wang. If she matches that level, she's unbeatable.
Andreescu has played a solid tournament, but hasn't reached her top level yet. In a couple instances, notably the semifinal against Belinda Bencic, she found a way to hang around until Bencic mentally beat herself.
Andreescu has seemingly played every big point to perfection and has appeared unflappable in her first ever US Open main draw. An amazing feat for the 19-year-old. However, the stage for a Slam final is in another stratosphere.
That leads us to the most important aspect of the match and every Grand Slam final, nerves.
Holding Your Head
Who will handle the nerves better? This is one of the most difficult and volatile aspects to handicap. In her quest for Grand Slam No. 24, Serena has handled her nerves terribly in big matches at Majors.
It's impossible to forget last year's final in NYC against Naomi Osaka or the complete breakdown in the third set versus Karolina Pliskova in Australia earlier this year. That could easily change Saturday in Ashe.
After winning eight straight Grand Slam finals, Williams has gone just 2-5 since. That includes three consecutive straight-set losses, Wimbledon over the past two years and last year's US Open final against another young phenom in her maiden Grand Slam final.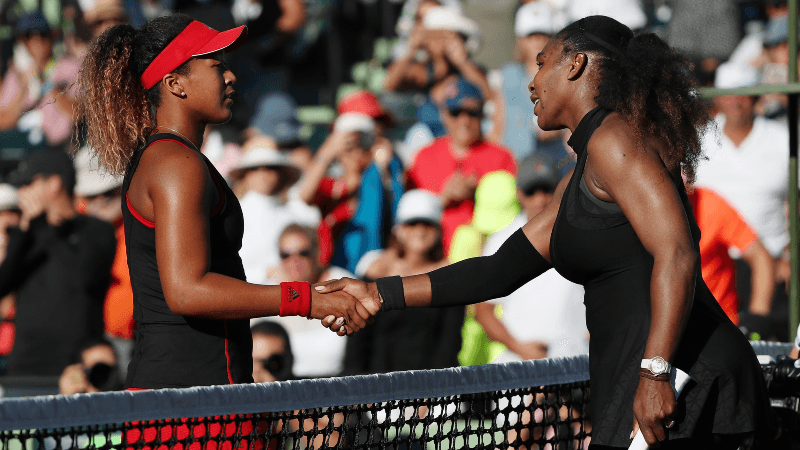 Andreescu has handled her nerves and emotions magnificently through almost all of 2019, especially on the biggest stages of tennis with titles at Indian Wells and Toronto — two of the most prestigious hard-court tournaments.
She's a much different player than we saw last year when she struggled to control her emotions. It even prompted Angelique Kerber to call her "the biggest drama queen" earlier this year. But in her first Grand Slam final, anything is possible.
Considering how difficult it is to handicap the emotions of the match, I'd say it's a wash in this department. Either player could rise to the occasion or completely shut down.
Going the Distance
If this goes three sets, something has to give.
Andreescu has been absolutely dominant in 2019 in three-setters with a 20-4 record. That includes 12 straight victories in deciding sets — two of which came in this tournament.
Not surprisingly, Serena has dominated in deciding sets throughout her career. She's won seven of eight three-set matches in 2019, which includes a 5-1 record at Grand Slams.
Her lone three-set loss came in that aforementioned match against Pliskova in the Australian Open quarterfinals. That is the only deciding set Serena has lost since the 2016 Australian Open (11-1 in that span).
Serena also owns a ridiculous 8-1 all-time mark in Grand Slam finals that go three sets. However, she did lose her most recent one at the 2016 Australian Open against Kerber.
Bet to Watch
I find this matchup to be a lot closer than the line implies. Even the 180/+158 line in Toronto was a little high for me.
On her best day, Serena will win and I understand the respect she gets in New York. But Andreescu is a world-class talent who has performed on nearly every big stage this year.
Andreescu at over 2-1 has way too much value to pass up. Don't underestimate her fight and problem-solving acumen.
How would you rate this article?