Wimbledon Final Preview: Will Djokovic Reclaim the Gentlemen's Crown?
Credit:
Susan Mullane-USA TODAY Sports. Pictured: Novak Djokovic.
Novak Djokovic is a big betting favorite (-556) over Kevin Anderson (+375) in the gentlemen's Wimbledon Final on Sunday.
Both players are coming off grueling semifinal matches, but Djokovic will have one fewer day of rest.
From a stylistic standpoint, Djokovic is a great matchup for the big-serving Anderson and should win his fourth Wimbledon title.
After a combined 11 hours and 57 minutes of tennis in the men's semifinals (the two longest semifinal matches ever), we finally have our 2018 gentlemen's title matchup at The Championships, Wimbledon.
In one corner stands 6-foot-8 South African Kevin Anderson, who outlasted John Isner, 26-24, in the fifth set on Friday. At 32 years young, Anderson is one of the Tour's late bloomers. This marks his second Grand Slam final in the past four (2017 U.S. Open was the other). He will be vying for his first major title.
His opponent, back at the top of the game, is 12-time Grand Slam champion Novak Djokovic, who also played five sets in the semis, albeit in a much more physical match against Rafa Nadal. Because Anderson and Isner's marathon took up most of the daylight on Friday, Nadal and Djokovic had finish their match on Saturday morning, giving the Serb one less day to recover compared to his opponent.
Sign up for The Action Network's daily newsletter to have sports betting content delivered into your inbox each morning.
But that hasn't stopped oddsmakers from making Djokovic an overwhelming favorite to win his fourth Wimbledon title.
Let's take a deeper look into Sunday's match.
Novak Djokovic (-556) vs. Kevin Anderson (+375)
Where: Centre Court
When: 9:00 a.m. ET
H2H: Djokovic leads 5-1 (2-0 on grass)
Sunday's Championship will be the seventh meeting between Djokovic and Anderson. While it's not exactly shocking that Djokovic has dominated Anderson in the past, winning five of the six matches they've played, it might surprise some that Anderson had a two-sets-to-love lead over Djokovic at Wimbledon in 2015, before the Serb staged a massive comeback on his way to winning the tournament.
So, although oddsmakers don't appear to be giving Anderson much of a chance to win this match, history suggest he could push Djokovic once again, assuming Anderson recovers well from his match against Isner.
Although the two big men were playing for more than six and a half hours on Friday, it wasn't as physically grueling of a match as the scoreline suggests (7-6(6), 6-7(5), 6-7(9), 6-4, 26-24).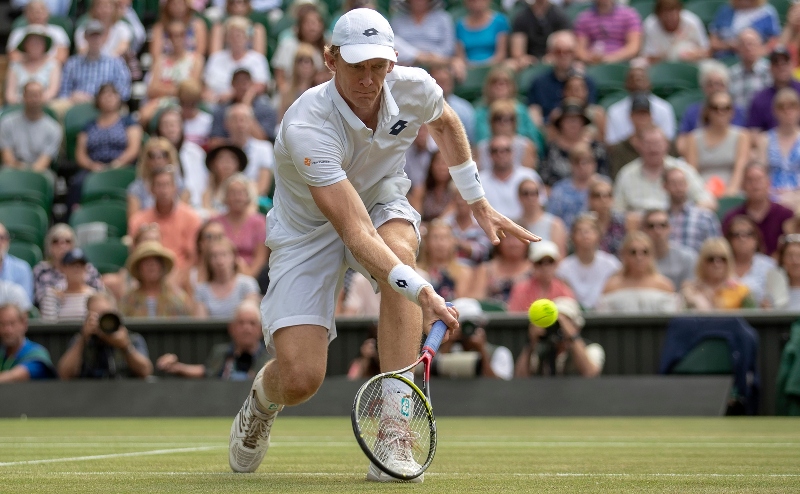 Susan Mullane-USA TODAY Sports. Pictured: Kevin Anderson.
Sure, both men banged a lot of big serves, but there were only a handful of points over the course of the match that lasted longer than 10-12 shots. As long as Anderson's right arm holds up after a full day off to rest, his legs should be good to go on Sunday (especially with the help of good ol' fashioned adrenaline).
How do they match up style-wise?
This is where Djokovic has the obvious edge.
While Anderson has gotten to this point in the tournament off the strength of his big first serve and groundstrokes from the back of the court, Djokovic will present an entirely different task on the defensive (and also the return) side of things. Djokovic was like a wall in his semifinal match against Nadal, who was playing an almost uncharacteristically attack-forward brand of tennis, and his backhand was rock-solid from a counterpunch perspective.
That being said, Nadal's serve is no where near as strong as Anderson's. If the big South African pulls the upset, it will likely be due to his play from the service line. Anderson was able to kick his serve into an extra gear in the fifth set of his quarterfinal match against Roger Federer — winning 85% of his first serve points and firing 11 aces — and he'll have to find that level again against Djokovic, who is a stronger returner than Federer.
Download The Action Network App to track live scores, odds, and all of your bets.
At the same time, Djokovic himself has been no slouch serving the ball in this tournament. Against Nadal, one of the Tour's elite returners, Djokovic pumped 23 aces and won 76% of his first-serve points.
Even more impressive, though, was his ability to hit his spots in the big points. Djokovic faced five break points in that fifth set against Rafa and all five times Djokovic was able to nail his first serve and stave them off.
If Djokovic serves as well as he has for the majority of the past fortnight, this match could be one-way traffic, especially against a guy like Anderson. He has broken serve only 14% of the time on grass throughout his career compared to 26.4% for Djokovic.
The Bet
Ultimately, all signs point to Djokovic winning his fourth Wimbledon title. From a style perspective, this match plays right into the Serb's hands, and after Anderson's record-setting semifinal match against Isner, there are simply too many question marks surrounding Anderson's physical fitness.
With Djokovic's moneyline providing little value, we turn to the spread, which is currently sitting at -5.5 games. Personally, I see Djokovic most likely winning this match in three sets (maybe four, with a tiebreak) and covering the spread.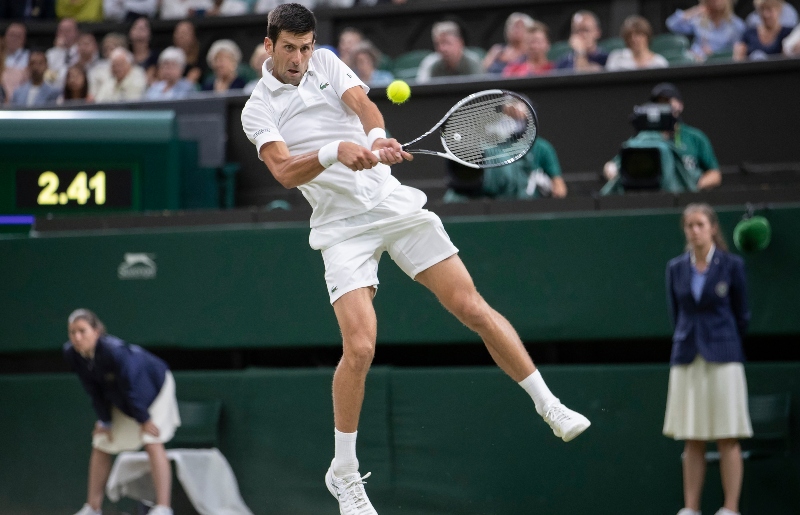 Susan Mullane-USA TODAY Sports. Pictured: Novak Djokovic.
One thing worth noting: In four of the past five Grand-Slam finals Djokovic has played, he's covered the game spread:
2016 U.S. Open (-4.5 games vs. Stan Wawrinka): lost 7-6, 4-6, 5-7, 3-6
2016 French Open (-5.5 games vs. Andy Murray): won 3-6, 6-1, 6-2, 6-4
2016 Australian Open (-6 games vs. Andy Murray): won 6-1, 7-5, 7-6
2015 US Open (-1.5 games vs. Federer): won 6-4, 5-7, 6-4, 6-4
2015 Wimbledon (-1 game vs. Federer): won 7-6, 6-7, 6-4, 6-3 
With Djokovic looking like the player he was back when he was at the top of the game, I expect a similar result Sunday.
Best Bet: Djokovic -5.5 games