WTA Wimbledon Final Betting Odds, Preview: Can Serena Continue Dominance Over Halep?
Credit:
Pierre Lahalle/Presse Sports via USA TODAY Sports. Pictured: Serena Williams and Simona Halep
2019 Women's Wimbledon Final Betting Odds
Line: Serena Williams -178 vs. Simona Halep
Over/Under: 21.5 Games
Where: Centre Court, London
When: Saturday, 9 a.m. ET on ESPN
After each of the top-five seeds lost before the quarterfinals for a second-straight year at Wimbledon, we are left with two former Grand Slam champions.
In her 13th consecutive year reaching a Grand Slam final, Serena Williams is seeking an eight title here in London and a record 24th overall major, which would tie her with Margaret Court for the most all-time. Meanwhile, Simona Halep will go for Slam victory No. 2 in her fifth major final appearance and first at Wimbledon.
Let's take a closer look at the matchup, starting with the lopsided head-to-head. I will then examine each respective player's draw and grass pedigree — before finishing up with my prediction and why.
Past Meetings
The American boasts a 9-1 record over the Romanian, including a win in their most recent clash at the Australian Open earlier this year. However, to be fair, that was the only time they've met since 2016 and the match did go three sets. This will also mark their first ever meeting in a Grand Slam final.
Here are some other noteworthy tidbits about their history:
They've met twice in finals — two easy straight-set Serena wins, including a rout at the 2014 year-end finals in the only prior meeting where Halep closed at  less than a 2-1 underdog.

Serena has won all three meetings at Grand Slams, but each went three sets.

Five of their 10 prior matchups have gone three sets.

The winner of the first set has won the past nine matches.
They've only met once prior on grass — their first ever meeting in 2011 here at Wimbledon. That was the only match where the loser of the first set (Serena) came back to win the match.
Draw Analysis
Neither has had a particularly difficult draw. Serena didn't have to face a single player in the top 15 but did beat two seeds and two of the better grass-courters on Tour in Alison Riske and Barbora Strycova.
However, Serena's draw looks difficult compared to Halep's path to the Wimbledon final.
Simona only defeated one seed en route to the final. That came in her semifinal victory over Elina Svitolina, who arrived at Wimbledon this year with a career losing record on grass. Leading up to that win, she defeated a player who had never won a match at Wimbledon prior to this year and 15-year-old Coco Gauff. She also hasn't faced any true specialists on this surface, enabling her to advance using her normal style.
That said, Halep should at least start with some confidence on her worst surface. She's won nine straight sets and is playing clean tennis after struggling to find form in the first two rounds.
Grass Pedigree
After an 8-1 record on the green stuff this year, Halep now has a 36-16 career record on grass. Her win over Svitolina ended a four-game losing skid against the top-20 on grass. The Romanian is now 6-6 vs. that group on this surface and 2-5 against the top 10. Halep has only appeared in one other career final on grass, which she won back in 2013 over Kirsten Flipkens in Hertogenbosch.
As you might imagine for the greatest player of all-time, Serena has a much better resume on grass. She owns a ridiculous 107-13 all-time record on her best surface, including 17-8 and 33-9 (79%) marks against the top-10 and top-20, respectively.
And if this match plays out like their other Grand Slam meetings and goes the distance, you'd once again have to give the nod to Serena, who has won eight of nine third sets in the final of a major in her career.
Final Betting Thoughts: Serena or Simona?
I do have questions about Halep's mental strength in this match if things get tight in her first appearance in a final on Centre Court at Wimbledon. And while she did get the Grand Slam monkey off of her back, she's still had a sketchy past in major finals.
I haven't seen Serena look this good in quite a while. The serve is there as usual but so is the movement and footwork. She's looked strong in every aspect of her game, which speaks to getting matches under belt and finally being healthy. Even some mixed doubles action with Andy Murray could have only helped.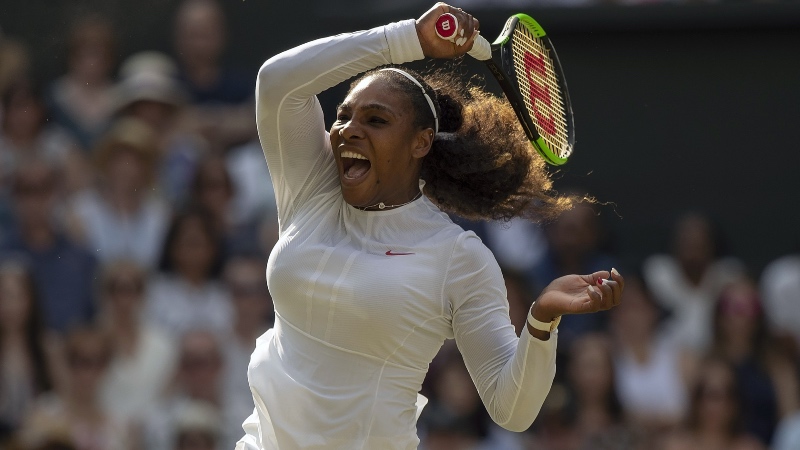 At the end of the day, this is Serena's best surface and Halep's worst. I believe the market is over-pricing Halep's fine form of late. She's played flawless tennis the past few matches, but part of that has to do with the lack of competition. Simona simply doesn't have a level that can match Serena's peak play on grass.
When both are on top of their games, Serena has too much class on this surface. She will get way more free points with her serve — and has the power and finesse to end points quickly, limiting the effectiveness of Halep's defensive prowess. Halep won 25 of the 32 nine-plus shot rallies against Svitolina; we might not see a quarter of that number on Saturday.
Serena's serve will ultimately be the difference, as she'll be able to win so many more free points. She also should have a field day exploiting Halep's second serve. She's got a tournament-leading 45 aces to Halep's 9.
Serena is 7-3 in finals on grass. That's a 70% winning percentage, which is right on par with where I make this line. And a 70% implied probability translates to a line of -233. I think the value is on Serena here. The only question comes down to her nerves, which seem to decide so many women's Slam finals.
You might not think nerves would be an issue with two very experienced players, but even Serena has played nervy in recent years on the biggest stages.
After winning eight straight Grand Slam finals, Williams has actually gone 2-4 since. That includes two consecutive straight-set losses in her last two appearances at the US Open and Wimbledon in 2018.
She wants No. 24 badly, so she could get tight once again, which Halep can certainly exploit for at least a set. But in the end, I think Serena finds a way to secure that elusive 24th Grand Slam victory, which would be fitting to do on Centre Court at Wimbledon. It just might take her three sets, where she has been nearly unbeatable in this scenario.
Prediction: Serena in 3
How would you rate this article?