USFL Week 10 Odds, Picks & Predictions for Stallions vs. Bandits, Panthers vs. Maulers & More
Credit:
Photo by Michael Wade/Icon Sportswire via Getty Images. Pictured: Jeff Fisher (Panthers)
USFL Odds, Picks, Predictions
---
---
Philadelphia Stars vs. New Jersey Generals
| | |
| --- | --- |
| Pick | Under 41.5 |
| Time | 12 p.m. ET, Saturday |
Ben Hauver: The USFL regular season concludes this weekend with a series of four games that hold no weight in terms of actual playoff implications.
The Stars, Generals, Stallions and Breakers have punched their postseason tickets.
In fact, the opening game of Week 10 features a playoff preview between two teams that will play again next week.
The Stars (6-3) and Generals (8-1) dominated the North Division in the league's inaugural season.
It'll be interesting to see how these teams plan to play each other with a slate of back-to-back games set over the next two weeks.
Logically, it would make sense for both of these squads to take things easy and focus on getting healthy — and staying healthy.
For New Jersey, expectations are high. The Generals are currently tied with the Stallions for a league-leading, regular-season record and have the second-best odds to win the championship, according to DraftKings (+200).
This is a team that has run most efficiently behind the rushing production of dual-threat quarterback De'Andre Johnson. His postseason availability is currently a mystery. Whether or not he can make his return next week will absolutely be an X-factor for the Generals.
It seems unlikely that the team would force him back this week in what is ultimately a meaningless game. In fact, I wouldn't be surprised to see head coach Mike Riley grant presumed starter Luis Perez extended time to rest in favor of Kyle Lauletta in this spot.
Philadelphia has played tough down the stretch and managed to hurdle past every obstacle thrown its way over the past two months.
After losing QB Bryan Scott, hope for this team seemed lost. Case Cookus managed to take over the offense and has since done a great job of producing when called upon.
Last week, Cookus played only half the game, and it was K.J. Costello who closed out a meaningless victory over the lifeless Maulers. This was clearly a "rest-the-starter" situation. Costello may see more playing time this week, as Cookus prepares to put it all on the line in next week's rematch.
I think both teams will be cautious about over-extending their playbooks. I would expect lower offensive output than usual from both teams, as rest and preparation for the postseason will be the top priority on both sides of the ball.
---
» Return to the table of contents «
---
Birmingham Stallions vs. Tampa Bay Bandits
| | |
| --- | --- |
| Pick | Under 41.5 |
| Time | 4 p.m. ET, Saturday |
Joey Carrion: The Birmingham Stallions take on the Tampa Bay Bandits in this Week 10 exhibition game.
The USFL playoffs became official last week when Tampa Bay lost to New Orleans, rendering this game meaningless for both sides.
Birmingham has clinched the No. 1 seed in the South Division and will face New Orleans in the first round of the playoffs.
It will be interesting to see if Birmingham decides to rest its key players or not. Head coach Skip Holtz has insisted that the Stallions are playing to win.
"That's what we want to do. We want to win," Holtz said. "And that's how we're going to approach it."
While we might be inclined to believe him, this seems like classic coach speak. It makes more sense to go into round one as healthy as possible. Philosophies around resting players are different across professional football teams, but most coaches opt to take the safer route in these situations.
I would not be surprised if J'Mar Smith and others take a seat on the bench after a drive or two.
As preseason championship favorites, Tampa Bay will look to end the season on a high note. The Bandits, who had a largely underwhelming season, are currently 4-5 and lost out on a playoff spot with their Week 9 loss to the Breakers.
Tampa Bay obviously has nothing to play for, but it will try and build momentum heading into the offseason.
The Bandits have been disappointing on offense this year, averaging 16 points per game while allowing 19.3 points. Tampa Bay has the talent to be a dominant force in the USFL — it just need to find more consistency on both sides of the ball.
Quarterback Jordan Ta'amu has been solid this season for the Bandits. Ta'amu is second in passing yards and first in passing touchdowns, and will be the year-two starter for Tampa Bay.
From a betting perspective, the Stallions have been the most profitable team in the USFL. Resting players and other factors are baked into the odds, and Birmingham is still 3.5-point favorites.
The Stallions are the more complete team, but I do expect key players to not play the full game. With players most likely resting, and Tampa Bay being inefficient on offense, I'm not expecting a high-scoring affair in this Week 10 matchup.
It's a get-in and get-out situation for the Stallions. The under is the play here.
---
» Return to the table of contents «
---
Michigan Panthers vs. Pittsburgh Maulers
| | |
| --- | --- |
| Pick | Under 42.5 |
| Time | 12 p.m. ET, Sunday |
Ben Hauver: The USFL is nothing if not full of surprises.
Prior to Friday afternoon, this game between the league-worst Michigan Panthers and Pittsburgh Maulers was setting up to be one of the most boring and meaningless sporting events in recent memory.
However, Executive VP of Football Operations Daryl Johnston announced a rule change via Twitter that significantly upped the stakes for this Week 10 "toilet bowl."
Not only will the winner of this game be awarded the first overall pick in the 2023 USFL Draft, but the winner will be awarded the first pick in every single round of the draft.
All of a sudden, this matchup goes from meaningless to one with massive implications for year two of the league.
If any two teams needed a wide-ranging influx of talent, it's these two.
For the Panthers, this opportunity represents a chance at redemption. After being granted the first overall pick this season, Jeff Fisher & Co. opted to select QB Shea Patterson. Patterson was cut six weeks into the season en route to a highly disappointing year-one experience for Michigan fans.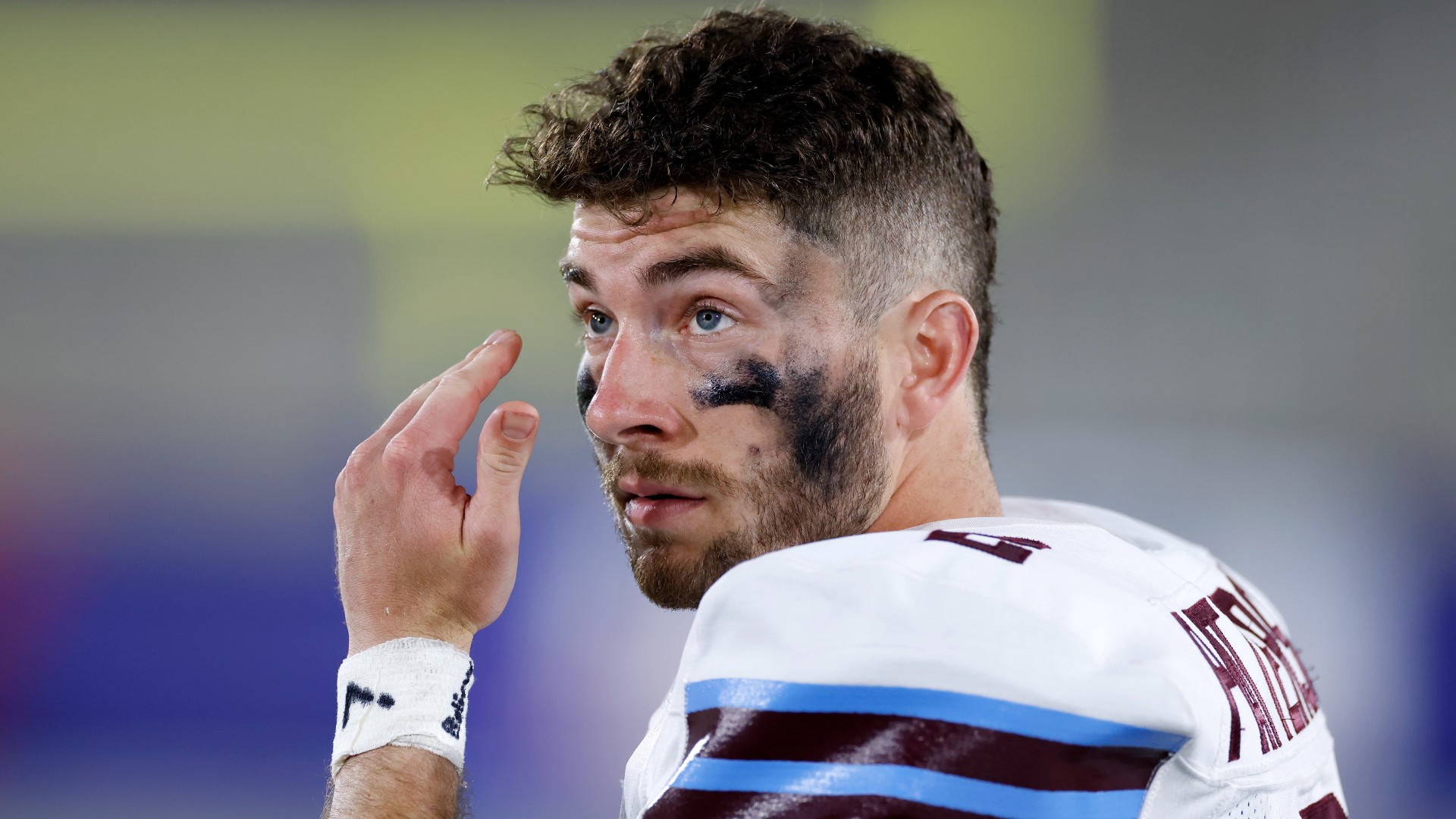 For the Maulers, finding sustainable QB play in year two has to be the absolute top priority. Pittsburgh's inconsistency at football's most important position has been both embarrassing and excruciating to watch.
This is a team that has gone through four QB changes in nine weeks — due mostly to lack of production, not injury.
As is the case with most organizations that find themselves engulfed in turmoil, the problems start at the top. These have been easily the worst coached teams all season.
If these squads are serious about bouncing back in 2023, the first order of business should be the respective firings of Fisher and Kirby Wilson.
Despite the added motivation for top-tier draft capital, these offenses have been anemic all year. The Maulers are averaging 1.3 offensive touchdowns per game. Meanwhile, the Panthers are averaging 2.3 offensive touchdowns per game.
Rarely in football does trash + trash = treasure.
Simply put, the two worst teams in the league facing off against one another should not have the highest total of Week 10.
---
» Return to the table of contents «
---
New Orleans Breakers vs. Houston Gamblers
| | |
| --- | --- |
| Pick | Gamblers ML +135 |
| Time | 8:30 p.m. ET, Sunday |
Joey Carrion: New Orleans takes on Houston to put an end to the USFL regular season.
New Orleans is locked into the No. 2 seed in the South Division, and will face the Birmingham Stallions in the first round of the playoffs.
The Breakers are in a very similar situation to the Stallions this week. They have nothing to play for, but coach Larry Fedora said, "we want to win the football game."
"It's as simple as that. We're going to put 11 guys out there that want to win the football game, on every side of the ball."
My inclination with these quotes is that they are just pure coach speak. Obviously coaches want to win games, but you're not risking your starters' health to beat a team that is 2-7 in a meaningless regular-season game.
So, I would expect New Orleans to rest key players in this matchup and focus on getting into the playoffs as healthy as possible.
Houston is looking to end the season on a strong note after handing the Stallions their first loss last week.
The Gamblers have been solid this season, despite their 2-7 record. Out of nine games played, seven have been one-score games. Houston has not been able to win close outings, which can be attributed to the overall variance of football, especially over a small sample size.
Starters being rested is baked into the spread, so it's hard to trust the Breakers to cover in this spot.
This week is shaping up to have three meaningless games, and I think the worst teams are very live to cover spreads. Houston has played close games despite injuries to key players at every level of its offense, and I think it pulls out the win against a team that will rest players and is focused on next week.
---
» Return to the table of contents «
---
How would you rate this article?
This site contains commercial content. We may be compensated for the links provided on this page. The content on this page is for informational purposes only. Action Network makes no representation or warranty as to the accuracy of the information given or the outcome of any game or event.