Week 2 XFL Picks: How to Bet Renegades-Wildcats, BattleHawks-Roughnecks
Credit:
Courtesy of XFL.com. Pictured: Jordan Ta'amu
We've got the best bets for this weekend's XFL slate.
Will the BattleHawks stage a second consecutive upset? See what our experts think.
Home teams went 3-1 against the spread while totals went under at the same rate on opening weekend. So what can we expect from Week 2 of XFL action?
Our staff reveals how they're betting all four games:
New York Guardians at DC Defenders: 2 p.m. ET on Saturday (ABC)
Tampa Bay Vipers at Seattle Dragons: 5 p.m. ET on Saturday (FOX)
Dallas Renegades at Los Angeles Wildcats: 3 p.m. ET on Sunday (ABC)
St. Louis BattleHawks at Houston Roughnecks: 6 p.m. ET on Sunday (FS1)
Now let's dig into their picks!
Week 2 XFL Picks
---
Odds as of Friday and via FanDuel, where Action Network users get a risk-free bet up to $500.
---
Even though they were 10-point favorites in the middle of last week, the Renegades massively disappointed with a 15-9 loss to the St. Louis BattleHawks in their season-opening home debut. They were without starting quarterback Landry Jones (knee), but his absence wasn't their only problem: Their play-calling was far too conservative. On multiple fourth-and-shorts, they settled for field goals and field position via the punting game when they instead should have kept their offense on the field and gone for the first down.
But the Wildcats were even worse last week, suffering a brutal 37-17 defeat to the Roughnecks. Without starting quarterback Josh Johnson (thigh), they started backup Chad Kanoff but eventually rotated him and third-stringer Jalan McClendon in the second half. Johnson is tentatively expected to play in Week 2, but he's not 100%, and Kanoff (shoulder/head) missed practice on Wednesday. If Johnson starts but isn't quite right, there's a chance the Renegades could face McClendon for much of the game.
On top of that, Jones will start in Week 2, and the Renegades are in disarray on defense: Not only did they allow a league-high 37 points in Week 1, but within 24 hours of their loss, they fired defensive coordinator Pepper Johnson and released defensive captain and starting edge defender Anthony Johnson.
Until we see Johnson playing and head coach Winston Moss getting his team under control, I'll be inclined to bet against the Wildcats.
I'd bet the Renegades to -5.
[Bet now at FanDuel. NJ, PA, IN and WV only.]
Chris Raybon: BattleHawks +8 at Roughnecks
The BattleHawks were the only road team to win in Week 1, edging the Dallas Renegades 15-9 as 9.5-point underdogs, and St. Louis is being undervalued once again here.
The BattleHawks didn't exactly blow out bulbs on the scoreboard offensively, but they led the league in rushing yardage (191) and third-down conversion rate (50%). And when they took to the air, quarterback Jordan Ta'amu was efficient, connecting on 20-of-27 passes for 208 yards with one touchdown and no interceptions. He also rattled off 77 yards on the ground on nine carries.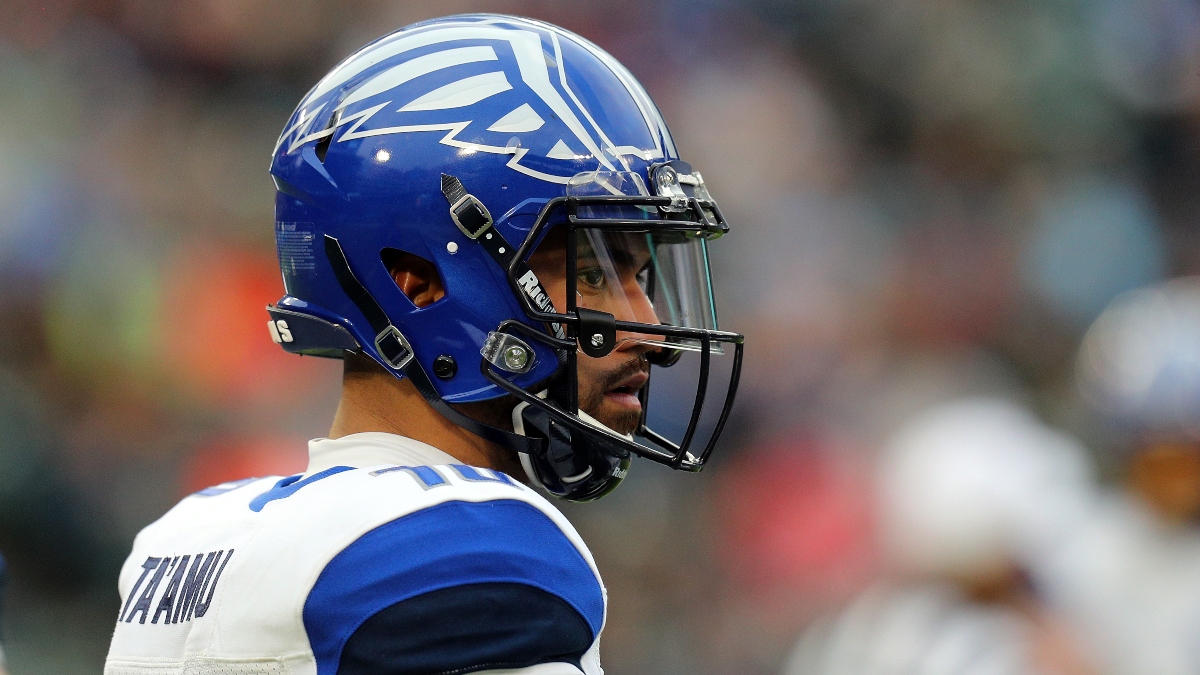 P.J. (aka Phillip) Walker is getting all the buzz, but don't sleep on Ta'amu, whose 108.4 passer rating was even better than the 106.4 figure posted by Walker.
On defense, St. Louis turned an impressive showing, limiting Dallas to just 4.5 yards per play and 1-of-10 on third down. Yes, the Renegades were without starting quarterback Landry Jones, but they were still implied by Vegas odds to score more than 30 points and win handily, only to be thwarted by the Hawks' D. Walker will be a tougher test, but his playmakers benefitted from nine missed tackles in their 37-17 romp of the Wildcats, while the BattleHawks missed just three tackles in their win over Dallas — the fewest in the league by a country mile, according to data from Pro Football Focus.
I believe St. Louis can go toe to toe with Houston, and the tape backs it up: The BattleHawks were the only squad to earn a higher overall PFF team grade than the Roughnecks in Week 1, and they're also the only team in the league that received a higher mark than Houston on offense.
[Bet now at FanDuel. NJ, PA, IN and WV only.]
Tony Marquis: BattleHawks +8 at Roughnecks
As excited as I am about the Roughnecks offense and the emergence of Walker, I can't discount that they were playing against what may be the league's worst defense in Los Angeles — a defense that played so poorly, the coordinator (Pepper Johnson) was fired and its captain, Anthony Johnson, was released.
Now the Roughnecks have to face a St. Louis defense that held Dallas to nine points — the BattleHawks held the Renegades offense to just 59 plays last week, pounding the ball with Matt Jones, who ran 21 times for 85 yards.
The Roughnecks may be good, but they aren't eight points better than the BattleHawks. The moneyline (as high as +250 at DraftKings) is also tempting.
[Bet now at FanDuel. NJ, PA, IN and WV only.]
Mike Vitanza: BattleHawks-Roughnecks Under 49
I'm very high on this Roughnecks team, but this total is too high in a game against the run-first, defensively-minded BattleHawks.
St. Louis held a talented Dallas team to only nine points last week by following a ground-and-pound approach on a slate-high 42 rush attempts. The BattleHawks boast arguably the league's most talented RB duo in Jones and Christine Michael, and have a very capable runner in Ta'amu, too. If they can execute here, they'll be able to successfully limit Houston's offensive snap count.
Defensively, we expected this team to be strong and they showed it in Week 1, limiting big plays all around — although, admittedly, Dallas really didn't try to stretch the field. They boast a strong secondary led by Kenny Robinson and will force Walker to his second and third reads more than he would like. The front seven is also strong, which should also force the ball out quicker than last week.
I still expect Houston to have success offensively and to put up points, but I also expect St. Louis to successfully shorten the game on the offensive side and make things difficult enough defensively for Walker and the Roughnecks.
I like the under down to 48 points.
[Bet now at FanDuel. NJ, PA, IN and WV only.]
---
Saturday's Games
Ben Rolfe: Defenders -7 vs. Guardians
I came into this season with the belief that the Defenders were one of the best teams in the XFL and nothing from Week 1 has shaken that.
After a sluggish first half, they dominated the second half of their game against the Dragons. The Defenders looked strong on both sides of the ball, holding the Dragons to just 4.8 yards per play, while average 5.3 themselves. In contrast, the Guardians appeared a more dominant team from the start of their game, but the box score does not look as strong for them. They allowed the Vipers to average 5.5 yards per play defensively, including five yards per carry on the ground.
Additionally, on offense they were a woeful 1-for-10 on third-down conversions with just 6.3 yards per attempt in the passing game. Some of those numbers are reflective simply of their early lead and the way they chose to approach the second half. However, they are also somewhat indicative of an offense with a lot of questions still left to answer.
Therefore, I am going to take the Defenders to win this game and cover. I wouldn't bet this past -7.
[Bet now at FanDuel. NJ, PA, IN and WV only.]
The Vipers set up as a Week 1 overreaction play. They had the highest season win total (7.5) heading into the season, but despite having the Vipers No. 1 in my initial power ratings, I mentioned on our preview podcast that the under 7.5 wins was my favorite futures bet — it made very little sense to have any team with a win total that high until we see them play. And in Week 1, the Vipers were clobbered in a 23-3 loss to the Guardians.
The Vipers failed to score a touchdown despite having a league-high four red-zone drives. They even out-gained the Guardians in yards per play 5.5 to 5.0 — you rarely see a team lead in yards per play and lose by 20 or more points.
As expected, the market seems to be overreacting to the Vipers' miserable performance and is currently offering them at short of a field goal favorite on the road with quarterback Aaron Murray (foot) ruled out and Quinton Flowers under center, though the offense looked more explosive with Flowers on the field in Week 1, so that might not be much of a drop-off.
There's still a ton of uncertainty in handicapping this league that I would back off if this line crossed a key number like 3, so it's critical to lock the Vipers in at -2.
[Bet now at FanDuel. NJ, PA, IN and WV only.]
I'm taking the opposite side of this spread.
The consensus preseason favorite to win the championship, the Vipers scored only three points against the Guardians in Week 1 en route to a 20-point loss. Now they will travel to CenturyLink field, home to the Dragons and Seahawks, and a notoriously difficult environment to play in as a visitor.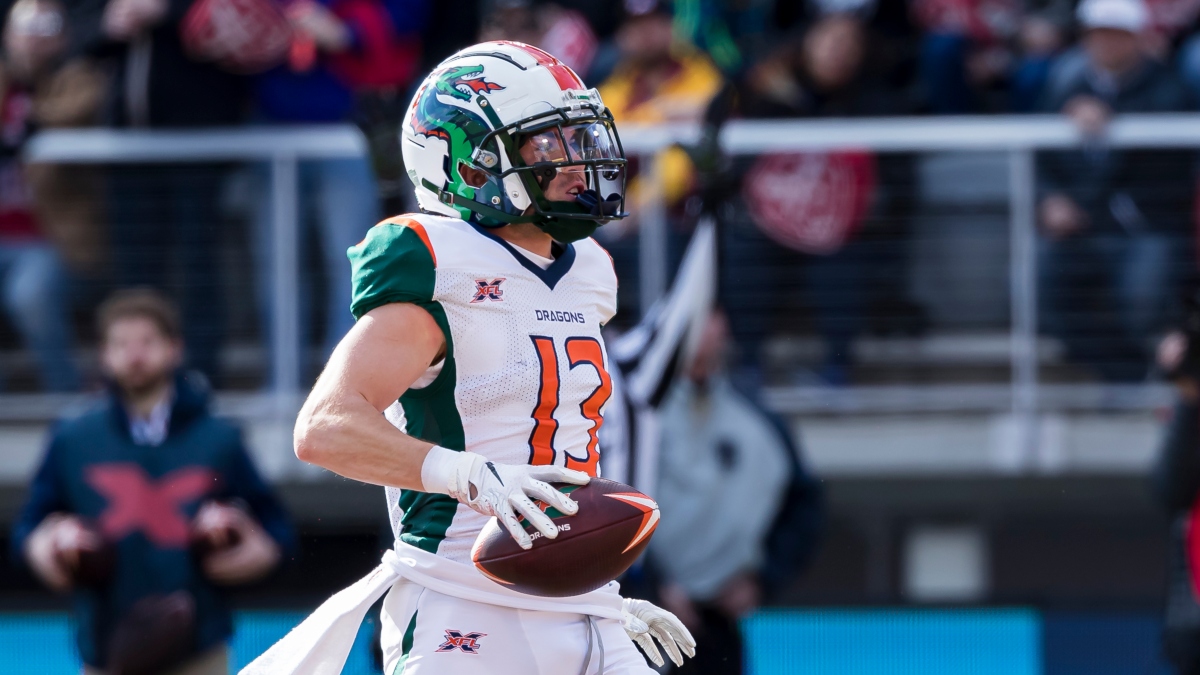 According to team president Ryan Gustafson, the Dragons have already sold 25,000 tickets for their home opener, a number they hope will reach 30,000 by kickoff. For reference, no home team had more than 18,000 fans in attendance in Week 1. While CenturyLink won't quite be at "12th man" levels on Saturday, it will still be plenty loud.
Murray (foot), who struggled in Week 1, has been ruled out so Tampa will now have to hope backup QB Taylor Cornelius — selected in the ninth round of the XFL skill player draft — can jumpstart its offense.
I like the Dragons as long at any underdog price.
How would you rate this article?