Jennings: Which Golfers Will Be Chalk at the 2019 Open Championship?
Credit:
Matt Kuchar earned the third-most FedEx Cup points this season. Steven Flynn, USA Today Sports.
Similar to financial markets, industry sentiment can often be an effective indicator of expected player ownership levels in DFS. The challenge is that in today's age of social media and information overload, it is increasingly difficult to stay on top of player trends in fantasy sports.
FanShare Sports (Now featured in FantasyLabs Models) measures a player's relative "buzz" level and aggregates industry sentiment around every player on the slate. In other words, they tell you who's actually flying under the radar, and who's not.
The short-term variance in golf creates an incredible opportunity to play low-owned leverage players. The fun challenge of playing DFS golf tournaments is finding the balance of projection equity and ownership.
Now, let's take a look at some developing trends for The Open Championship: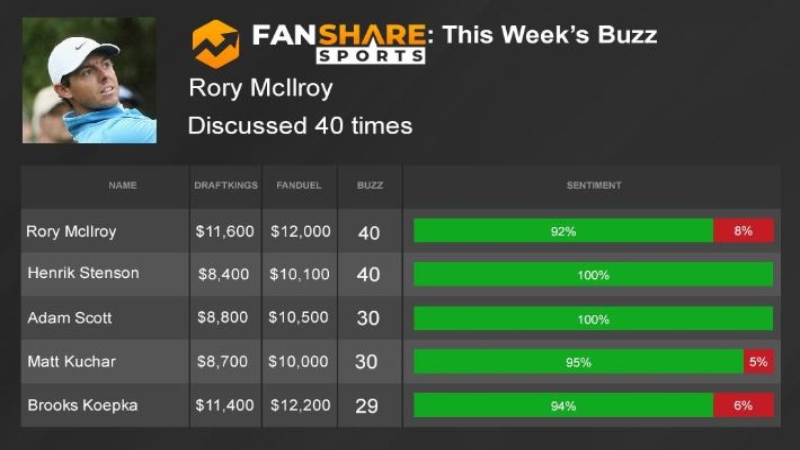 Rory McIlroy
DFS Pricing: DraftKings: $11,600; FanDuel: $12,000
The Northern Irishman has finished in the Top 10 in DraftKings scoring in 65% of his starts over the past 12 months. Let that sink in for a moment. Not only has Rory been playing fantastic golf, but he will also be the obvious crowd favorite.
Oh, and did we mention that McIlory shot the course record 61 at Royal Portrush as a 16-year-old? There aren't many reasons not to like Rory this week, even if this isn't the same course he played all those years ago.
While all of this points towards Rory being a very popular play this week, history tells us the highest-priced golfer in a major is almost never the highest owned, with most players finding comfort in more balanced builds.
We're guessing there is some value to be had in Rory's ownership on DraftKings with ownership expected to be higher on FanDuel where he is "only" the second-highest priced golfer.
Henrik Stenson
DFS Pricing: DraftKings: $8,400; FanDuel: $10,100
The 2016 Open Champion carried good form from his final two events in North America, finishing 16th at the U.S. Open and 11th in Canada, and kept it going across the pond with a T4 at the Scottish Open.
With the narrow fairways at Royal Portrush, the market clearly sees value in the straight-hitting Swede at only $8,400 on DraftKings.
Matt Kuchar
DFS Pricing: DraftKings $8,700; FanDuel: $10,000
The Georgia native has been getting buzz off the course recently as well, but it's not affecting his DFS and betting sentiment this week. Kuchar has the perfect game for links golf and he'll be gunning for his third straight Top 10 at The Open Championship.
There are no guarantees at this tournament, but Kuchar is perceived as a "safe" pick for the price to make the cut at Royal Portrush with Top-5 upside.
Adam Scott
DFS Pricing: DraftKings: $8,800; FanDuel: $10,500
Not only does the Australian have some of the best current form in the field, he's also been as steady as they come at The Open in recent years, finishing in the Top 25 in four of the last five years.
You get all of this for the reasonable price of $8,800. Expect Scott to be a staple in many DFS lineups this week.
Brooks Koepka
DFS Pricing: DraftKings: $11,400; FanDuel: $12,200
What else can be said about the man who has finished either first or second in five of his las six Major Championships. It seems the buzz around Koepka has finally caught up to his game and this could be the week that the markets go "all in" on the World No. 1.
The Tiger Report
It's been a little over three months since Tiger Woods' historic Masters victory and if you believe industry narratives, he still hasn't recovered from it.
As of Tuesday evening, Tiger had a sentiment rating on FanShare of only 46% with discussion topics ranging from perceived fatigue to a lack of preparation to a potential putter swap. The Tiger doubters are back, meaning he could be the ultimate contrarian play this week.
Things change very quickly in DFS, so be sure to monitor the FanShare Buzz Scores and Industry Sentiment Ratings accordingly.
How would you rate this article?